When strawberries are in season, they are sweeter, bigger, and juicier than they'll be for the rest of the year. Waiting for fresh strawberries again seems like a waste when figuring out how to preserve strawberries is so easy.
This article talks about ways to preserve strawberries, and each one is more unique than the last. Preserving strawberries doesn't take much time to perfect because these sweet fruits are delicious in so many ways that you'll want to try them all.
Strawberry season lasts from late April to mid-June. The local farmers market is the best place to source fresh strawberries, but most groceries have comparable fresh fruit.
The strawberry we know and love today originated from Europe. They are now a great source of vitamin C and B9 and are rich with antioxidants and help control blood sugar and heart health.
These small fruits are also high in water and fiber to support a healthy lifestyle. With all these benefits, who wouldn't want to preserve fresh strawberries for later consumption?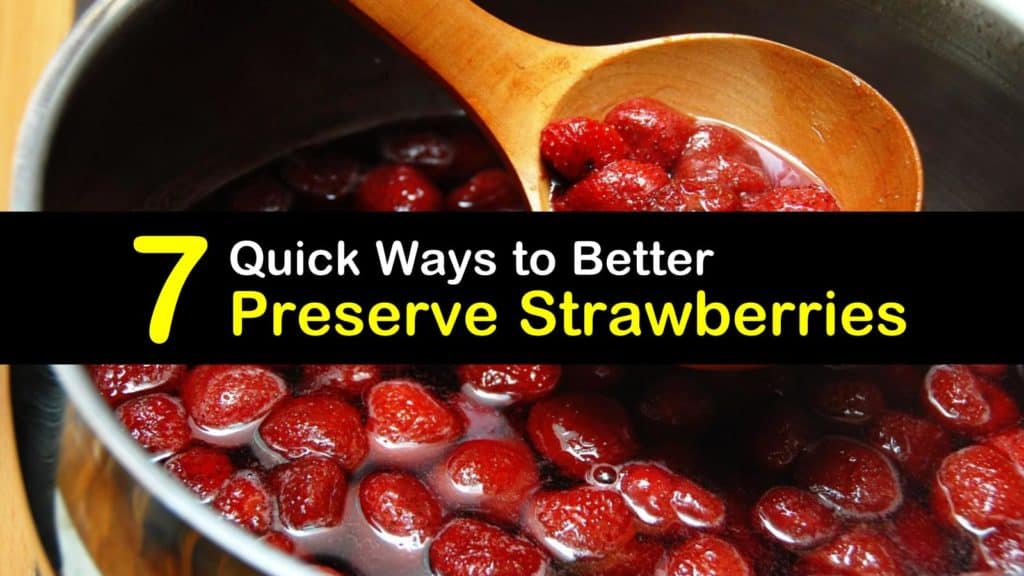 How to Store Fresh Berries
Almost everyone looks forward to strawberry season. Although it's easy to pick up a carton of strawberries from the store at almost any time of year, it is just as simple to plant strawberries from seeds or seedlings to grow them yourself.
Planting strawberries is easy and, as long as you watch out for unwanted pests, you can reap a decent harvest.
Have you ever wondered how long are strawberries good for? There may be many ways to preserve strawberries but storing strawberries-fresh in the fridge is crucial for those who want to eat them right away.
Don't take the stems off your strawberries once you're home. When you remove the stem, the berries start to break down more rapidly.
Don't wash your strawberries until you're ready to eat them either, or they get mushy. If you see a moldy spot on a berry, immediately remove it from the pack so it doesn't spread.
Finally, hold off on slicing them to help them have a longer shelf life. To store strawberries in the fridge, line their carton with paper towels and store them in the crisper drawer.
Ways to Preserve Strawberries
There are dozens of ways to preserve strawberries, as well as ways to preserve apples and other fruits, and the possibilities all end with you eating a tasty treat. Browse through these methods for preserving strawberries and see what sticks out to you.
Utilize Lemon Juice
Keeping strawberries in the fridge starts with using lemon juice, which contains high amounts of acid. Before putting your berries in the refrigerator, brush them with fresh lemon juice.
The acid helps prevent molding and keeps them fresher longer. This simple step may seem too good to be true, but it adds a few extra days to their fridge life.
The Go-to Method for Preserving Strawberries
We think the best way to preserve strawberries, the best way to preserve bananas, and every other type of fruit and veggie is to freeze them. When you freeze strawberries, they last for up to a year and are easy to grab and throw into smoothies or homemade ice cream.
When freezing strawberries, start by placing them in a colander and rinsing them under cold water. Slice the greens from the berries' tops and then give them an ice water bath in a large glass bowl with a squeeze of lemon juice or white vinegar.
The acid from the lemon helps them retain their color and prevents ice crystals from forming. Dry the berries on paper towels and line a baking sheet with parchment paper.
Spread the fruit pieces out in a single layer, so they aren't touching each other, and put the baking sheet in your freezer for an hour. Remove the frozen berries and place them in an airtight container or freezer bags for up to one year.
How to Make Strawberry Jam
Although frozen strawberries are great, there are far tastier strawberries recipes for you to try. Strawberry jam is packed with flavor and great on top of toast, crackers, pancakes, and more. Canning jam isn't too difficult, either.
Crush the fresh strawberries in a large bowl until you have four cups, and the consistency is slightly chunky. Add the fresh berries, sugar, and pectin to a large saucepan and stir them over low heat until the sugar dissolves.
Turn to heat to high and boil until it reaches 220°F. Dump the berries into the Mason jars leaving a half-inch headspace at the top.
Add the lids and seals to the jars and process them in a boiling water bath for ten minutes. Remove the jam jars from the boiling water and cool to room temperature for 24 hours before testing to ensure the seals are closed.
How to Preserve Strawberries in the Dehydrator
Dehydrated strawberries make a crispy and healthy snack and take minimal work. They also keep their color and make an excellent topping for cereal and oatmeal.
Clean and slice as many strawberries as you desire. Preheat the dehydrator to 135°F and layer the berries on the racks in a single layer.
Dry the berries for eight hours before checking on them. If they aren't crisp, place them back in the machine for another hour before rechecking them and repeat as often as necessary.
How to Make Strawberry Sauce
Strawberry sauce is different from jam. It is chunkier, and the sugar breaks down the berries to help turn them into a sauce. This sauce is excellent topped on shortcake, and it is easy to add blueberries or other fruit to for a mixed berry sauce.
How to can strawberries for a delicious sauce starts by putting the diced berries into a saucepan and adding the lemon juice, vanilla, and sugar. Cook them on medium-low heat for about five minutes and break the strawberries with a spoon while you stir them.
In a small container or bowl, whisk the cornstarch with one tablespoon of water, whisk the cornstarch water into the berries and cook them for another three minutes. Allow the sauce to cool and store in the fridge for seven days or freeze for up to six months.
Turn Berries into Fruit Leather
Strawberry fruit leather is a tasty snack that is easy to grab on the go. All you have to do is add washed and hulled strawberries to a blender with sugar and lemon juice to taste. Puree the berries until they are very smooth.
Line a baking sheet with a silicone baking mat, pour the strawberries on the sheet and smooth them over with a rubber spatula. Bake the berries for three hours at 170°F.
Let the pans cool to room temperature, transfer the strawberry leather to a cutting board, and slice it into your preferred size. Wrap them in parchment paper and store the leather in an airtight container.
Try this method as a clever way to preserve watermelon or almost any other fruit, as well.
Making Homemade Strawberry Wine
If you're extraordinarily dedicated to preserving strawberries, you may want to think about making your own wine.
It takes dedication since you have to wait a whole year before drinking it, but you're able to turn large batches of fresh berries into something you can enjoy for years to come.
Mash the berries in a large earthenware crock. Pour the boiling water over the mashed berries, and then add the lemon juice. Stir the berries for two minutes. Add the yeast once the mixture cools to 85°F and stir for another minute.
Cover the earthenware crock with a clean linen cloth and store it in a cool, dark location. Stir the contents once a day for seven days. Strain the contents through a cheesecloth into a clean bowl. Throw away the pulp and clean your crock
Add the sugar to the strawberry liquid and stir so it all dissolves. Pour the liquid back into your crock, cover it with a clean linen towel, and stir it every day for another week.
Pour the liquid into individual glass wine bottles and loosely cork them. Store the bottles in a cold, dark place for a year before serving.
Preserving strawberries is so much more fun when you get to experiment with the many different ways to consume them. Fresh berries are packed with flavor, and it's vital to get the most out of fresh fruits and vegetables when they're in season.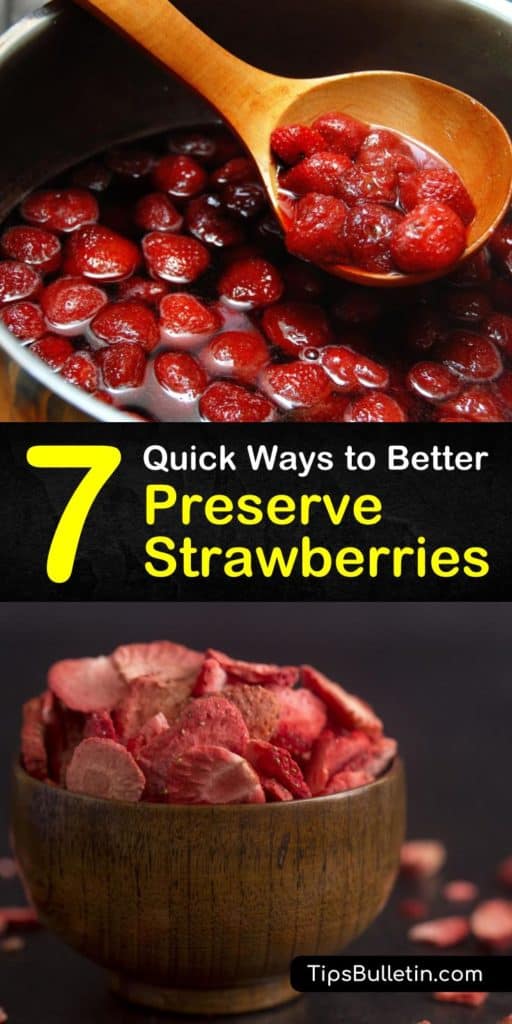 If you discovered how to preserve strawberries in a new way, share these unique strawberry recipes on Facebook and Pinterest.