Nothing compares to the taste of fresh garden tomatoes, but what happens when your supply of garden-fresh tomatoes runs out? Summer is the perfect time for growing and enjoying the wonderful flavor of vine-ripened tomatoes. If you want to continue enjoying it after summer is gone, you need to learn how to preserve tomatoes.
Preserving tomatoes not only allows you to savor the flavor; it also ensures your abundance of garden tomatoes doesn't go to waste. When considering the best way to preserve tomatoes, most of us think of standing over a hot stove inside the kitchen all day long canning them.
While canning is one way to preserve tomatoes, it is not the only way as you can freeze or dry them, in addition to turning them into salsa, tomatoes sauce, etc. Some preserving methods are time-consuming, but none of them require any unique or special skills. Our goal is to show you all the different ways to preserve your tomatoes.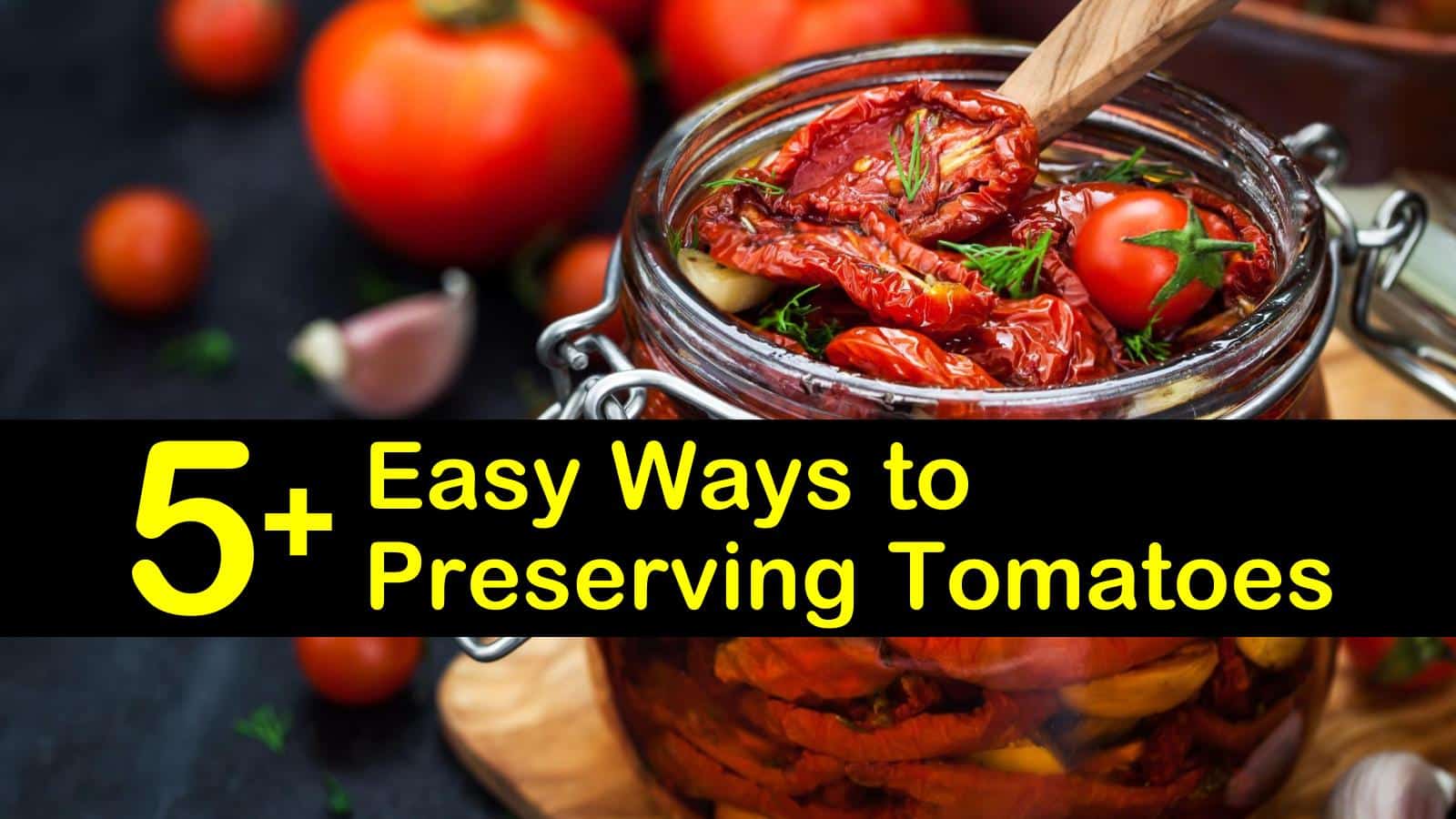 Top Ideas and Recipes for Preserving Tomatoes
To preserve your tomatoes, you want to pick the best tomato. Select fully ripened fruit that is firm to the touch, whether you are growing cherry tomatoes, Romas, or Beefsteak varieties.
You can also preserve green tomato varieties, but they are more acidic and may have different canning requirements. Don't use tomatoes from dead vines or vines killed from a hard freeze for canning.
How to Best Preserve Tomatoes by Canning
There are a variety of ways to store tomatoes. How long do tomatoes last? It depends on whether you keep them in the pantry, fridge, freezer, or if you can them.
Canning tomatoes is the most time-consuming method, but it is a technique anybody can follow as long as they have the right equipment. When you can whole tomatoes, use bottled lemon juice rather than fresh as bottled keeps them from spoiling due to its consistent acid level.
For blanching, bring water to boil in a stock pot. In a separate bowl, add some ice and cold water to create an ice bath. Make an "X" along the bottom of each tomato. Place tomatoes in the boiling water for one minute and then remove using a slotted spoon.
Place each one into the ice water to cool. Remove skins once they are cool enough to handle. You can slip skins off with your fingers or use a paring knife to assist. Bring a tea kettle full of water to a boil.
Add two tablespoons of lemon juice to quart-sized Mason jars and place your whole tomatoes inside each jar. You can add a few or a lot of them to the jar. If cramming them in, ensure you release some juices to create excess tomato juice to help cover them.
Pour boiling water into each jar. Add enough liquid to cover the tomatoes, but leave ½ inch of space at the top. Wipe the rim clean with a damp paper towel — secure jar with lid and ring.
Place inside a water bath and process for 45 minutes or use a canner. Remove from the water bath and allow to cool. Place them out of direct sunlight in a cool room.
There is also an option to preserve green tomatoes, too. The way to can green tomatoes is similar to canning red ones and yields a delicious and tart tomato for use as a side dish or by itself. Aside from canning, learn how to pickle green tomatoes for an even more yummy way to enjoy these unripened fruits.
Use a Basic Canning Method to Preserve Tomato Sauce
There is no one set tomato sauce canning recipe to follow, as everybody has their variations. With tomato sauce, you can use bruised or discolored fruit; just cut any bruises or discolored areas off before cooking. Other tomato recipes to try include ketchup, tomato soup, and pasta sauce.
After washing tomatoes, cut off any bruises or discolorations and remove all stems. Cut them into quarters and place them directly into a pot. Turn heat on high and begin crushing them. Continue adding quartered tomatoes to the boiling mixture until all fruit is smashed.
The mixture requires constant boiling, even while adding new tomatoes. Cook at a simmer for five minutes. To remove the skin and seeds, press the mixture through a food mill or sieve into a pot. Bring the tomato juice back to a boil and continue cooking until your sauce reaches your desired consistency.
Reduce volume by half for a thicker sauce or by one-third for a thin sauce. For the seasoned sauce, add onions, garlic, sugar, and various seasonings to your crushed tomato mixture. Simmer for two hours before pressing through a sieve or food mill.
Place 1 ½ teaspoon lemon juice or 1/8 teaspoon citric acid in each half-pint jar. If using pint-sized jars, add three teaspoons of lemon juice or ¼ teaspoon of citric acid.
Pour sauce into jars, leaving ½-inch of headspace. Wipe jars with a damp, clean towel. Secure each jar with lids and rings and process in a water bath for 35 minutes.
Is Freezing the Best Way to Preserve Tomatoes?
Many of us feel freezing is the best way to preserve tomatoes because there are so many options. You can freeze tomatoes whole, chopped, or diced, with or without skins, pureed, and so much more. When choosing to freeze them, start with firm, ripe tomatoes, and wash them.
Freezing is also an excellent way to store many other vegetables. You can preserve beetroot, carrots, garlic, and so much more in the freezer to use later. Take advantage of a deep freezer by properly preparing your veggies and freezing them.
For tomatoes, place them, skin still on, inside a plastic freezer bag or an airtight container. Store in freezer and use throughout the year. When freezing tomatoes without their peel, blanch them and then place in an ice bath and remove the skin.
How to freeze tomatoes without blanching requires cutting off their stems and freezing them on a baking sheet for three hours. Once frozen, run under cold water and watch the skins slide off.
Freezing cut tomatoes follows the same process as above and helps you save freezer space. Whether in halves, quarters, or diced, place them in freezer bags or airtight containers in whatever quantities you choose.
Freeze cut side up to prevent the tomatoes from sticking. Dividing them up by the amount called for in your favorite recipes allows you to thaw precise amounts. For pureed tomatoes, begin by cutting off the stems and any bad spots.
Toss them in a blender or food processor and pulse until they reach the desired consistency. Pour the puree into your slow cooker and cook on low for ten hours. Separate the puree into desired amounts, freeze in airtight containers or freezer bags.
Ideas for Dehydrating Tomatoes
Paste type tomatoes are the best choice for oven-dried or dehydrated fruits. Along with olive oil, use a variety of seasonings for roasting. Some popular seasoning choices include salt, pepper, oregano, basil, garlic salt, or crushed red pepper, but the seasonings used depend on your taste.
Food preservation experts suggest using a food dehydrator in place of the oven for the same, if not better, results. Wash and dry your tomatoes and then remove the core. Cut large tomatoes into bite-sized pieces, while quartering smaller ones.
Place the pieces inside a bowl and drizzle with olive oil and add seasonings. Toss them gently to coat evenly. Lay them on a wire rack inside of a rimmed baking sheet, leaving one inch of space between.
Put the pan on the rack in the center of a 200°F oven and roast for up to three hours. Check them every half an hour. When edges begin to curl, and they are reduced in size by one-third, they are done.
Remove them from the oven now if you prefer plumper tomatoes. Continue drying for another three hours if you prefer a chewy texture. Store in airtight jars inside the fridge for several days, or store in the freezer for up to six months.
Make Homemade Tomato Paste
Many recipes call for tomato paste, but it is something we never have on hand. Rather than running to the grocery store for tomato paste, make your own with some of your excess Roma or Early girl variety of tomatoes.
Wash tomatoes, remove the stems and soft spots and roughly chop them up. Place inside a large pot and bring them to a boil using high heat. Cook them for two minutes or until just soft. Add ½ cup of olive oil and the sea salt, stirring well to mix.
Process the tomatoes through a food mill or a sieve to remove the skins and seeds. Pour the pulp onto several sizeable rimmed baking pans; sheet pans are ideal. Bake the tomato pulp in a 300°F oven for three hours.
For juicy tomatoes, boil them down on the stove before placing them in the oven. Reduce the amount by 1/3 before finishing in the oven. Stir the pulp every 30 minutes, making sure you stir in any caramelized paste from the bottom and edges.
Once the flesh is reduced by 1/3, lower the oven to 250°F and continue cooking for another three hours, stirring frequently. Transfer to canning jars.
If storing in the fridge, add a thick layer of olive oil to the top of each jar to protect the tomato paste. For longer shelf-life, process jars in a water bath.
Preserve Your Cherry Tomatoes Through Pickling
Like many other veggies, including zucchini, a great way to preserve cherry tomatoes is to pickle them. To prepare these sweet-tasting tomatoes for pickling, wash and dry them, then run them through a skewer to poke a hole in their center for an infusion of flavor.
Place all of the above spices inside a wide-mouth pint-sized Mason jar. Pack the tomatoes inside and then set aside. Make the brine by bringing the sugar, salt, vinegar, and water to a full boil over high heat.
Pour the pickling solution into the tomato filled jar, but leave ½ inch of space at the top. Slide a knife along the edge to remove all air bubbles.
Secure jar with lid and ring until hand tight. Bring them to room temperature and then store them in the fridge for 48 hours before eating.
Choose your favorite way to store tomatoes, whether by freezing, canning, pickling, making sauce or paste, or drying. Or, you can use all preservation methods to keep tomatoes fresh for the next time you plan to use them.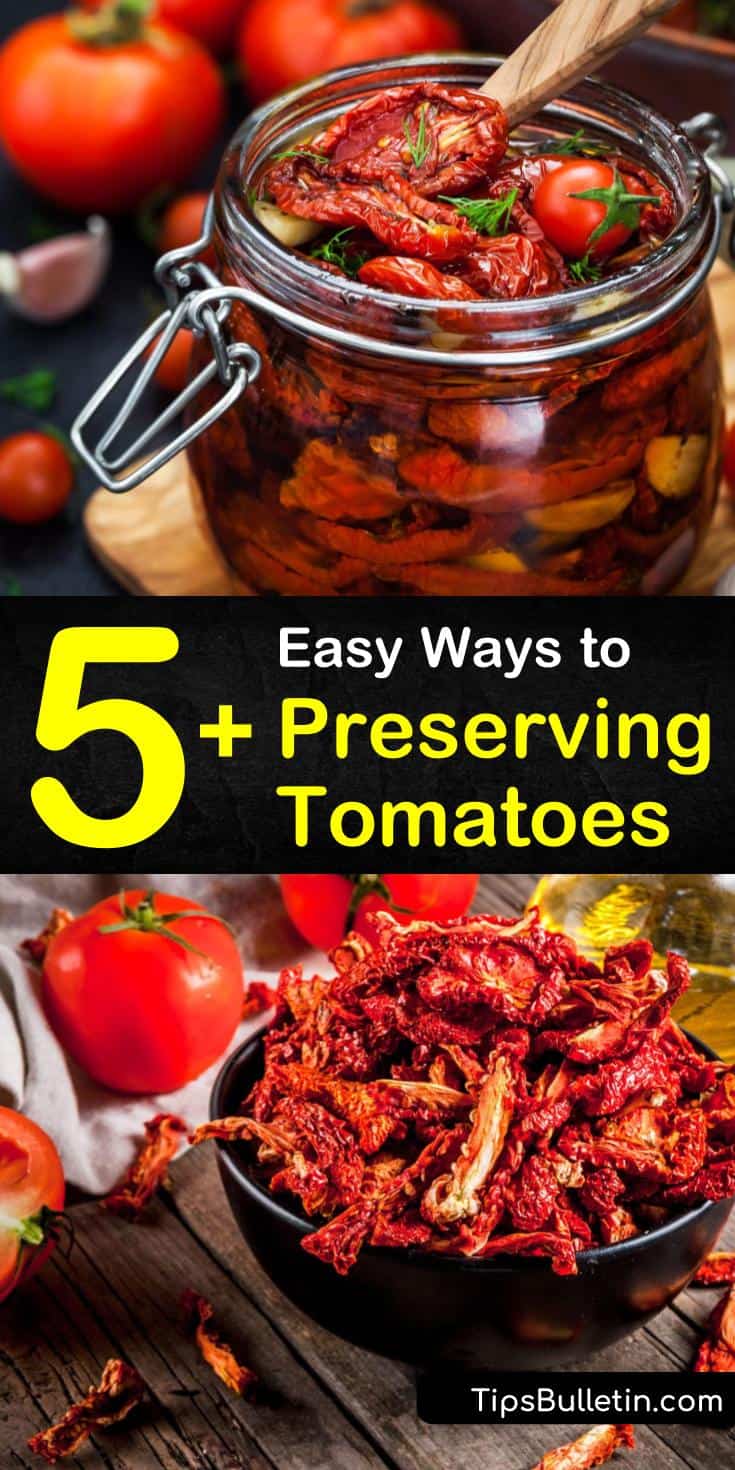 Thank you for reading our thoughts on the best way to preserve tomatoes. If you found our ideas and recipes on preserving tomatoes useful, please share on Facebook and Pinterest so others can learn how to preserve tomatoes correctly, too.