If you love fresh fruits and vegetables, summer is probably your favorite time of year. The problem is that summer always ends, as does the abundance of fresh produce. Learning how to preserve vegetables gives you the ability to enjoy the flavor of your favorite vegetables year-round.
The excellent news is preserving vegetables isn't hard; some methods are easier than others, but all provide amazing results. Discovering the various ways to preserve vegetables from summer harvests is essential as they don't keep as long as other vegetables.
For example, winter squash, when stored in a root cellar, keeps for months at a time. Zucchini, on the other hand, is a summer squash and only keeps well for a few days inside the crisper drawer of your refrigerator.
Even though some vegetables store well in the root cellar, learning how to preserve vegetables ensures your food storage features all the vegetables you enjoy, not just the hardier ones.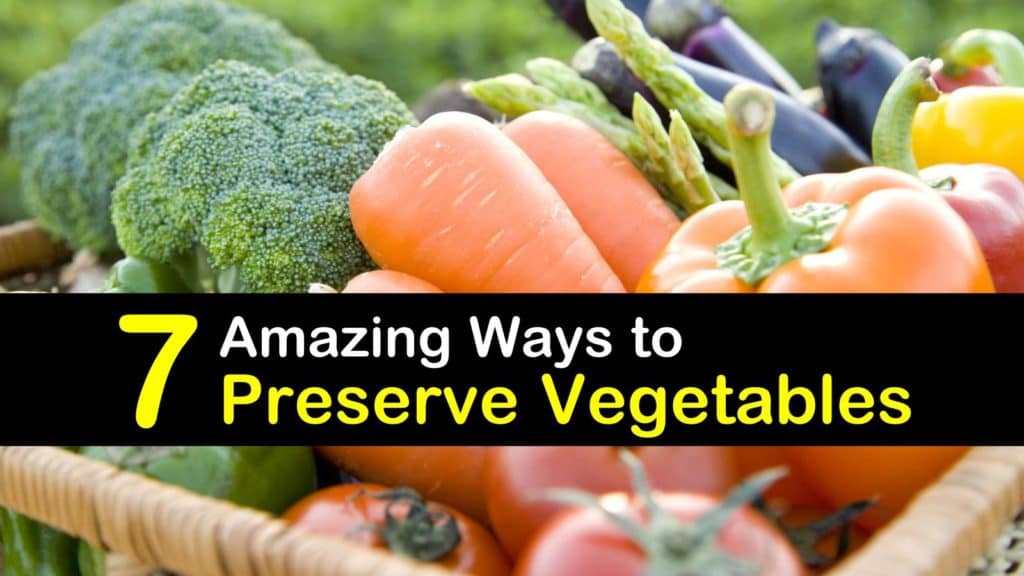 Amazing Ways to Preserve Vegetables
Growing your own vegetables is quite satisfying. Whether you have a small or extensive garden or you have some vegetables that grow in pots, it's important to know what to do with your harvest.
How long do vegetables last once you pick them? Keeping veggies fresh depends on the way you store them and what vegetable you are talking about. Some produce lasts longer than others.
There are several proven methods for preserving fruits and vegetables. The right storage methods increase the shelf life of your favorite fruits and vegetables, allowing you to buy in abundance at your local farmers market if you don't grow veggies yourself.
Let's take a look at some great methods for storing fresh garden vegetables that are simple and require very little equipment.
How to Preserve Vegetables through Drying
Using a dehydrator to preserve your fruits and vegetables works by removing all the water; this prevents any bacteria from surviving. Drying alters both the flavor and texture of the food, but is one of the easiest preservation methods and is excellent for leafy greens.
After drying, store your fruits and vegetables in a cool, dark place. To use a dehydrator for drying vegetables, wash, dry, and slice your veggies and place them in a single layer on the trays inside. Select the appropriate setting and allow it to run.
After your dehydrator turns off, check vegetables for stickiness. If spongy or sticky, continue drying for another 30 minutes and then check again.
If you don't own a dehydrator, use your oven for drying. Wash, dry, and thinly slice your vegetables. Create a solution using equal parts lemon juice and water to soak your veggies in for ten minutes.
Use parchment paper on the baking sheet and line with vegetables. Dry inside a 130 to 160°F oven. Turn the tray every hour. Once slices feel leathery and pliable, they are ready for storage.
Canning is One of the Ways to Preserve Vegetables
Canning veggies is one of the simplest food preservation methods around. Canning utilizes boiling water to kill bacteria, including botulism, inside the jars and then creates an airtight seal to preserve your food.
With the canning process, raw and cooked food is safe to use. Use water bath canning for high acidic foods or recipes that add the correct amount of acid, such as rhubarb, radishes, and relishes.
Low-acid foods, which include turnips and other root vegetables, require pressure canning. For specific instructions on the best way for preserving corn or other foods, please visit the National Center for Home Food Preservation website.
Water Bath Canning Process
Use the proper way to wash vegetables and prepare them according to the recipe you are using. Fill jars with vegetables and solution, secure lids, and rings—place jars inside a water bath canner. Ensure the water covers the jars by two inches.
Place the top on the canner and bring water to a rolling boil. Processing time begins once the water reaches a full boil. Determine processing time based on individual recipes.
Turn off heat and remove canner lid. Allow jars to stand in water for five minutes before removing. The jars should sit for up to 24 hours before testing for a seal.
Pressure Canning Process
Fill and prepare your jars as instructed in the recipe. Always leave the recommended amount of headspace and secure rings on jars until they are hand tight only. Place jars inside the pressure canner and fill with water to cover jars about three inches.
Secure canner lid in place and leave the vent pipe open. Use medium-high heat and allow steam to pass through the vent pipe until there is a constant flow of steam. Close your vent pipe following your manufacturer's instructions.
Adjust heat as necessary to achieve the desired pressure and then maintain pressure for the recommended time. Once processed, turn off the heat and leave the canner alone until the pressure drops to zero.
After ten minutes, remove weight and open lid and allow the jars to cool for another ten minutes. Remove the jars and let them sit for up to 24 hours and then check for a proper seal.
Preserving Vegetables by Pickling
Pickling is a great way to preserve produce. Fresh vegetables work best when pickling, but check for ripeness before proceeding as overly ripe or bruised produce doesn't pickle well.
Pickle any vegetable type, including carrots, cherry tomatoes, asparagus, or cauliflower. To preserve color, blanch for three minutes and then shock in an ice water bath to stop the cooking process.
When preserving asparagus or any other type of veggie, first wash pint canning jars, lids, and rings in soapy hot water. Rinse thoroughly and dry with a soft towel. Wash your desired vegetables, peel any that require it, and then cut vegetables into pieces. Cubes, slices, and sticks work best.
If using any flavorings, such as herbs, garlic, peppercorns, etc., divide them up between the two jars when preserving okra or cucumbers. Pack the vegetables inside each jar and leave half an inch of headspace at the top. Fit as much as inside the jars as possible without smashing them.
Mix the vinegar, water, sugar, and salt in a saucepan. Bring mixture to a boil with high heat and stir until sugar and salt dissolve. Carefully pour the brine over the vegetables and make sure to leave half an inch of space at the top.
Remove the air bubbles and add more brine as needed. Secure the jars with lids and rings. Bring them to room temperature before placing them inside the refrigerator. The flavor enhances as time passes, wait at least 48 hours before eating.
How to Preserve Vegetables by Fermenting
Fermenting not only preserves your fresh vegetables, but it also improves the nutritional content. Use fermenting as a preservation method for all your favorite ones.
Use either a dedicated starter culture, whey or salt to ferment veggies; what you use depends on what you are fermenting.
To store carrots long term with extra flavor, wash, peel and slice carrots into sticks. Add the sea salt to the water and stir until fully dissolved. Place carrot sticks, along with some garlic cloves into a Mason jar. Pour the salty liquid into the jar, ensuring the sticks are covered, and there is at least one inch of headspace.
If necessary, weigh carrots down to keep them submerged. Secure the jar with a lid. Store the jar at room temperature for several days until the desired taste and texture is achieved. Remove cover daily to release any pressure.
If no lids are available, use a coffee filter secured onto the jar with a rubber band. Once the carrots ferment, seal with a tight lid and place in cold storage.
Using Salting as a Preserving Method
Salting works as a preservation method thanks to salt's unique hypertonic properties. Salt doesn't allow bacteria to survive, as it causes organisms to die due to dehydration.
Wash and prepare your vegetables by slicing, chopping, or dicing. Place the prepared vegetables inside a baking pan and cover with cold water. Begin adding salt to the baking pan. Continue to add salt until you begin to see deposits on the vegetables.
The visible deposits indicate the saturation level is reached. Cover and place the submerged vegetables inside your refrigerator. Leave them covered and soaking in the salty water for seven days. Uncover them and drain away from the brine.
Replace vegetables inside baking pan and cover with additional salt. Place pan in a cool and dry place until they dry. Store them inside airtight containers such as plastic bags.
Use Oil Packing to Preserve Veggies
Oil packing preserves both fruit and veggies as the oil makes it nearly impossible for bacteria to develop. If opting for oil packing, be aware it does alter the flavor. Oil packing is best for olives, onions, beets, eggplants, tomatoes, and herbs.
Always cook your vegetables first. blanching, grilling, and roasting are valid cooking methods for oil packing. Once cooked, place them inside a bowl and season with salt and pepper, if desired. Pour ¼ cup of vinegar over vegetables and stir to coat.
Allow standing for 15 minutes. Use red wine, white, or balsamic vinegar-based on the desired flavor. Pour in one-half cup of olive oil. If the vegetables stick, add more vinegar and olive oil using the same ratios.
Place them inside a jar and fill with more vinegar oil marinade. Remove air bubbles and then secure jar with an airtight lid. Store them inside the refrigerator.
Freezing as a Way to Preserve Vegetables
Freezing vegetables and fruits is easy and quick. It's also one of the best ways to preserve bread if you have extra. Freezing and then thawing softer vegetables or fruits, such as blueberries or tomatoes, damages them and changes their texture. If possible, use those while still frozen.
If browning is an issue, treat with ascorbic acid before freezing. Blanching starchy vegetables, such as root vegetables, before freezing is recommended. Preserving zucchini by freezing is an excellent way to store the veggie.
To preserve vegetables by freezing, like preserving avocados or carrots, prepare them as desired. Use metal baking sheets and add vegetables in a single layer. Place them inside the freezer until hardened. Remove frozen vegetables from the baking sheet and place inside freezer bags.
Close the bags and place them back inside the freezer until ready to use. For extra flavor, add fresh herbs, garlic, chilies, lemon zest, etc. It's easy to preserve fresh ginger this way, as well as a wide variety of other fruits and vegetables. They're ready whenever you want to use them in a recipe.
To thaw frozen squash or other vegetables, simply add the bag of veggies to the refrigerator overnight. Some recipes do not even call for thawed vegetables. Add them frozen right into your dish before cooking.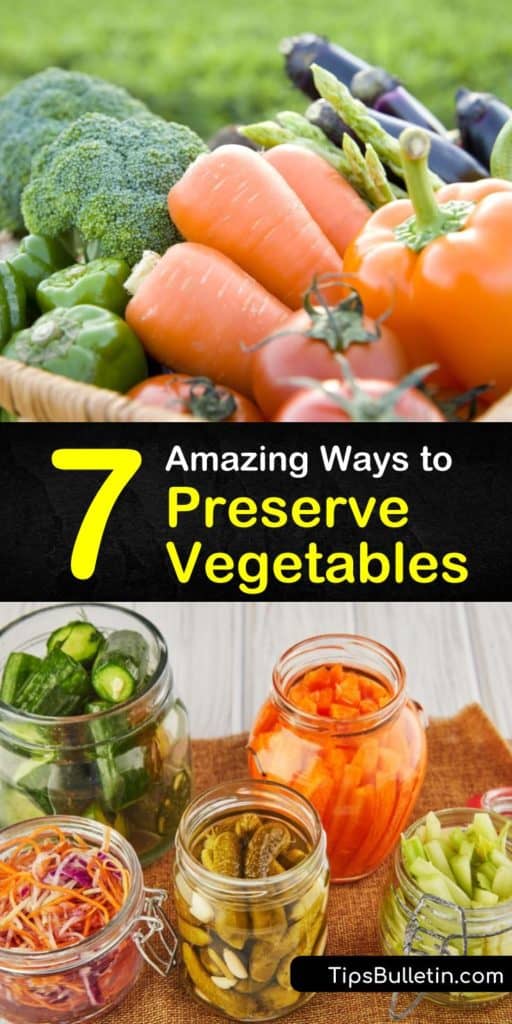 Thank you for reading about our different ways to preserve vegetables. If you found any of our tips for preserving vegetables helpful, please share these vegetable preserving recipes on Facebook and Pinterest, so others can learn how to preserve vegetables correctly, too.