Our decks are outside and must endure weather, dirty shoes, and neighborhood creatures all year long. Having a reliable method for cleaning your hardwood or composite decking is essential if you want to keep your home looking its best. Knowing how to pressure wash a deck will get you where you want to go.
When you power wash a deck, you blast away any dirt and grime that might have dug deep into the surface. This DIY guide covers how to remove stain from deck with a pressure washer so that your home stays beautiful. In this home improvement article, you'll discover the key steps you should take to ensure that your cleaning is as smooth and surprise-free as possible.
We show you how to prepare your deck ahead of the big clean, the best way to use your pressure washer, and what you should do to keep your floor clean after the wash. You'll be happy to discover how easy it is to get your deck clean and ready to amaze your family and guests.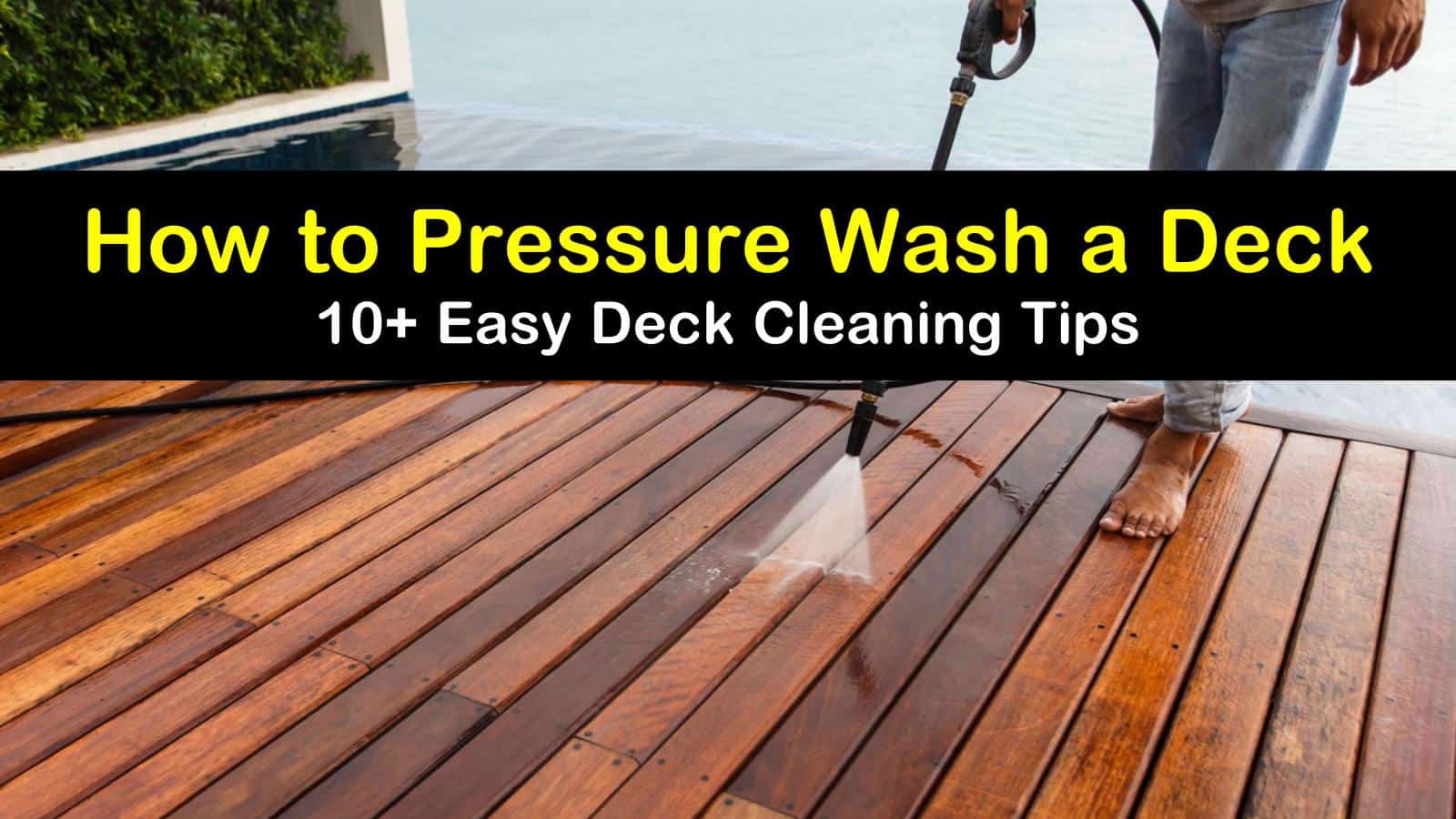 Preparing to Power Wash a Deck
It can be hard to decide whether to take care of your deck first or your siding if the wall is right up against the deck. Many people advocate for washing the siding first with a homemade aluminum siding cleaner or one for vinyl.
Clean painted wood siding on house in the same way. Only use a pressure washer on a lower impact setting to keep from peeling off the paint and creating a bigger problem than that with which you started.
When you splash debris onto the siding as you clean the deck, you will only have to take care of a small portion or you can cover it prior to cleaning.
Power washing your deck is an excellent way to remove grime and mildew and prepare for new sealant or stain. It's always smart to pressure wash a deck before staining to ensure that the stain sticks to the wooden surface.
However, you need to ensure that the floor is ready for the wash. You probably have all manner of items on the deck that will get in the way of the washer, and the floor is apt to have leaves and other debris on it, as well.
A little advance work can mean the difference between successful and unsuccessful cleaning. In this section, you'll discover the steps to take before you remove stain with pressure washer and soap.
We help you get to know your pressure washer and walk you through the pre-cleaning process. The time you take to prepare before you power wash a deck will pay off in spades and will help extend your deck's life.
Get to Know Your Pressure Washer
There are lots of pressure washers out there for rent or purchase, and many of them will do a great job getting your deck clean. However, when you are working out how to pressure wash a deck, you should begin by doing some research and then familiarizing yourself with the essential components of a power washer.
Most power washers have similar features, so once you've identified where everything is on your appliance, you'll be ready to move on and start gathering gear. If your pressure washer is gas-powered, find out how to start it. Gas washers have a choke and ignition that you'll need to master.
You're also likely to have several buttons on the machine that deal with soap application and pressure adjustment. Make sure you're comfortable operating them, as using pressure washer soap and setting the correct pressure are vital steps when you power wash a deck.
Gather Your Equipment
Discovering that you've forgotten a required item is hugely inconvenient if it happens when you're halfway through the deck cleaning. It's a much better idea to set aside ten minutes before you begin the cleaning to identify and collect everything you need.
When you invest in a little advance legwork, you help to ensure that every time you remove stain from deck with pressure washer, it goes smoothly.
Adjust your list, depending on your circumstances. For example, a composite deck requires a specialized cleaning soap, and folks with electric washers need not gather gas or oil before beginning to power wash a deck.
You might not wind up needing everything you collect, either; perhaps you won't have to apply soap or sand down rough patches after you clean. It's best to have an item on hand that you don't need than to need something you don't have, though.
Clear the Deck and Sweep It
If you're like most other homemakers, your deck is probably far from empty. You likely have patio furniture on it, and many people keep their grill on the patio for cooking. Before you begin cleaning, remove anything that isn't nailed down. If you can get an item off your deck ahead of the wash, you should do so.
Once you've taken everything off the deck, it's time to begin the pre-clean. Your broom will come in handy here. Give the entire patio a good sweep down, making sure to get in corners and crevices. Pay special attention to areas you uncovered when you moved items off the patio, as these spots will probably be the dirtiest patches of the deck.
Spot Clean the Deck
After you sweep the floor, give some attention to any areas that have discolorations or heavy dirt. You're likely to discover a few such patches where furniture or large items have stood for a while. A little spot scrubbing is just what the doctor ordered here and will make the upcoming pressure wash much more straightforward.
To clean green mildew from deck and walls and get rid of other stains you may have found, put on the rubber gloves and fill a bucket with water and a few drops of detergent. Dip your long-handled scrub brush in the soapy water.
Scrub at any areas that require extra care and attention until you loosen all dirt and grime. If needed, rinse the scrubbed area with a garden hose a few times as you work to check your progress.
Scrape Off Tough Debris
Perhaps your deck is in a high-traffic area, or maybe you've spilled something sticky on it at some point. Your deck lives outside, after all, so it's entirely possible to get tar, sap, or other material on your deck surface. Rather than risk damaging your deck with overly high pressure to attack stuck-on debris, use a scraper and elbow grease to get it clean.
Carefully use a scraping tool to remove any sizable stuck-on debris from the deck, whether you need to get sap off wood surfaces or another unwelcome spot. Try to use minimal pressure as you clean, and take care not to dig into the wood surface as you scrape.
Be patient, and take your time. You can scrape off almost anything from your deck, as long as you're willing to go slowly and incrementally.
How to Pressure Wash a Deck
Once you've cleared off your deck and gotten it ready for its date with the washer, it's time to start the power cleaning. Much of knowing how to pressure wash a deck comes down to understanding the order of operations and which optional steps you should take to get the surface clean.
When you have a reliable cleaning process that you follow every time, your deck cleaning will be easy. Many of the same guidelines also apply when you clean vinyl siding. Take care of your deck and the sides of your house at the same time for an all-over clean.
How to Remove Stain from Deck with Pressure Washer Cleaning
This section looks at how to pressure wash a deck from start to finish. We help you put together a trusted routine to ensure that every cleaning is easy and effective.
You'll find out how to apply the soap ahead of using pressurized water on the deck, the best power washing technique to avoid damaging your wood, and when and how to apply sealer or brightener.
Spray Down Your Deck with a Hose
When you power wash a deck, you send a high-pressure stream of water onto the deck surface. Too much pressure can result in stripping the surface or even harming the wood itself, so it's best only to use the pressure washer when necessary. Fortunately, your garden hose is perfect for wetting down your deck in advance of a good soaping and scrubbing.
Spray the deck down thoroughly, making sure that you get every square inch nice and wet. You don't need to spray so much water onto the wood as to swamp it, but you want a damp surface when you apply the deck soap. Once the deck is ready for scrubbing, make sure to move the hose out of the way.
Scrub the Deck
As you've likely noticed, the majority of the time you spend pressure washing your deck doesn't involve the washer itself. The final task before you get to the power wash itself is to soap up and scrub the surface. Doing so loosens the dirt and provides the washer with a ready surface for cleaning.
To make this teak deck cleaner or for another type of wood, fill a bucket with water and add the deck cleaning solution. You can use commercial deck cleaning soap, or you can make homemade deck wash. Dip a long-handled brush in the water, and scrub the wood or composite.
Use this technique for cleaning wooden outdoor furniture, as well. A toothbrush can be helpful to get into tiny cracks and crevices.
Scrub the entire deck, working your way from the house outward to avoid sending soap or water into your home. Scrub each stair tread, as well.
A quick scrub should be enough to get the deck primed for your pressure wash. If you wish to clean off deck stain, use a stripper at this point instead of soap.
Make a Pressure Sweep with Plain Water
Not all wooden decks need complete cleaning. Many times, your deck will be relatively clean and will only require a pass with water to get it looking beautiful. And even if your deck is dirty, begin with a pressure wash without soap.
Making a non-soapy pass with the power washer will clean away any soap leftover from your scrubbing and might be all you need to get the job done. It's also a great way to clean off semi transparent stain safely.
Connect the washer to the water source and power it up. Use as little pressure as necessary for cleaning. Begin with a low pressure stream first, then slowly increase the pressure to find the right volume for your wood.
Softer wood decks, such as those made from pine, require much lower pressure than harder woods and will splinter at high pressure. Take care not to apply too forceful a stream on soft wood.
Hold the sprayer tip about a foot away from the deck, and use a sweeping motion as you clean. Work from the house outward, and push as much water as possible off of the decking as you clean.
Pressure Wash with Soap and Brightener
You've gone through all of the prep work and pre-cleaning, and you're ready to power clean your deck with soap or brightener. Brightener will bring your wood back to like-new appearance, and soap applied via the pressure washer will give the wood or composite a deep clean. If a pass with plain water was enough, skip this step.
Fill the dispenser on the washer with detergent or brightener, making sure to follow the manufacturer's instructions. Put on your gear, and turn on the machine.
Hold the sprayer tip about a foot away from the deck, and use a sweeping motion to push the water as you clean. Don't apply too much pressure to prevent damaging the deck.
Clean outward from your house to keep from getting the debris on your bricks or vinyl siding. Use a similar method to pressure wash a driveway or patio with special homemade or store-bought concrete cleaners that are specially formulated to deal with mold, grime, and other stains that are common on cement surfaces.
There are also DIY remedies and commercial cleaners for cleaning green algae off wood surfaces like your deck or gazebo.
Sand Rough Areas
Pressure washing can result in rough spots on your deck from holding the tip too close to the wood or keeping it in place for too long. If you encounter raised or splintered spots after cleaning with a power washer or wish to prep the deck for sealer, you should sand them. It won't take long to sand down wood fibers, and doing so will make your deck look 100% better.
Gently apply the sandpaper to areas on your deck that need smoothing, moving the sandpaper with the grain of the wood. Don't bear down more than is required to create friction on the wood.
You don't need to overdo it; sand the wood enough to remove the rough surface. Wipe any areas you sanded with a damp cloth to remove sawdust.
Apply Sealer if Needed
Your deck won't always require a new application of sealer or deck stain when you complete your wash. If you haven't cleaned the deck for a while or had to do some intense cleaning to get the task done, though, you should re-seal the wood to avoid future issues. A few minutes with sealer reduces new stains or grime buildup and protects the wood.
Follow the washer manufacturer's instructions to ensure that the sealer takes. If an area seems not to absorb the sealer, use a little sandpaper to open the wood's pores, wipe the area clean, and reapply the sealer. Don't walk on the fresh sealer for a few hours to let it dry thoroughly.
We hope you had a lovely experience learning how to remove stain from deck with pressure washer. Your deck sets off your house and adds curb appeal, but over time, it can get filthy.
Our guide shows you how to power wash a deck from start to finish and will help you extend your deck's life and keep it looking great. The next time your deck looks dirty, you'll be ready to start cleaning.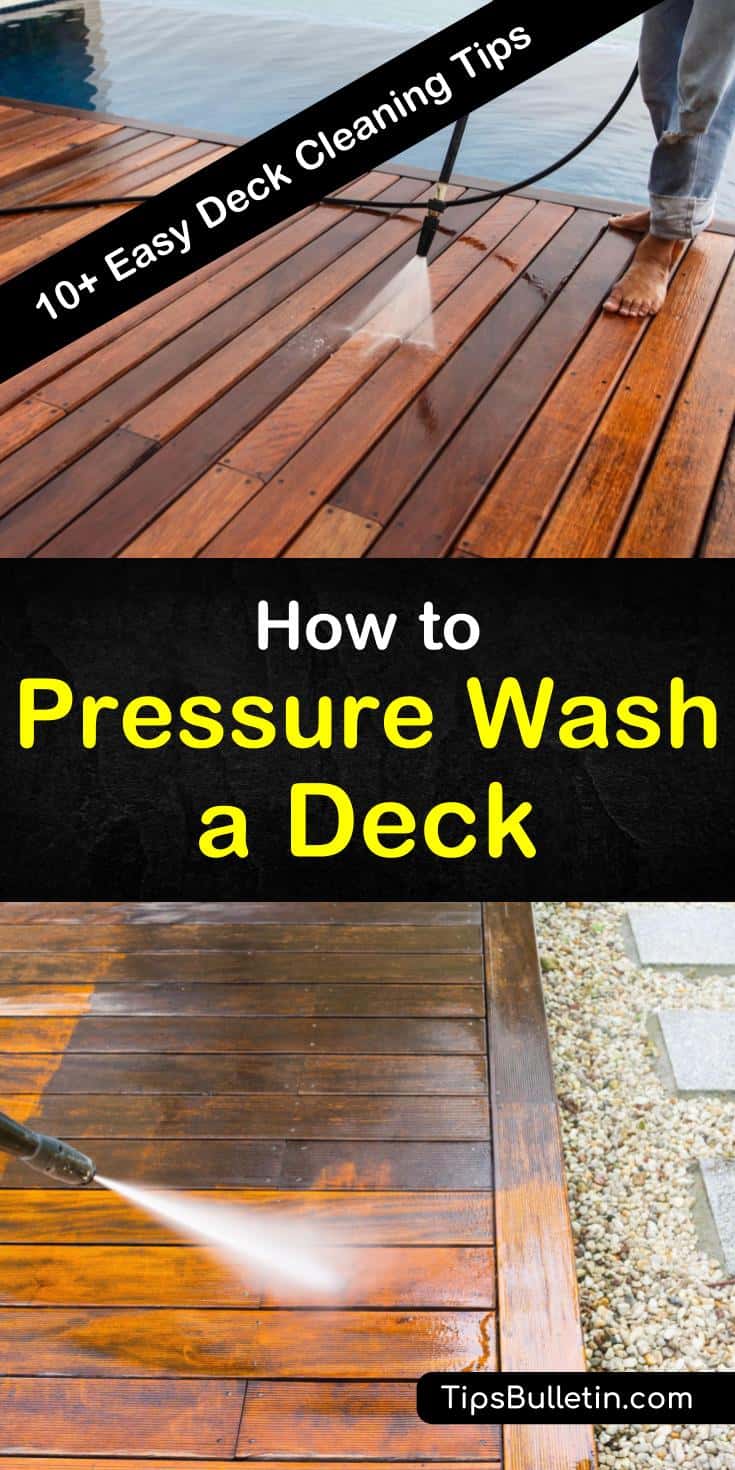 Thanks for reading this deck cleaning guide. If you found our recommendations on how to pressure wash a deck to be helpful, please help us out by sharing this deck washing article with your family and friends through Pinterest and Facebook.