Cockroaches are perhaps the most obnoxious pest you find in your home. They're unpleasant and frightening, making an area appear dirty and unwelcoming. They carry bacteria, putting your family at risk of sickness. Fortunately, learning how to prevent cockroaches is a straightforward process.
If you have a roach infestation, try a DIY cockroach trap for cockroach control before paying for expensive pest control services. While you might engage a pest control provider to get rid of the roaches, their chemicals could be dangerous to you and the environment, and numerous treatments are usually recommended.
Handmade cockroach traps are inexpensive and permanently kill roaches without hazardous and costly pesticides. It may take a while to control the insects in your home; employing traps expedites the process and allows you to track progress by counting dead roaches. DIY cockroach prevention and control solve your roach issue inexpensively and safely.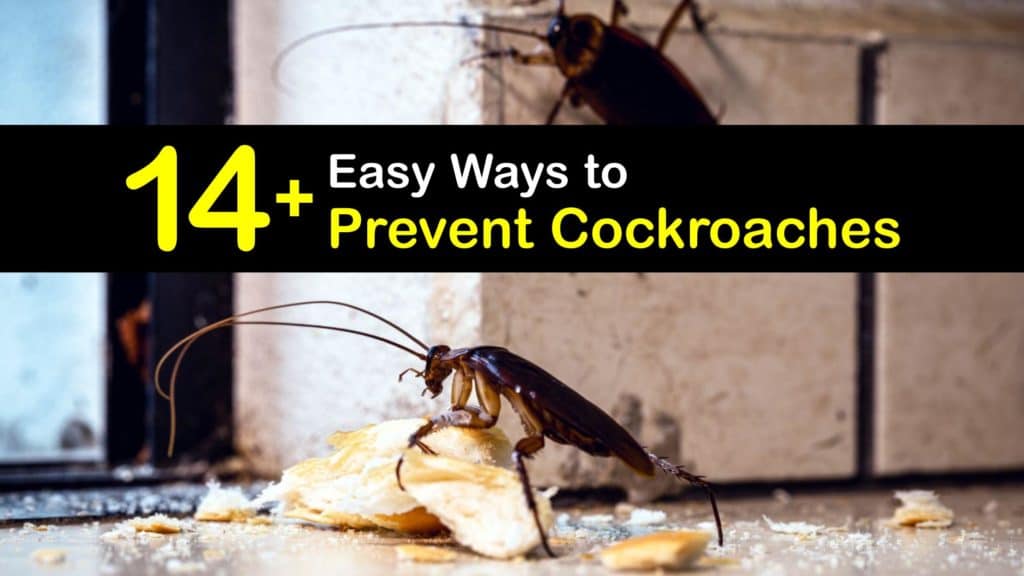 DIY Cockroach Prevention and Treatment
If you're eager to explore how to prevent cockroaches and perform your own cockroach control, you likely have most of the items already. Common household materials make up cockroach prevention and control items such as traps.
Most traps include bait and an insecticide, while some, such as glue traps or slippery traps in bottles and containers, work by mechanically preventing roaches from escaping. There is a roach killer ideal for any home, whether you employ safe and non-toxic ways, prefer to be hands-off, or want to pick up a commercial remedy.
How to Prevent Cockroaches with Boric Acid
Boric acid, commonly called Borax, kills insects by disrupting their digestive and neurological systems. Diatomaceous earth is an inexpensive, non-toxic, and simple solution for killing roaches.
Boric acid destroys more bugs than diatomaceous earth, though it has a smaller range of applications and is most effective in a compact space. This pesticide for roaches must be spread in a light coating and renewed regularly.
Boric acid kills all roaches in a large infestation after about 15 days. Some homeowners combine equal parts boric acid and diatomaceous earth powder to obtain the best of both worlds. In cockroach-infested regions, apply the dust in a fine layer.
Homemade Cockroach Control with Powder Traps
Instead of a chemical gel bait, many individuals prefer diatomaceous earth and boric acid as a roach killer. Diatomaceous earth powder destroys roaches while leaving beneficial insects like bees unharmed. Use diatomaceous earth for roaches by making diatomaceous earth roach traps is an easy way to get rid of German bugs, Oriental cockroaches, and American cockroaches.
Mix the materials and sprinkle them in mounds near roach entry points or other places roaches might hide, such as small cracks. Flour and cocoa are employed as cockroach bait to attract insects to the diatomaceous earth powder. Use caution when applying cocoa powder on light-colored carpets or flooring as it may stain them.
DIY Roach Spray for Your Cockroach Problem
Lemon and peppermint essential oils have strong odors to repel roaches. When combined with oil, diatomaceous earth produces a highly effective natural roach spray deterrent. The spray is chemical-free and smells incredible while fighting roaches.
Slowly swirl the powder with water and peppermint or lemon oil These are some of the smells that roaches hate. Fill a half-full spray bottle halfway with the solution and spray it over cockroach hotspots in your home.
Tape Traps for a Roach Problem
This DIY roach killer is the most basic, and it works on all types of roaches and other crawling pest insects. To make a duct tape cockroach trap, turn a piece of duct or packing tape upside down and drop a teaspoon of peanut butter in the middle of the sticky side.
Place your DIY cockroach sticky trap tape on a wall, in a cupboard, or near other roach hiding spots for the best results. Roaches are attracted to the roach bait with peanut butter, become stuck, and die.
Petroleum Jelly Jar Trap for Pest Prevention
Jar traps lure roaches into the jar, preventing them from climbing out with slick sides and strong bait. Thanks to food enticement at the bottom and sides smeared in petroleum jelly, this homemade cockroach trap traps dozens of insects and is reusable.
Use a jar with a small neck for a pet-safe trap that prevents them from squeezing their noses through the entrance. Put peanut butter or cocoa powder in the bottom of the pot as bait, and dab petroleum jelly on the interior to make it slippery. Inspect and empty the trap every day.
Peanut Butter Roach Bait
Peanut butter is the ideal roach bait for a handmade roach trap. It helps guarantee the bugs make contact and produces more dead cockroaches when paired with an appropriate poison.
Spread the peanut butter in the middle of the plate as a food source and bait. In a circle around the peanut butter, sprinkle a coating of insecticidal dust. Hungry roaches move over the insecticidal powder to get to the food and die. Substitute diatomaceous earth or boric acid instead of the poison if desired.
Diatomaceous Earth Solves a Cockroach Problem
Laying down food-grade diatomaceous earth is a simple DIY pest control approach for eliminating cockroaches. This powder is excellent against the Oriental cockroach, German cockroach, and American cockroach.
The edges of the fossilized diatoms in the powder puncture the waxy exoskeleton layer of the cockroach. When insects walk through the powder, it adheres to their leg hairs. The exoskeleton ruptures, and the insect pest dries out and dies.
To properly cure a roach infestation, diatomaceous earth must be applied dry. Dust areas where cockroaches are discovered with a light coating of powder. Concentrate your efforts in places where the bugs collect crumbs and other food supplies, such as behind the oven, cupboards, and fridge.
Keep watch on the places you treat; you may have to refresh the powder, depending on the severity of the cockroach activity. Reapply if the powder gets wet; dust at least twice a week.
Homemade Roach Cookies Prevent a Roach Problem
Roach cookies are a simple roach killer to make at home. To prepare these lethal cookies, combine a few ingredients and place them throughout your house out of reach of animals and children.
Cover your workspace and put on a pair of latex gloves. Boric acid in small dosages is generally harmless; however, it might cause skin irritation. Mix the supplies into a thick dough, roll it into shapes, and lay them on wax paper squares. Wipe off your work surface and sanitize your kitchen utensils.
Set cookies out by the stove, refrigerator, beneath sinks and cupboards, on the tops of cabinets, and in other roach hiding spots. Target locales of cockroach activity, places where crumbs build up, and areas out of the reach of children and pets. When the batter dries out, replace it.
Soda Bottle Trap to Treat and Prevent Cockroaches
If you prefer soda over beer and wine, a two-liter plastic bottle makes a perfect large roach trap. To remove the top, cut where the bottle begins to round out to its full width. Apply a layer of petroleum jelly to the interior of the top half of the bottle and the bottleneck.
Put some cockroach bait in the bottom of the bottle and place the top half of the bottle upside-down into the bottom part. Roaches infiltrate the bottle through the spout to access the food and become imprisoned when the slippery jelly stops them from crawling back out.
Oil and Bottle Traps Solve Cockroach Infestation
Unfortunately, there are many things that attract roaches. Use the last drop of your favorite beer or wine to catch roaches. The delicious fragrances of beer and wine attract these bugs as effectively as the odors of leftover food. To make the interior walls of the bottle slippery, pour a small amount of oil around them.
Cockroaches become caught when they enter the bottle as the inside is coated with slick oil, and they can't climb out. Because the short necks of the bottles make it difficult to empty and reuse them, trash them after a couple of days, and replace them with a new trap.
Home Management for a German Cockroach Infestation
Cleaning and implementing management strategies helps to reduce an existing cockroach infestation or prevent a future one. Keeping roaches out of your flat or apartment and house is easy when you follow these tips.
Cutting off the insect's access to food sources and making the environment less favorable for moving in and breeding deters roaches from choosing your home and sticking around.
Insect Growth Regulator for Cockroach Control
Use an IGR (Insect Growth Regulator) in conjunction with other roach control products such as roach baits and roach spray to help prevent adult roaches from reproducing. IGRs are safe to use around kids and pets, and they significantly reduce roach populations over time.
IGRs kill fleas, roaches, mosquitoes, and other insects. Adult bugs rarely die, but egg hatching and moving from one life stage to the next are halted. Several insect growth regulators (IGRs) coupled with insecticides kill adult insects. If an IGR sounds like the answer to your bug problem, look for one at your local hardware shop.
Commercial Sticky Traps for German Roaches
Find sticky or glue traps in a variety of home and home improvement stores. Sticky traps are large pieces of cardboard with adhesive on one side to trap roaches. If you're buying glue traps for a cockroach infestation, be sure they're small enough to catch insects without catching mice or pets.
Place sticky traps in the kitchen cabinets, near any crevice and opening, and in areas with cockroach droppings. Avoid walking on them after placing glue traps because they stick to shoes or skin.
Electric Traps Stop Roach Activity
The electric cockroach killer functions similarly to an electric mosquito trap. It kills the insects as soon as they enter by first luring them in with bait or some other technique and then electrocuting them upon arrival.
This method doesn't require much in the way of setup and gets the job done swiftly. Most of these machines come equipped with a tray that allows easy emptying and cleaning; if you like to interact less with the process, this approach may be a good option.
Commercial Pest Control Options
Hardware stores offer a wide range of choices for roach pest management. Consider your priorities while buying roach traps, such as using natural and safe components or having a self-contained roach trap.
When looking for commercial cockroach control, you'll find a commercial bait station, fully enclosed traps to keep children and dogs out, sprays, powders, and more.
Like wildlife control or bird control, cockroach control may take a while, but it's crucial to get started. Cockroaches are unwelcome guests in any home or office, and it's critical to catch and eliminate them as soon as possible. Making homemade roach traps and conducting pest control is easy with the right tools.
If you loved this article on how to prevent cockroaches, please share these brilliant tips on cockroach prevention with your friends and family on Pinterest and Facebook.