Knowing how to prevent dust mites can help decrease the frequency of allergic reactions and other allergy symptoms like sneezing, stuffy nose, and runny nose.
These small creatures also leave rashes on your skin if there is a large population living in your carpeting and fabric furniture. Dust mites are microscopic, which means humans cannot see them with the naked eye.
If you are prone to allergies, you must remove dust particles from your household products to lessen the odds of an allergic reaction. House dust mites cause numerous problems for people, especially if they develop a dust mite allergy.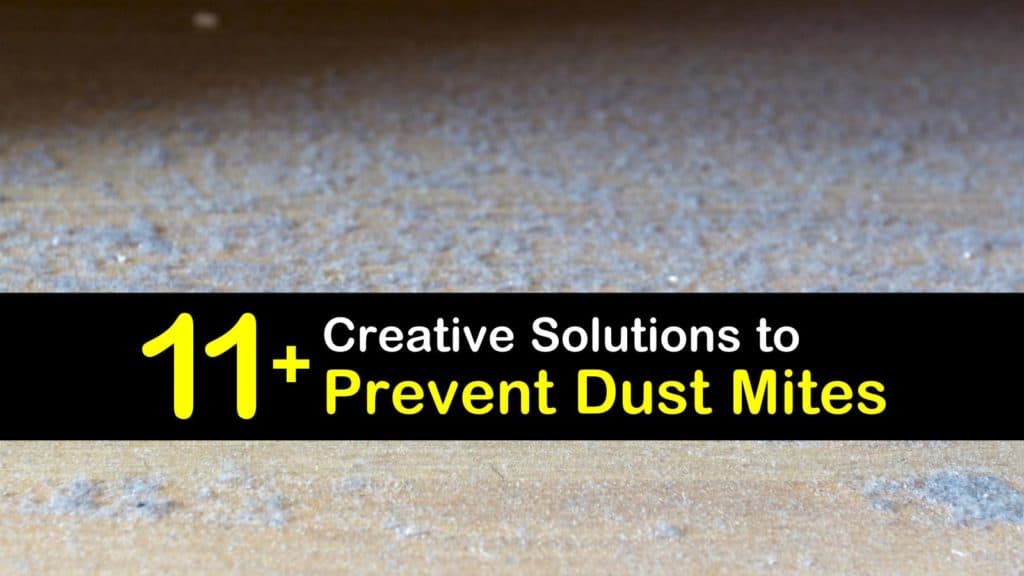 Control Dust Mites to Prevent Allergy Symptoms
A dust mite population thrives off of cloth materials like bedding, carpets, and pillowcases.
Additionally, these small critters are more prevalent if there is pet dander in your household from a dog or cat. In this article, we provide you with creative and effective methods to control dust mites present in your house.
Do you know how do people get bed bugs and how dust mites infiltrate your house? Understanding the difference between dust mites bites vs bed bugs bites is the first step to successfully decreasing the number of dust mites in your home.
It is critical to learn the difference between the two bugs. A bed bug bite is a small raised area that is usually inflamed and red. Several people ask, "Do dust mites bite?" because bed bugs bite.
Dust mites only leave a small skin rash, although it is unlikely. Kill dust mites to prevent unwanted reactions like itchy skin from allergens in your house's air.
Exposure to Direct Sunlight Prevents Dust Mites from Accumulating
One of the most inexpensive ways to prevent allergic rhinitis experienced from dust mite allergens in the air is to expose bedding and other fabric surfaces to direct sunlight.
How long do dust mites live after using this method? Although this technique gets rid of the living dust mites, it fails to get rid of the secretions that mites leave behind.
To prevent dust mites and kill clover mites with the sun, hang your bedding or throw rugs outside in direct sunlight for two to three hours.
How to Prevent Dust Mites through Temperature Control
Controlling your house's temperature is another simple way to prevent dust mite allergens from accumulating on soft surfaces like carpeting. Dust mites prefer a temperature of 75 to 80℉. However, these bugs can survive in temperatures as low as 46℉.
If you live in a warm climate, using an air conditioner is an easy way to lower the temperature in your house. Keeping your thermostat set lower than 75℉ lessens the odds of dust mites continuing to thrive in your home.
Adjust the temperature in your house either with an air conditioning unit or naturally by opening a window to get rid of farinae mites. Temperature adjustments are an easy way to control dust mites that reside in your home.
How Long do Dust Mites Live in High Temperatures?
To know how to prevent dust mites from making a home in your bedding, pinpoint the correct temperature settings to clean your washable fabric materials. Dust mites cannot survive in extremely low or high temperatures.
The bugs die when exposed to temperatures at or above 130℉. Using hot water to wash bedding kills dust mites in your bedding and pillowcases.
Set your washer to a high temperature, or use a sanitize feature if you have one. Adding a dust mite laundry powder or utilizing a steam cleaner is also how to get rid of dust mites and eggs that reside in your sheets.
Controlling Humidity to Help Prevent Dust Mites
Can you see dust mites? It's hard to know if you have dust mites since they're so tiny but an allergic reaction is a good indication.
Since dust mites thrive in humid atmospheres, it is essential to use a dehumidifier or an air cleaner. Dehumidifiers absorb the moisture found in the air, lowering the relative humidity in a room.
Similarly, air cleaner filters the air and removes dust particles and other pollutants. Both dehumidifiers and air cleaners take away the ideal humid atmosphere where dust mites thrive.
Make sure your air purifier for dust removal has a HEPA filter to ensure that the maximum amount of dust particles are captured.
The Ideal Humidity Levels to Prevent Dust Mite Infestation
How long do dust mites live in humid environments? Dust mites live for up to 90 days in a humid atmosphere, so it is crucial to control the humidity in your house to prevent dust mites from overpopulating your fabric surfaces.
Keeping the humidity levels below 50 percent successfully deters dust mites. However, controlling the humidity levels in your home may be difficult, depending on where you live.
If you reside in a particularly humid area, a dehumidifier will help you suck added moisture out of the air in your home.
Removing Dust Mites from Your Bed and Sheets
Dust mites thrive on the materials found in most bedding, sheets, and pillowcases, so you must wash bedding materials frequently to reduce dust mites. Washing pillows, as well as their covers, is the best way to clean dust from these materials.
It's also a good idea not to make your bed for a little while after you rise in the morning. Getting rid of mites in the bed can be as simple as exposing them to the air instead of the warm humidity between the sheets.
Sheets that have pores fewer than 10 microns will help you prevent dust mites from overpopulating the fabric.
Bedding and pillow covers made of wool are also effective measures to prevent dust mites from accumulating in your bed. Wool effectively wicks away moisture that dust mites live in and help keep your bedding dry.
Prevent Dust Mites from Living in Your Box Springs
Knowing how to prevent dust mites from thriving in your box springs is crucial, as dust mites start by populating in your box springs and migrate to your bed. Encasements proactively or retroactively kill and prevent bed bugs and dust mites.
Knowing the difference between dust mite bites vs bed bug bites is critical when using an encasement. Bed bugs do not penetrate your mattress when it has a case on it, but they usually remain on the surface.
Enclose box springs and mattresses to prevent these unwanted bugs and for getting rid of bedbugs. After the box spring and mattress are completely covered, bed bugs and dust mites cannot infest the material.
Prevent Dust Mites by Purchasing the Correct Vacuum Cleaner
Vacuuming frequently and with the correct kind of vacuum cleaner prevents dust mites from residing on carpeted surfaces. Vacuum cleaners can even be used on hard surfaces and get rid of dust more efficiently than a damp mop.
Purchasing a vacuum cleaner with a HEPA filter traps up to 99.97 percent of dust particles on your floors and throw rugs. HEPA filter seals are air-tight, meaning no allergens or particles escape the container.
If you have several rooms in your house with wall carpeting, investing in a vacuum cleaner with a high-efficiency particulate air filter is critical to get rid of dust mites and prevent allergy symptoms.
Using Dust Mite Spray for Large Fabric Surfaces
Some fabric surfaces are too large to fit into a washing machine. You may be wondering how to prevent dust mites from living in your curtains or couches or for the way to remove little bugs on a ceiling. Using an aerosol spray designed to kill dust mites is an effective solution to get rid of bed bugs in furniture.
Some dust mite sprays are made of all-natural ingredients to ensure your safety from harmful chemicals. The natural ingredient in these sprays is eucalyptus oil, which serves as a natural antiseptic cleaner.
Spray the dust mite aerosol on all your soft surfaces to successfully eliminate a population of dust mites and use the mattress freshener spray to eliminate unpleasant odors at the same time.
You could also try an essential oil spray. Does lavender kill bed bugs and dust mites? Lavender, eucalyptus, and a variety of other oils repel and kill bugs that may infiltrate your home.
Regularly Dusting Electronics Prevents Dust Mites
Electronics, like DVD players, computers, and TVs, collect a large amount of dust and are cleaned quickly with a microfiber cloth or a duster.
We recommend that you dust the surfaces of your electronics once every two days to prevent the accumulation of dust from gathering on the appliances.
Wipe the electronics with a microfiber cloth that collects dust. It is also essential to vacuum the surfaces around the cords where electronics plug in, as large amounts of dust build-up near outlets.
Prevent Allergy Symptoms with an Allergy Shot
If you are prone to severe allergy symptoms, allergy shots may be a viable solution for you. Allergy immunotherapy is a long-term solution recommended for people who are extremely sensitive to allergens.
Immunology studies have found that you are more prone to suffering from allergic reactions like a stuffy nose or headaches if you have a weaker immune system.
To decrease your sensitivity to dust mite allergens in your home, consult your allergist to determine if you qualify for allergy shots.
Over-the-Counter Medicines Help Prevent Allergy Symptoms
If you experience allergy symptoms even after cleaning your fabric surfaces, taking an over-the-counter or prescription allergy medicine may be necessary. Antihistamines help prevent common allergic reactions like itching and runny nose.
Most antihistamines are effective in treating allergens. However, if these medicines don't work for you, consult an allergist for more effective medication.
Preventing every single dust mite in your house is impossible. However, killing a large number of dust mites is feasible, and there are several easy and inexpensive ways to get rid of these microscopic bugs and prevent allergy symptoms.
Simple techniques like temperature and humidity control and purchasing the correct kind of vacuum cleaner, help you get rid of a large population of dust mites.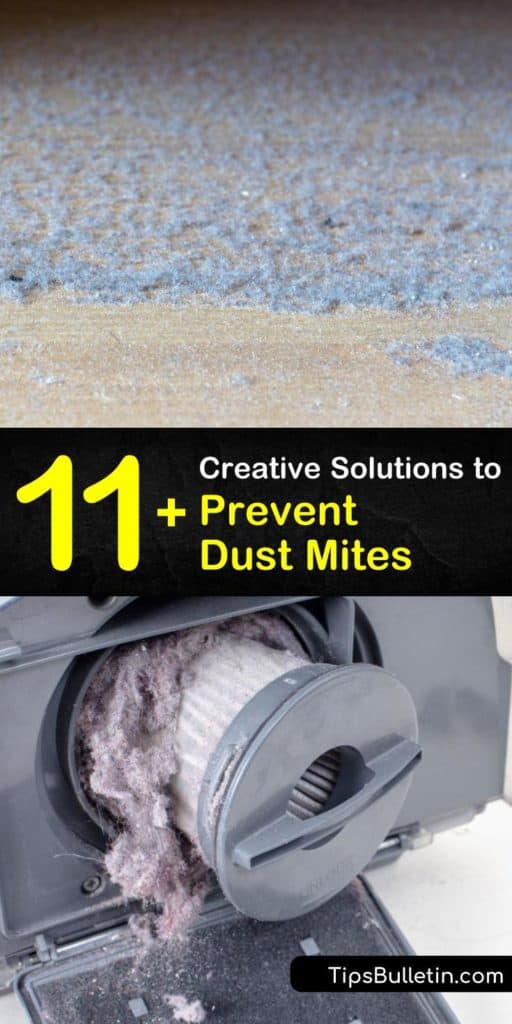 If these tips and tricks taught you how to prevent dust mites, please share this article showing people how to control dust mites on Facebook and Pinterest with your family and friends.