Cranberry plants make a unique and rewarding addition to your home garden. They're remarkably easy to care for and reward you with a delicious harvest of homegrown cranberries year after year. In this article, earn how to prune cranberries to keep the plants thriving for many years to come.
Pruning is an essential part of perennial plant maintenance. By getting rid of dead or diseased branches, you improve the plant's overall health, maintain a structured growth habit, and encourage vigorous new growth.
In general, the best time for pruning cranberry plants is in the winter when they're dormant. However, it's sometimes necessary throughout the growing season, as well. Pruning stimulates new growth, so avoid trimming cranberries after early August to prevent frost damage to the tender young branches.
Though it might seem like a lot of effort at first, pruning cranberry bushes is a relatively simple garden chore and isn't necessary all that often. Read on to learn when to prune cranberries, ways to prune elderberry bushes, and the different reasons for doing so.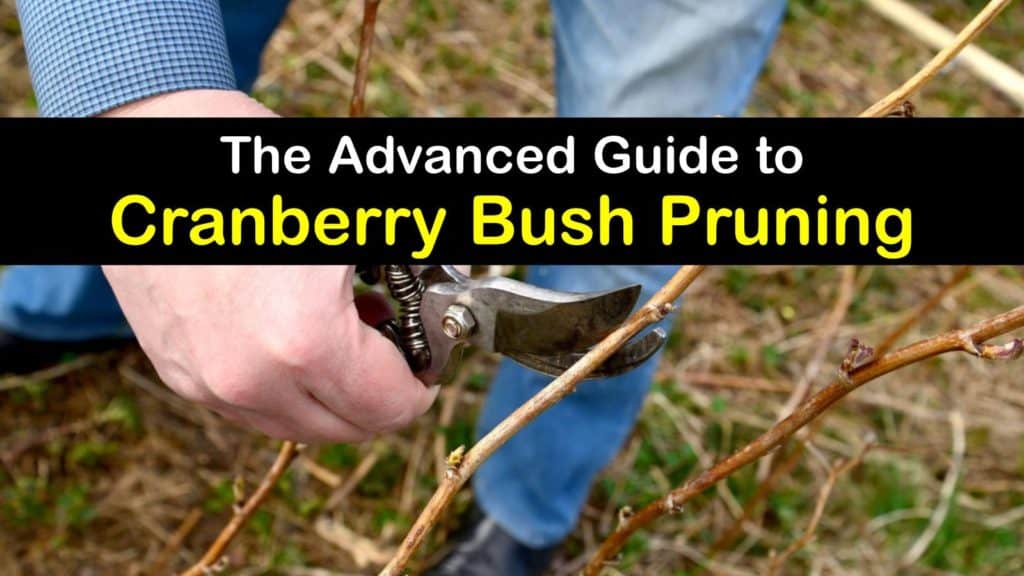 Tips and Tricks for Pruning Cranberry Plants
Where do cranberries grow in the United States? Cranberries are a deciduous shrub suitable for USDA hardiness zones 2-9. Depending on the cultivar, pink or white flowers bloom in mid to late June.
It's important to know when to pick cranberries so they are at their juiciest. The deep red berries ripen from mid-September to early November.
When planting cranberry bushes, it's important to know that they thrive in an area that gets full sun to partial shade and acidic soil with pH levels between 4.5-5.5. Companion plants for berries are other acid-loving plants like hydrangeas and azaleas. Protect their shallow roots with a generous layer of mulch.
Lowbush cranberries send out lateral runners that grow roots in addition to nodes that produce vertical fruit-bearing branches. Highbush cranberry types develop tall fruiting canes.
The best time to trim cranberries depends on which type you're growing, rather like cutting back blackberry bushes. Refer to the section below for more details about the differences between lowbush and highbush cranberry plants.
If you need to do a significant amount of pruning to control the plant's size and shape, wait until late winter when it's fully dormant, like when to prune raspberries. Prune dead wood, old canes, and lateral runners to stimulate the production of more vertical fruiting branches.
One of the golden rules of horticulture is always to sterilize your pruning tools between uses to help prevent the accidental spread of plant diseases.
How to Prune Cranberries
Lowbush cranberries don't tend to require as much pruning as highbush types. For the most part, only trim the lateral runners to control their spread and support the growth of vertical, fruit-bearing branches. Cut the upright boughs once they cease to bear fruit after two or three growing seasons.
Leave an inch or two at the branch's base when trimming cranberries to avoid damaging the main stem. Making your cuts at a 45-degree angle reduces the risk of water damage and disease.
If you notice signs of fungal disease or damage from pests like borers, cut away the affected branches immediately and dispose of them off your property. Avoid composting compromised plant material, as pests and pathogens may persist in the compost and spread around your garden.
When to Prune Cranberries
When to prune cranberries depends on your goal. Any pruning stimulates a growth spurt in the plant, so it's best to do it early in the growing season.
Take care of structural pruning in late winter or early spring before the plants start developing flower buds or wait until they finish flowering in late spring or early summer.
Cranberry plants are mostly vegetative in the first year. They probably won't start bearing fruit until their second or third growing season. During this time, they require little pruning, if any.
Once they become established, prune your cranberry bushes in late winter or early spring before the new flower buds start to swell. The branches stop fruiting after two or three years, so it's beneficial to trim off the old growth.
If you've been looking for something to do with all those homegrown cranberries at the end of the season, try this mouth-watering recipe for homemade cranberry jam. Serve it with baked Brie, as a topping for your favorite baked goods, or spread on toast for the perfect autumn treat.
Combine the ingredients in a large saucepan. Bring the mixture to a simmer over medium heat, then reduce the flame to medium-low. Simmer for one hour with the saucepan's lid on, stirring frequently. Transfer it to a blender or food processor and pulse until smooth, scraping down the sides as necessary.
Allow your cranberry jam to cool completely before pouring it into a sterilized Mason jar. If you'll be using it within six weeks, no additional preparation is necessary. Store it sealed in the refrigerator. For long-term storage, seal the Mason jars in a hot-water bath.
Types of Cranberry Bushes
There are over 100 different types of cranberries, mostly native to North America and Europe. Highbush and lowbush are the two primary classifications of cranberries. Highbush cranberries belong to the Viburnum genus, while lowbush cranberries are in the Vaccinium genus. Both produce tart, edible red berries.
Lowbush cranberry plants, or Vaccinium macrocarpon, belong to the Ericaceae or Heather plant family and are related to blueberries, huckleberries, and rhododendrons. Other common names include American cranberrybush and bearberry.
They grow naturally in northeastern and central North America. Lowbush cranberries form a ground cover and grow six to 12 inches tall.
Highbush cranberry varieties include the American Highbush (Viburnum opulus var Americanum) and European cranberry (Viburnum opulus). They're in the Adoxaceae or moschatel plant family and are related to elderberries. Highbush varieties aren't technically "true" cranberries.
The shrubs grow large, up to 15 feet tall, earning them the nickname of cranberry trees. American cranberrybush Viburnum formerly had the classification of Viburnum trilobum.
If you're wondering when to trim a cranberry tree vs a true cranberrybush, the timing is similar for both types. Complete structural pruning by early spring, and do a little pruning as needed throughout the growing season.
Regularly pruning cranberry plants helps them to keep producing generous harvests of those delicious bright red berries each season.
Although they're slow growers, taking two or three years to start bearing fruit, they may live over 100 years with proper care. The best time to trim cranberries is in early spring before their flower buds develop.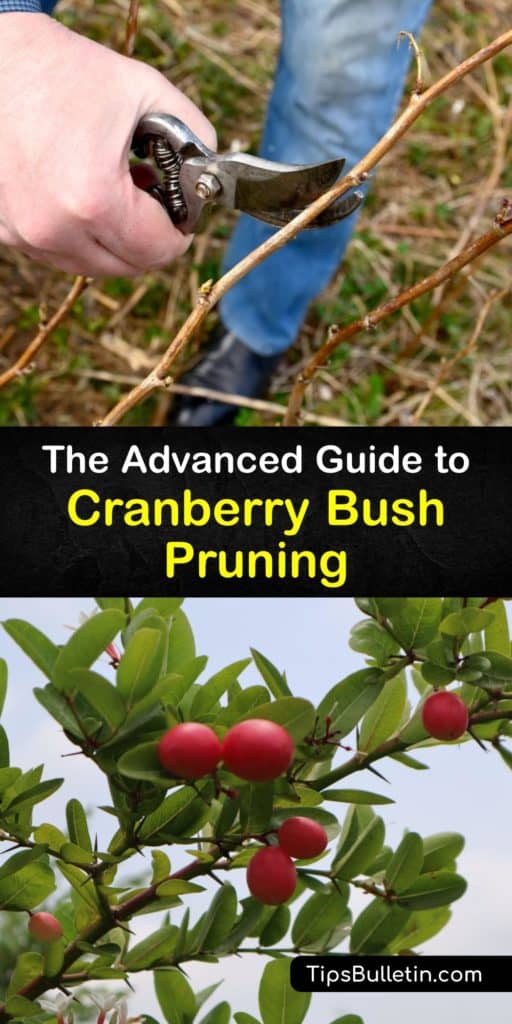 If you found these cranberry care tips helpful, please share this article about how to prune cranberries with your fellow gardening enthusiasts on Pinterest and Facebook.