Pruning is a perfect way to encourage vigorous growth in home gardens. We've got some excellent information if you have some hardy elderberry bushes that require attention this growing season. Learn how to prune elderberry bushes with precision to keep them producing for years to come.
Interestingly, many cultures wrote about the elderberry; Baltic, Celtic, Semitic cultures, the list goes on. While the true taxonomy of the elderberry bush is still debated, an ancient Greek named Pliny used the word Sambucus to refer to an instrument made from the branches of the elderberry tree. Once official botanical naming became all the rage centuries later, names like Sambucus nigra and Sambucus canadensis were popularized.
Humans have always held the elderberry tree in high regard across many ancient civilizations, and for great reason. The tangy-tasting elderberry is often used in winemaking, syrups, jams, and medicines. Elderberry bushes make fantastic privacy hedges, and the abundant flowers attract beneficial pollinators like bees and birds. Learn how to extend the life of your elderberry bush with these excellent tips.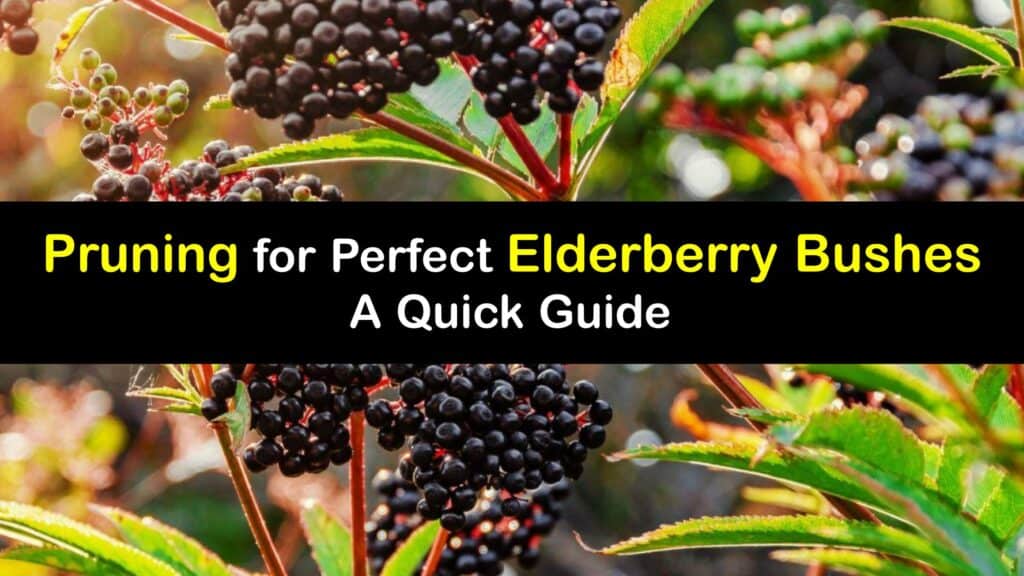 Learn about Pruning Elderberry Bushes
Get informed for garden season. Learn all the best information about when to prune elderberry bushes, transplant an elderberry tree, and, more importantly, how to prune elderberry bushes.
What Kind of Elderberry Bush do You Have?
Pruning elderberry bushes starts with knowing a bit about your variety. All species of elderberry are part of the genus Sambucus. They're deciduous or flowering shrubs that range from three feet to 30 feet tall, depending on the cultivar.
Cultivars are "cultivated varieties" of plants selected for their most favorable traits – there are many elderberry cultivars.
Native to North America, Sambucus canadensis is often called the North American elderberry or simply the common elderberry. They produce masses of delicate white flowers and grow to ten feet without regular pruning.
The European elderberry or Sambucus nigra is the most common type used in foods and herbal remedies, and it boasts the most scientific studies about nutritional benefits. The European black lace elderberry is dramatic and beautiful with eye-catching pink flowers and leaves so dark they appear black.
Other worthy mentions include Sambucus cerulea, which reportedly grows tasty blue-colored berries. Garden space and soil is the determining factor here. The soil that you plant elderberries in will affect their growth. These beauties grow more like trees than shrubs and may get up to 30 feet tall.
Finally, watch out for the fruiting Sambucus racemosa. These trees bear bright red fruit and are usually sold as ornamental elderberries because eating them causes an upset stomach.
Ideal Growing Conditions for Elderberry Bushes
Before we go over how to prune elderberry bushes, let's ensure the growing conditions are ideal. Sambucus spp is a hardy, unfussy genus that loves full sun but tolerates partial shade. The USDA Hardiness Zones Map recommends zones 3 to 8, with a preferred soil of a pH of 5.5 to 6.5.
Elderberry shrubs have shallow roots and like thorough watering the first year, which means well-draining soil is essential. They don't require a lot of fertilization, but an application of 10-10-10 fertilizer in early spring with a bit of mulch does the trick.
Additionally, elderberry bushes are great growers, and propagation is super-easy should you decide you want more. You can also grow elderberries in a pot if the same amount light and nutrients are provided. The cane borer is a common pest, so keep an eye out for these long black beetles.
When to Prune Elderberry Bushes
The elderberry blooms and fruits appear on new growth and are encouraged through annual pruning. The best time to trim elderberry bushes is late winter or early spring, depending on the local climate.
Carefully consider when to trim elderberry bushes, as a cold snap damages new growth. Allow your elderberry bush to grow naturally, and prune annually after that. Don't prune your elderberry tree the first year or even the second year.
How to Prune Elderberry Bushes
When pruning elderberry bushes, remember that they send new canes or branches every growing season. Cut the old canes to make room for the new. Don't worry; trimming elderberry bushes is easy, but depending on how long you've waited and how thick the canes are, you'll need one or all tools listed below.
Pruning elderberries might remind you of pruning a small tree. Find a bud on the branch and trim about an inch above the bud to encourage new shoots, reducing the entire length of the branch by a third, as a general rule.
Use the hand saw for large branches and cut from below versus the top because the branch's weight will rip it off the tree and leave a messy-looking cut. A little annual attention goes a long way with the hardy elderberry, and you're well on your way to pruning elderberry plants like a horticulture pro.
Remove the thicker branches to promote new growth, and always leave equal numbers of canes for the plant to thrive. Trim and dispose of dead or damaged wood, and keep a sharp eye out for diseased leaves and garden pests.
Make Your Own Elderberry Syrup
Harvest elderberries in late summer – August or September. Remove the entire cluster; snip it off with some garden shears, and pull the berries individually for use. Always wait for the berries to ripen, and avoid eating them without cooking them first, as raw, unripe elderberries cause stomach troubles.
Choosing to grow elderberries does come with some benefits. Plenty of studies clearly show the nutritional benefits of Sambucus nigra, and you can find the dried berries in everything now. Elderflowers are also edible and make a lovely tea, but everyone always talks the most about elderberry syrup.
Combine the water, elderberries, ginger, cinnamon, and cloves in a large pot, and slowly bring everything to a nice boil. Reduce the temperature, cover the saucepan, and simmer for around 45 minutes, or until the liquid has reduced by half.
Allow everything to cool, then strain your elderberry mix with cheesecloth or a fine-mesh strainer. Add a cup of fresh, raw honey into the elderberry liquid, stir well, and pour into an airtight glass jar. This fresh elderberry syrup will keep in the fridge for up to two months.
Elderberries are low-maintenance and continue to growing for years with very little attention. The first step to healthy, happy shrubs is knowing how to prune elderberry bushes with continued growth in mind.
As you make your yearly garden to-do list, decide when to prune elderberry bushes as part of the plan, and they'll show appreciation in every harvest. We wish you success with your amazing elderberries this season.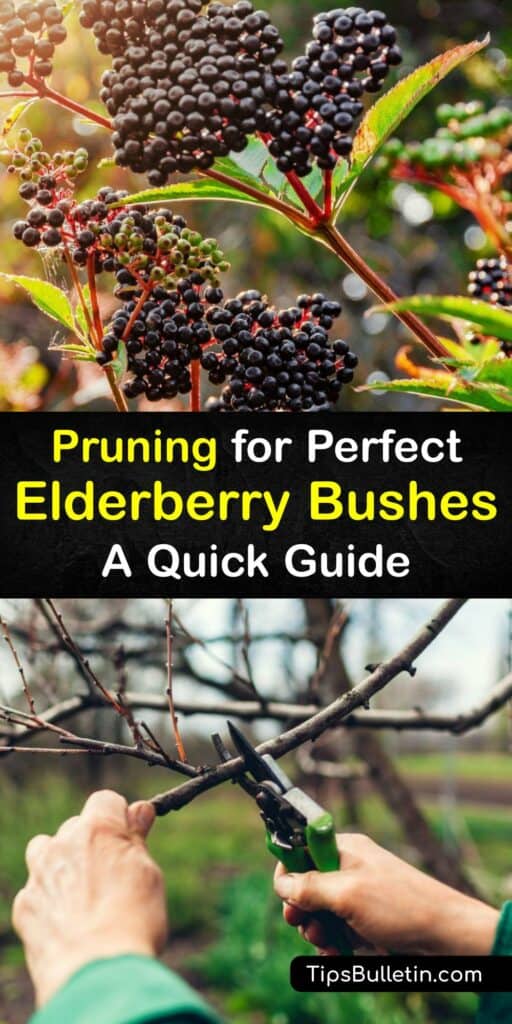 If you enjoyed learning how to prune elderberry bushes, please share these tips with a friend on Pinterest or Facebook who could use some elderberry wisdom in their home garden this season.