Are you wondering whether it's time to buy a new mattress and get rid of the old mattress? Maybe so. But before you do, you need to learn how to recycle a mattress. Mattress recycling entails taking apart the parts of beds and reusing them for other purposes.
Mattresses are made up of materials like steel, wood, cotton, and polyurethane foam. At times, they can be difficult to recycle but not impossible. For example, box springs can be melted and made into new items, and fabrics can be reclaimed for use in other things.
Wood frames can be chipped for mulch, whereas foam mattress can be repurposed into carpet padding. With an abundance of grave environmental issues impacting our world each year, Mother Nature is no longer as easy to ignore or take for granted. The majority of people are starting to factor in environmental friendliness and sustainability concerning their health and decisions they make.
Getting rid of an old mattress can be a challenge. Not only are old mattresses large and complicated to move on your own, but they also can't simply be thrown in the garbage. Read on to find out why mattress recycling is a critical issue for everybody, and learn how to recycle a mattress.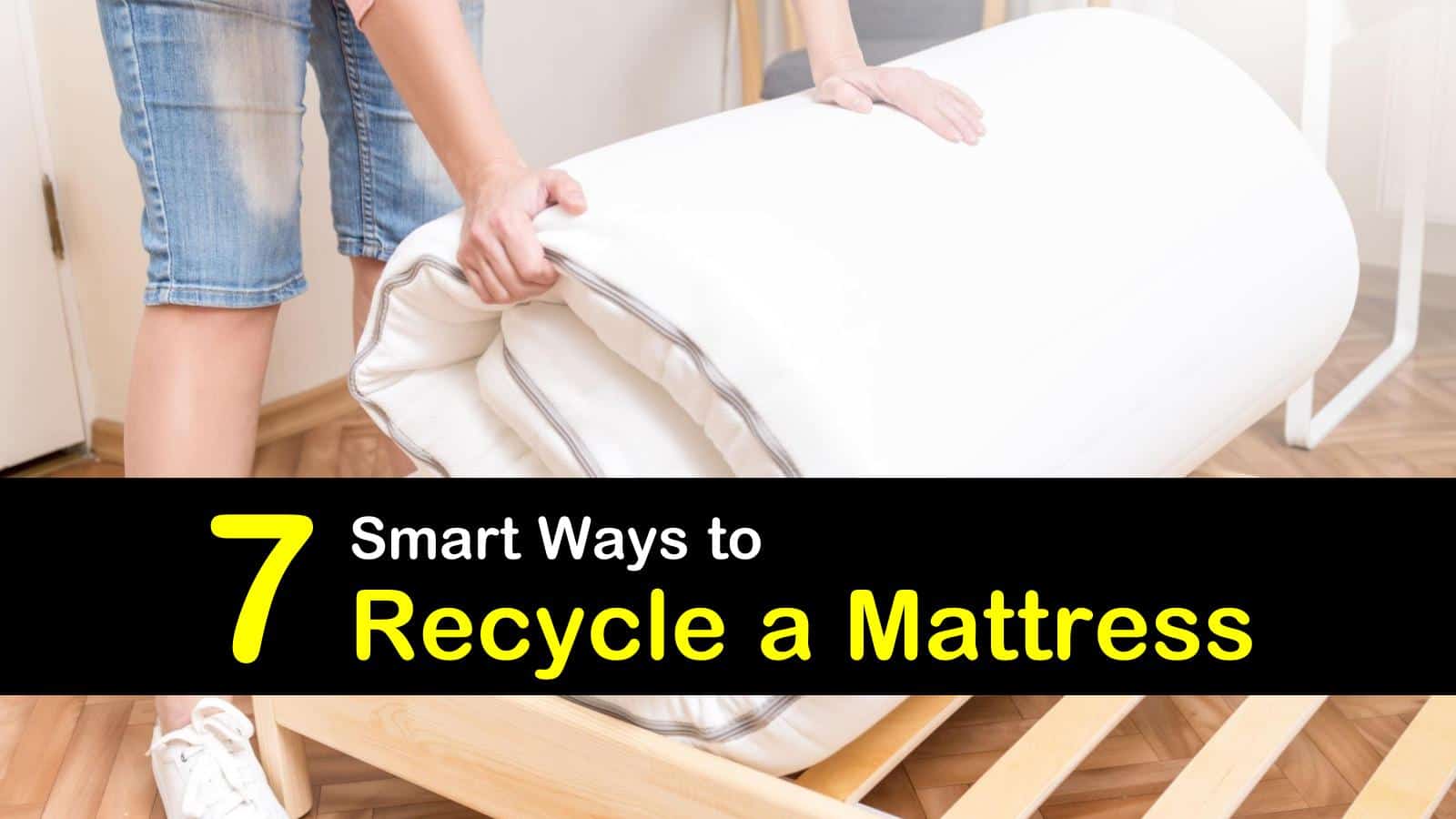 Mattress Recycling – A Proper Sendoff
Before you take any steps to get rid of or reuse your mattress, you should clean it first. The same goes for whether you want to wash or recycle pillows that you no longer want or need. How to clean your mattress starts with eliminating debris that may be accumulated on the surface.
Before disposing of a mattress in whatever way you choose, begin by vacuuming the top of your bed to get rid of most of the dust and bed bugs if they are present. Vacuuming is an excellent way of treating bed bugs and for getting rid of dirt and debris on the surface of the mattress or pillows.
Often, you can't even see this gunk, but it is there. Dead skin cells and other unwanted debris often ends up on your bedding and mattress. Learn the best way to get rid of dust mites by vacuuming or you can also use baking soda to freshen up your used mattress, pillows, or bedding if you plan on donating them.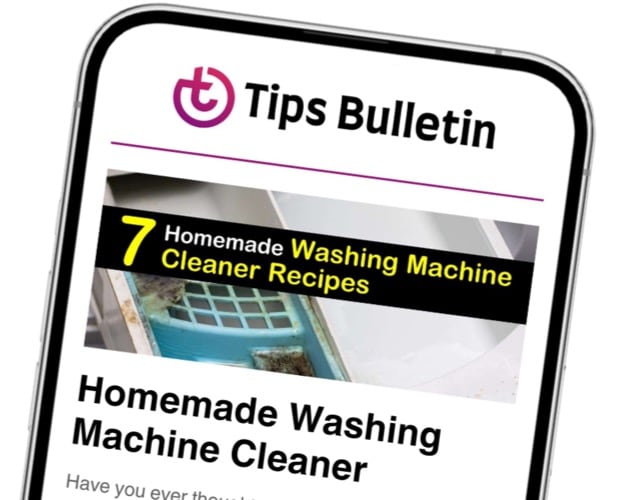 Finally, an email that Transforms Your Home.
Get the latest home and garden tips from our experts, delivered straight to your inbox.
Together with a few drops of essential oil, you'll be able to sleep on it even more due to its new fresh and clean scent.
If your mattress has stains, consider using a common DIY combination of two parts hydrogen peroxide to one part of dish soap to get rid of them. However, note that memory foam mattresses don't get along well with water.
You should be sparing with the quantity of stain remover you use. Instead of letting your old mattress rot away in at landfill space, look to one of these mattress recycling and donation alternatives.
How to Recycle a Mattress
Landfill space is pilling up with fast with tons of bulky items. Mattresses are one of the things taking up too much space. An average mattress takes up approximately 40 cubic feet.
According to research done by the King County's Department of Natural Resources and Parks, more than 40 million box spring mattresses are dumped every year in the United States (..). This alarming statistics should prompt you not only to learn how to recycle a mattress but where to recycle your mattress, as well.
Mattress Warranty
Check to see if your mattress is still under warranty. The warranty will save you time and effort if you're thinking of mattress disposal. Some mattress retailers offer a buyback option or have a complimentary collect and dispose of program.
List It on Craigslist
As the well-known adage goes, one man's trash is another man's treasure. Consider listing your used mattress under "free" on Craigslist or similar sites if you're looking for a way to dispose of a mattress. If your mattress is completely worn out, you might consider donating it to an animal shelter that accepts mattress donations.
If this is too time-consuming, you can call a junk removal service. For a reasonable fee, they'll pick up your mattress and bulky items that require recycling or disposal. Provided the mattress doesn't have bed bugs, giving it to someone to use can be a viable, eco-friendly option.
Upcycle Your Mattress
There are several ways to repurpose or upcycle your old mattress. If you like crafting and DIY design projects, consider searching the internet for creative DIY ways to repurpose.
You can paint your old mattress and hang it on your backyard wall for a remarkable vertical garden. You could use recyclable components like box springs to design rustic charm items.
According to the United States Environmental Protection Agency, recycling and reusing not only saves resources and reduces pollution but also decreases emissions of greenhouse gases that lead to global climate change (..). These reasons alone ought to convince you to practice recycling and repurposing.
Recycle Yourself
If you have ample time and the necessary tools, you can start the mattress recycling process on your own. Cut around the fabric lining and peel it off with the foam from the box springs and wooden frame.
Roll them into a package and dispose into a trash can. Next, cut up the frame using a saw, which you can turn into wood chips. Consider visiting the recycling center near you and sell the box springs.
Donate Your Used Mattress to Charity
Did you know that mattress donations are both popular and welcome? However, donating a mattress depends on the condition of the mattress, the charities and non-profit organizations near you, and the location where you live. Carry out a quick Google search to identify where you can take your used mattress so that someone else can benefit from it.
Appraise the condition of your mattress: is it under ten years old and in good condition? If so, consider reselling it at any thrift store. Otherwise, donate it to Habitat for Humanity, Goodwill, homeless shelters, or a charity organization instead.
Habitat for Humanity, a non-profit organization, often repairs mattresses and box springs for them to be turned over to those in need. Donation Town hooks up charities in need of used mattresses. Furniture Bank serve kids and families in need of furniture as they recover from a crisis.
Some used mattresses often have stains like urine and blood. Kindly don't donate a mattress if you haven't tried to get rid of urine smell. It's essential to make sure it's in a good state and not infested with bed bugs.
Find a Specialized Recycling Program
In case you can't sell or donate your mattress, research the options you have in your city to get rid of a mattress. Several cities offer recycling programs themselves or can suggest local recyclers. Some cities collect used mattress curbsides and dispose of them properly.
States like California, Connecticut, and Rhode Island have implemented a law by the Mattress Recycling Council. It allows mattress manufacturers to collect a mattress disposal fee on top of the cost of new mattresses and box springs. The fees go towards the funding of mattress recycling programs as well as building more mattress recycling drop-off centers.
Full-Service Mattress Disposal
Through partnerships with local landfills and recyclers, your old mattress can be deconstructed by hand. These disposal services have positively impacted the environment in that approximately 85-90% of your used mattress can be disposed of appropriately or recycled.
The method helps conserve landfill space, safeguard the environment, and offers jobs in the community. It's easy to do and can save you time and money.
Where to Recycle Your Mattress
The primary focus of various recycling companies within the United States is mattress recycling. Cities like Pittsburgh and Tampa have recycling facilities that offer mattress removal and recycling services.
If you don't reside in a state that has mandatory recycling, search the Bye Bye Mattress database to locate the nearest recycling center. Together with Earth911, these online aggregators allow you to look for recycling centers accepting specific household goods like mattresses in your region.
As law-abiding citizens and environmental stewards, we must look into recycling. We've got only one planet, after all. We can't let it be overwhelmed by oceans filled with trash or landfills packed with mattresses!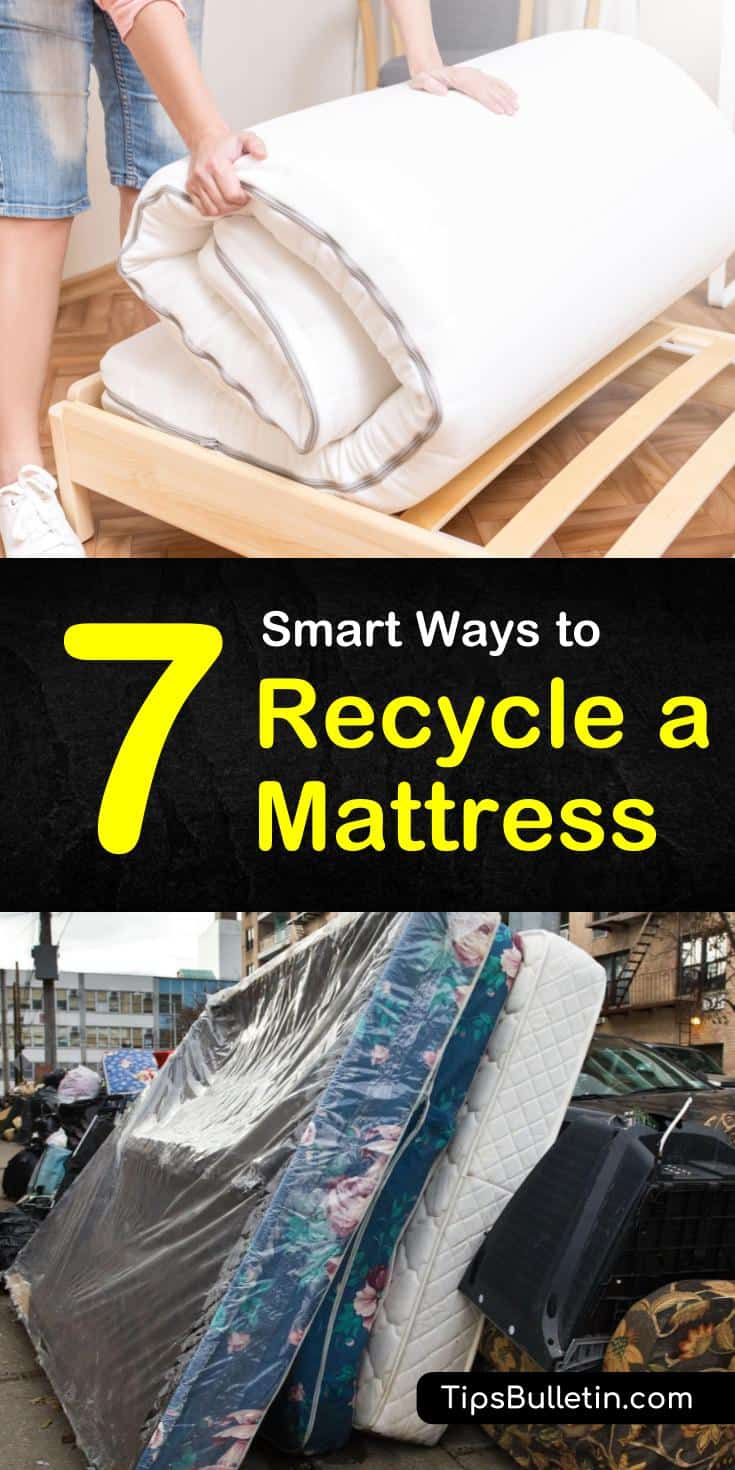 If you found out how to recycle a mattress in an eco-friendly manner, please share these mattress recycling methods with your friends on Pinterest and Facebook.