There is something satisfying about biting into a celery stalk with its crunchy texture and mild yet bold flavor, especially when slathered with peanut butter. But, did you know that it's very easy to grow celery from the part you throw in the garbage can? Learn how to regrow celery from scraps as houseplants or alongside an herb garden.
Not only is celery delicious, but it is a low-calorie vegetable with many benefits. While it is high in water content, celery contains calcium and potassium, along with other vitamins and minerals. It's tasty raw in pesto or cooked in a hearty stew.
What's cooler than eating healthy veggies to curb the appetite? Regrowing your own celery at home, of course, and a green thumb is not required.
Many veggies are not difficult to grow from leftovers, including green onions, bok choy, sweet potatoes, romaine lettuce, cilantro, and celery. So, before you throw away your kitchen scraps, consider regrowing celery from the leftovers.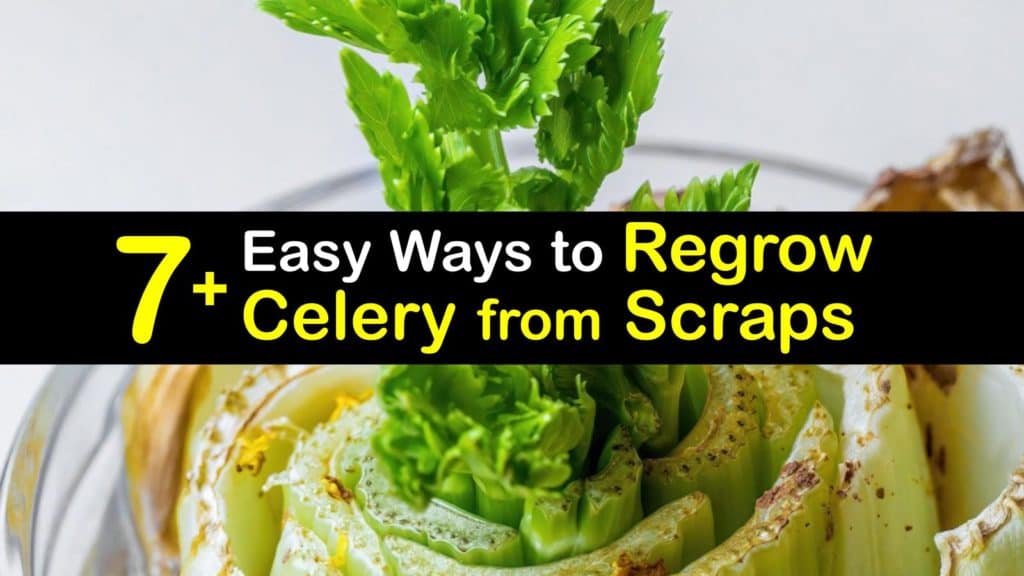 Ways to Regrow Celery from Grocery Store Scraps
Growing your own food at home is rewarding, and seeds are not always required. Growing lettuce from scraps or new celery from scraps you usually toss in the garbage or compost is uncomplicated and a great way to enjoy a celery plant in your home or garden.
Are There Different Types of Celery?
There are a couple of ways to grow celery, and there are different types. The traditional way is to start them from seeds, but it's also possible to regrow celery from stump. The key to growing your own celery is to decide which type is right for your area.
There are three types of celery, leaf, celeriac, and pascal, and it's essential to know which one grows in your area before planting them outdoors.
Leaf celery grows in USDA hardiness zones 5 through 8 and has thin stalks and aromatic leaves. Celeriac celery grows ideally in zones 8 and 9, while pascal celery thrives in zones 2 through 10 and is the most common in the United States.
If you decide to regrow celery from the grocery store, it is probably pascal celery. So, if you prefer growing other types, it's a good idea to start them from seed or purchase celery stalks from a farmer's market or specialty store.
Can You Regrow Celery from Stalk?
Yes, even a beginning gardener can regrow celery from stalk as long as you plant the correct part. However, it's important to pick the right celery and prepare it for planting if you choose to grow it from scraps.
When browsing celery at the grocery store, look for a bright green and fresh-looking bunch with tightly packed, firm stalks. Avoid celery with limp leaves or browns spots on the outer stalks, as these are indicators of bad celery that you don't want to eat.
To prepare your celery for planting, lay the stalks on a cutting board and use a sharp knife to cut the bottom root end two inches from the base. Eat or prepare the stalks right away or wrap them in plastic wrap or aluminum foil and refrigerate them until later.
To help celery grow and get a head start, poke four toothpicks into the celery stump's top outer edge. Balance the toothpicks on the outer rim of a shallow bowl so that the celery base sits near the bottom. You follow the same procedure to regrow pineapples from tops or crowns, as well as growing sweet potato slips in water.
Pour in enough water to cover the lower half of the stump. Place the bowl in a windowsill out of direct sunlight and watch as it begins sprouting in a couple of days.
How to Regrow Celery from Stump as a Houseplant
If you decide to regrow celery from stump, the outdoor garden is not the only place it thrives. Celery is the perfect plant to grow even if you do not have outdoor space. Growing celery in pots indoors on a windowsill is easy.
Pour potting mix into a container until it is about two inches from the top and add some slow-release fertilizer by following the directions. Pour some water over the dirt without soaking it and pat it down lightly.
Remove the sprouted celery base from the dish of water, set it on top of the soil, and cover the bottom section with more dirt.
Place your potted plant in front of a part to full sun window and water it as needed to keep the dirt damp. Harvest the leaves to make celery salt or add to pesto or let it grow until it forms stalks.
How to Regrow Celery from Scraps in the Garden
Growing celery from a stalk in a vegetable garden is the perfect way to recycle food scraps, and the plants reward you with a fresh batch of celery stalks at the end of the growing season.
After you soak the celery base in a bowl of water and the roots are about an inch long, it's time to plant it in the garden. Prepare the bed and dig a hole large enough to fit the celery base.
Choose a spot where the plant receives protection during the hottest part of the day. Set the root end in the hole and lightly pack dirt around it with the cut end and emerging leaves exposed.
Water it to keep it moistened but not wet and feed it with fertilizer to provide the plant with nutrients.
Ways to Take Care of Celery Plants
There are a few things to do while you regrow celery from stalk to promote healthy growth. Provide these plants with the right amount of sunshine, water, and TLC, and they return the favor with delicious, crispy vegetables.
Celery needs quite a lot of water to grow properly, so make sure to give your plants plenty of water throughout the growing season, particularly during hot, dry spells. Spread compost or mulch around the base of the plants to halt weed growth and retain moisture.
Celery has shallow roots, so take care when weeding the garden. Tie the celery stalks together to prevent them from sprawling and side-dress them with rich fertilizer.
Common Problems When Growing Celery
Some problems occur when you grow celery from a stalk, and knowing what to look for in advance helps you give them the care they need. Here are a few common issues when growing celery.
Celery Plant Problems
If your plants produce many leaves but no stalks, this is due to rapid temperature changes during early growth.
Avoid planting them outside too early and cover them with horticulture cloth when it gets cold outside. Stunted seedlings are a sign of nematodes, and rotating your crops is the best prevention.
Curled, yellow leaves and chewed stems indicate an insect infestation, such as aphids and earwigs. Use homemade pesticides to eliminate the pests and prevent them from ruining your garden.
When and How to Harvest Garden Celery
It's hard to believe that the celery stump you stuck in the dirt a while back is now growing bright green leaves. How long does celery take to grow, and when is it ready to harvest and prepare for the dinner table?
Celery Harvest
Harvest time generally occurs three to five months after you plant your celery, depending on the conditions and type. Celery often takes up to 120 days to grow, and it's best to harvest it before the outside temperatures get too hot.
To harvest them, cut the celery when the lower stalks are no less than six inches from the ground to the first node, and the upper stalks are 18 to 24 inches long. Use a sharp knife to cut them below the point where they join together.
Will celery regrow after harvest? Celery is a biennial plant that grows back for two years. However, after this time, pull the remaining stalks and roots from the ground and plant a new batch of celery.
How to Store Celery After Harvesting
After growing celery from stalk and harvesting them at the end of the growing season, it's now time to store them. But, what is an ideal way to store your fresh vegetables to keep them crispy?
Wrap the whole celery in a dry towel and aluminum foil or plastic wrap and set it into the crisper drawer of your fridge for up to two weeks to stop it from wilting. Ensure the celery is dry if you wrap celery in foil without the towel. If the stalks are cut, submerge them in water in a container and set them on the fridge shelf.
Who would have thought that growing your own food from the bits you usually toss away is so easy? Not only is producing a new plant from leftover celery scraps uncomplicated, but it grows well as both a garden veggie and houseplant.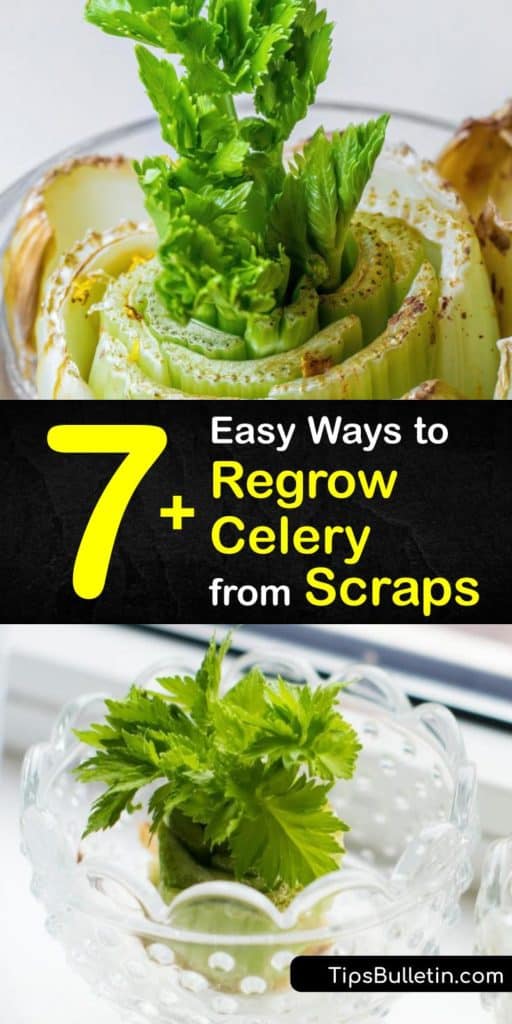 Knowing how to regrow celery from scraps prevents food waste and saves you money, so why not share our celery growing guide and tips with the DIY penny pinchers in your life on Facebook and Pinterest?