Onions are excellent vegetables with a range of flavors that lend themselves well to several recipes. If you find yourself in need of onions often, although they are reasonably inexpensive crops to buy from the grocery store, learning how to regrow onions may benefit you in the long run.
It's not uncommon to buy veggies from the store with a meal plan to use them all in mind but fast forward a week or two later, and you find a few onions, unpeeled, you forgot about that have started sprouting. This green growth coming from the top of your onion is your veggie trying to regrow. Your first thought may be to toss them in the trash or use them in compost.
But, if your onion is trying to grow a new onion just from sitting on top of the fridge, imagine what you could do by focusing your efforts on regrowing onions using a sprout or even kitchen scraps.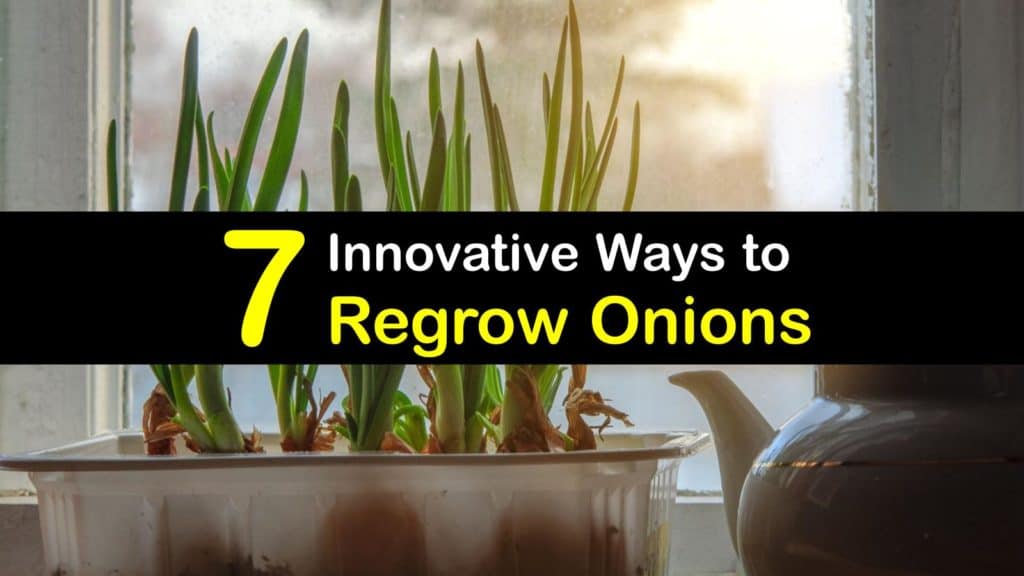 Regrowing Onions
The versatility of onions goes beyond just cooking, as there are ways to grow onions from scraps, stems, and other parts of the onion.
Regrowing onions is an easy DIY project that once you learn the basics, you'll wonder why everyone doesn't grow onions on their own for an endless supply.
Using Water as a Way to Regrow Onions
Whether you're looking to restock your onion supply, or start growing onions to transplant outdoors, using an existing onion with a bit of water is a simple way to get started.
This method works well with green onions or leeks as they come sold with the bulbs attached.
Although using a whole onion works, it also wastes the onion. The easiest way, with minimal waste, is to cut the onion and use a single onion bottom to work with just the root end.
Use the rest of your onion as usual for dinner and place the portion you cut to the side.
Allow the bottom portion to dry out for 24 hours. To regrow green onions in water, pierce your piece of onion with toothpicks and place the onion into the jar, using the toothpicks to balance it on the rim of the jar.
Fill the jar with enough water so that the onion roots are sitting in the water.
Leave the jar on a sunny windowsill and top off the water to keep the roots wet. After several days by the sunny window, you should see new roots growing.
Regrow Onions in Soil
Other than growing onions in water, a more traditional way to regrow onions is to plant them in soil. Using a knife, cut your fresh onion so that you have the root end ready to use.
Use the remainder of your onion in a meal and fill a container with water to soak your onion bottom overnight.
If you're growing a small number of onions, use a small pot for each onion and fill them with potting soil. Leave the pots in a sunny area and water weekly without letting the soil become too damp with puddles.
How to Regrow Onions from Sets
Onion sets are small bundles of onions packaged to regrow. Onion sets are a quick way to regrow onions because you aren't starting from seeds; instead, you have a head start by using an already sprouted onion.
Due to the number of onions in a set, you may want to plant these outdoors or use several indoor pots and care for them like houseplants.
Using a large pot, fill it with potting mix. To plant and grow onion sets, put your sets three to four inches apart per pot, or use the same spacing in your garden beds.
Water your sets every week and allow your soil to dry between each watering as overwatering results in the rotting of your onion plants. If you are growing onions indoors, leave your pots in a location that receives full sun.
It's optional, but covering your onions with hay helps air circulation and prevents them from becoming too moist when watering.
Depending on the type of onions you planted, your sets should mature in three weeks to four months.
How to Regrow Onions in Compost
When using onion sets, another growing medium is compost, specifically leaf compost.
We don't recommend growing plants in compost alone due to the loose nature of compost, but when mixed with soil, compost improves drainage in clay soils and allows sandy soil to hold moisture better for your crops.
It's important to know how deep to plant green onion bulbs. Start outdoors by digging a trench in your garden of about two to three inches. Shovel leaf compost into this trench and mix well with the existing soil.
Add your onion sets into the soil-compost mixture four to six inches apart and cover with at least an inch of soil.
Regrowing Onion Bulbs
If you purchased onions and forgot about them, the next time you cross paths, they may look slightly different with green shoots coming from the tops.
This growth happens a week or two after bringing onions home if you don't use them, but even at this point, onions still have their use.
With a knife, carefully cut into your onions to remove the sides, but leave the root end intact. Depending on how deep you cut, you should see the round bulb that looks like a bulge in the center.
Continue cutting around the onion until the bulb is free from the rest of the onion. Plant this bulb directly into your pot with soil or into your garden bed and water weekly to continue growth.
Regrowing from bulbs also works well with shallots if you're looking to propagate them before the plant flowers and sets seeds.
Feel free to use onions as a substitute for shallots and vice versa in a recipe that calls for one or the other. The taste is a little different but still works.
Using Your Sprouts to Regrow Onions
If you find yourself using onions that have begun to grow, by saving your onion scraps, mostly the center portion, the bulb, you can start regrowing onions using sprouts within.
The number of sprouts poking up from your onion bulb determines how many onions you grow. After separating your bulb from the onion, peel back the top layer of the bulb to reveal the sprouts beneath.
Being able to see the sprouts makes it easier to pull the sprouts apart gently. Ensure you do not remove the sprouts from the root end; this allows the onions to regrow.
Once you separate your sprouts, plant them in soil and water once a week, ensuring they receive full sun inside or are buried in a sunny garden bed outdoors.
Regrowing Other Onions from Root Ends
Scallions and leeks are two members of the Allium family that come with their root end visible and intact. To regrow spring onions, it's as simple as chopping off the root end while preparing the rest of your veggie.
Place these ends in cups of water in sunlight and refresh the water every few days as needed. After a few weeks, roots and new leaves should become visible. When moving to soil, be sure to water well to keep your leaves from wilting.
Harvest the green ends of your onions as needed and continue to let the onions grow or start fresh from the new roots to continue growing.
Only plant onions that are in good condition so they grow until harvest. The way to know if an onion is bad is to smell and feel it. A rotten onion is mushy and has an unpleasant odor that does not smell like onions.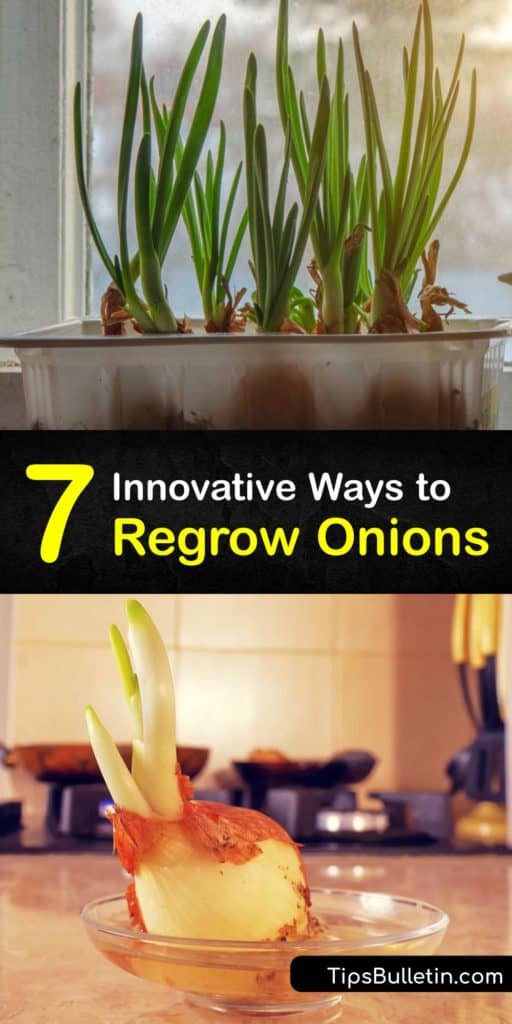 We hope you found learning about how to regrow onions interesting and consider sharing our tips on regrowing onions on Facebook and Pinterest.