You may think that the only way to grow vegetables is to purchase seeds from your local garden center. However, did you know that many veggies like potatoes can easily grow from the food scraps you toss in the trash while cooking? Find out how to regrow potatoes indoors and in the vegetable garden or container and care for your plants for a productive harvest.
There are various fruits and vegetables to regrow at home as houseplants or for food production instead of composting, including green onions, garlic, pineapple, celery, ginger, romaine lettuce, and potatoes. You may be amazed at what you can do if you have a pot of dirt or raised bed, a veggie scrap, some water, and a little sunshine.
Regrowing potato plants at home is very simple, and all you need are a few potato pieces to get started. The key to regrowing spuds is to plant the proper section of the tubers. You may notice that your grocery store potatoes are sprouting, and these are perfect for creating new potatoes.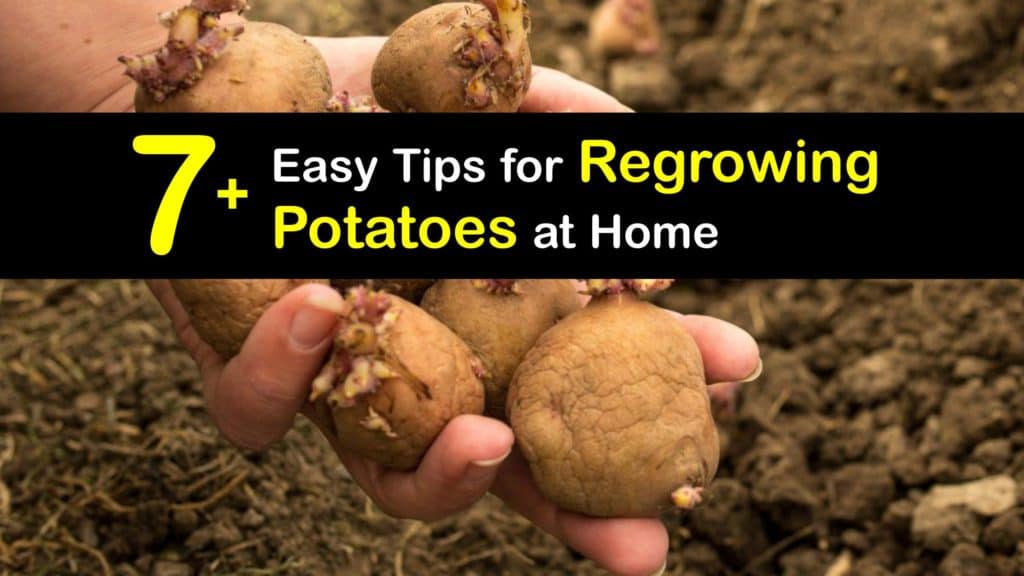 Regrowing Potatoes in a Container or Garden
Learn ways to grow new potatoes indoors, in the garden, or in a patio container. Explore what these root vegetables want to thrive and how to care for your new plants as they grow. Discover common problems you may encounter after planting potatoes and a way to prepare spuds after harvesting.
How to Prepare for Regrowing Potatoes
Regrowing potatoes is pretty straightforward, whether you decide to grow-sweet-potatoes, russet, Yukon Gold, or another favorite type of potato. However, these veggies require the proper soil type and the right amount of sunshine to flourish.
While many vegetables grow best in rich soil, root veggies like potatoes grow ideally in well-drained, sandy dirt. If the soil drains poorly, the tubers are likely to suffer from a disease, and potatoes do not grow well in heavy clay. They like dirt that is somewhat acidic with a pH of 6 to 6.5. However, they do tolerate a pH as low as 5.
Potato plants prefer growing in full sun, and the more sun, the better, so plant them in a sunny spot where they get a minimum of six hours of sunshine daily.
Depending on the type, potatoes take 60 to 90 days to mature after planting. Plan on growing potatoes in the early spring after the last frost as soon as you can work the soil and expect a harvest by the end of the summer.
How to Grow Potatoes from Scraps Indoors
Before planting seed potatoes in the garden, you must take a few steps to prepare them for planting. Here is how to grow potatoes from scraps by starting them indoors. Learn which potatoes are suitable for regrowing and what to look for in a good potato.
While organic potatoes are fine to regrow from the grocery store, other types are treated with a chemical that prevents them from sprouting.
To regrow a potato from a potato, choose healthy-looking spuds that have eyes with whitish shoots and avoid those that are moldy. Cleaning potatoes before you try to sprout them is a good idea. Cut the potato into two-inch pieces, ensuring each section has eyes, and let them sit out overnight to dry out.
If you're regrowing sweet potatoes, cut them in half and insert four toothpicks around the middle of each section. Fill a glass with water and balance the toothpicks on the rim with the cut half beneath the water.
After a few days, roots begin growing, followed by plant sprouting. Once the sprouts reach four inches tall, twist them off and place them in another glass of water before you plant potato eyes in a pot on a windowsill.
How to Regrow Potatoes in the Garden
If you're growing potatoes from scraps in a garden bed, it's important to prepare the area for planting. Get the soil ready for transplanting and how deep and far apart to space the potato seeds.
To ensure a good crop of spuds, seed potato planting depth should be around six to eight inches. Dig holes in the garden and place the potato half in each hole with the cut side facing down. Cover them with dirt and water them lightly to keep the dirt wet.
After a few days, sprouts begin appearing, and the potatoes need hilling as the stems grow taller. Consider spreading mulch over the garden bed around the base of the plants to retain moisture and stop weeds from taking nutrients from your root crop.
Can You Regrow Potatoes in a Container?
If you don't have the backyard area for a garden, container planting is ideal for regrowing potatoes. However, potatoes are a root vegetable that requires a deep pot to grow. Discover which container is suitable for potato-growing and how to plant them to ensure they produce new potatoes.
Since potato plants need depth to produce new potatoes, a five-gallon bucket is an ideal container for potato growing. Ensure the bucket has drainage holes in the bottom.
Pour four inches of soil into the bucket and bury the two potato halves in the dirt, with the sprout side facing upward. Space them from each other and water them right after planting until the water comes out of the bottom of the bucket.
Set the container in a sunny area and water them a couple of times a week. After the stems grow and the leaves reach the bucket rim, hill the potatoes by adding more dirt, leaving three inches of space at the top.
It's also possible to grow potatoes in a container inside as long as you give them enough light and water.
How to Care for Potatoes as They Grow
Now that you've learned how to grow potatoes from scraps, it's a good idea to understand what potato plants require throughout the growing season. Follow these potato plant care tips to help you grow the tastiest spuds.
After planting potato sections and the tubers branch out into stems, give your plants one to two inches of water each week to ensure that the soil remains moist. Add more soil around the plant's base as it grows to allow new potatoes to grow beneath the ground.
When hilling potato plants, the general rule is to bury the plants with soil or straw once they reach eight inches tall, leaving the top four inches exposed. Hill them again after they grow another eight inches. This method prevents the tubers from being exposed to sunlight, which results in green potatoes.
Start fertilizing your plants two weeks after you plant potatoes and every four weeks after that. Stop feeding them two weeks before harvest. Start with high nitrogen fertilizer and finish with high potassium for the best results.
Common Potato Problems and How to Prevent Them
As you regrow a potato, you may find some issues that you hadn't expected. Unfortunately, problems like insects and diseases are a part of nature, and they affect nearly everything you plant outdoors.
Colorado potato beetles, potato leafhoppers, and wireworms are three of the most common insects to affect potato plants. The potato beetle is black and orange and lays clusters of orange eggs on the leaves.
The potato leafhopper is lime green and the wireworm is the larvae stage of the click beetle, a slender, yellowish-brown bug. The best way to eliminate garden pests is to remove them by hand or apply insecticidal soap to the affected plants.
Fungal and bacterial diseases are also an issue when growing your own potato plants. These include bacterial wilt, late and early blight, and common scab, and they affect many heirloom and hybrid potato types. To prevent these diseases, consider growing disease-free spuds, and perform crop rotation to stop the spread.
When are Potatoes Ready to Harvest?
Since potatoes grow underground, it's often challenging knowing when the tubers are ready for harvesting. Here are some signs that indicate your potatoes are ready for picking and how to harvest them from the soil.
Potato Harvest
After you nurture your plants, it can be hard to wait to pick them. It takes weeks for potatoes to mature and be ready for picking. Most potatoes take from 80 to 100 days to mature, depending on the type. Baby potatoes are ready to harvest two weeks after the vines flower.
For regular potatoes, wait until the vines die back since the dead vines are a signal that the spuds have reached maturity. To harvest them, use your hand to dig into the soil and pull the potatoes gently out of the ground. The way to tell potatoes are bad when picking them is if they are mushy and smell. Discard these potatoes.
Make a Fun Side Dish with Your Homegrown Potatoes
Now that you know how to regrow new potatoes from old ones, and you get to reap the benefits of a healthy harvest, it's time to get cooking. This potato recipe is a great way to use up an abundance of spuds, and it's a delicious side dish to any entree.
While the oven is heating to 425°F, use a sharp knife to cut the potatoes crosswise into eight-inch slices, leaving the bottoms intact. Place the sliced potatoes into a lightly greased baking dish and fan them open slightly.
Mix the melted butter, salt, and pepper in a bowl and drizzle it over the top of the potatoes. Bake them uncovered for about 55 minutes or until tender, and sprinkle the minced herbs and shredded cheese over the top. Bake for five more minutes and serve them hot.
Regrowing spuds from the parts you don't want to eat is so simple that even a beginning gardener can do it. These easy growers only want a little bit of help from you to get started, and they grow new potatoes for your kitchen at the end of the season.
We're pleased to show you how to regrow potatoes from leftover kitchen scraps, and we'd love it if you'd share our potato regrowing guide with the potato-lovers in your life on Facebook and Pinterest.