There are many reasons why you may have stickers stuck to your car and car windows, and these can include anything from your kids entertaining themselves while on a long trip to state park registration stickers. As we all know, they are much easier to put on than they are to remove. Before you begin trying to remove those sticky suckers, we'll show you how to remove a sticker from a car window properly using a variety of techniques.
One of the main reasons that stickers are challenging to remove from a car window is the sun. The process of the sun heating the adhesive alternating with cooler night temperatures causes window stickers to adhere more stubbornly to a glass window. What would generally be a reasonably easy task to do later becomes a frustrating ordeal if you don't know the right way to remove stickers from auto glass.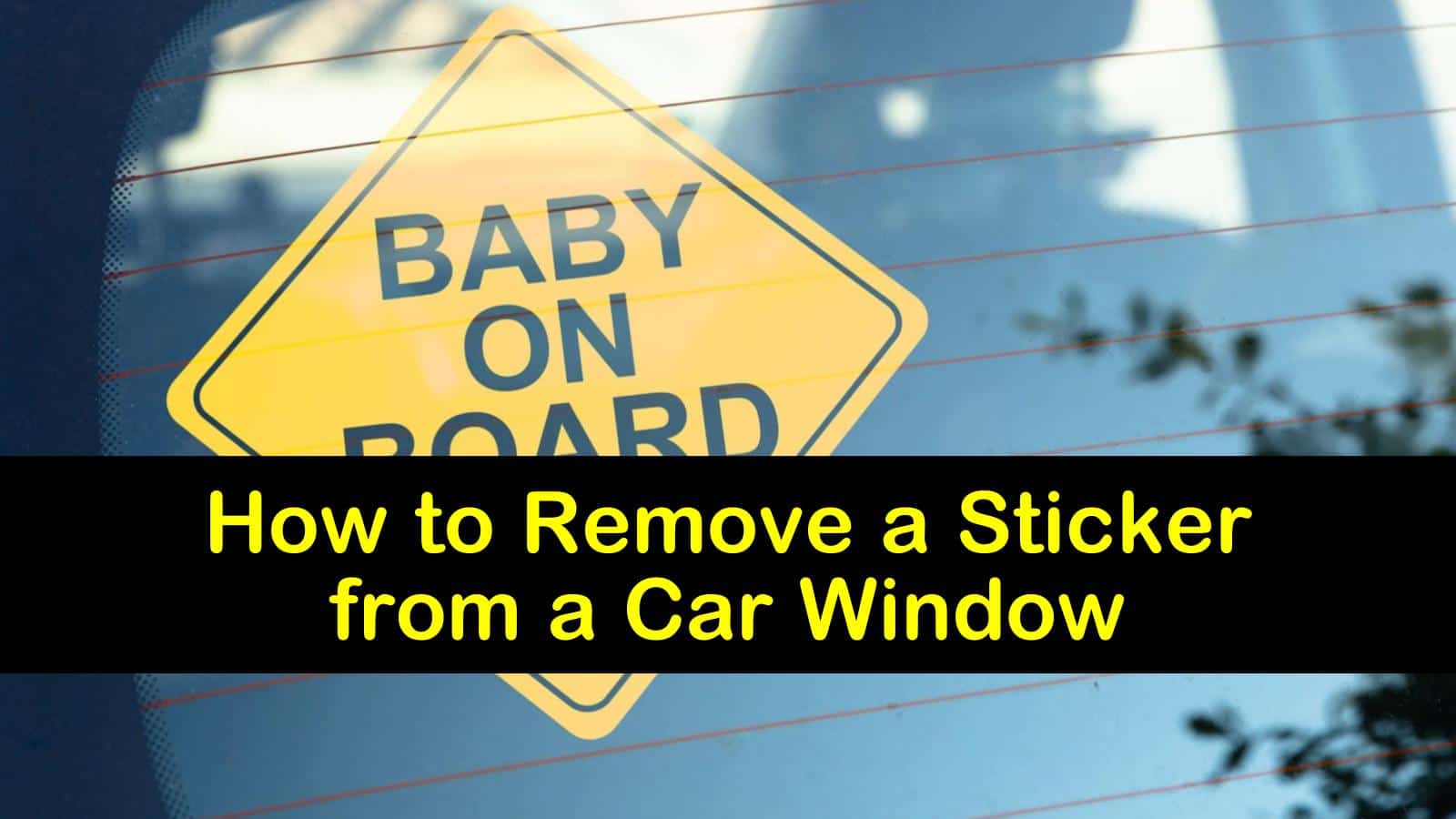 How to Remove a Sticker from a Car Window
The following methods show you how to remove stickers from the car, whether it is a child's sticker, bumper-sticker, decal, vehicle registration, or any other glass surface sticker. We even have tips for removing adhesive residue that stickers leave behind.
1. How to Get Stickers Off Your Car Windshield
Window cleaner is not just for cleaning car windows smeared with dirt and debris. It is also useful for removing stickers and sticker residue from the glass. The following steps show you how to get stickers off your car windshield using everyday glass cleaner.
Window Cleaner Sticker Removal

Glass Cleaner
Razorblade
Paper towel
Spray some glass cleaner such as Windex onto the sticker and let it sit for a moment without drying. Use the pointy edge of a razor blade to carefully pull up the corner of the sticker.
Make sure to hold the knife at an angle so that you do not scratch the glass. Slowly pull the sticker away from the glass until it no longer gives. Spray, razor, pull, and repeat until the entire sticker has been removed.
2. How to Remove Stickers Using Goo Gone
Goo Gone is a degreaser that you can purchase at just about any hardware store. Its primary purpose is to remove stickers and tape from just about any surface.
Goo Gone Window Sticker Removal
Spray the sticker with the Goo Gone and allow it to sit for a few minutes as it breaks down the adhesive backing. Use a plastic scraper to scrape the sticker away gently. If you do not have a tool, you can use an old credit card. Once the label has been peeled off, use some hot, soapy water and a cloth to clean off any remaining residue.
3. Removing Stickers Using Rubbing Alcohol
Rubbing alcohol is an excellent tool to use for removing stickers from glass, and you probably have some in your medicine cabinet. This DIY sticker remover works by dissolving the adhesive backing for easy removal.
Rubbing Alcohol Adhesive Remover

Rubbing alcohol
Cotton balls
Razor blades
Paper towel
Pour some rubbing alcohol onto a couple of cotton balls and press it onto the sticker. Leave the wet cotton ball on the car sticker for a few minutes to allow the alcohol to loosen the adhesive. Hold the razor blade at an angle and gently pry up the edge of the label.
Slowly peel the sticker away from the glass. You can use a fingernail to scrape up any of the sticky residue. Use a wet paper towel to wipe the glass clean.
4. How to Get Stickers Off Glass Using WD-40
WD-40 seems to be a household item that has so many purposes that it's hard to keep count. Removing stickers is yet another trick that you can add to this ever-growing list.
WD-40 Window Sticker Removal Process

WD-40
Plastic scraper
Cloth
Hot water
Start by removing as much of the sticker as possible with your fingernail or a plastic scraper. Spray the sticker with WD-40 and let the solution soak into it for several minutes to loosen the adhesive. Soak a cloth with hot water and use gentle pressure to wipe away the WD-40, leftover sticker, and softened adhesive.
5. Cleaning Sticker Residue from Glass the Easy Way
Sometimes you do not need a smart trick or tool for getting the job done, and this may be one of those times. For this method, you only need some soap, water, and a few minutes.
Easy Glass Sticker Remover

Hot water
Dish soap
Washcloth
Mix a few drops of the soap with hot water. Soak a washcloth in the soapy water and then lay it on top of the sticker. Let it sit for several minutes until the sticker has softened, and the adhesive has dissolved.
Use your fingernail to gently scrape the label away from the glass. Use the washcloth to scrub away any leftover adhesive residue.
6. How to Remove Sticker Residue from Car
Even if you were able to remove a sticker from the car window, you might be left with unsightly sticker residue. This residue is leftover adhesive and can easily be removed. The following method shows you how to remove sticker residue from car after the sticker has been removed.
Nail Polish Remover as Adhesive Remover

Nail polish remover
Paper towels
Razor blade
Soak some paper towels with nail polish remover and apply it to the adhesive residue. Gently rub the area until it is saturated. Use the razor blade, held at an angle, to push the sticky residue away from the glass.
Repeat if necessary. Once done, use some clean water and a paper towel to wipe away any leftover residue.
7. The Best Ways to Remove Stickers Using Heat
Heat can be used to warm and melt the adhesive that is keeping the sticker stuck to the car window. This method is ideal if you'd prefer not to apply any cleaning solutions to the automotive glass of your car.
Sticker Remover – Hot Method
Use a hair dryer set on its highest setting or a heat gun and hold it over the sticker for one to two minutes. After heated, quickly peel the corner of the sticker and slowly pull it away from the surface of the glass.
Be sure not to let the adhesive cool down before peeling it off. Use warm water and paper towels to remove any residue.
8. How to Remove Stickers from a Car Window Using Cold
This simple sticker removal method is very straight-forward and simple. All you need is some cubes and a little patience.
Sticker Remover – Cold Method
Fill a baggie with ice cubes and hold the ice pack directly over the sticker to cool and harden the adhesive. Doing this will make the adhesive less gooey and sticky.
Remove the ice pack and use a razor blade to carefully scrape away the sticker. Be sure to hold the knife at an angle to prevent scratching the glass.
Removing stickers and sticker adhesive from car windows can be done quickly using the right technique and a little patience, whether it is a label from the dealership or an old child's sticker. Now that you have removed those unsightly stickers from your car window try the best homemade car window cleaner to give it that final, clean touch.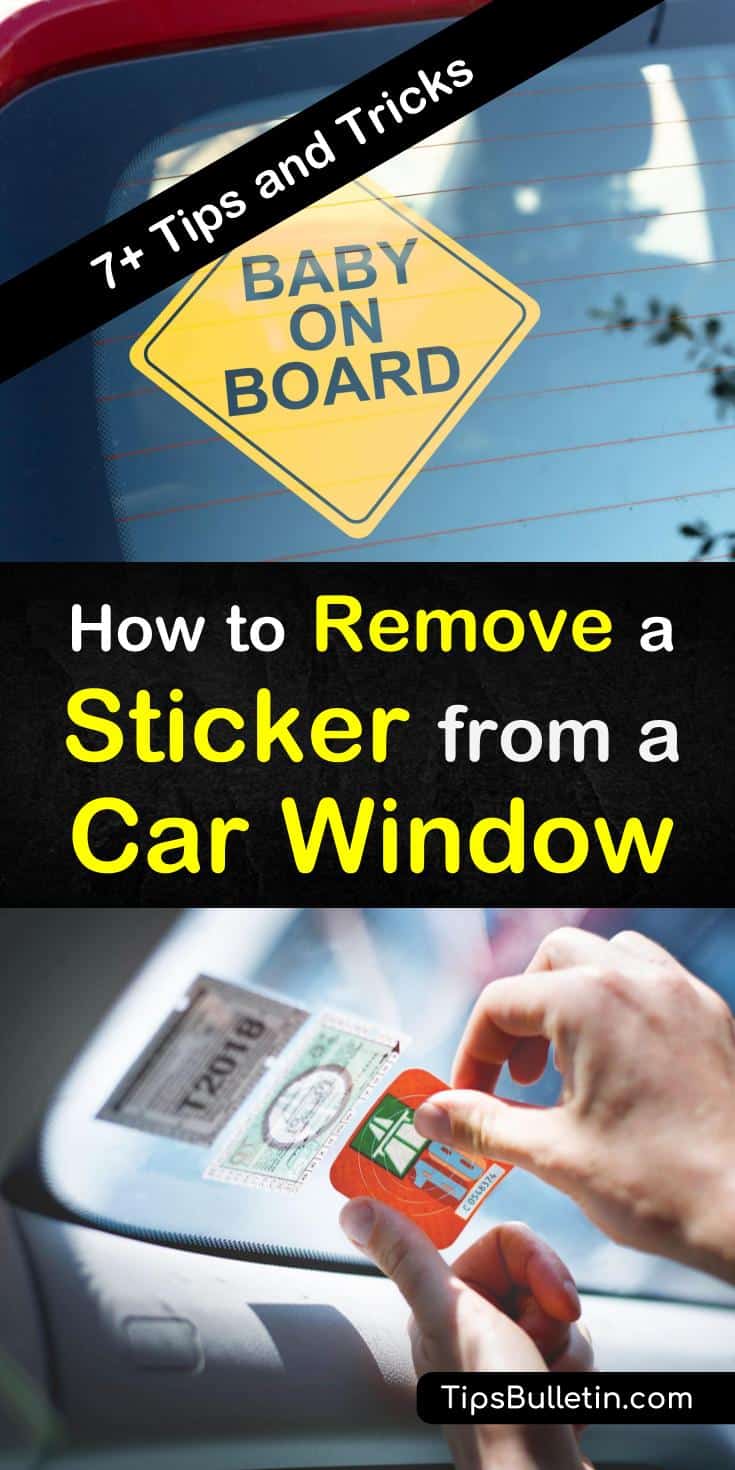 Now that you know how to remove a sticker from a car window in a few easy steps, why not share these car sticker removal tricks with your friends and family on Facebook?