Stickers often seem like a good idea at the moment, especially to kids who love to be creative. However, over time, the adhesive residue hardens to the surface and becomes an almost unmovable force. Discover how to remove a sticker from metal using simple techniques for a clean and shiny surface.
Our world is full of stubborn stickers, from price tags, decals, and bumper stickers to duct tape and masking tape. They cover our household products, and removing them should be a quick and simple task.
They are just stickers, after all. However, the sticky residue that keeps them in place often refuses to budge, leaving an unsightly blemish on the surface. The top paper layer comes off fairly easily, yet the remaining adhesive stubbornly sits there.
And, using the wrong method to remove the gunk merely makes the sticky smear larger. What started as a seemingly straightforward chore is now an annoying and ugly patch of stickiness.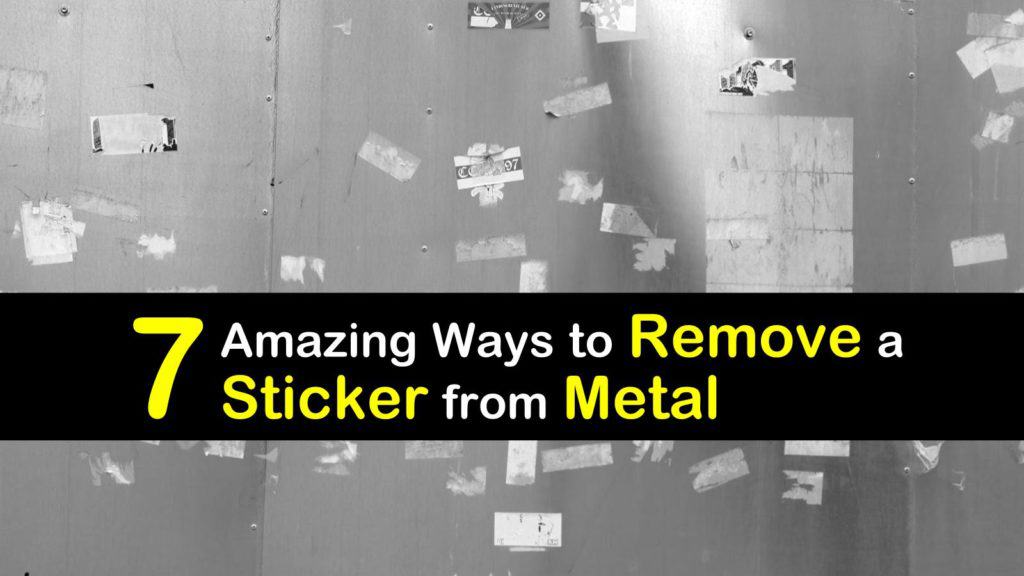 Ways to Remove Stickers from Metal Surfaces
There are three main tools for getting stickers off metal surfaces – water, adhesive remover or solvent, and a sharp edge. We show you how to use these cleaners to remove sticker residue without a hassle.
These same techniques and supplies apply for the way to remove super glue from metal surfaces, too.
Get a Sticker off Metal with Soapy Water
The most straightforward way to get a sticker off metal if it's fairly new is to use a bit of dish soap and hot water. The same applies to remove registration sticker from a car window. The soap softens the glue for quick and easy removal and doesn't damage the surface.
Pour enough hot water into a spray bottle to nearly fill it and add a few squirts of dish soap. Shake the container gently to create suds and spray the soapy water directly onto the sticker.
Let it rest for several minutes to soak into the adhesive, and then use a razor blade's edge to scrape it gently away from the metal surface.
If there are still sticky adhesive residue spots remaining, repeat the steps or try another metal cleaner. Wipe the spot clean with more soapy water and a soft cloth, rinse it with clean water, and dry it with a towel.
Getting Sticker Glue off Metal with Baking Soda
Sodium bicarbonate is a common household item, and this mildly abrasive powder is useful for getting sticker glue off metal surfaces. It's also beneficial for getting Gorilla Glue off metal surfaces. Use baking soda along with oil to gently scrub away adhesive.
Mix a small bit of baking soda and coconut oil in a small bowl or container. Stir the two ingredients to form a paste and then apply it to the sticker.
After it sits for a couple of minutes, use the edge of an old plastic card to slide the adhesive away from the metal. Wipe the area clean with a damp cloth to remove oily residue.
How to Remove a Sticker from Metal with Baby Oil
Baby oil is a great tool to get a sticker off metal. The oily liquid loosens the bond from the surface for quick and simple removal of both the decal and adhesive.
Squirt some baby oil directly onto the sticker and let it soak for five to ten minutes. Slip the edge of a scraper beneath the sticker and push with gentle force to remove the glue from the metal. After all of the adhesive is gone, wipe the area with a clean cloth.
Getting Stickers off Metal with Coconut Oil and Heat
An old sticker often has dry and stubborn glue stuck to the metal surface. A natural way to remove sticker residue is to combine the power of heat and oil to dissolve the glue for complete removal.
Apply a small bit of coconut oil or cooking oil to a cotton ball and rub it in a circular motion on the sticker. If you do not have either of these, use peanut butter instead since it also contains oils.
Plug in a hair dryer and set it on medium heat. Hold it over the sticker to heat the sticker, loosen the adhesive, and slip the edge of a plastic card beneath one side of the sticker.
Slide the card gently over the metal to strip away the bond. Use paper toweling to wipe away the residue.
Removing a Sticker from Metal with Nail Polish Remover
Fingernail polish remover that contains acetone is helpful for getting sticker glue off metal. Acetone is a solvent that helps break the bond and is also an ingredient in a DIY spray paint remover.
Pour a bit of fingernail polish remover onto a cotton ball to soak it and press it onto the sticker for a few minutes. If you do not have access to nail polish remover, consider using rubbing alcohol as a substitute.
Slide a box cutter blade beneath the sticker and hold it at an angle as you push off the adhesive. After all the gunk is gone, use a damp cloth to clean the area.
How to Use Goo Gone to Remove Stickers from Metal
Goo Gone is a popular adhesive remover that cleans away everything from candle wax and tree sap to gum and glue residue. It takes only minutes to use and works on most surfaces, including metal.
Spray Goo Gone on the top of the sticker and let it soak up the solvent for a few minutes. Press the edge of a putty knife between the metal surface and the sticker and use gentle pressure to peel away the glue.
If there is still adhesive residue, respray the area with the liquid and use a paper towel to clean the surface.
Cleaning and Polishing Metal after Removing Adhesive
It's important to clean the metal after removing stickers and glue adhesive to rinse away leftover residue and keep the surface clean and shiny. For other metal mishaps, consider using a homemade bird poop remover for cars.
Pour a cup of white vinegar and warm water into a spray bottle and add a squirt of dish soap. Shake the container to mix it well and spray the cleaner over the surface of the metal.
Wipe the entire surface clean with a sponge and then rinse it with clean water. Use a clean cloth to buff the metal dry to prevent streaking.
Stickers shouldn't be as hard as they are to remove from surfaces, whether on cardboard boxes, plastic, or metal.
Removing stickers the wrong way is a common mistake that leads to a sticky mess. Using the right tools, along with a little patience, are the keys to sticker removal success.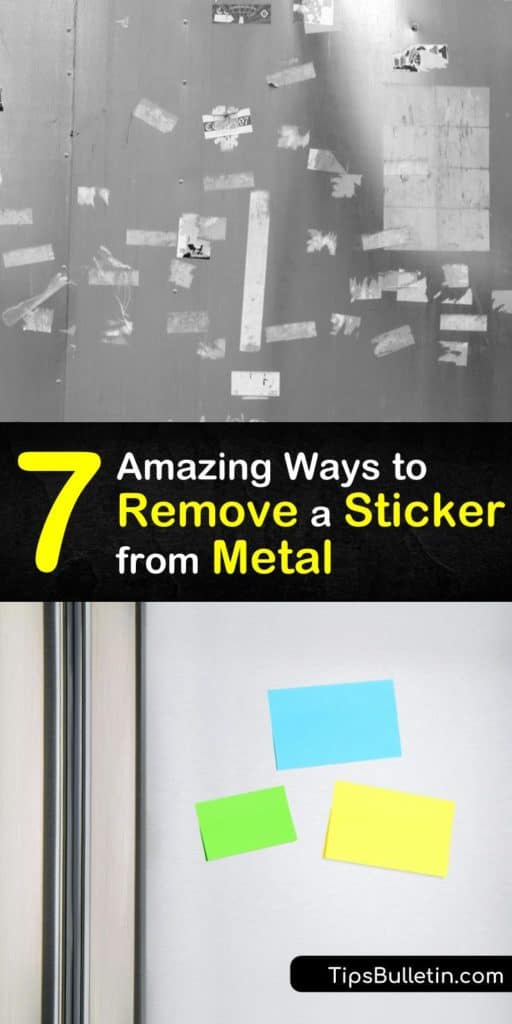 Now that you know how to remove a sticker from metal, why not share our sticker removal techniques and tips with your family and friends on Pinterest and Facebook?