It doesn't matter if you put it there yourself or if a manufacturer did; getting sticker glue off wood isn't always easy and straightforward. Knowing how to remove a sticker from wood only takes a little bit of time but is even easier when you know what tools and ingredients make the process go smoothly.
A wood surface is porous and often stands no chance against the adhesive from a sticker. The sticker usually leaves behind discolorations and leftover residue, making it feel impossible to get off.
Some product labels that come on the wood are easy to remove, but you never know until you get your hands in there and start picking. Don't be frustrated if your first few attempts of cleaning a sticky wood table fail. There are several genius strategies to choose from, and one of them is bound to work and leave your wood free from damage.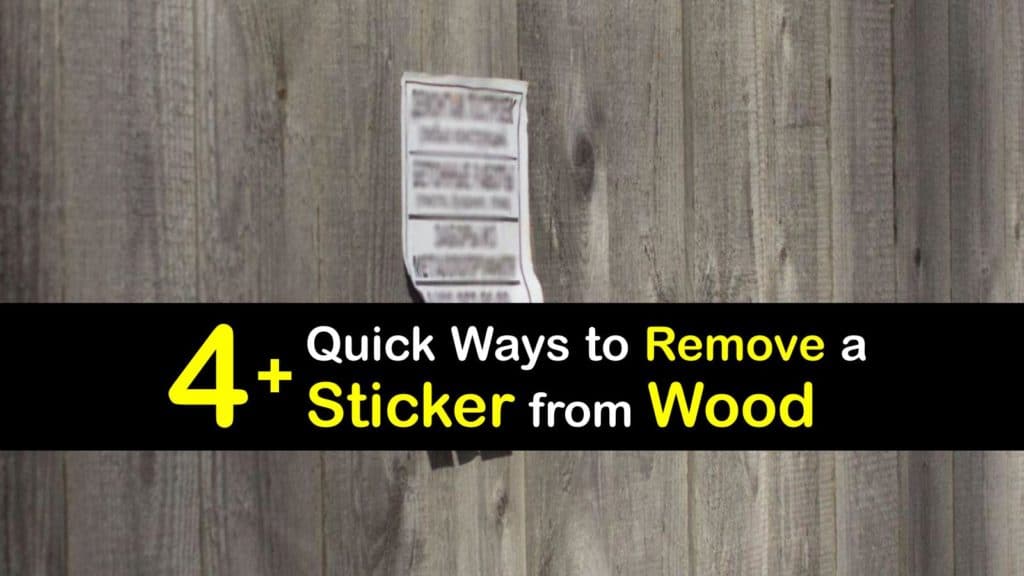 Why is It so Hard to Get Sticker off Wood?
Stickers are labels, prints, price tags, or decals printed on one side of paper, vinyl, or some other sort of material. The other side is coated with a pressure-sensitive adhesive.
When placed against a hard surface, the sticky residue holds onto the hard surface and makes it difficult to pull off. To remove adhesive from wood, you have to break the bond between the stubborn sticker and the surface it's attached to. Difficulty depends on what items are used to remove it.
Stickers tend to stick well to things free from dirt and other gunk and have smooth surfaces, like plastic or finished wood furniture.
It's hard to get stickers off in one smooth motion because the adhesive often leaves leftover paper from the label behind. If you can get rid of all the remaining residue, you'll have a clean surface that looks like it was never touched before.
How to Remove a Sticker from Wood
Getting sticker glue off wood is easiest with everyday household products that are likely already in your house.
These tools and ingredients break down the adhesive in the back and make it easier to scrape off. Try using these methods for wall decal removal or removing stickers from another surface.
Getting Sticker Glue off Wood with Heat
Heat is your best friend whenever trying to get sticker off wood or to remove carpet adhesive from a wooden surface. A hair dryer or heat gun is all you need to warm up the glue. Turn your blow dryer on its highest heat setting and heat the entire sticker for several seconds.
Use your nails to lift and peel up the corner of the sticker. Use the hair dryer again and keep it about two inches away from the sticker while you gently peel back the sticker.
Only work in ten to 15-second batches because too much heat might damage the wood or leave a stain on the finish. If you're having trouble using your fingers to lift the sticker, use a credit card or putty knife to scrape away the remaining sticky adhesive lightly.
Using Solvents to Remove Stickers from Wood
Solvents like white vinegar, rubbing alcohol, nail polish remover, and mineral spirits are excellent tools for removing stubborn stickers from wood, as well as removing Gorilla Glue from wood.
Always use a homemade wood cleaner recipe after using these solvents to keep the wood free from stains and other potential damage. It is also smart to test the solvent on a small, inconspicuous area to ensure it is safe to use on the wood.
Soak a single paper towel or cotton ball in white vinegar and lay it over the sticker when getting sticky stuff off walls or wood. Let the vinegar sit for five minutes, and then use your fingernails to peel as much of the sticker off as possible.
Grab a dry, clean cloth and dampen it with hot water. Place the damp cloth over the remaining sticker residue to heat up and moisten the glue. Try to wipe away the adhesive with the rag and use a plastic scraper to remove anything leftover.
To get stickers off a laptop, follow the same process but use rubbing alcohol instead of vinegar.
Removing Sticker Glue from Wood with Lubricants
One of the fastest DIY ways to get sticker off wood surfaces is to use an ingredient with a lubricating effect, like peanut butter, vegetable oil, baby oil, or mayonnaise. These products are also great to get hand sanitizer stains off wood as well as water marks.
To get sticky residue off wood, spread a small amount of the product over the sticker spot and absorb it for several minutes. Once loosened, use a credit card or scraper to lift the residue from the wood.
A lubricant is also a great idea to use as a homemade wood stain remover if you have an accidental spill.
Homemade Sticker Spray
Getting sticker glue off wood is easy when you use a DIY sticker spray to lift the glue from the wood. Always test this spray on a small area before using it on a larger section that might damage the wood and leave a stain.
Add one tablespoon of vinegar to a spray bottle of warm water and a few drops of dish soap. Shake the bottle so that suds start to form.
Lift as much of the sticker from the wood with your fingernails or a scraper as possible, and sprinkle it with a thin layer of baking soda.
Spray the soapy water solution over the residue and let it sit for one minute before grabbing your scraper again and removing the remaining glue.
Repeat this process as often as necessary. Clean up any remaining spray thoroughly so it doesn't leave behind a mark on the wood.
You may also find that this home remedy is successful when trying to remove sticker residue from metal, as well.
Last Resorts to Get Glue off Wood
It's not likely that you're working with unfinished wood. However, if you are, sandpaper is a great tool that most people already have in their garage.
Gently sand down the sticker residue from your raw wood. If the wood is finished, don't use sandpaper, or you will scratch it.
If all else fails, purchasing Goo Gone is an excellent last resort. This product was made to get sticker off wood and is one of the best products on the market.
Getting sticker glue off wood isn't always something that is quickly taken care of. It can get frustrating when you try and try, and nothing seems to work. Before you give up completely, try one of these simple strategies and see how well it works.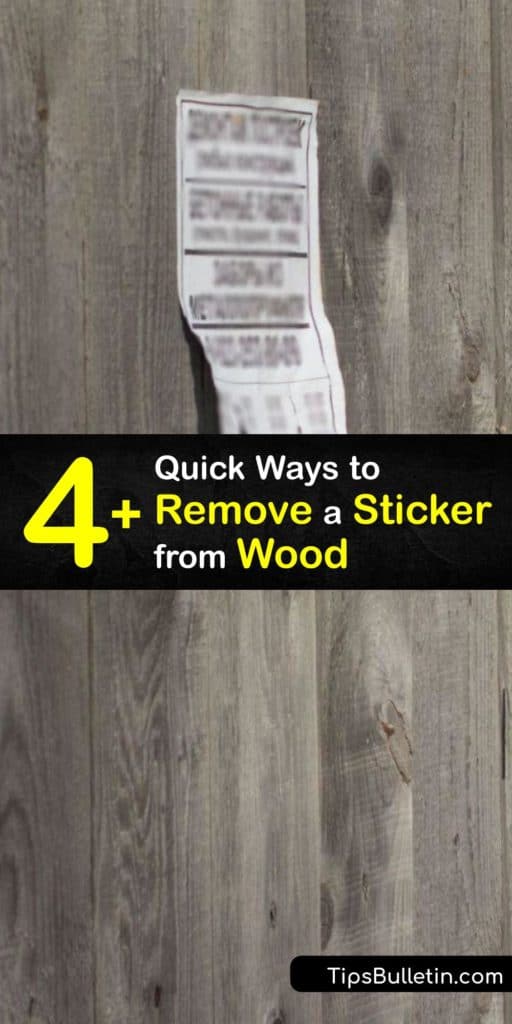 If learning how to remove a sticker from wood left your furniture damage-free, share these strategies to remove sticker residue from wood on Facebook and Pinterest.