Wallpaper is an excellent way to express your style and tastes. But, unfortunately, this form of wall covering is often dated and no longer matches the rest of your home. Learn how to remove a wallpaper border from drywall, a painted wall, existing wallpaper, and other surfaces.
Maybe you recently moved into your new home, and the previous owner had bad taste in wallpaper. Or, perhaps, what seemed like a good idea at the time is no longer to your liking, and it's time for a makeover. Whatever the reason, there are now long strips of wallpaper border to contend with.
Removing wallpaper is definitely on the list of things no one enjoys doing. This task is often tedious and time-consuming. This home improvement job is one of the messiest, and it quickly turns from a day-long chore into a weekend wasted when using the wrong wallpaper removal solution.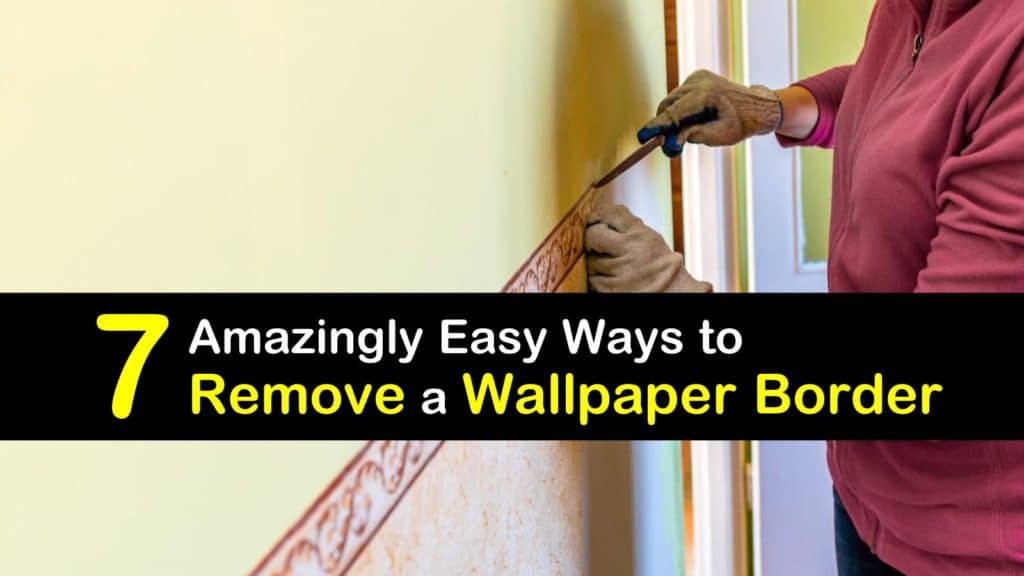 Removing Wallpaper Border Quickly and Easily
It's essential to prepare ahead of time for DIY projects, whether you need to remove mold from basement walls before painting or have to take care of removing wallpaper that no longer suits your style.
Here are a few ways to remove wallpaper border from different surfaces using the right techniques and a little bit of elbow grease.
Preparing to Remove a Wallpaper Border
Preparing for a project is always the best way to go. This ensures that all of the tools are ready and in place, making the job more efficient and the cleanup a breeze.
Begin by clearing the area around the room of furniture, wall hangings, and window coverings. Spread drop cloths along the edge of the wall and baseboards to protect the floor from drips or spills, and set a large garbage can near the work area.
Choose the tools you plan on working with, such as a putty knife, scraper, and wallpaper scoring tool, and set them in a handy location. Prepare an adhesive stripping liquid in a bucket and spray bottle, or make a homemade wallpaper stripper liquid.
How to Take off a Wallpaper Border on Drywall
Some walls are easier to work on than others, and drywall has its challenges. The paper stubbornly sticks to the surface, and specific steps are necessary for removal. Here is how you can start removing wallpaper glue residue with fabric softener to avoid damaging the walls underneath.
To remove a wallpaper border from drywall, use your fingernail to try and peel away the top corner of the wall border paper. If the piece comes off easily, continue pulling it away in sections to remove as much as possible.
If it does not, use a scoring tool to penetrate the paper before applying a stripping solution. Fill a bottle with equal portions of liquid fabric softener and water, shake it well to mix, and spray the remaining paper with the solution.
Work in small sections and allow the liquid to sit for about 15 minutes. Use a plastic scraper to clean away the stubborn pieces of wallpaper and discard them in the trash.
Removing a Wallpaper Border from a Painted Wall
Removing a wallpaper border from a painted wall sounds intimidating, but it's not as difficult as it seems. While there are steps to take to protect the painted surface, the process is pretty straightforward.
Fill a bottle with equal parts white vinegar and warm water. Shake the bottle to mix and spray the wallpaper stripper in sections, starting at the far side of the border paper.
Let it rest for 15 minutes, and then press a scraping tool beneath the corner of the wallpaper. Apply mild pressure as you slide the scraper between the wall and adhesive, and use your hands to pull the paper away as you work.
How to Remove a Wallpaper Border from Base Wallpaper
If the wallpaper border is pasted over another layer of base wallpaper, removing it takes some care. This is the simplest way to remove the border without damaging wallpaper for a clean surface.
Pour hot water into a spray bottle. Work in one-foot sections, and spray the water on the border to soak it lightly. Allow it to sit for 15 minutes or so, and then slip the edge of a putty knife between the two layers of paper.
Grab the end of the border with your other hand and gently wiggle the knife under the surface of the wallpaper while pulling. Repeat this with each section until you remove all of the border from the old wallpaper.
Steaming to Remove a Wallpaper Border
Steam is an effective tool for loosening the bond of wallpaper adhesive for quick removal. Here is how to take off a wallpaper border using a steamer.
To strip wallpaper with a steamer, begin by using a perforation tool to score the border, fill the steamer with warm water, and heat until the water boils. Put a pair of gloves on your hands to protect them from the steam and press the steamer pad on the paper for 30 seconds.
Use a scraper to peel away the softened paper and discard it in the trash. Continue these steps around the room until you remove all of the paper.
How to Remove a Wallpaper Border with a Hair Dryer
If you do not have access to a steamer, there are other heat alternatives for removing a wallpaper border. A hair dryer and water are great substitutes for removing wallpaper and glue residue.
Slide the edge of a razor blade beneath the wallpaper's far corner and pull a small part away from the wall. Plug a hair dryer close to the work area and turn it on high.
Hold the dryer over the unpeeled section and use your hand to peel it away slowly. Continue to move across the room while heating and pulling. Avoid ripping the paper into strips to prevent creating more work.
Cleaning a Wall after Removing Wallpaper Border
After removing a wallpaper border from your walls, there are undoubtedly bits of wallpaper glue and adhesive remaining. You may also need to clean nicotine off walls before painting. It's essential to remove wallpaper border glue and stains to give your walls a finished look or before putting up new wallpaper or paint.
To make this simple DIY wall washing solution, pour hot water and a few squirts of dish soap into a bucket. Dunk a sponge into the soapy water and scrub the wall in sections from one side to the other. Rinse the sponge with clean water and dunk it in the soap as needed as you make your way around the room.
For really stubborn areas, consider applying more stripper or try rubbing alcohol for cleaning walls. Dry the wall border with a soft towel and clean up any drips and spills.
There are many ways to spend days off, and removing stubborn wallpaper is not high on the list. Unfortunately, these jobs don't take care of themselves, and it's time to roll up your sleeves.
A trip to a couple of hardware stores, good preparation, and the right removal method make the job easier.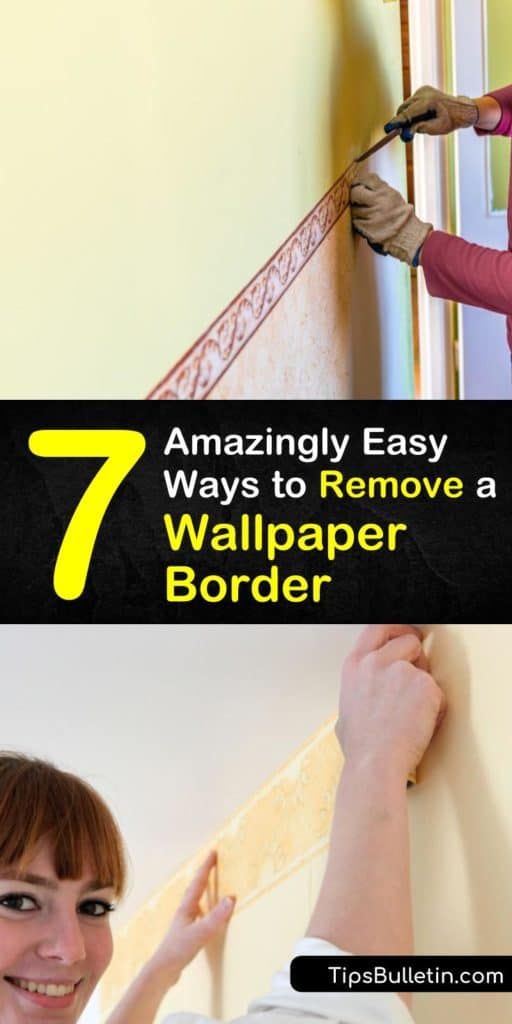 Knowing how to remove a wallpaper border the right way is the difference between a one-day job and a weekend headache, so why not share our wallpaper border removal methods and tips with your circle of family and friends on Pinterest and Facebook?