Accidents happen, especially when using an unpredictable medium like acrylic paint around the house. No matter how careful you are, a rogue splatter on the hardwood floor or wood trim seems inevitable. Discover how to remove acrylic paint from wood furniture and flooring with these incredibly clever tips and tricks.
Acrylic paint is an innovative, quick-drying household paint created by a German chemical company in 1934. Acrylic paint became widely available for household projects during the 1940s and became a popular art medium by the 1960s. Acrylic paint is versatile and suitable for many projects and surfaces, including ceramics, clay, canvas, and wood.
Acrylic paint works by suspending pigments in an acrylic polymer emulsion. Like latex paint, most acrylic paint is water-based, which means it becomes water-resistant when dry. To effectively deal with acrylic paint stains, you need something that dissolves acrylic resin.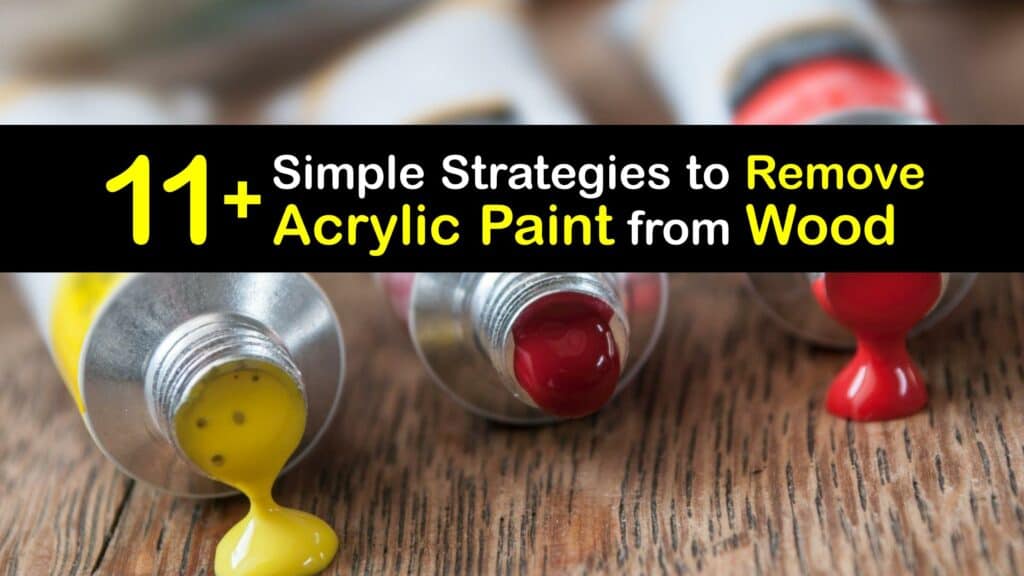 Removing Dried Acrylic Paint from Wood
Discover how to get acrylic paint off wood floors, furniture, and clothing. Don't let the mess stop you from living your dreams. Work on that acrylic painting or complete those home improvements with confidence, knowing you have the skills to banish acrylic paint stains forever.
Dish Soap and Water for Fresh Acrylic Paint
Dish soap and water work surprisingly well on fresh acrylic paint spills and often clean the paint entirely without resorting to heavy chemicals or complicated equipment. Grab a bit of liquid dish soap or a bar of soap, and tackle that paint stain.
Wet paint is easier to deal with than crusty, dry paint because the acrylic emulsion becomes water-resistant once dry. Soapy water won't cut it when dealing with old paint, so don't wait; wipe the spill immediately.
Soak up the excess paint with an old rag or paper towel, and don't use the good tea towels for this one. Mix the soap and water in a small bowl or bucket, wet the cloth, and gently rub the remaining paint stain away. Rinse the cloth and repeat as required until the paint is gone.
Try Olive Oil for Dried Acrylic Paint Stains
You probably haven't considered removing dried acrylic paint from wood with olive oil, but this humble pantry item packs a punch. Olive oil, linseed oil, or regular vegetable oil softens the dried acrylic, making it much easier to soak up.
Pour some olive oil directly on the old paint and allow it to penetrate for about 20 minutes. It may take longer to break down thick layers of acrylic stain; keep checking on it. Once the paint is soft, soak up the acrylic with a damp rag, and allow the wood to dry thoroughly.
How to Get Acrylic Paint Off Wood with Rubbing Alcohol
Many DIY enthusiasts say the best way to remove dried acrylic paint from wood is with a bit of rubbing alcohol, and they're right. Most people have rubbing alcohol in the medicine cabinet; if not, it's inexpensive and easy to find.
Grab a putty knife or a butter knife and gently scrape away as much dried paint as possible when you are removing paint from old furniture or have a newer stain. Dab some rubbing alcohol on a rag and gently lift the paint stain. Rinse the wood with clean water and allow it to dry. Be careful to use rubbing alcohol on the paint-splattered areas only, as it may affect the wood's finish.
Chemical Paint Stripper for Acrylic Paint Spills
A chemical paint stripper is a heavy-duty solvent that effectively strips paint by penetrating deep into the acrylic layers and breaking the chemical bonds. The chemical paint stripper softens the old acrylic paint stain, making it easy to scrape off with a paint knife.
Most chemical paint strippers are available as a liquid, paste, or gel for convenience. There are many kinds of chemical paint strippers to suit your needs, and if you're unsure, ask the helpful staff at the hardware store. Always follow the manufacturer's directions when using a chemical paint thinner, and don't forget your protective gear.
How to Remove Acrylic Paint from Wood
A heat gun is handy for various jobs, such as thawing frozen pipes, bending plastic, and getting acrylic paint off wood. They're relatively inexpensive if you don't already have a heat gun in the garage.
Put on your heat-resistant safety gear; heat guns can reach incredible temperatures, and it's essential to protect yourself. It's possible to try this with a hair dryer, but a heat gun reaches temperatures as hot as 1000 °F, whereas a hair dryer only reaches about 80-140°F.
Hold the heat gun 2-4 inches from the surface and run the gun back and forth until the paint bubbles. When you need to get old paint off door molding, gently scrape the acrylic with a putty knife or paint scraper, then let the wood cool. Wipe any excess paint away with a damp cloth.
Lacquer Thinner for Tough Paint Stains
Lacquer thinner is a liquid solvent, and its chemical concentration makes it effective at removing dried acrylic paint from wood. Lacquer thinner is also incredibly concentrated; wear a face mask and work outside or in a well-ventilated area.
Pour a small quantity of lacquer thinner onto a dry rag, about the size of a dime, and gently rub the paint away. The acrylic should lift almost immediately. Once paint disappears, wipe the residue with a wet cloth, and let the wood air dry. A little lacquer thinner goes a long way.
Acetone for Acrylic Paint Marks
You might know acetone as a popular ingredient in nail polish remover. Acetone is effective at removing paint from fingernails and wood because it's a powerful solvent. Simply dab a little acetone on a rag and press it against the acrylic paint stain.
Wipe any excess acetone or reside with a wet cloth. Always wear protective gloves and a sturdy face mask when working with acetone. Ensure the area has fresh airflow to prevent toxic fumes from building by keeping the windows and doors open.
Use Denatured Alcohol on Acrylic and Latex Paint Stains
Denatured alcohol is an alcohol-based solvent with many industrial and domestic applications. This strong solvent removes acrylic paint splatters from a wood deck, floor, or furniture. Use it to clean paint off wood floors or if you have an unfortunate spill on the dining room table.
Denatured alcohol is made from ethyl and methyl, which makes it more robust than your average rubbing alcohol and more effective at solving set-in stains. Denatured alcohol doesn't dissolve oil paint or oil based paint but works fabulously against acrylic, latex, and even spray paint.
Grab a pair of protective gloves, and dab a bit of denatured alcohol on a rag. Press the rag against the paint stain, and watch it disappear. Wipe the wood surface thoroughly with a wet cloth, and let the wood air dry.
How to Get Acrylic Paint Out of Clothes
Now that you learned how to remove acrylic paint from wood, what about clothing? Acrylic paint becomes water-resistant once dry, so throwing your paint-splattered clothing in the washing machine won't work. However, it's possible to save paint-stained clothing.
Isopropyl alcohol is the unsung hero of getting acrylic paint out of clothing. It's inexpensive, easy to use, and boasts a high success rate.
Soak a cloth or clean cotton ball with isopropyl alcohol and blot the paint out of the clothing or carpet until no more color lifts from the fabric. Throw your clothes in the wash as usual, and use a little color-safe bleach to boost your regular detergent.
Try an Ammonia Solution for Household Paint Stains
People who are concerned with how to get acrylic paint off wood often turn to an ammonia solution. It's excellent for non-porous household surfaces like glass, metal, or plastics and works well on wood when diluted.
Fortunately, you don't have to be a home chemist because ammonia is readily available at many local hardware stores. Blot some ammonia on a dry rag, rub the paint away, and clean up any residue with a damp cloth. Always wear protective equipment when working with ammonia and work in a well-ventilated space.
Sand the Paint-Stained Area with Steel Wool
If you're a confident handyperson, why not sand the stain away? This method works great for items needing a new coat of paint, varnish or items with a rustic feel. Make sure the wood is completely dry before you begin sanding.
Go over the area with some steel wool or fine-grit sandpaper. Use gentle forward strokes in the direction of the wood, and you'll see the paint lift away. When finished, add a little character to your wood floor or furniture; get creative and try something new.
Call a Carpenter for Serious Paint Problems
There's no shame in calling the wood restoration experts if you're in over your head. Contact your local carpenter for a quote instead of accidentally damaging your wood floor or table. When working on large cleanup projects or delicate antiques, sometimes it's best left to the professionals; they might give you some helpful advice for future projects.
We hope you enjoyed our tutorials on how to remove acrylic paint from wood furniture and floors. Try dish soap and water for wet paint, or switch to alcohol-based cleaners for older paint stains.
Always use protective equipment when working with any chemical paint stripper, and ensure proper ventilation to avoid nose and mouth irritation.
Prevention is vital in home improvement. Use a drop cloth when painting the walls or wood trim, and keep a careful eye on the paint tray. If you're an artist, avoid painting in areas with a lot of nice wood furniture, and don't be afraid to take the easel outside. We wish you the best in your future home improvement projects; here's to splatter-free floors forever.
If you liked learning how to remove acrylic paint from wood, share this helpful article with friends on Pinterest or Facebook who love home improvement projects and clever cleaning solutions.