Whenever something breaks in our homes, there is always some type of adhesive that acts as a sidekick to put the pieces back together and save the day. As much as we love using glue to fix our accidents, removing it from plastic is a tricky task. If you have to quickly figure out how to remove adhesive from plastic, this article is for you.
If you have to get adhesive off plastic, you're probably stuck on what approach to take. Thankfully, there are various strategies to remove adhesive residue from plastic without damaging the plastic item itself.
If we spent time gluing something together, the chances are pretty high that that item meant something special to you or another one of your family members. Don't throw away something special because you're unsure what to do. Check out this list of ways to remove glue and sticky residue that are cheap and straightforward.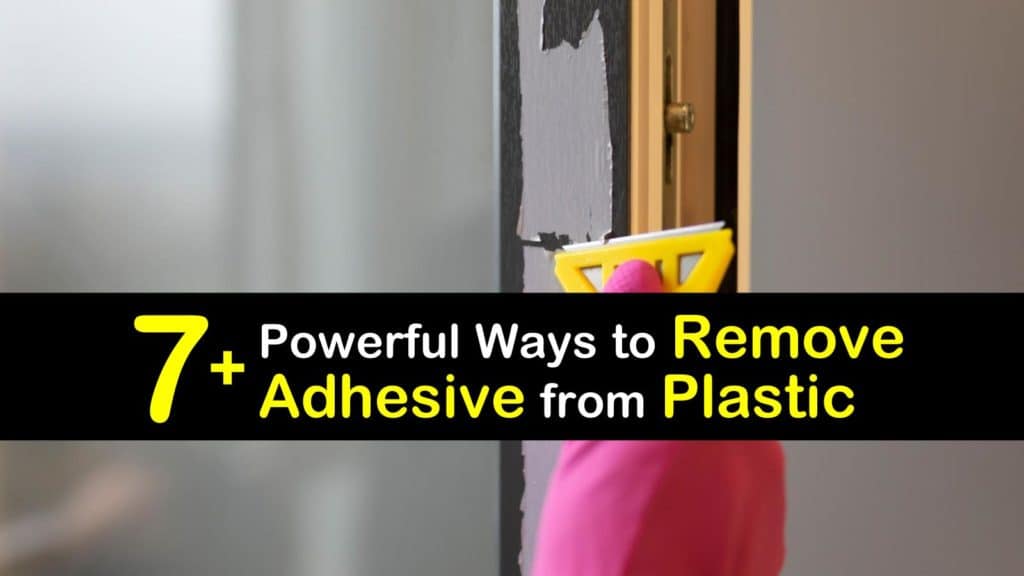 Types of Adhesive
When learning how to remove adhesive from plastic, knowing what type of sticky adhesive you're working with is essential in getting it off. One of the most used types of adhesive is craft glue.
Craft glue is standard for gluing lightweight materials together like paper, cloth, and cardboard. Craft glue usually dries clear and is one of the easiest to remove because it is water-based.
Wood glue is another popular type of bond. This adhesive is far stronger than craft glue. It works best on wood and is tackier than other glues. This glue sets in under an hour, so the quicker you remove the glue, the better.
Super glue is the strongest and hardest adhesive to remove from the list. It works on most materials, including wood, ceramic, leather, metal, glass, and plastic.
Hot glue is most prevalent in crafting and fabric gluing. The glue comes in a hardened stick and heats up when put in a heating gun. Don't underestimate hot glue. It is powerful and often challenging to get off.
Several other adhesives, all with different price tags, can be used, depending on how to best fix the problem, but these are the most common. If you have to remove adhesive residue from plastic, one of these adhesives was likely used.
How to Remove Adhesive from Plastic
As challenging as it may seem to remove glue residue from a surface, finding a household adhesive remover is relatively simple.
There are dozens of household products that we have access to every day that have the strength to get hard water stains off plastic and remove sticky adhesive. Most of them are far cheaper than any remover you find at the store.
Start with Your Fingers
Since plastic surfaces are hard and smooth, removing glue adhesive from plastic is easier than removing it from a porous material. The first action to take when trying to get anything stuck to a surface is to scrape it off with your fingernails.
Lift the glue edge with your fingernail and slowly pick at and chip away small remnants. Depending on the type of glue used, some roll off the surface in one swipe.
If your fingernail isn't working, rubbing a pencil eraser tip over the glue creates friction and helps wipe away some adhesives with weaker bonds, like craft glue.
How to Get Adhesive off Plastic
When trying to remove adhesive residue from plastic, your main focus should be getting as much of the excess off as possible. One of the simplest ways to do this is to use something with a sharp edge to raise the corners and chip away at the gunk.
A razor blade is one of the best tools for using as a scraper to get spray paint off of plastic. If you don't have a razor blade, sandpaper is another excellent tool that most people have lying around in their garage to remove any gunk from plastic.
Grab some fine-grit sandpaper and carefully rub the area with glue buildup. Whenever you get close to the plastic's surface, be extremely cautious not to destroy the object's exterior.
How to Remove Adhesive Residue from Plastic with Acetone
Acetone is a go-to when learning how to remove adhesive from plastic or to get Sharpie off plastic surfaces. If you don't have pure acetone, try using nail polish remover since acetone is one of the main ingredients.
Dampen a clean cloth with hot or warm water and let it sit on the affected area for half an hour. Remove the fabric and pour some acetone into a cotton ball or another clean, dry cloth.
Rub an inconspicuous area to make sure the acetone doesn't damage the plastic. If nothing is damaged, scrub the rest of the glue spot until all of it lifts into the rag. Clean up the remaining gunk with a soft cloth.
If the acetone doesn't work, mimic this same process with isopropyl rubbing alcohol or hand sanitizer instead. The alcohol content breaks down the dried glue and is a little tougher than acetone.
Rubbing alcohol is best for removing super glue from plastic lenses of your glasses.
Removing Glue with Soapy Water
The great thing about soapy water is that it works on dozens of cleaning projects. For the easiest and cheapest DIY adhesive glue remover, look at plain old dish soap.
This common household cleaner is one of the best ways to wash silicone or plastic that will not to damage materials but still strong enough to cut through tough stains.
It's also a great homemade cleaner for vinyl floors or removing any sticky residue from another surface. Mix some hot water and several drops of dish soap in a medium-sized bowl. Dip a soft cloth in the soapy water and wring it out, so it is damp.
Lay the hot cloth over the stain and tape plastic wrap over the top to trap the heat and moisture. After sitting for three hours, remove the plastic wrap, wet the rag again, and scrub the area with soapy water.
DIY Glue Remover
Removing glue from surfaces is tough work and requires tough ingredients to fight back. Cleaning shower doors with vinegar and baking soda has always worked well, and using it to remove adhesive residue from plastic is no exception.
When put together, vinegar and baking soda bubble and break down even the toughest glue stains.
Pour equal parts baking soda and vinegar in a small bowl and mix, so it has a pasty consistency. Plug your hair dryer in and hold it over the glue spot on high heat to warm up the adhesive.
Once warmed, pour the concoction over the affected area and let it sit for an hour. Grab an old toothbrush and begin scrubbing the glue. Wipe off the baking soda and vinegar with a wet paper towel.
Removing Adhesive with Oils
It's possible to use oils to get adhesive off plastic or to get tape residue off car surfaces. It doesn't matter if you use canola oil, vegetable oil, olive oil, baby oil, peanut butter, or even mayonnaise. Cooking oil works to penetrate and loosen dried glue.
Oils become even stronger agents when you add baking soda to the mix. Combine equal parts of your choice of oil and baking soda. Stir the ingredients until everything is well-combined and then smear the mixture over the glue stain.
Let the oil solution sit for about 15 minutes before taking a clean, damp cloth and scrub at the spot until all of it lifts into the rag. You may have to repeat this process two or three times for the best results.
Using Goo Gone to Get Glue off Plastic
When trying to figure out how to remove adhesive from plastic, sometimes commercial products have the most significant outcomes. Goo Gone is a product made to remove sticker residue, but it works on many other types of adhesives, too.
If you decide to use Goo Gone, follow all the instructions posted on the packaging. A trick to removing glue with this product is to let it sit for a while to help penetrate and loosen the adhesive.
Wipe away all the remaining product with a clean, damp cloth and dry it with a paper towel.
How to Remove the Toughest Glue Stains
Even after trying out all these ways to remove glue, some adhesives put up a major fight. Their bonds remain strong after countless attempts to weaken them, and it starts to feel impossible to get off.
Paint thinner is your best bet if you have an adhesive that refuses to come off of plastic. Paint thinner contains many harsh chemicals, so be sure to wear safety gear and work in a well-ventilated area.
Test a small, inconspicuous area to guarantee it doesn't damage the plastic. Pour a small amount of odorless paint thinner over the glue area.
Dampen a cotton swab or cotton ball in the thinner and rub the glue stain. Add as much paint thinner as necessary until all of the glue washes away. Grab a clean rag and wipe it down with clean water.
Adhesive sometimes ends up being more of a pain than a helping hand, but don't let a moment of frustration stop you from using it and gluing together precious objects in your home.
Even though it is a challenge to remove, many products are available that make the job easier.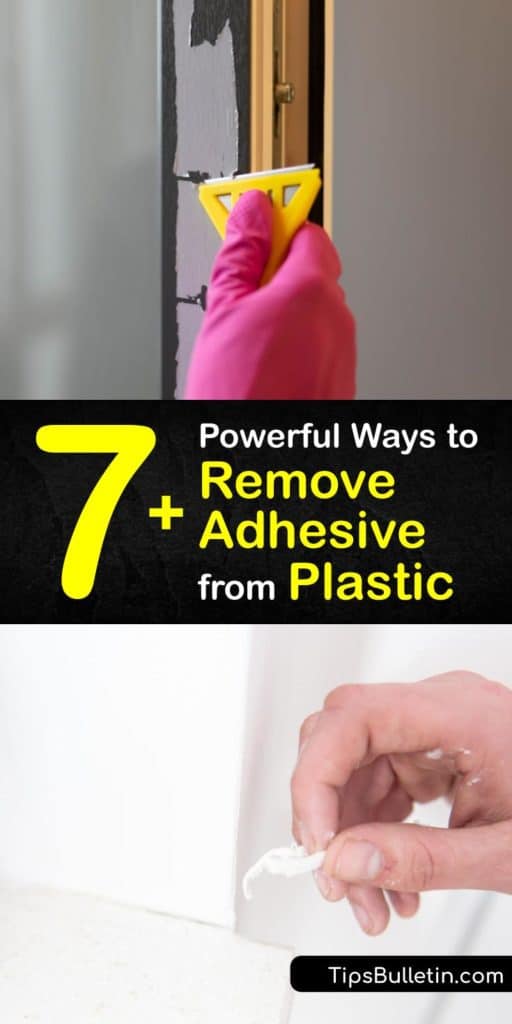 If this article helped you figure out how to remove adhesive from plastic with ease, share these methods for getting adhesive off plastic surfaces on Facebook and Pinterest.