Whether it's a sticker, old carpet glue, or a spill from a DIY project or craft, adhesive residue tends to make wood look shabby. Try one of our tips for removing glue residue from wood furniture and floors. Learn how to remove adhesive from wood to cross that item off your to-do list and enjoy a clean wooden surface once again.
First, check the glue package and manufacturer's website to see whether they have any instructions for removal. Whichever method you choose, start by testing the cleaner on an inconspicuous area, such as the bottom of a table.
Certain solvents damage certain types of wood finish. Always start with the gentlest, least-abrasive option. Only turn to harsher products if you're not having any success.
Make sure to follow the safety instructions for any chemicals you use, such as working in a well-ventilated area or wearing rubber gloves and safety goggles.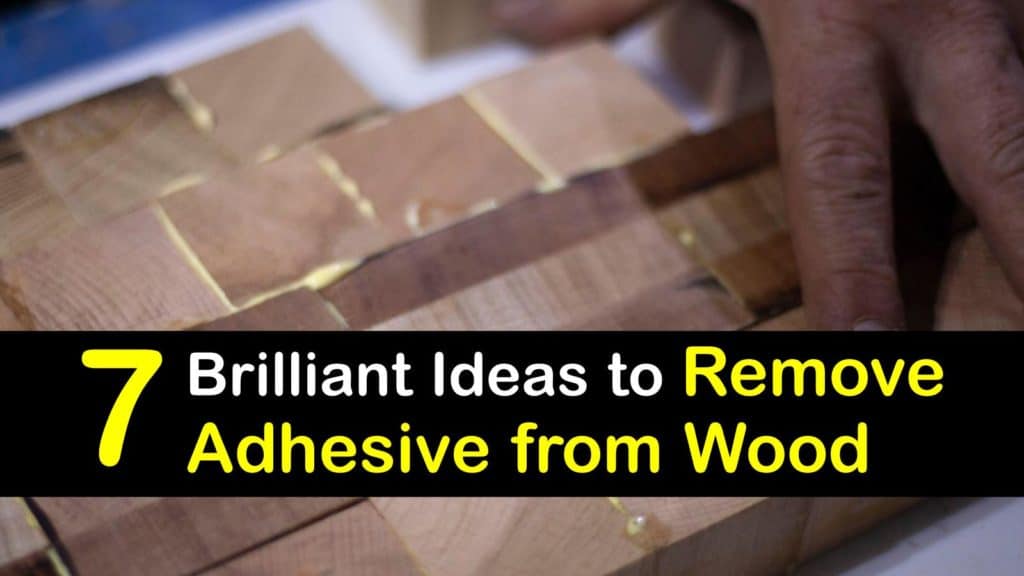 How to Get Adhesive off Wood
Options for removing adhesive from wood range from scraping with a razor blade to loosening the glue with heat or a solvent. Although the term "solvent" may bring to mind harsh chemicals, several common ingredients like mayonnaise are also effective solvents.
Scraping to Remove Adhesive Residue from Wood
For a scraper, use a putty knife, a plastic scraper, an old credit card, your fingernails, a razor blade, or even a spatula. Especially with sharp items like razor blades, be careful not to scratch the wood.
Gently lift a corner of the glue with the blade. The adhesive may peel off in one piece, or you may need to scrape. If you get all the adhesive off, wipe clean with a damp cloth.
How to Remove Adhesive from Wood with a Hair Dryer
Heat softens glue, making it easier to get adhesive off wood. Use a hair dryer on the lowest setting to avoid damaging the wood. Keep it at least two to three inches away from the surface.
Hold the hair dryer in place for approximately 15 seconds or 20 to 25 seconds for a particularly sticky stain. Afterward, gently remove the softened glue with a scraper or rag, or paper towel. Wipe away any remaining residue with a clean cloth.
Use Soap and Water to Remove Adhesive Residue from Wood
To get adhesive off wood after it has dried, dip a cloth in hot water. Press the fabric onto the wood for several minutes. Gently scrape off the softened glue with a scraper or your fingernails.
To remove glue from stained wood while it's still wet, start by wiping off as much glue as possible with a dry cloth. Next, mix a cleaning solution.
To make this DIY floor adhesive remover, combine the ingredients in a small bowl, then wet a rag with the soapy water. Rub gently at the adhesive. For a tough patch of glue, leave the cloth on the affected area for 10 to 15 minutes before scrubbing.
How to Remove Adhesive Residue from Wood with Acetone
This chemical is often found in nail polish remover and is a powerful way of getting Super Glue off wood. Wear protective gloves and a mask and work in a well-ventilated area.
In most cases, combine acetone with another approach like scraping. For example, scrape at the adhesive, then scrub with a cloth or cotton swab dampened with nail polish remover.
For stubborn glue stains, leave the cloth sitting there for up to 15 minutes. Keep the fabric wet since acetone evaporates quickly. When the glue has softened, rub vigorously with a clean cloth.
Get Adhesive off Wood with a Solvent
Several different solvents remove adhesive residue from wood. Don't forget to test a small area of the wood, wear protective equipment, and ensure adequate ventilation.
Although you may need to visit a home improvement store for some of these products, you likely already have some vinegar.
You can also use this superstar cleaner in a natural furniture cleaner or wood siding cleaner recipe. Follow the package instructions for whichever solvent you choose.
Depending on the solvent, apply it with a rag or cotton ball or pour it directly onto the stain. Dab or scrub with a clean cloth. After softening the glue, wipe clean with a damp cloth.
Rubbing alcohol and white vinegar work well to clean mold off a wood deck. Bleach works, too, but be careful not to use too strong a solution so that the deck does not become discolored.
Sanding to Get Glue off Wood
As a last resort for how to remove adhesive from wood or to get carpet glue off wood, use sandpaper to scrub off the sticky residue. Be careful not to damage the wood, especially for delicate wood surfaces like hardwood floors. To protect yourself, wear rubber gloves and safety goggles.
Gently rub at the glue stain with 600-grit sandpaper until it's level with the wood. Try to sand only the adhesive, not the wood. Switch to 1200-grit sandpaper, which is even finer, and sand until all the adhesive is gone.
Wipe away any glue flakes with a clean cloth. If you removed some of the finish while sanding, apply a wood finish that matches the original. You can also apply polish to make the wood shine.
Use a Commercial Product to Remove Adhesive from Wood
For tough glue stains, consider using a commercial adhesive remover. Make sure that the product is safe to use on wood. For example, Goo Gone is popular for removing glue and sticker residue from various surfaces, including wood.
Follow the usual precautions like wearing protective equipment and opening windows to increase ventilation. Apply the product according to the directions to get a sticker off wood or eliminate a glue spot.
You may end up pouring the solution onto a cloth or directly onto the stain. After you've scrubbed off the adhesive, wipe the surface with a clean cloth.
Precautions when Removing Adhesive from Wood
In general, be careful when removing adhesive from wood, whether you're scraping, scrubbing, heating, sanding, or applying a solvent. Be careful when exploring the best way to remove stains from unfinished wood, as it can absorb oily ingredients, while a finish like lacquer or polyurethane is easily damaged.
Avoid using acetone or paint thinner on finished or painted wood. If you're uncertain, do some research or check with a flooring company before proceeding.
Follow the instructions for solvents, including the application method, the amount to use, and the types of surfaces to treat. Wear rubber gloves, safety goggles, and perhaps even a mask.
Work outdoors if possible or open windows and turn on a fan. Several solvents release harmful fumes. Try to keep the solvent off the bare wood. You could surround the glue with painter's tape to prevent the liquid from leaking.
Safer Alternatives for Removing Adhesive from Wood
You have numerous options if you'd like to avoid harsh chemicals. Try pouring a little white vinegar or cooking oil on a cloth then rubbing at the adhesive or to get Gorilla Glue off a wooden table. Afterward, rinse the surface and wipe it dry.
Alternatively, spread a little mayo on the stain—the oil breaks down glue. Let the ingredient sit there for 15 minutes, then wipe with a cloth. It's also effective to leave petroleum jelly on the adhesive overnight then scrape the next day.
Another solution has you squeeze half a lemon onto the wood. Let the acid work for 10 to 15 minutes, then sprinkle some salt. After another few minutes have passed, scrape or rub off the softened glue.
Wood is not always the most forgiving material to work with. If you had a slipup while doing woodworking or are finally getting around to removing an old glue stain, start with a gentle approach like scraping.
If necessary, try a strategy like heating with a hair dryer or applying a solvent. Familiarize yourself with how to remove adhesive from wood to tackle your next DIY project with confidence.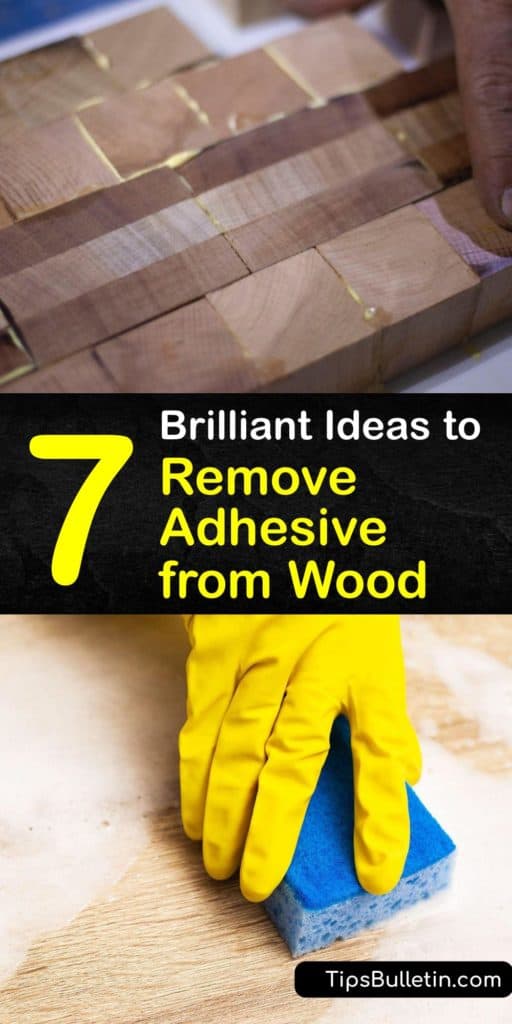 If you found these adhesive remover tricks helpful, please share these wood cleaning tips with your friends on Pinterest and Facebook.