If you have hard tap water, you probably also have mineral buildup around and in your faucets. These spots are especially aggravating after you work so hard to clean the sink, and the faucet still has ugly hard water stains. We'll show you how to remove calcium deposits from a faucet to get it looking shiny and new.
Hard water is a common concern in many homes. Over time, the water leaves stains and chalky powder on your bathroom and kitchen faucet. This is the result of calcium deposits and limescale containing calcium carbonate.
This residue is not only unsightly but often leads to clogging in the faucet head. Hard water deposits slow the water pressure in your faucets and showerhead, causing uneven spray.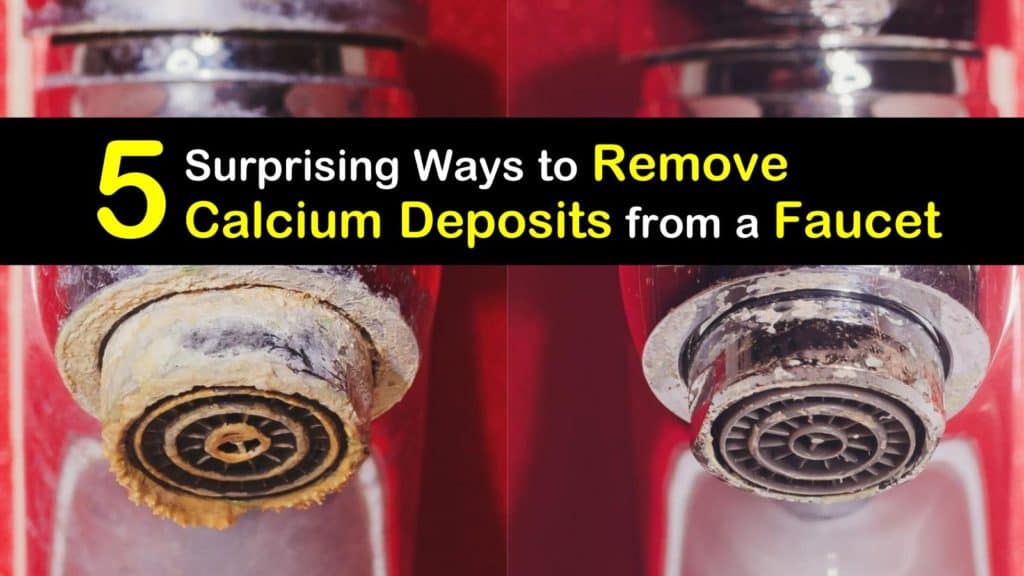 Removing Calcium Deposits and Hard Water Stains from Faucets
Learn how to remove water stains on and near the faucet and remove a mineral buildup from the aerator using a few simple cleaners. These solutions are easy to use, whether you have stainless steel or chrome faucets.
A calcium buildup in the plumbing fixtures tends to clog the faucet aerator, disturbing the water flow. While it's tempting to call a plumber, this problem is simple to remedy on your own.
Remove Hard Water Stains from Stainless Steel Faucets
Hard water stains occur on surfaces if the water is left to dry, leaving behind minerals and white marks. White vinegar is safe to use to remove hard water stains from stainless steel faucets, and you probably have a jug in your kitchen already.
Soak a washcloth or rag with white vinegar to saturate it and drape it over the faucet. Allow it to rest for about half an hour, and then use the cloth to scrub away dissolved deposits, making sure to get into all of the crevices.
Rinse the rag under clean water, wipe the faucet surface again to clean away residue, and dry it thoroughly with paper towels.
Vinegar is also a helpful household item to use to clean a copper kitchen sink, as well as those made from other materials. It's cheap and easy.
Cleaning the Faucet Aerator to Remove Hard Water Buildup
Often, a faucet loses its pressure, and this is commonly due to hard water deposits clogging the aerator. It's simple to remove limescale from a faucet aerator using white vinegar and a toothbrush. This is also an effective shower head cleaner.
Pour white vinegar into a container or bowl and set it beside the sink. Use your hand or a pair of pliers to unscrew the aerator from the faucet head. Place it into the bowl of vinegar to soak for about half an hour. If it is filthy, consider soaking it overnight.
Use an old toothbrush to scrub away loosened particles from the screen and then rinse it under warm water at full force to flush out debris. Screw the aerator back into the end of the faucet and test the water flow for efficiency.
Use this strategy to remove hard water stain from a toilet, too. Remove as much water as you can from the bowl and add vinegar. Sprinkle some baking soda over the area and scrub well. Let it sit for 30 minutes or so, scrub again, and rinse.
How to Remove Calcium Deposits from a Faucet
Baking soda is a cheap way to clean hard water deposits off a bathroom faucet, especially when combined with vinegar. The two work together to dissolve minerals and absorb residue. Try this remedy as a natural stainless steel polish, too.
To remove calcium buildup in the kettle or the faucet, combine the olive oil, white vinegar, and baking soda in a container to form a paste and rub the solution over the surface, making sure to cover all spotty areas.
Let it sit for ten minutes or more, and use a damp cloth to wipe away the mixture. Rinse the rag under warm water and wipe all residue away before drying the faucet with a paper towel.
Try this simple recipe for how to clean stainless steel sinks, as well. You'll be delighted with the excellent results.
Removing Hard Water Buildup from a Faucet Aerator
Many commercial cleaners contain phosphoric or muriatic acid. However, lemon juice is a natural alternative to make a descaling solution. Lemons contain citric acid and are a great non-toxic solution to descale a kitchen faucet and dissolve mineral deposits.
Cut a fresh lemon in two and use your thumbs to pry an opening in the center of one of the halves. Slide the lemon up and around the faucet end, cover it with a plastic bag, and secure the bag to the faucet head with a rubber band.
Leave the lemon in place for a few hours while the citric acid does its magic. Remove the bag and lemon and use a scrubbing pad to clean around the end of the faucet, similar to removing hard water stains from a metal tub. Wipe away the lemon juice residue with a damp cloth and dry it with paper towels.
How to Prevent Calcium Buildup on Faucets
A hard water problem builds up over time, affecting everything from the dishwasher to the bathroom faucet. Therefore, it's essential to prevent calcium buildup on faucets to keep them looking new and help them work as they should each time you turn on the water.
Calcium Buildup Prevention
One of the best ways to prevent problems in your appliances, pipes, and faucets is to install a water softener system. These systems treat the water throughout your entire home via ion-exchange, eliminating magnesium and calcium in the water.
If installing a softener in your home is not an option, it's vital to perform routine cleaning using white vinegar or lemon juice to keep the faucets clean and the aerator clog-free.
Keep a Magic Eraser handy for quick and convenient spot-cleaning, and always dry the sink and faucet with a clean towel after each use to prevent standing water from creating water stains.
Hard water and mineral deposits are the main culprits when a faucet loses its sparkle and water pressure. Fortunately, it's easy to get your kitchen and bathroom faucets looking shiny again using the right DIY cleaner, and cleaning the aerator only takes a little time and effort.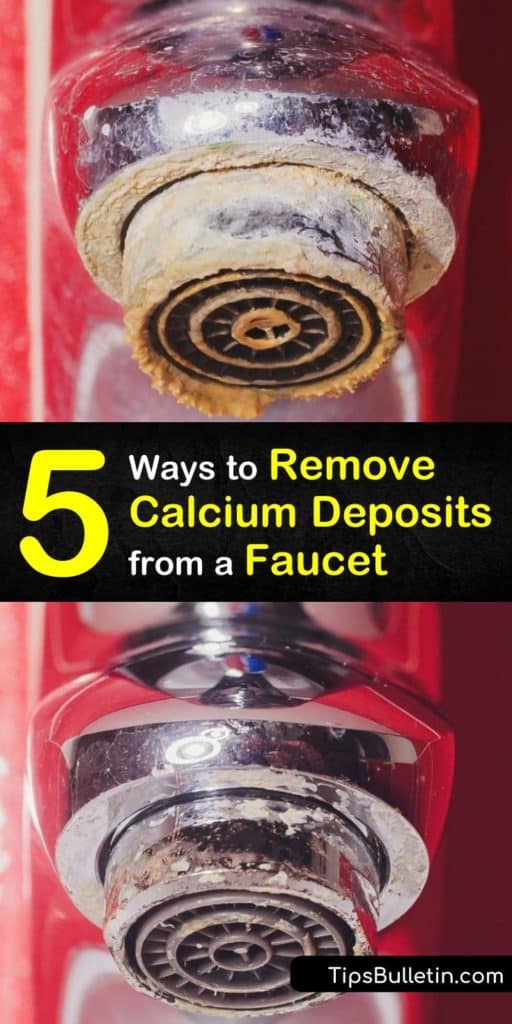 Now that you learned how to remove calcium deposits from a faucet to keep it looking and working like new, why not share our tips for removing calcium buildup from faucets with your family on Facebook and Pinterest?