Are you tired of the calcium deposits that build up on the tiles around your swimming pool? Learning how to remove calcium deposits from swimming pool tiles is much easier than most people assume.
When you have the right tools, eliminating tough grout and calcium buildup is a manageable task. Although it may take a little elbow grease, cleaning pool tiles calcium deposits is a part of vital pool maintenance that pool owners must complete.
If you ignore the calcium deposits that accumulate around the waterline in your pool, the consequences significantly affect your pool water's future health.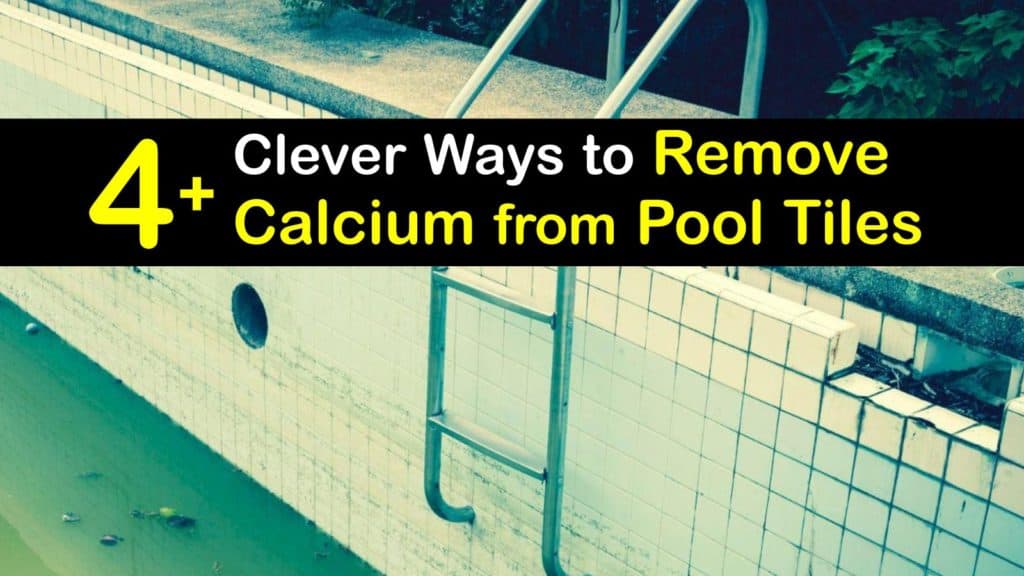 What Causes Limescale Buildup?
Similar to when you are removing any calcium deposits from metal, calcium deposits can stain your entire pool with white, chalky spots. It is best to clean these stains as soon as you notice them so they do not continue to spread.
Fortunately, there are numerous simple ways to remove hard water stains from tile and grout. This article shows you how to eliminate scale deposits, what causes calcium scale deposits, and how to remove grout stains.
Before cleaning your pool surfaces free from calcium deposits, you need to understand what causes the white stains on your pool tile.
The most common cause of calcium buildup is from a high pH level or alkalinity, which causes calcium carbonate to separate from the pool water and leave an unwanted stain.
Another potential cause of limescale buildup is intense heat. High temperatures evaporate water quickly and are more likely to leave a calcium stain behind. Any pool surfaces that come in contact with water are at risk for calcium scaling.
How to Remove Calcium Deposits from Swimming Pool Tiles
Muriatic acid is an acid that is hydrochloric-based and makes an excellent limescale remover. Muriatic acid washing is powerful, so we recommend wearing protective goggles and rubber gloves.
To efficiently eliminate hard water stains on tile, utilize the powerful ingredients in muriatic acid, which eat through limescale.
Combine one part muriatic acid with eight parts water in a large spray bottle. Spray the acid wash on the affected areas and let it sit for five minutes. With a nylon brush, continue scrubbing the limescale buildup until it is clean.
Finish your tile cleaning by rinsing the area with clean water. If you have to remove limescale buildup in your home, like a toilet or shower, consider using muriatic acid.
Cleaning Pool Tiles Calcium Deposits with a Pressure Washer
A great addition to your pool service routine is a pressure washer, which uses intense force to spray water at a fast rate, breaking through calcium hardness that is often difficult to remove.
An alternative to pressure washing is bead blasting, which applies glass beads at high pressure and does not cause damage.
If you do not have a pressure washer in your garage, do not worry. Pressure washers are commonly found at your local home improvement store to rent.
Aim the nozzle at areas with calcium deposits and just above the water level to clear away deposits. Do not wash any tiles that are loose or cracked, as pressure washing may cause more damage.
Learning how to remove calcium deposits from swimming pool tiles is easier with a pressure washer.
Pros and Cons of using a Pumice Stone
A pumice stone is a popular tool for pool cleaning and breaking down calcium deposits. Because pumice stones have a rough exterior, they are great for scrubbing through calcium silicate.
Additionally, pumice stones are inexpensive and easy to find. Although pumice stones are useful for cleaning pool tiles calcium deposits, there are some cons to using this pool tile cleaner.
Before using a pumice stone to clean tile surfaces, there are a couple of things to keep in mind. One aspect includes the length of time it takes to clean a surface.
Pumice stones wear out relatively quickly and are not the fastest method to remove limescale buildup. Also, pumice stones may damage tiles by scratching the surface.
Remove Hard Water Stains from Tile and Grout with Baking Soda
Baking soda is a cleaning tool that has diverse uses. Similar to when you clean a spa with vinegar, the ingredients in baking soda effortlessly dissolve grime, dirt, grout stains, and calcium deposits and is the fastest way to get rid of algae in a pool.
If you want to learn how to remove calcium deposits from swimming pool tiles, use a simple baking soda mixture. This baking soda cleaner will also remove calcium deposits on fiberglass.
Combine the cleaning ingredients in a medium-sized mixing bowl and stir until the consistency is the same throughout. After putting on rubber gloves to protect your skin, apply the mix onto the affected areas with grout buildup and as the way to remove grout stains from tile.
Let the baking soda mixture sit for ten minutes to loosen up the grout stain before spraying it clean with a pressure washer or hose.
How to Clean Calcium Deposits with Pool Clarifier
A pool clarifier works with your pool chemicals to make limescale removal more manageable. Pool clarifiers contain chemicals that clump together limescale deposits in your water that your pool filter captures.
Because the clumps are stuck in your pool filter, they cannot reenter the pool. After purchasing a clarifier, follow the instructions on the package to determine how much to use based on your pool's volume.
We recommend using this pool cleaning method if the limescale buildup is particularly severe. Cleaning pool tiles calcium deposits may appear challenging at first. However, a clarifier makes it much more straightforward.
It's a good idea to learn the proper way to vacuum a pool after removing calcium deposits so they don't settle on the bottom of the pool.
Why is my pool cloudy? If you have cloudy water or annoying white chalky marks on your pool tile, it results from limescale buildup. Most people think it is impossible to eliminate hard water deposits on pool tile.
However, cleaning agents like baking soda and muriatic acid dissolve tough grout and limescale areas. To remove hard water stains from tile and grout, equip yourself with the proper tools.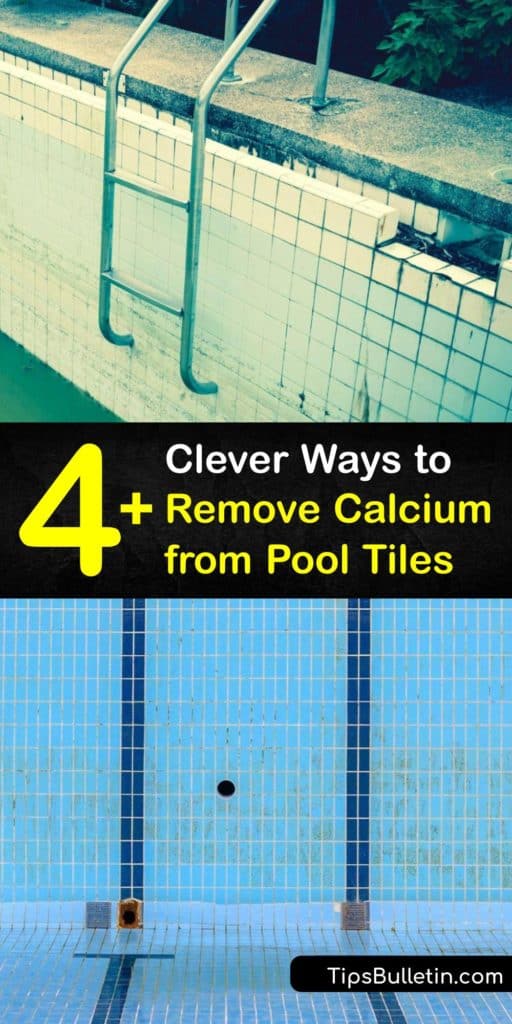 If you learned how to remove calcium deposits from swimming pool tiles, share these tips about cleaning pool tiles calcium deposits with your neighbors on Facebook and Pinterest.