Owning a car is a form of investment, and maintaining its appearance takes a lot of work. Applying wax over the clear coat not only protects the surface of your vehicle but brings out its shine. It's essential to know how to remove car wax before applying new wax to its surface.
We've got tips for removing old wax off your vehicle's paint as well as areas of your car where wax doesn't belong. A vehicle that has lost its shine and luster is a good indicator that it's time to apply a fresh coat of wax.
Unfortunately, to do this, you must first strip off the old wax. The general rule for changing the wax on your car is once every three months to keep it looking shiny and prevent grime from sticking to its surface.
Clever Tips for Removing Car Wax
Before applying wax to your vehicle, it needs to have a clean surface so the wax can bond to it properly. Here are several ways to remove the old wax, including using detailing clay or a pre-wax cleaner.
We've also included a few techniques for removing wax off plastic trim, windows, and headlights. Knowing the right way to remove and re-apply car wax can save you a lot of time.
The First Step in Removing Car Wax
Before removing old wax, you need to clean your car to remove any dirt and debris. Having a clean and dry vehicle allows the pre-wax cleaner chemicals to be more efficient at removing the old wax without having to go through layers of grime.
Spray your vehicle with a garden hose and then fill a bucket with warm water and a few squirts of dish soap. Dunk the sponge into the soapy water and then clean your car's surface in sections using circular motions.
After car washing, rinse each section with the hose before moving on to another to prevent the soapy residue from drying and leaving dirty streaks and spots. Dry the entire surface of your car using a microfiber towel to remove water spots from your car before they dry.
Clean Old Wax from Your Car
The easiest way to remove paint sealants and clean old wax from your car is to use a spray-on wax remover. This product strips away wax and sealant from the paint but does not do a deep-down clean. We recommend using this type of wax remover if you plan on performing treatments regularly.
Make sure that your vehicle has a clean surface. Spray wax remover or non-abrasive polish onto the surface of your vehicle in sections, making sure that you do not spray any of the solution onto rubber or plastic areas of your car.
Use a microfiber cloth to remove old wax protectant from the surface by using full sweeping motions. Repeat as needed to remove excess wax.
Remove Wax from Plastic Car Trim
While being immersed in the action of waxing your car, you may inadvertently get some of the wax onto rubber or plastic trim along the sides.
Unfortunately, you cannot remove the wax using an all purpose cleaner or cleanser because that will also remove the wax from the paint. Believe it or not, you can remove wax from plastic car trim using a pencil eraser.
Pencil erasers work great at removing the wax off of trim because you can get into small areas with closer detail. Use either a white or pink eraser to gently rub the waxed area of your car's trim.
If the eraser doesn't do the job, you can use a Magic Eraser that is slightly more abrasive to remove wax from the plastic trim. If this still doesn't do the trick, you can try Trim Clean by Chemical Guys, which is a more expensive alternative.
Try these remedies for getting Super Glue off car paint, too, if you accidentally drip some on your vehicle during a repair project.
Removing Wax from Car Windows
The worst thing to do if you get a smear of wax onto your car windshield is to run the wipers, as this results in the smearing of wax and creating a blurry window. To remove wax, use something a little stronger.
Saturate a clean cloth with the Coca-Cola and clean off the entire windshield using circular motions. The acids within the cola dissolve the layer of wax. Be sure not to get any of the liquids onto your car's paintwork.
Clean the soda residue from the window using a glass cleaner or a DIY glass cleaner with Dawn. Dry off the glass using a clean towel.
Pour some isopropyl alcohol onto a cotton ball and use it to remove any wax residue from the windshield wipers by wiping from one end of the blade to the other. You can also use IPA, which is equal amounts of isopropyl alcohol and water and is a detailer favorite.
The best way to wash car windows is with a vinegar and water solution and a squeegee. Taking your time on this step, both inside and out, ensures you have the best visibility when it really counts.
If you discover other stuck-on messes, you can try to use this technique to get rid of them as well. Removing dried pine sap from your car doesn't have to be a chore if you know what works to take them off easily. This is an excellent remedy for getting bugs off a car, too, especially on the front bumper or windshield.
Get Rid Of Dried Car Wax Using Detailing Clay
Clay bars are useful at deep cleaning and removing Carnauba wax, Meguiar wax or any paste wax from your vehicle. Make sure you wash and dry your car before proceeding.
Work in 2 x 2-foot sections for the best results, and begin by evenly spraying the lubricant onto an area of paint. Slide the clay bar using mild pressure over the lubricated area using either side to side or up and down motions.
Continue sliding the bar along the surface until there is no more resistance. Repeat this process in each section until you have removed all wax from your car. Finish by wiping your car down with a clean microfiber cloth to remove any leftover clay particles and lubricant.
Cleaning Car Wax Residue Off Rubber
If you forgot to mask off the rubber trim on your car before waxing it, you might end up with a little more work then you expected. You don't have to go out and pick up an expensive wax remover to get the trim clean. Head into your kitchen and grab a jar of peanut butter.
Put a dab of creamy peanut butter onto your fingertip and apply it to the areas of trim affected by wax. Use the microfiber cloth to clean away the residue using gentle pressure. Once all of the wax residue is gone, use a clean and wet cloth to wipe the trim clean.
Remove Dried Car Wax Off Headlights
It's easy to get absorbed in the act of waxing your car. Unfortunately, while being in the zone, you may accidentally get some of the wax onto the plastic headlights of your vehicle. Leaving the wax is a bad idea because it significantly diminishes the headlight's visibility.
Use the microfiber cloth to buff away as much of the wax as possible. You may have to use some pressure to get the dried wax off. Apply some toothpaste to the cloth and rub it onto the surface of the headlights in a circular motion.
Let the toothpaste sit while you rinse off the cloth using clean water. Use the damp cloth to rub away the toothpaste using the same circular motion. Finish up by drying the headlights with a clean and dry towel.
Clean Up Excess Car Wax
If you notice that you end up with a hazy coating of wax on the surface of your car after an auto detailing, then chances are you did not use the right application or technique while waxing your vehicle.
You may have also accidentally swiped some wax where it doesn't belong, like on your tires and wheels. Ways to clean aluminum wheels and rims that may have spots of excess wax can use the solution below or use a cloth dipped in water and a little dish soap.
Excess Car Wax Removal
Using a dry microfiber towel as a polisher, begin at one area of your car and buff the hazy area using small circular motions with medium pressure. Continue moving along the car using this same technique to wipe the leftover dried wax away.
Shake the towel to release dried wax before moving onto each section. After all of the dried wax is gone, the car surface should have a shiny appearance without any areas of haziness.
You use proper car care when it comes to your vehicle, such as regular oil changes and running it through the car wash, so why stop there?
Stripping off the old wax on your car and applying new wax, no matter which method you choose, not only makes your vehicle look like new but protects the car paint from grime and rust.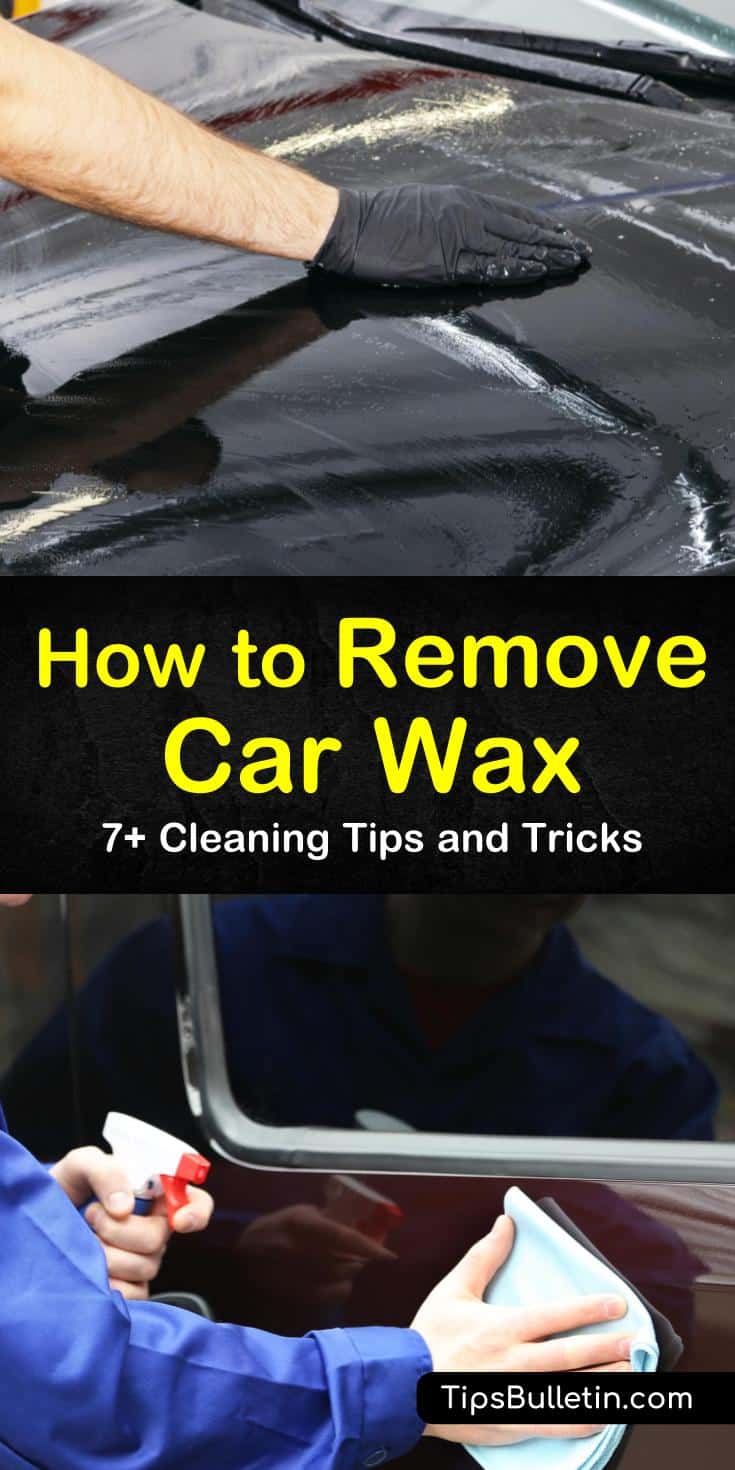 Understanding car detailing and how to remove car wax using the right method can be the difference between a dull car and a shiny one, so why not share these car wax removal tips with others on Pinterest and Facebook?