So you've decided to tear out that old carpet and replace it with hardwood floors. Unfortunately for you, traces of carpet glue may have lingered on the concrete, leaving you with the added task of removing it. How to remove carpet glue from a concrete floor is relatively simple, however, and can be accomplished using these quick, simple cleaning tips.
In many cases, you can even save yourself the extra trip to Lowes or Home Depot by using supplies you already have lying around. Whether you are adding a new color and style of carpeting or replacing it with a layer of linoleum tiles, you don't want to leave the glue where it is.
Even though a new layer of flooring will soon cover the sticky residue, you want to remove carpet glue from concrete floors to start fresh. This extra step doesn't mean that your doityourself project is a total disaster. When you need to get carpet glue of cement, it usually only takes a few minutes and some elbow grease before you are back on track.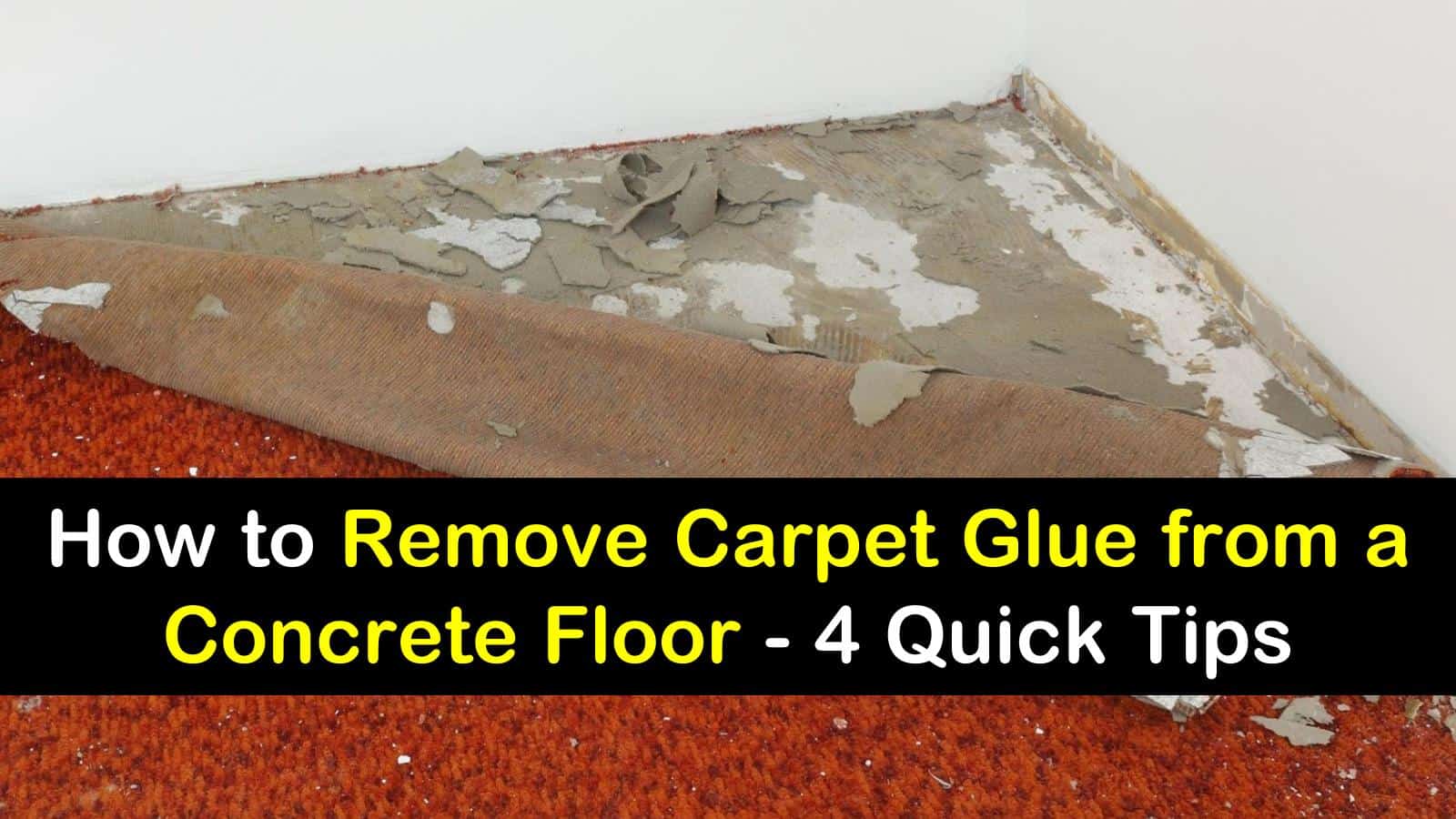 Helpful Tips to Remove Carpet Glue from Concrete Floors
If you've started to remodel your home, one of the first things you do is replace the carpeting. Doing the job yourself saves money, especially when you are already spending plenty on expensive tiles or laminate flooring. These easy-to-follow tips will keep you well within your budget and inside your DIY comfort zone.
Of course, if you discover wood under your carpet, you may need to be even more careful. How to remove carpet glue from a wood floor is a little more delicate than getting rid of glue on concrete. Use caution to prevent damage to wooden flooring.
How to Remove Carpet Glue from a Concrete Floor without Harsh Cleaners
One of the easiest ways to remove carpet glue from concrete is to scrub it off or use a scraper. Using harsh chemical strippers or an indoor concrete cleaner is not necessary most of the time, and using a scrubber will easily scrape away residual mastic.
If there's not much glue on the concrete, a putty knife might even do the trick. Otherwise, you may want to upgrade your floor scraper to one with a razor blade. If you need to remove carpet glue from a large area of the subfloor, sanding the surface with a sander is the fastest way to do it.
Use a Natural Carpet Glue Remover like Boiling Water
So you've tried scrubbing the carpet adhesive from the subfloor, but nothing is budging and the floor is still a mess. Your next best option is to apply some heat as a DIY carpet glue remover. Start by softening the glue residue with a natural glue remover like boiling water, then continue scrubbing until the glue detaches from the flooring.
The hot water loosens the glue by melting it and makes it easier to work with when cleaning. Another alternative to this method is to use a heat gun or hot iron to melt the glue before peeling it away and cleaning it up off the floor.
Concrete Cleaner and Mastic Remover to Get Carpet Glue of Cement
Another option you can use is an adhesive remover like Goo Gone or WD-40. These mastic cleaners work on most surfaces, including walls, metals, and concrete floors. There are multiple glue removal products to choose from when you enter the store, so select your favorite one when shopping.
If you have small children, you've probably had to use one of these products to remove stickers from cabinets and walls around your house. When cleaning adhesive, rub a small amount of your chosen cleaner into the glue while wearing rubber gloves.
Allow this remover to sit for a few minutes before wiping away the goo and cleaning over the flooring. In mild cases, this method will also remove rust from concrete, and it's a fantastic way to get grease off concrete if you have a spill, as well.
Get Carpet Glue Off Cement with Acetone
Acetone is another excellent way to lift concrete glue from your floors. This fantastic product removes the sealer off of metals like brass, so it will certainly have no trouble wearing down pesky adhesives. Because acetone is such a powerful solution, it is essential to use the proper supplies when cleaning.
If the space you are working in isn't well-ventilated, use a mask when you clean cement with acetone to avoid inhaling the dangerous fumes. Start by dipping an old toothbrush in a small container of acetone. Scrub the area of the subfloor using the toothbrush and acetone until the glue is completely gone or there is little remaining.
This step should remove most of the carpet glue, and you can wipe down any leftover adhesive with an old washcloth. Because acetone contains bleaching agents, avoid using it for regular carpet cleaning solutions. However, using it on your subfloor before adding new carpeting is fine as long as the area is clean ahead of time.
Acetone may also help with removing mortar from concrete. Be sure to wear gloves to protect your hands.
With these fantastic techniques to get carpet glue of cement, you will have clean and prepped tiles before you know it. Having a new foundation to start your flooring endeavor is an essential step in the process, so take your time and do the job right.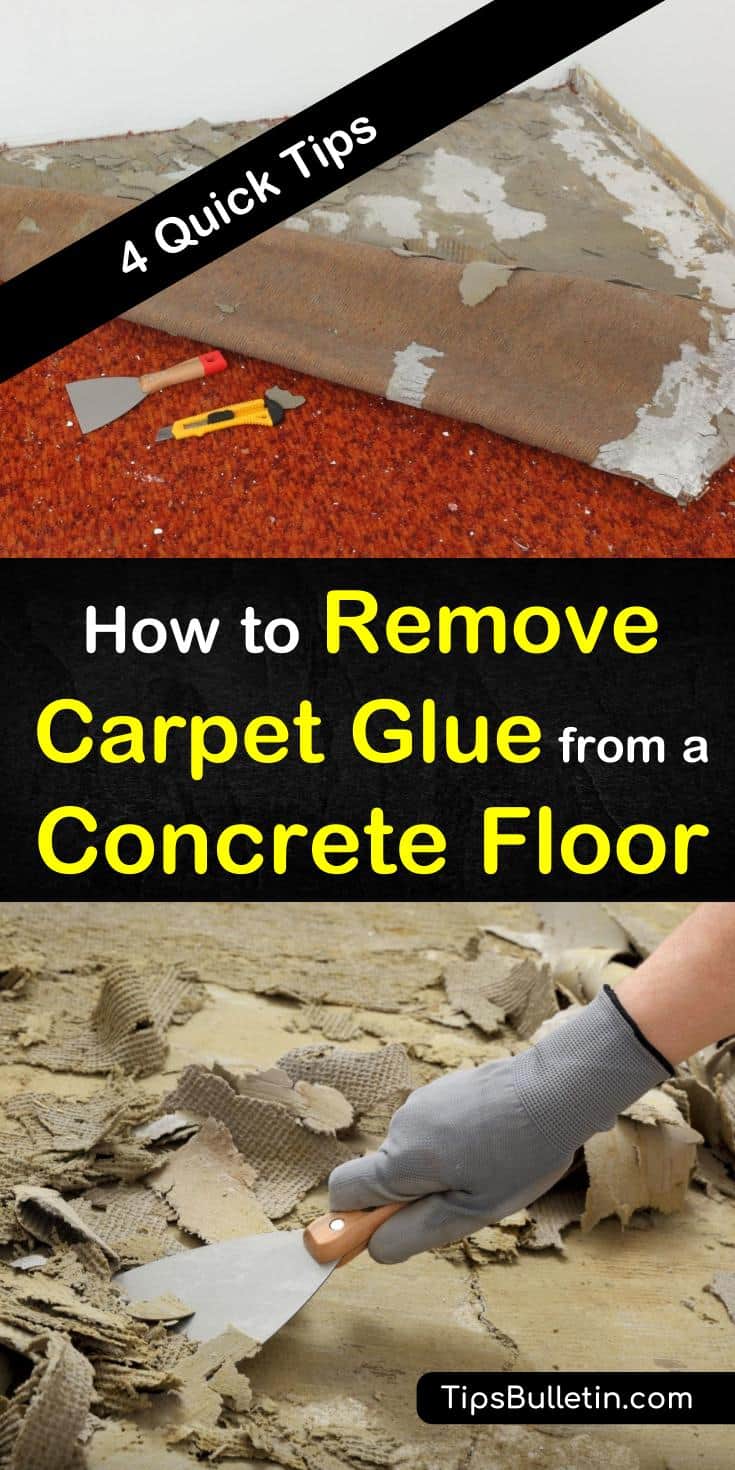 We hope these tips to remove carpet glue from concrete floors have placed you back on the fast track for your latest home improvement project. If you found our carpet glue removing tips beneficial, please share how to remove carpet glue from a concrete floor with everyone you know on Facebook and Pinterest.