With its slick modern look, a new glass top stove can turn a dull kitchen into the home's centerpiece. Yet, over time, the shiny glass loses its luster as it accumulates hard water stains, scratches, and a white haze. Learn how to remove cloudiness from a glass top stove using safe and effective cleaning methods.
There are many styles of stoves, from electric stoves and gas stoves to induction stoves and glass top stoves, and they all have pros and cons. While a glass cooktop is convenient with its smooth surface, it sometimes suffers from cloudiness within the glass.
There are a few reasons for cloudy glass on a stove. It may be from food stains, soot, cleaning chemicals, or hard water, or when unburned acidic condensates etch the ceramic glass. A food or hard water stain is relatively easy to clean, yet cloudy or crazed glass is more challenging to remove.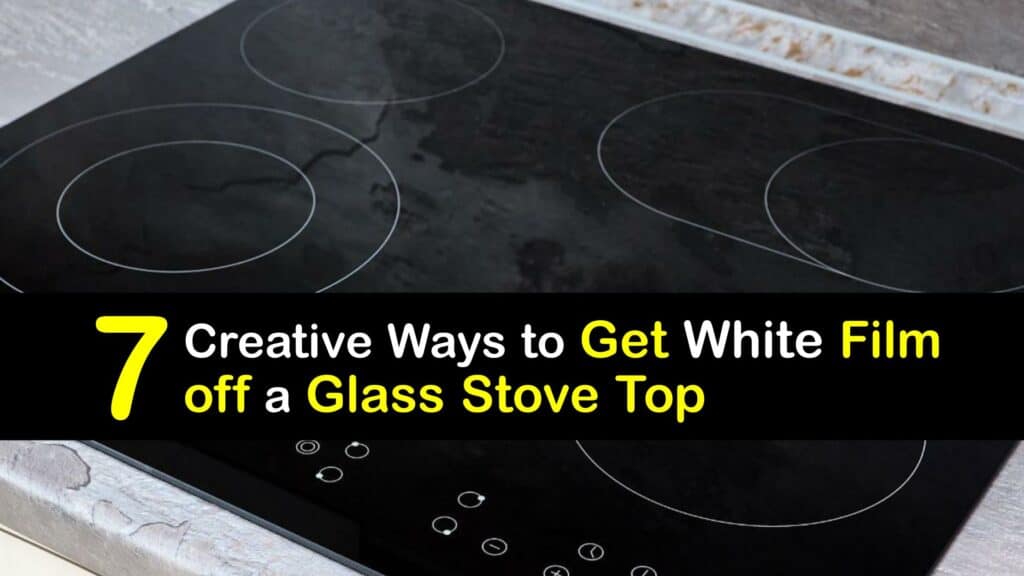 Remove Stains and Cloudiness From a Glass Top Stove
A glass stove with a cloudy or filthy surface is unsightly and makes you think twice about cooking a family feast. Follow several natural ways to clean a glass stove top to help you restore its clean shine.
How to Get White Film off a Glass Top Stove
While dish soap alone doesn't remove cloudiness from glass, it's essential to clean the stove with soapy water to remove food and other dirt before moving on to the next step. Learn how to get white film off a glass top stove by starting with dishwashing liquid.
Squirt liquid dish detergent on the stained spot and leave it for five minutes as it loosens the grime. Dampen a sponge with warm water and gently scrub the stove glass. Rinse the sponge with clean water to wipe away soapy residue, check the stove for remaining stains, and repeat if necessary.
Removing Cloudiness From a Glass Top Stove
Baking soda, or sodium bicarbonate, is a good choice for removing cloudiness from a glass top stove. It has mild abrasiveness that removes grease on a glass stove top easily; combining it with soap creates a powerful cleaning agent.
Combine just enough liquid soap and baking soda in a small container to form a paste and apply it to the foggy area of the stove glass or glass door. Leave it for a couple of minutes, and use a damp sponge to clean the stain with a circular motion. Finish by rinsing the stove with hot water and drying it with a soft cloth.
How to Remove Cloudiness From a Glass Top Stove
Citric acid is found in oranges, lemons, and other citrus fruits and is excellent for removing cloudiness from glass. Discover how to remove white haze from a glass cooktop with a citric acid solution.
Combine a tablespoon of citric acid and a cup of hot water in a bottle and shake it well. Spray the liquid over the hazy glass and allow it to rest for about half an hour. Wipe the cleaning product off the stove with a damp sponge and dry it with a soft towel.
Using White Vinegar to Get White Film off a Glass Stove Top
White vinegar is an acidic liquid, similar to citric acid, that removes water stains from a glass vase and dissolves hard water stains, and removes glass haziness. Explore how to get white film off a glass top stove with vinegar.
Follow these easy directions to make a glass cleaner with vinegar; start by shaking baking soda over the glass cloudiness. Pour white vinegar into a bottle for easy application and spray it over the baking soda. Dampen a cloth with hot water and lay it over the area for 15 minutes. Wipe away the residue with the rag and a paper towel to dry the glass.
Eliminate Stubborn Stains From a Glass Top Stove
Try something different if you still notice stubborn stains after removing cloudiness from a glass top stove. Carefully use a razor blade and a Magic Eraser to remove tough stains.
To use a Magic Eraser for cleaning glass, get a corner of the eraser wet, wring out the water, and use it to scrub the affected area. Use moderate pressure, and use clean parts of the eraser as needed until the stain is gone.
If that doesn't work, try a razor blade, although it's vital to check the manufacturer's guidelines before proceeding. Spray white vinegar on the stain to soften it, hold the razor at a forty-five-degree angle, and gently press the blade beneath the gunk to lift it. Don't use too much pressure, and avoid pushing the razor directly on the glass to prevent scratches.
Polishing a Glass Stove Top After Cleaning
You may notice the glass doesn't shine brightly after getting white film off a glass top stove. Not to worry – all you need to do is give it a good polish. Clean the stove glass to restore its appearance.
The simplest way to give stove top glass a finished look is with glass cleaner. Spray the cleaner over the glass and use a lint-free cloth to polish it. Or, try using a polishing powder or cooktop cleaner like Cerama Bryte. They usually come with a scraper, pad tool, or buffing pad and are designed for cleaning and polishing glass stovetops.
Preventing Cloudiness on a Glass Top Stove
While a glass top stove looks durable, special care is required each time you use it to prevent stains, scratches, and cloudiness. Maintain your stove glass to ensure it stands the test of time.
Clean the glass top after each use to prevent food splatters from hardening and leaving stains. Schedule deep cleaning weekly or bi-monthly to catch dirt you may miss, especially if you use the stove frequently.
Always wash and dry pots and pans before placing them on the stove since oil and grime can transfer from the pan's bottom to the burner. Use pots with flat, smooth bottoms instead of textured ones that may scratch the glass.
Avoid using rough scrubbers and strong glass cleaners that may damage the glass surface, try not to apply too much pressure as you clean, and never clean a hot stove.
A modern glass-top stove is more convenient than a wood burning stove, but it has its problems, one of which is the tendency to develop cloudiness. Fortunately, there are ways to remove this unsightly white haze and stains from the glass top using basic and advanced cleaning solutions.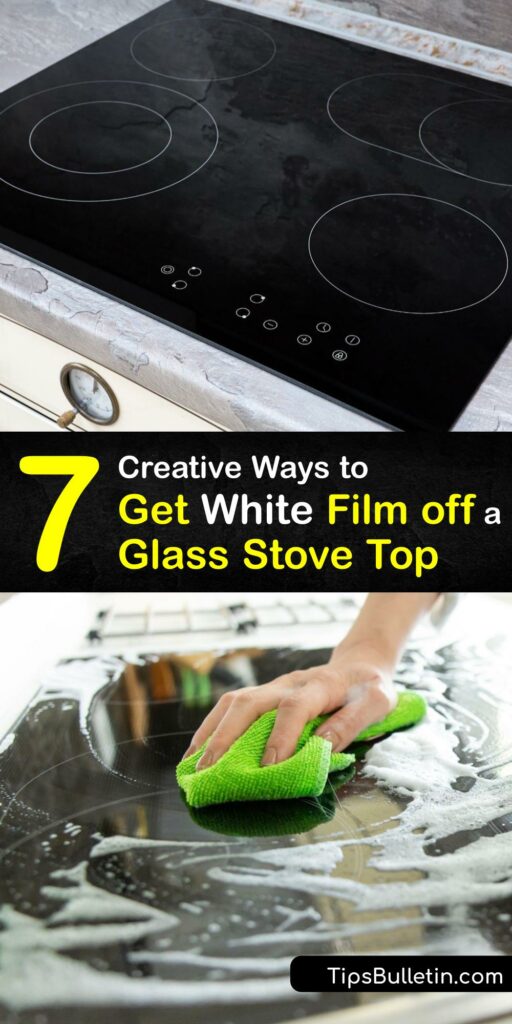 We hope you enjoyed learning how to remove cloudiness from a glass top stove, and we'd love it if you'd share our tips for cleaning white film and stains off a glass stovetop with your family and friends on Facebook and Pinterest.