A fresh cup of home-brewed coffee in the morning in your favorite mug, filled from your coffee pot, can't be beat. However, you might discover an unsightly stain on your cup that sours the experience for you. Knowing how to remove coffee stains from a mug will keep your morning routine in place and humming along.
When you're familiar with how to clean stained coffee mugs, you can take care of the job in no time. This guide helps you find out how to get coffee stains out of a mug using tried-and-true DIY methods.
We show you how to deal with easy stains that you can clean away before they set in, and you'll also get valuable info on the best ways to clean baked-on stains that have been there forever. Your cabinets will be full of spotless dishes after you read our comprehensive guide.
Getting Coffee Stains Out of a Mug
A crucial part of understanding how to remove coffee stains from a mug is using the correct cleaning option. If you catch a coffee stain when it first grabs onto your cup, you can usually clean it with a simple and non-impactful cleaning solution that doesn't require much in the way of effort or energy.
Cleaning off coffee stains and removing tea stains from mugs can be an easy task if you know which cleaner to pick.
How to Clean Stained Coffee Mugs
In this section, we provide you with our favorite DIY recipes for easy coffee stains. You'll get outstanding methods that use simple household cleaners, and using them won't harm the mugs or pose a health risk to your families.
Folks who want to know how to clean stained coffee mugs should start with these recipes before moving on to more robust cleansers. Get a coffee stain out with ease using our simple solutions that take advantage of products you already have in the house.
Put Your Mugs in the Dishwasher
Your dishwasher can take care of some heavy stains if you let it. Before you start scrubbing away at a blemish, try sending the cup through the wash.
Your mugs will come out sparkling and stain-free almost every time from dishwashing, and you'll save yourself a lot of elbow grease in the process. Be sure to turn off the heated dry cycle when you run stained mugs through the wash.
The high heat used to dry the dishes bakes in remaining stains and makes it more challenging to clean. If you're concerned that a straightforward wash cycle isn't enough to remove the stain, try loosening it with a nylon scrubber before putting the mug in the dishwasher.
Clean the Mugs with Liquid Dish Soap
There's no substitute for hand washing when you want to clean a coffee thermos. Your hands and a little muscle can pull stains out of almost any surface given enough time and effort, and the active agents in liquid dish soap make your cleaning task a breeze.
If you find stains on your mugs after a ride in the dishwasher, go ahead and give the cups a hand wash with dish soap and a soft cloth or nylon scrubbie. This method is a great way to clean coffee stains off stainless steel mugs, too.
Don the gloves, and place the mug in your kitchen sink. Fill the container with boiling water, add dish soap, and wait for a few minutes. Then, use a nylon scrubber to clean away the stain. Repeat until the mug is clean and looking good once more.
If you discover a coffee stain on your rug that you had previously not noticed, try using a little soap and hot water for removing old coffee stains from carpet. Many times, it will do the trick nicely just as it does for your mugs.
Use Baking Soda on the Mug
Baking soda is an excellent odor absorber and does a fantastic job as a toothpaste, floor cleaner, and polish remover. There are plenty of uses for old baking soda as well, including as a stain remover.
Baking soda has mild abrasive action that cleans away stains without damaging the underlying material. It's perfect for your coffee and teacups.
Sprinkle your old baking soda on the stain, and add enough water to create a paste. Wait for ten minutes, and then use a nylon scrubber to scrub the inside of the cup until the stain lifts out. Rinse the mug to check your progress, and repeat until the container is clean and happy.
How to Remove Coffee Stains from a Mug
You won't always be able to get stains out using low-impact cleaners, unfortunately. Some mugs might have stains that have been there for ages and have been exposed to heat repeatedly. When you encounter baked on and stubborn stains, try a heavy-duty cleaning option.
How to Handle Tough Stains
This section provides recipes for cleaning coffee mugs that have tough stains that require some extra effort to remove. In this section, you'll find cleaners that use vinegar and denture tablets, and we also show you how to use a Magic Eraser or scouring pads to clean away any stains you encounter.
Using one of these cleaning options is a fantastic way to get your mugs back to like-new condition.
Use a Magic Eraser on the Stain
The Mr. Clean Magic Eraser can clean almost any surface free of stains and leave it looking gorgeous. The main ingredient in the cleaner is melamine foam, which uses a gentle abrasive action to lift stains out of stone, metal, and ceramic. It's sure to make your mugs come out clean and looking their best.
Use the Magic Eraser to scrub at the stain with a gentle back-and-forth motion. The stain should lift out almost at once, and the Magic Eraser will crumble as you clean.
When you've removed the stain, wipe out the mug with a damp cloth, rinse it with warm water, and send it through a wash cycle. If you don't have a dishwasher, be sure to wash and rinse the mug thoroughly before using it again.
Whiten Your Coffee Mugs with Denture Tablets
Denture wearers must deal with coffee stains too, and denture cleaner helps them take care of that issue. You can use the same cleaning and bleaching action that cleans dentures overnight to get your coffee cups pristine.
A denture tablet in water dissolves any coffee stains and leaves the surface smooth and clean. Drop a denture tablet into the mug and fill it with cold water.
Leave the cup overnight, and the next morning, it should be clean. Denture tablets contain harsh chemicals that humans shouldn't ingest, so wash and rinse any mug that you've cleaned using this method before you drink from it again.
Clean the Coffee Stains with Lemon Juice or Vinegar
The mild acid in lemon juice or vinegar is perfect for eating away at coffee stains and any other organic material without touching the mug itself. Either agent is right for your cleaning needs, and neither one poses a risk if ingested.
The table salt in the recipe acts as a mild abrasive for extra cleaning power. Use this cleaning approach to tackle persistent mug stains.
Fill the mug with equal parts water and vinegar or lemon juice. Wait for a few hours, and then add the salt. Use the scrubber to clean off the stain, and rinse with hot water.
Repeat until the cup is clean. Wash and rinse the cup after cleaning to remove any residue.
This method is also quite effective for removing coffee stains from shirt. If you spilled a little coffee on your favorite shirt on the way to work this morning, give this remedy a try. You'll be pleased with the results.
Clean the Stains with a Scouring Pad
If you've tried every cleaning method we've listed and are still stuck with coffee stains on your mugs, you might need to use a commercial scouring pad to clean your cups. Scrub pads such as SOS pads contain soap and also have reliable abrasive power.
They'll clean your mugs well, but test them on a hard-to-see spot first to ensure that you don't scratch the cup as you clean it. Follow the manufacturer's instructions so that you can call their support line if you need help with their product.
Rinse the mug regularly as you scrub at it to check progress. Give the cup a good wash and rinse once you've cleaned it.
We hope you enjoyed our mug cleaning tips. A nice cup of coffee from your coffee maker can start your day off the right way, but a stained glass can take some of the pleasure out of the experience.
Our guide shows you how to clean stained coffee mugs and helps you find the best method for getting your mugs back into shape.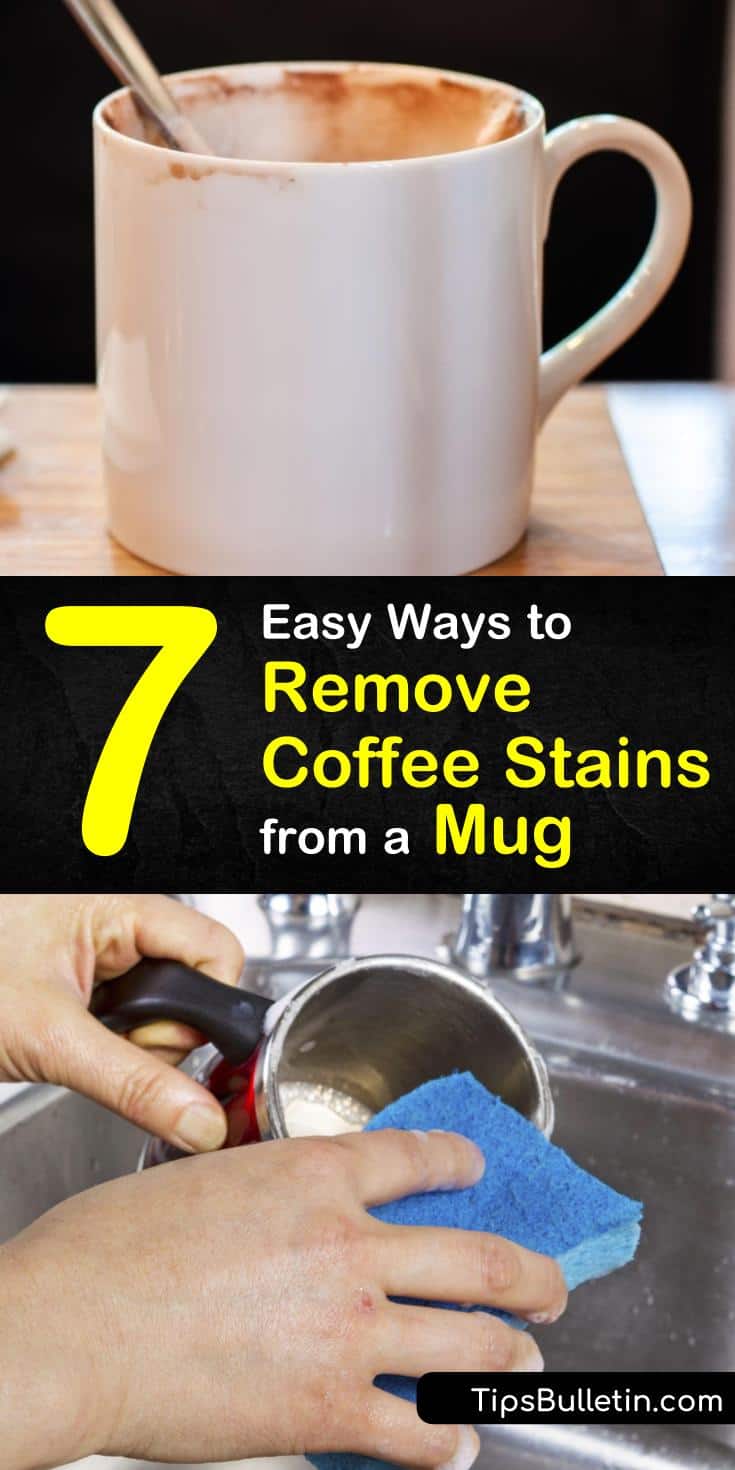 Thanks for reviewing our stain removal tips. If you found our advice on how to remove coffee stains from a mug useful, please share our suggestions for how to get coffee stains out of a mug with friends and family through Facebook and Pinterest.