Perhaps you made your favorite espresso in your coffee maker only to discover the next morning that you did not empty the remaining coffee liquid from your favorite mug. Now you're left wondering how you will ever get the coffee stain out of your cup. Our cleaner recipes show you how to remove coffee stains from cups and mugs with ease.
You don't have to clean your cups with a cleaner that contains harsh chemicals to remove those stains. Removing coffee stains can be a breeze if you know which household ingredients to use and are willing to use a little elbow grease. We found several methods for cleaning ceramic, porcelain, stainless steel, and plastic coffee cups and mugs to share with you.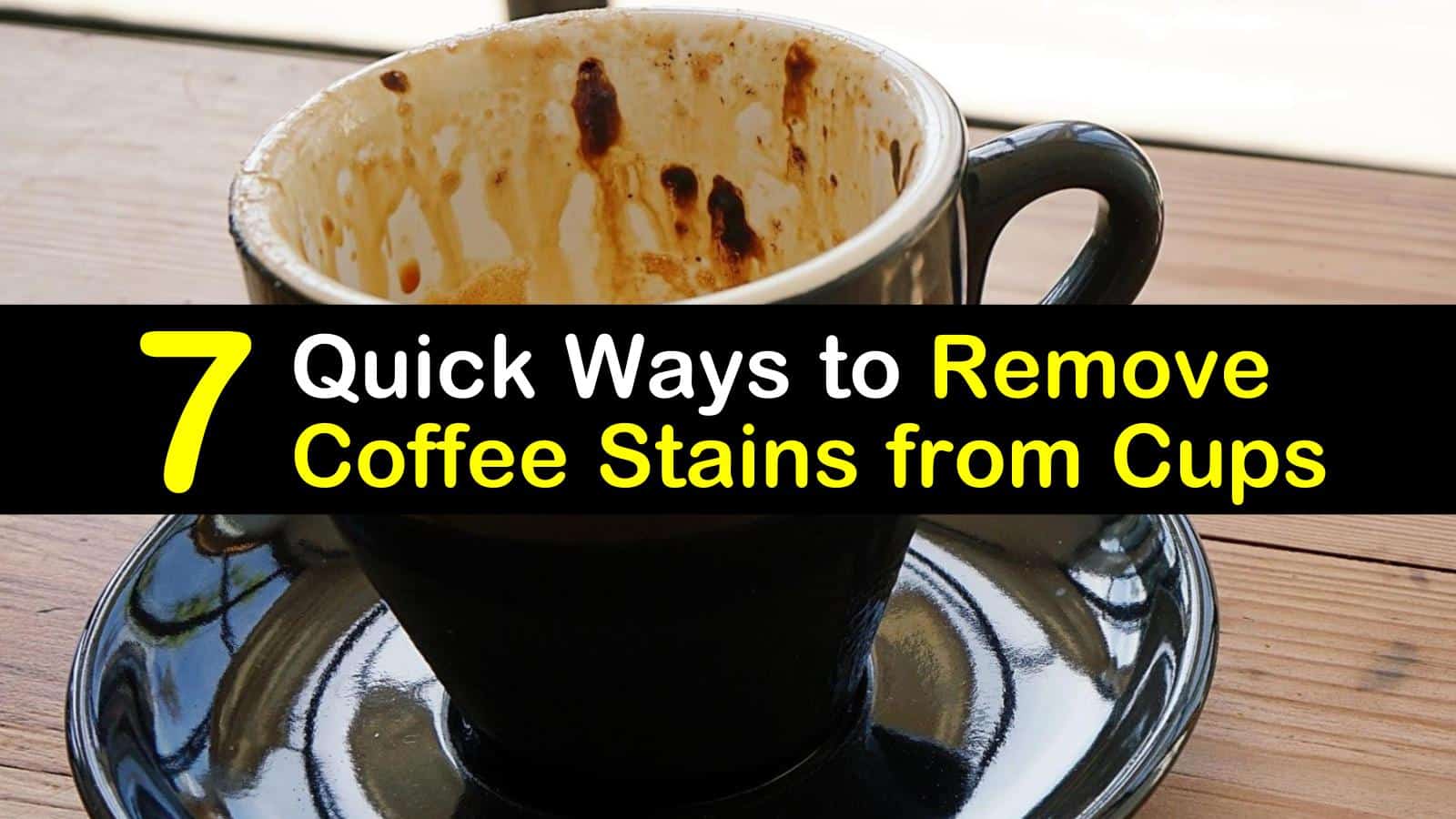 Removing Dried Coffee Stains from Cups
It's inevitable that you will have coffee stains on your favorite mug or the coffee maker at some point. While you can put most styles of coffee mugs into the dishwasher for cleaning, this doesn't always remove those stubborn coffee stains.
You could use a cleaner such as Bon Ami or a Magic Eraser, but why not make your own stain remover for coffee stains at home using simple everyday ingredients? Check out our solutions that are simple to use and offer great results.
How to Get Stains Out of Coffee Cups
Coffee stain removal doesn't have to be complicated or take a long time. Sometimes all you need is a straightforward ingredient for removing coffee stains from mugs. Get stains out of coffee cups using a little baking soda.
Simple Coffee Stain Remover
Pour a little baking soda or a baking soda-based toothpaste into the bottom of the coffee cup. Clean the inside of the cup by spreading the baking soda around with a wet sponge.
Baking soda is considered to be a mild abrasive and works to remove stains. Rinse the cup with warm water and dry it with a paper towel.
Clean Stained Coffee Cups
You know it's time for a proper cleaning when you begin to notice brown stains on your favorite mug. Here is how to clean stained coffee cups in a matter of minutes.
To remove coffee stains from a mug with ingredients you already have on-hand, pour the water, dish soap, and white vinegar into a dishpan in the kitchen sink. Soak the coffee-stained cups and mugs in the dishpan for about 15 minutes to let the cleaners soak into the stains.
Use a sponge to scrub the cups gently to remove those brown stains that mar your favorite cup. Rinse the cups under clean water and dry with a towel.
Removing Coffee Stains from Plastic Cups
Plastic may seem like an odd thing to have coffee stains on, but with our on-the-go lifestyle, plastic cups are often the go-to cup for morning coffee. This method not only removes coffee stains from plastic but tea stains, as well.
Fill the plastic cup with hydrogen peroxide and baking soda and allow it to sit for about half an hour. Dump the brown stained liquid into the kitchen sink and put a drop of dish soap into the cup.
Use a sponge to clean any remaining coffee residue. Rinse the mug thoroughly with cold water and dry with a paper towel.
Get Coffee Stains Off Porcelain Cups
Many tea cups are made out of porcelain. Fortunately, this recipe will also remove tea stains from cups. This method uses salt as a gentle abrasive and lemon juice as a mild bleaching agent to remove stubborn stains.
Fair warning – If you have any minor cuts on your hand, you will want to wear a glove to use this recipe. Lemon juice, salt, and a paper cut are not the best of friends!
Squeeze a little lemon juice into the bottom of the cup and then sprinkle in the table salt. Use a damp cloth to spread the mixture around inside the mug to remove stains.
Rinse the mug with warm water and then clean it using a small amount of dish soap. Rinse the cup thoroughly with cold water and dry with a towel.
Stainless Steel Cups – Smart Ways to Clean Coffee Stains
Large, stainless steel coffee mugs are all the rage these days due to their durability and style. If that stainless steel travel mug has been left in the car overnight, you may end up with some pretty tough coffee stains. This recipe can also be used for coffee pot cleaning on a stainless steel machine, too.
To make this simple cleaner to get rid of coffee stains, pour the baking soda into the coffee cup and slowly add the white vinegar. You'll notice how the two ingredients react with bubbling once they combine. This reaction means they are working hard at removing those coffee stains.
To remove stains from thermos, put the lid onto the mug and give it a good shake to thoroughly clean the inside and eliminate coffee residue that may be stuck on the bottom or sides of the interior. Remove the cover and dump out the liquid.
Wash out any leftover residue from the cup using a little dish soap and hot water. Rinse the mug thoroughly with cold water and dry with a paper towel.
Removing Coffee Stains Off Ceramic Mugs
Traditional coffee cups and white mugs are made of a ceramic material. If a ceramic cup is allowed to sit for too long with coffee resting in the bottom, you can end up with a cup stained with a brown ring. Vinegar works well at breaking down stains due to its acidic qualities.
Pour one cup of vinegar into a small saucepan and heat the liquid over medium heat. Once the vinegar is hot, carefully pour it into the coffee mug. Allow the vinegar to soak in the mug overnight for the best results.
In the morning, dump out the vinegar and wash the cup with dish soap and water. Rinse the mug with clean water and dry it with a towel.
Denture Cleaner Perfect to Remove Coffee Stains
Sometimes we come across ingredients and tools that end up having more than one use. Believe it or not, denture tablets happen to be one of those items. You can use these tablets to remove coffee mug stains.
Denture Cleaner Coffee Stain Removal
Fill the coffee cup with hot or boiling water and drop one denture tablet into the water. Allow the tablet to fizz until it completely dissolves.
Once the fizzing stops, dump out the liquid into the sink and use a little dish soap and warm water to clean out any leftover residue. Give the mug a good rinse with cold water and dry with a paper towel.
The last thing you want while enjoying your morning cup of coffee is to be looking at an unsightly brown stain each time you take a sip from your mug. Removing those stains can be an easy task by using baking soda, white vinegar, and even denture tablets. Drinking a delicious cup of morning Joe out of a sparkling white coffee cup will be the first step to a great day!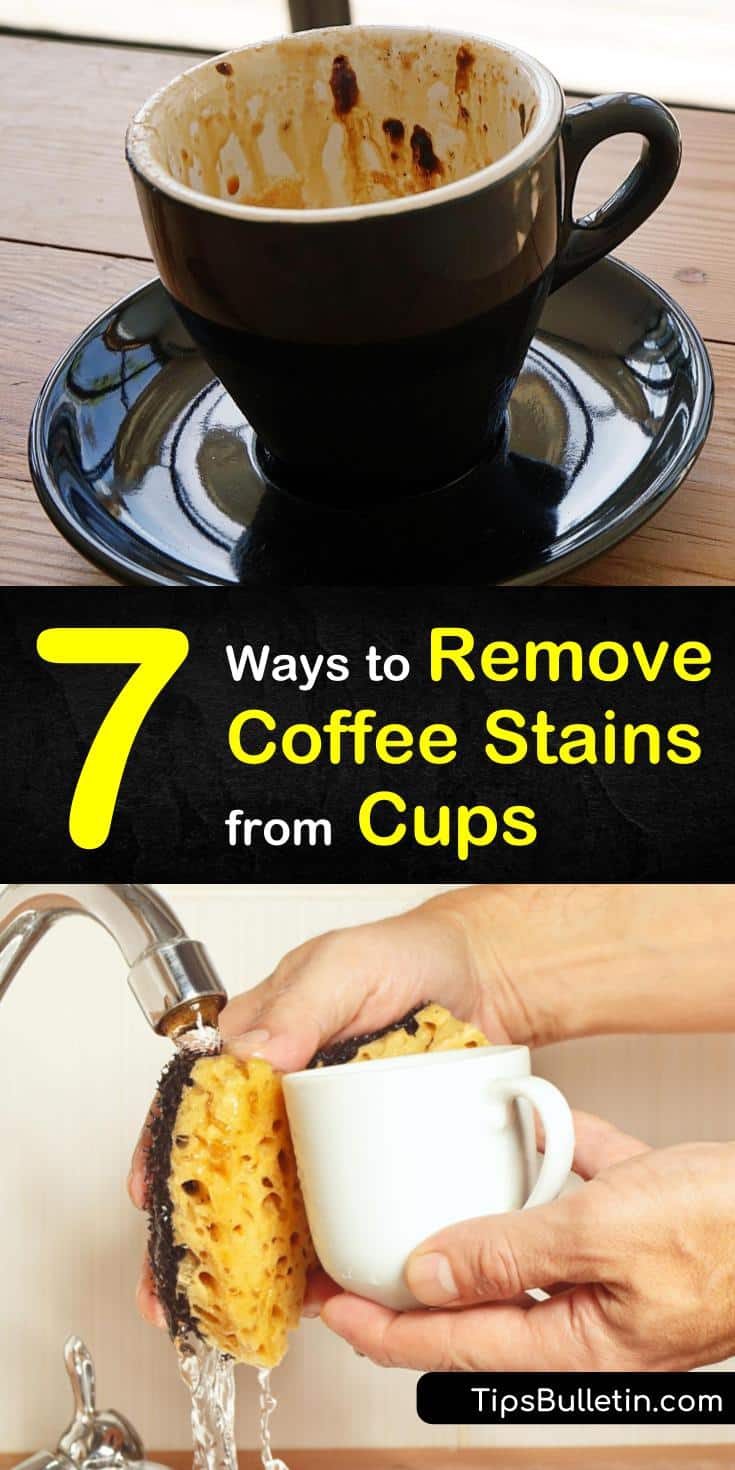 Now that you know exactly how to remove coffee stains from cups using household ingredients, we'd love it if you share these coffee cup cleaning tips with your friends and family on Pinterest and Facebook.