Crayons are handy tools that we can use to entertain our children and encourage them to unlock their creativity. All too often, though, kids test out that creativity by marking up our walls with crayons. If you have children and want to keep your home looking its best, you need to know how to remove crayon from a wall.
Knowing how to clean crayons off living room and dining room walls will ensure that you maintain a clean and beautiful home all year long. This guide shows you the top methods for cleaning crayons off walls.
In this article, you'll discover how to use daily low-impact cleaning routines to clean away crayon scuff marks from walls throughout your home. We also give you valuable instructions on ways to remove pencil marks from a wall using more powerful cleaning approaches so that you'll be ready for any contingency.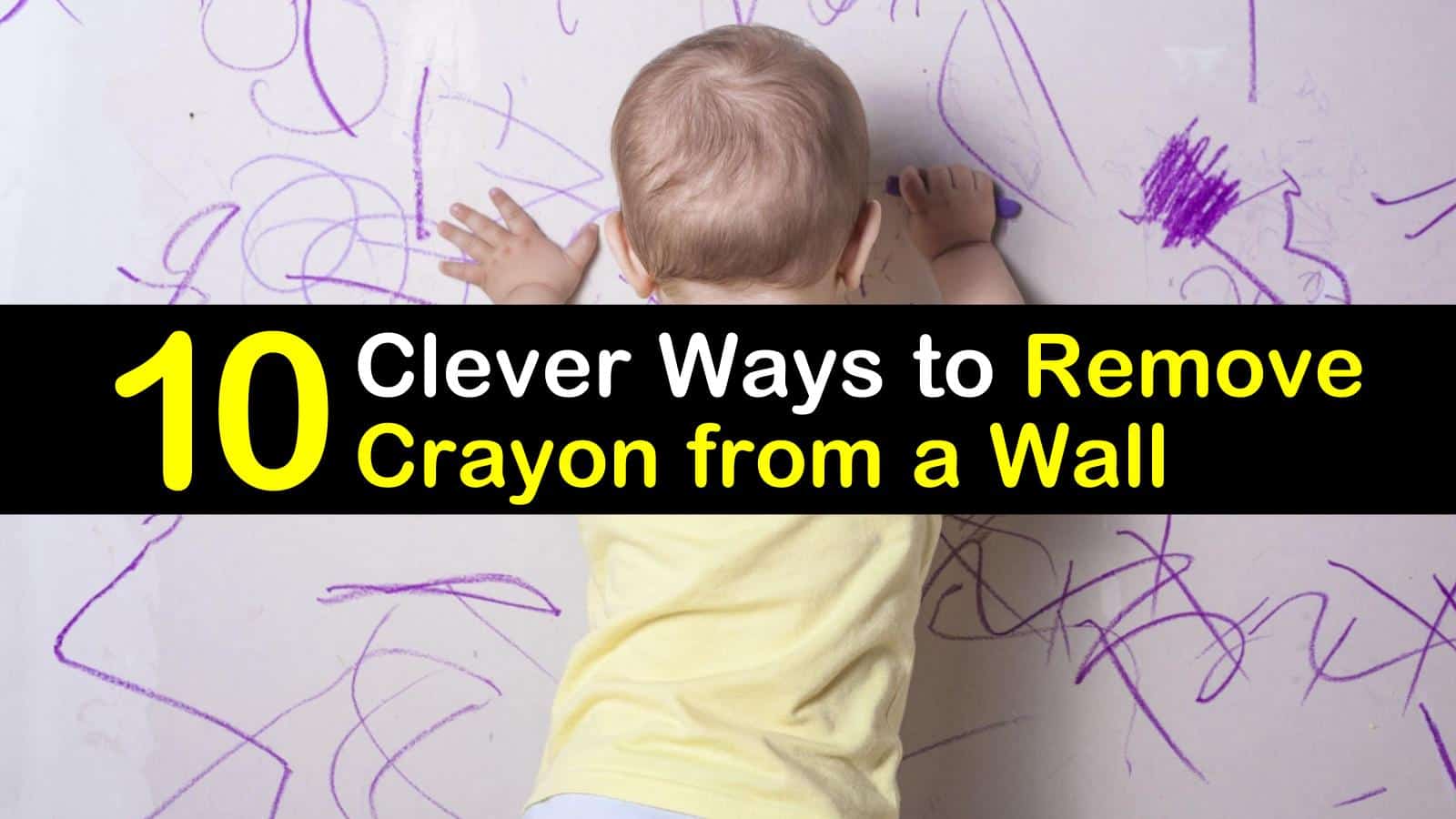 Removing Crayon from a Wall
When you have a home that includes small children, you can expect to encounter all kinds of daily cleaning tasks, including cleaning crayons off walls.
Most crayon messes aren't going to require you to go all-out to clean. However, it's essential to have a few crayon remover options that you can use without risking damage to the walls.
Low-Impact Cleaning Options
This section looks at how to clean crayons off walls using gentle approaches that clean away crayon and not harm the wall itself.
You'll find fantastic cleaners that use toothpaste, baking soda, vinegar, and more to bring your walls back to like-new condition. Use these cleaners to tackle everyday scuffs and marks.
Clean the Marks with Baking Soda
If you had to come up with a list of the most effective home cleaners, baking soda would be near the top. You can use baking soda for a myriad of uses, including cleaning your teeth and getting stains out of clothing.
It's perfect for cleaning away crayon from walls, too. This cleaning option is a great go-to choice for standard crayon cleaning tasks and is also one of the best homemade window cleaner options you'll find.
Form a paste with water and baking soda. Use a cloth to spread the paste on the crayon marks and rub gently with an old toothbrush. The marks should come out with only a little effort.
Repeat until the crayon marks lift out. This easy way for how to clean walls in your house not only removes crayon marks but a variety of other stains like grease and fingerprints, as well.
Hit the Crayon with Toothpaste
You'll be astonished at the effect a little plain white toothpaste will have on crayon marks and other wall stains.
Non-gel toothpaste is lightly abrasive and contains cleaners that are perfect for getting crayon off the wall, as well as cleaning dirt off white walls. Use this quick cleaning method to hit stray marks you encounter as you clean.
For the best homemade wall cleaner, wet the cloth and apply a little toothpaste to it. Rub the toothpaste on the crayon scuffs, using a damp cloth to clean them away. Use only the required pressure needed to remove the marks, as too much enthusiasm can damage the wall. Use a clean cloth and water to rinse away any debris and leave your walls shining and clear.
Rub off Crayon with a Pencil Eraser
The same qualities that allow erasers to remove pencil marks from paper will serve you well when you want to clean crayon marks from walls or as a way to clean scuff marks off walls and floors. Erasers work by pulling any marks away from surfaces and into the eraser material, leaving behind a few eraser crumbs and a clean surface.
This cleaning approach is perfect for one-off crayon cleaning jobs and only requires an eraser and elbow grease. Rub lightly at any crayon marks with a pencil eraser.
While you rub, make sure that you don't use large motions that could spread the mark out on the wall. Brush away any eraser residue as you work. Continue until you remove the crayon marks.
Clean Your Walls with Vinegar
Vinegar is one of the best-kept secrets of homemakers around the world. Vinegar uses acetic acid to eat away at contaminants and leave surfaces spotless. Use vinegar to clean up crayon marks you encounter on painted walls in your daily cleaning to keep your walls looking gorgeous.
Fill a container with vinegar and spray the crayon marks. Rub at the marks with a cloth or paper towel until the crayon lifts off the wall. If you have trouble cleaning off the crayon scuffs, let the vinegar sit on them for a few minutes before you begin scrubbing.
Make Crayon Marks Vanish with a Dryer Sheet
You might not categorize dryer sheets as active cleaning agents, but they can clean away all sorts of marks and scuffs. Dryer sheets can also help you strip wallpaper if you are remodeling the bathroom or another area of your home.
The same qualities that let dryer sheets help your clothes stay clean and smelling great will work for you to clean away crayon marks. You can use a dryer sheet as a makeshift DIY whiteboard eraser, too.
In fact, a dryer sheet is a great method to clean dry erase marker off walls. Simply follow the same directions below for getting crayon stains off paint and wallpaper.
To clean away crayon marks, rub a dryer sheet lightly over them. The dryer sheets should grab and lift the crayon wax out of the wall and leave them looking clean and shiny again. Change out the dryer sheet when it stops gliding over the surface.
How to Clean Crayons Off Walls
Unfortunately, not every crayon scuff you run across will come out with low-impact cleaning solutions. You're going to encounter some marked-up walls that daily cleaners can't handle, and you need to know what to do when you run across them.
Having a robust cleaner or two ready to deploy when needed will help you keep your home looking fabulous.
Cleaning Crayons Off Walls with Heavy-Duty Cleaners
This section shows you how to remove crayon from a wall using tough cleaners. Use these hardcore crayon removers to clean away stubborn marks that your more gentle cleansers can't touch. A few minutes with one of our heavy-duty cleaning recipes and your walls will be spotless and ready for more punishment.
Get Crayon Off the Wall with WD-40
WD-40 works by cleaning away rust and grease, which makes it perfect for use when you need to know how to clean crayons off walls. If you run across crayon scuffs that you can't clean away with gentler means, go ahead and reach for WD-40. It'll knock out crayon marks in a hurry and leave behind a clean and happy wall.
Don the gloves. Spray WD-40 on a cloth and rub at any crayon marks. After a few moments, the crayon will begin to break down and will be much easier to wipe away. Change the cloth when it gets too dirty. Continue until the crayon lifts off the wall.
Follow the same procedure to remove crayon from a dryer. WD-40 works like a dream to quickly eliminate the stain.
Scrub Away Crayon Marks with Steel Wool
Steel wool is the ultimate abrasive cleaning solution when you want to get crayon marks off your walls. Cleaning crayons off walls with steel wool is easy and quick as long as you use just enough force to clean without damaging the wall itself.
If liquid cleaners aren't giving you good results, it's a good idea to use steel wool as a heavy-duty wall cleaner.
Put on the gloves. Carefully run steel wool over crayon scuffs, rubbing lightly. The crayon marks should crumble away. Use your damp sponge or cloth to wipe away any debris as you clean. Test this cleaning option on a hard-to-see area before you use it on large swaths of the wall.
Hit Crayon Marks with a Hair Dryer
When you hit a brick wall when trying to use liquids or abrasives to clean away crayon, reconsider your approach. If you don't give your kids washable crayons, then you're trying to clean marks that are mainly wax.
This means you can use heat on them to liquefy them and make them easier to clean away. A blow dryer is just the tool you need to get crayon off walls.
Slip on the gloves and hold a hair dryer a few inches away from crayon marks. Move the hairdryer back and forth to keep from scorching the wall as you apply heat to the crayon markings.
Use a soft scrub brush to break up the wax. Wipe the surface with a cloth as you work to clean off any softened crayon residue. Continue until the wall is clean.
Use a Magic Eraser on Your Walls
Sometimes, even the hardcore cleaning methods let you down. In those moments, you'll be glad you live in an era that includes the Mr. Clean Magic Eraser. These abrasive sponges are ideal for lifting seemingly permanent stains off surfaces and are perfect for erasing crayon scuffs.
You can employ a Magic Eraser to clean away tough crayon stains from any wall. It also works wonders to remove Sharpie from a wall if you don't mind a little extra scrubbing. Follow the Magic Eraser with a liquid dish soap solution to seal the deal and get your walls free of stains once again.
Test out this cleaning option on a hard-to-see area of the wall before you use it on lingering crayon marks. Put on a pair of gloves and rub the Magic Eraser on the scuffs. Use a bit of pressure to ensure that you lift the marks off the wall.
Combine the water and soap, wet a cloth in the soapy water, and rub at lingering marks with a damp rag to remove them. Continue until you clean away all scuff marks. Use this method on permanent marker stains, as well.
Get Your Wall Clean with Mayonnaise
Mayonnaise seems ill-suited for cleaning crayons off walls, but this egg-based food product is also one of the easiest ways to remove crayon from wood furniture. This condiment's cleaning powers will astound you.
The protein in the egg attracts the crayon particles, and the vinegar in the mayo adds extra cleaning action. Use this approach as a last-resort cleaner for the worst and toughest crayon marks.
Dip a cloth in mayonnaise, and spread it onto any crayon marks. Let the mayo sit for at least five minutes. Start scrubbing the surface with a clean cloth. The mayo and underlying crayon residue should wipe away without much effort.
We hope you had a fantastic time checking out our guide on how to clean crayons off walls. Kids need to draw to grow and learn, but our walls can often become their canvases and fill up with scribbles.
Having effective methods for cleaning crayon off walls will keep your home attractive and give you peace of mind. Our guide helps you find the perfect recipe to clean crayon marks from walls.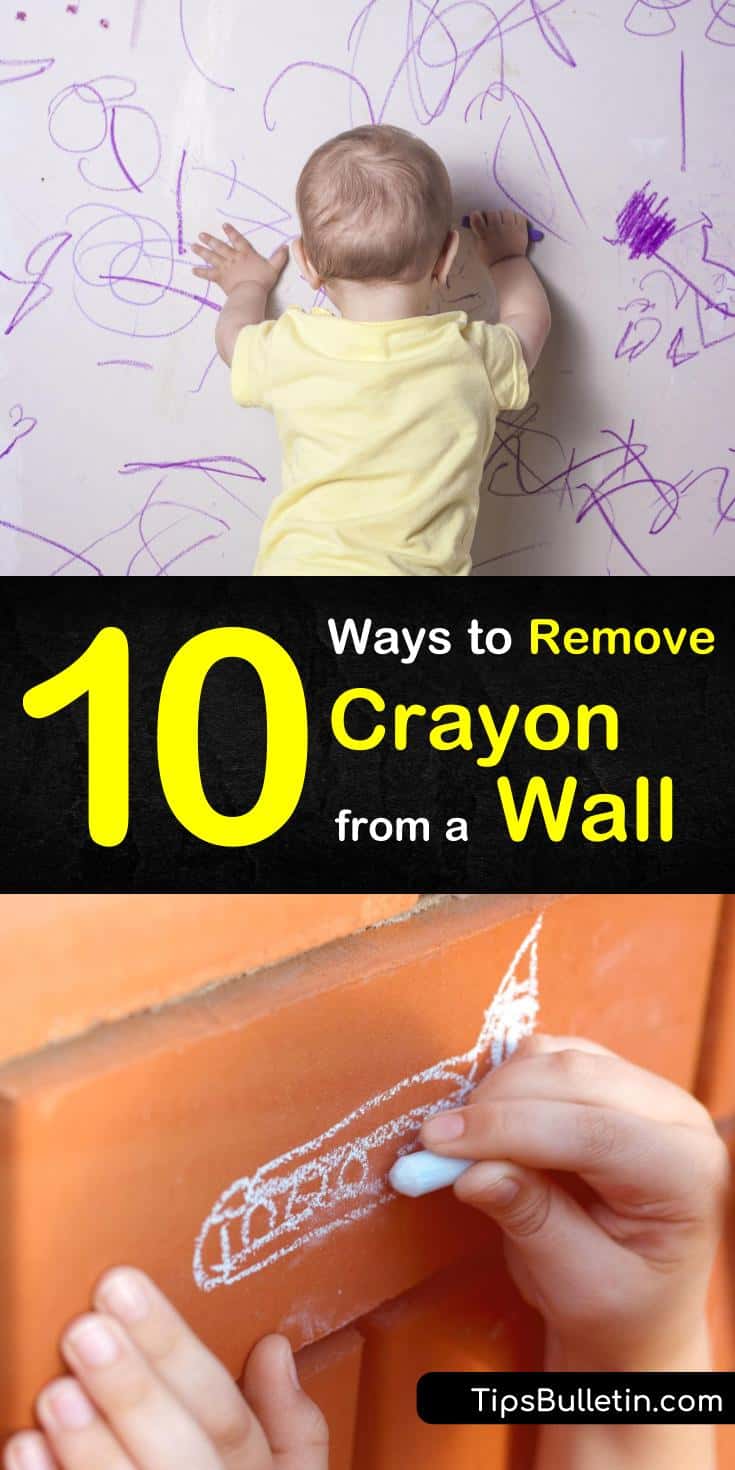 Thanks for reading our crayon-cleaning guide. If you found our suggestions on how to remove crayon from a wall useful, please share our cleaning tips for cleaning crayon off walls with your friends and family on Pinterest and Facebook.