Knowing how to remove crayon from wood saves parents a lot of stress. Wax crayons are a fantastic tool for self-expression for children and artists alike. Crayons come in every color and have an array of wonderful uses. However, when applied to the wrong canvas, crayons become a nightmare. Finding colorful crayon doodles and thick wax streaks across your hardwood floor or expensive wooden furniture is upsetting.
People often wonder if the crayon can be eliminated without damaging the wood grain and destroying the wood finish beneath. Fortunately, with a few tips for how to get crayon off wood, your valuable carpentry is salvageable.
If faced with removing crayon from wood, use standard household products to eradicate the wax easily. Everyday items like baking soda, toothpaste, distilled white vinegar, and rubbing alcohol make removing even the heaviest crayon marking simple. If the worst occurs and you find crayon streaks on your wood, use straightforward DIY hacks to erase them.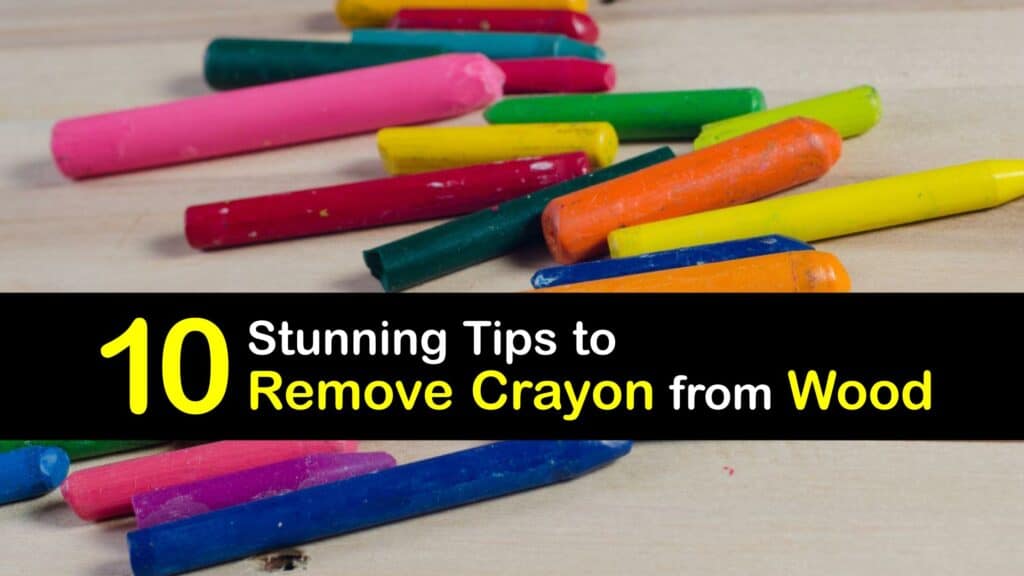 How to Get Crayon off Wood
After your wooden decor becomes a canvas, it's vital to know how to remove crayon from wood surfaces. Crayon wax leaves a vibrant stain on all kinds of wood, from bare unfinished wood to lacquered boards.
Luckily, several straightforward methods exist for cleaning permanent marker off wood furniture without damaging the timber. If you find wax crayon or ink markings on your wood, use readily available items to erase them.
How to Remove Crayon From Wood
Though it's best known for cleaning teeth and assisting in dental hygiene, toothpaste is ideal for removing crayon from wood. If you have traditional non-gel toothpaste and an old toothbrush in your bathroom, you can remove crayon from your wood floor.
Mild abrasives in non-gel toothpaste, such as baking soda, gently remove crayon stains without harming the wood or finish. Squeeze some non-gel toothpaste on a toothbrush. Gently scour the crayon smudges. The crayon should start to fade. Once the crayon has been erased, use a clean, moist cloth to remove the toothpaste.
Removing Crayon from Wood Using Baking Soda
Another effective method for lifting crayon wax from wood is baking soda. You likely don't need to travel to the store to buy something fresh to remove the crayon because most individuals already have the baking soda powder in the pantry.
Get a damp cloth and dip the moist part in baking soda. Use this to scrub the crayon stains away in a circular motion. This technique is appropriate for both finished and unfinished wood.
Stop cleaning with the baking soda rag when the crayon's color begins to fade, and pat the wood dry with a paper towel. Be cautious, as long-term exposure to baking soda might permanently alter the color of the wood.
Try Getting Crayon Off Wood
Supermarket chains and convenience stores carry the Mr Clean Magic Eraser, a staple in most cleaning supplies. Magic Erasers come in packs and are a reasonably priced way to clean marker drawn on the walls or wood floor boards.
Submerge the Magic Eraser in warm water and scrub it on a tiny patch of wood as a test to see what happens to the veneer. Don't use the tool if it removes the finish. If nothing occurs, continue.
Make sure the eraser is pressed tightly against the wax as you rub the stain. Move the sponge in tiny circular motions. Scrub with the Mr. Clean Magic Eraser, moving across the wood grain until the crayon stain is completely removed from the wood.
The Best Way to Remove Crayon From Wood
Rubbing alcohol is a mild solvent that breaks down the bonds in wax crayons, making them readily wipe off the wood. Grab rubbing alcohol from your cleaning or first aid kit.
Squirt a generous measure of rubbing alcohol onto a cloth and use this to clean the crayon off the wood. Work in small sections, using only as much alcohol as required to eliminate the wax.
Remove Crayon Markings From Bare Wood
Dish soap often works wonders to remove peeling paint from wood, walls, or floors. Because the detergent is gentle, it won't degrade the wood like aggressive chemicals.
Dish detergent is effective because it dissolves grease, a key ingredient in crayons. Whether regular or washable crayons cause the mark on wood doors, liquid dish soap removes it.
Grab a bowl, fill it with warm water, and stir in dish soap. Immerse a cloth in the mixture and start rubbing the stain. The wax quickly lifts off the wood. After removing the marks, wipe away any leftovers with a microfiber cloth and let the wood dry.
Cleaning Crayon or Candle Wax With a Hair Dryer
If you don't give your children washable crayons, you'll need to remove wax-based stains. You can use heat to melt wax and make them simpler to remove from a wall or floor. You only need a blow dryer to remove crayons from wood.
Don the gloves, then hold the hair dryer a few inches from the crayon traces. As you add heat to the crayon markings on the wall, move the hairdryer back and forth to prevent scorching.
Use a gentle scour brush to dislodge the melted crayon. Wipe the wood with a towel as you work to remove softened wax residue. Keep going until the wood is spotless.
Remove Crayon Marks From Wood Furniture
Distilled white vinegar is yet another standard household product with numerous uses. The acetic acid in white vinegar dissolves the wax and pigments in crayons to eliminate it from multiple wood surfaces.
However, because distilled white vinegar is such a powerful cleaning agent, it can harm the wood's finish. Combine distilled white vinegar and water to prepare a more gentle cleaning for your wood.
Use warm water and vinegar to dampen a towel. Rub the towel over the wood surface or painted wall to remove the crayons. Keep continuously rubbing and applying a small amount of pressure; this technique takes some time.
Crayon Removal With WD-40
Another tool to remove crayon stains from wood is WD-40. It helps bolts move in an automobile by dissolving rust and corrosion. If a chemical-free liquid fails to remove crayon marks, WD-40 is a solid alternative.
Perform a spot test on the affected wood to see what happens before applying WD-40 widely. You might not want to use this product for removing crayons if it strips the color from your wood. Spray WD-40 over the crayon marks and wait ten minutes before wiping away any residual debris.
A Dryer Sheet Eliminates Tough Crayon Stains
Dryer sheets may not be considered house cleaning agents, yet they remove some stains and scuffs. Removing crayon stains from wood is possible using the same properties that make dryer sheets effective for keeping your clothes clean and smelling fresh.
Rub a dryer sheet gently over the crayon stains to remove them. The dryer sheets lift the crayon wax out of the wood, leaving the surface clean and lustrous. When the dryer sheet stops moving smoothly across the wood, replace it.
Mayonnaise Lifts a Crayon Stain off a Wood Surface
It may seem strange, but mayonnaise contains many fatty acids, making removing crayon wax from surfaces more manageable. Mayonnaise is a good solution if the crayons are just on a small patch of wood.
The crayon particles are drawn to the protein in the egg and loosened by the cleaning action provided by the vinegar in the mayonnaise. For the worst and most difficult stains, clean crayon using this technique.
Cover the crayon drawings in mayonnaise and leave for five to ten minutes. Remove with a clean rag. If you have no mayonnaise, peanut butter is a viable alternative thanks to its high fat content.
Learning how to get crayon off wood saves your valuable wooden furniture or hardwood floor from ruin. Crayons come in all rainbow colors and offer a delightful way to pass the time with art projects, yet they become a disaster when they get on wood. Use proven hacks to remove crayons from wood to restore the look of your furnishings.
If you loved this helpful article about how to remove crayon from wood, please share this information with your friends and family who are faced with removing crayon from wood on Pinterest and Facebook.