Removing creases from leather shoes is a simple and affordable process.
To remove creases from leather shoes:
Insert a shoe tree immediately after use to help shoes retain their shape and prevent creases.
Clean shoes with saddle soap to remove oil and debris, which helps to diminish existing creases.
Steam out creases with a clothes iron and damp cloth, using gentle pressure and keeping the iron moving.
Condition with a homemade mixture of natural butter and oils to keep leather hydrated and pliable.
Polish shoes regularly with a DIY polish made from lemon juice and olive oil for a fresh look and added protection against creasing.
Start by using a shoe tree that fits snugly into your shoes to prevent and smooth out creases. Opt for cedar shoe trees if moisture is a concern. Clean your shoes with saddle soap by working it into a lather with a cloth, then wipe and let dry for 15 minutes before conditioning. Use a steam iron on a cotton setting or a blow dryer on medium heat with a damp towel to gently iron out the creases.
Make your own leather conditioner by melting beeswax and butter, then blending in oils and letting the mixture cool. Apply this conditioner in small circles and buff. Lastly, make a simple shoe polish from lemon juice and olive oil, apply evenly to your leather shoes, then buff for a shiny look that also protects from creases.
Leather seems to last forever, or at least it can with a bit of care and attention. We love our leather material, and nothing hurts more than a deep, unsightly crease. Discover how to remove creases from leather shoes and enhance the look of loose-grain leather with these super-effective tips and tricks.
Leather shoes and boots have been in style for thousands of years, and humans have come up with many clever ways to waterproof, stain-proof, and otherwise preserve the life of their favorite leather footwear. We've tried everything from animal fats to waxes and resins to protect our best leather shoes.
Unfortunately, leather flexes and folds as you walk, creating creasing on the top leather pieces, toe box, and heels. If left untreated, natural body oils from your feet cause the creases to set and look more pronounced over time. It's essential to regularly refresh your leather dress shoes and boots to stop the dreaded shoe crease, and we'll show you how.
Discover How to Prevent Leather Shoes from Creasing
Learn how to remove creases from leather shoes and boots with these top tips for leather care and longevity. These step-by-step tutorials make proper leather care easy, rewarding, and even enjoyable.
Use a Shoe Tree
It's almost impossible to talk about proper leather care without mentioning the humble wooden shoe tree. Shoe trees help preserve the original shape of the shoe leather by fitting snugly inside the shoe while you're not wearing it. After a long day of use, place a shoe tree into your leather shoes and watch the creases melt away.
Try a cedar shoe tree if you have moist feet; they're particularly effective at absorbing the moisture and oils that cause creases to set in place. Using a shoe tree is the number one way to prevent leather shoes from creasing and prolong the life of expensive leather footwear.
If your leather shoes suddenly feel tighter than they should, a shoe tree can help make leather shoes bigger by up to half a size if used carefully.
Saddle Soap Isn't Just for Saddles
Removing creases from leather boots and shoes starts with a deep clean. Saddle soap is a conditioning product containing a light soap additive made to break down oil and debris trapped in the shoe crease, and it also can take care of scuffed leather shoes easily. A tin of saddle soap is about ten bucks and lasts a long time.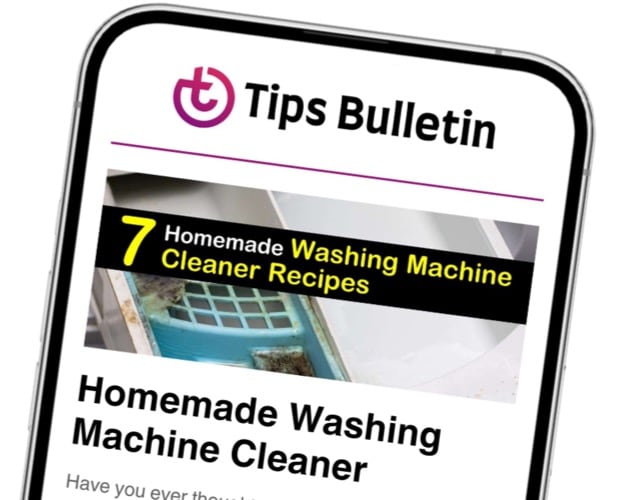 Finally, an email that Transforms Your Home.
Get the latest home and garden tips from our experts, delivered straight to your inbox.
Wet a soft cloth and make a nice lather by rubbing the soap in circles. Once your leather shoes are sufficiently scrubbed, wipe them with a clean washcloth and let them dry for 15 minutes. Leather must always be rehydrated after a thorough cleaning; stick around for our DIY leather conditioner.
How to Wash Leather Shoes
If you don't have a tin of saddle soap lying around, you can still give your leather shoes the cleaning they need with a cup of water and a teaspoon of dish soap. Before you begin, stuff the toe box of each shoe with newspaper, cardboard inserts, or even old socks to help the shoe keep its intended shape; the material also helps absorb water faster.
Wet the cloth in the dish soap mixture, and scrub the leather in small gentle circles. Use a spray bottle if you have a large surface area to cover. Wipe the soapy mixture off the leather with a clean cloth, and set the shoes aside to air dry. Don't give body oils the chance to cling to your leather footwear; keep your shoes clean and crease-free with regular washing.
How to Remove Creases from Leather Shoes with a Clothes Iron
Leather creases as it bends and folds; it's just an unfortunate fact. Pliable fabrics like patent leather always come with some unpredictability, but there is hope if leather creases are ruining your life. Discover how to stop shoe creasing with steam power from an everyday clothes iron.
For this simple way to take creases out of shoes, begin by removing the shoelaces and stuffing the toe boxes with newspaper; the shoe leather must be stretched to its natural shape to flatten creases effectively.
Put the steam iron on a cotton setting or use a blow dryer on medium heat, and lay the damp towel over the shoe for this way to get wrinkles out of shoes. Work the creases out with gentle pressure, and keep the steam iron moving so it doesn't scorch the leather. It may take a few passes, but steam is the natural enemy of every creased shoe.
When working out the creases in leather shoes, you can shrink leather shoes also. Stretched out leather boots can also become form fitting after using steam to eliminate creases.
Leather Conditioner
Leather loves to be well-hydrated. After a thorough cleaning to remove stains and clean scuffs off leather shoes, use a deep conditioning product to keep your leather material supple and shiny. There are many types of effective leather conditioners, which often come down to personal preference.
The two most common leather conditioner types are cream and wax conditioners; creams penetrate and moisturize the leather, and wax creates a glossy surface shine. Regular application of leather conditioner enhances the look of the leather grain and keeps the creases away from your leather dress shoes and sneakers by ensuring consistent moisture.
Make a DIY Leather Conditioner
A good leather conditioner is easier to make than you might think. Learn how to remove creases from leather shoes with a little elbow grease and a few simple ingredients from the kitchen. This leather conditioner is non-toxic, and the recipe makes as much as you require to meet all your leather care needs.
Melt the beeswax and butter over medium heat, and constantly stir to avoid burning. Blend in the sweet almond oil until fully dissolved, and then add the castor oil and mix. Continue to heat and stir for five minutes, but don't allow the mixture to boil.
Pour the conditioner into a clean, empty tin and allow it to dry thoroughly before use. Apply in small circles and then buff with a small towel. Use leather conditioner on leather dress shoes, leather boots, or even leather upholstery every few months or after cleaning for long-lasting protection.
Shoe Polish for Leather Shoe Creases
A fresh, even coat of shoe polish helps minimize the look of deep leather creases and completely refreshes the appearance of tired leather footwear. It also works as a way to get scratches out of leather boots. Shoe polish comes in many textures, such as waxes, creams, polishes, and pastes, all providing a similar level of protection.
In the order of shoe-care operations, shoe polish application always comes after cleaning and conditioning. Apply shoe polish to dry shoes in small circles with a soft rag, then buff with a clean cloth for glossy results.
Shoe polish also comes in many colors to easily match any leather material; be on the lookout for the proper color match when working with light brown and tan boots.
DIY Shoe Polish
Removing creases from leather boots and shoes is as simple as applying a rejuvenating coat of shoe polish. Here's a fantastic DIY shoe polish recipe that's easy to make and even easier to use; it's just two simple ingredients.
Deal with dirty shoes or any stain on leather first. Start with clean, dry leather shoes; polishing dirty leather footwear traps debris under the shiny finish. To make your own shoe leather shoe polish, mix the lemon juice and olive oil to make a paste-like consistency and apply with small circles all over your leather shoe.
Once you're satisfied the application is even, buff the shoe polish with a clean cloth, and you have leather that looks new.
Acetone to Remove Old Shoe Polish
Did you know that removing old shoe polish is a fantastic way to prevent leather shoes from creasing? Old, dried shoe polish collects in leather creases over time, making shoes look dull and dirty.
An inexpensive bottle of acetone from the grocery store is a great way to remove old wax polish, strip a shoe polish color you don't like, or even clean mildew off leather if you find a spot on your shoes.
Apply a little acetone to a cotton ball and polish away the old shoe polish with gentle circles. Use butyl gloves, as they stand up to prolonged exposure to acetone much better than latex.
Acetone does strip away the factory leather finish, which is applied to ensure uniformity of color; be cautious using acetone on tan boots because they tend to discolor much easier than black or dark brown boots.
Creases in Suede Shoes
Suede creases over time, just like its cousin, leather. Unfortunately, suede has a fussy napped finish, and many tips for stripping and conditioning aren't applicable; do not use shoe polish acetone on suede.
Suede shoe creases aren't forever; all you need is a damp cloth and a gentle application of steam over the entire shoe. Always stuff the toe box with newspaper before using your steam iron, and set it to low heat to protect the delicate suede material.
Something for Leather Sneakers
It may surprise you to know that leather sneakers require almost as much care as leather dress shoes to stay looking luxurious. To prevent leather shoes from creasing at the end of a long day, don't just kick them off in the corner. Invest in a wooden shoe tree, and use it every day.
If your closet is bursting with multiple pairs of leather shoes, consider buying crease protectors. A crease protector is a tiny insert you pop into your shoe after a long day of wear. Crease protectors are sold in multiples, which means it's more economical, and they also take up a bit less space than 20 pairs of shoe trees.
Removing Creases from Leather Boots
Leather boots like Doc Martens are made of heavy full-grain leather that gradually creases and molds the foot over time. Wearing proper-fitting leather boots is one way to avoid excessive creasing. To remove deep-set creases, take out the shoelaces, and stuff the toe boxes. Drape a damp towel over the leather.
Use a blow dryer on medium heat to go over the entire boot; stay about ten inches away to avoid burning the leather. Gently massage the creases away and repeat where required.
Leather Oil for Shoe Creases
Well-oiled leather looks beautiful and lasts much longer than dehydrated leather material. Leather oil keeps the fibers flexible and conditions them to withstand environmental stresses, including creases from regular use.
Leather oil is generally made from natural waxes, fats, and oils that, once applied, significantly reduce the look of creases and cracks in leather shoes. Experts recommend using leather oil as preventative maintenance every few months to keep your leather shoes looking lustrous.
Invest in a Shoe Horn
The best way to keep creases away from your leather shoes is not to crush your foot into them every morning; pulling and stretching the leather limits the lifespan of the leather material and the longevity of the seams. We recommend a simple shoehorn; seriously.
The shoehorn is massively underrated as far as proper leather shoe care tools are concerned. The average shoehorn is inexpensive and glides your foot gently into your leather shoes for a comfortable start to the day.
How to Fill Cracks in Leather Footwear
Leather cracks when it's dehydrated and needs natural oils and moisture. Prevent cracks before they start; always condition your leather to keep it soft and pliable. If your leather shoes have gone beyond creasing and are damaged, don't panic; in many cases, a simple sand and fill do the job marvelously.
There are many resin-based repair creams online and in the grocery store, and they range from ten to 20 dollars, depending on your preference. Color matching is essential in shoe repair, so get as close as possible. Use a small piece of 220 grit sandpaper; anything else is too coarse for the leather.
Gently sand the jagged edges of the damaged area, and wipe away debris to clear a space for the repair cream. Fill the crack with repair cream, smoothing it evenly, and let it dry for 15 minutes. Check your repair work for any uneven edges, and once you're satisfied, buff with a cream shoe polish for an even, glossy finish.
We hope this article takes some of the mystery out of how to remove creases from leather shoes and boots. Caring for leather is rewarding and doesn't have to be a chore. Clean your leather as required with saddle soap or simple dish soap and water, use a suitable leather conditioner to moisturize the fibers, and finish with quality shoe polish for stunning results.
Always try to fill your leather when you're not wearing it to help preserve shoe shape. Consider preventative tools like a wooden shoe tree, a crease protector, and a shoe horn to help minimize the impact of daily flexing and folding on your leather shoes. Take care of your leather shoes, and they'll last a long time.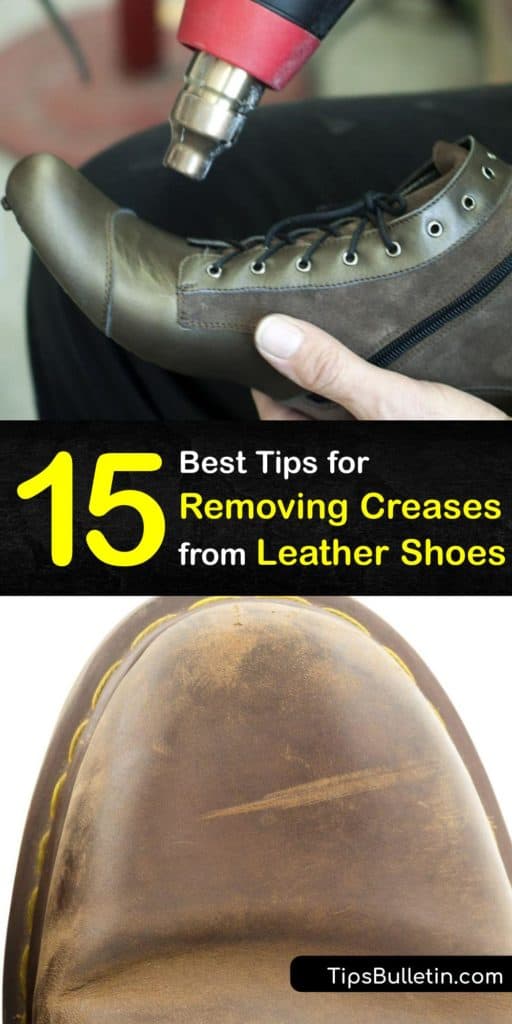 If you enjoyed learning how to remove creases from leather shoes and boots, share this article with a friend on Pinterest or Facebook who's interested in refreshing their leather shoe collection.