Car decals are a fantastic way to make our cars stand out from all others, whether they represent views we have, celebrate academic achievements, or add a touch of our unique style to our car's exterior. Even if you loved your favorite bumper sticker in the past, or have an innocuous one from the dealership showing where you bought the car, sometimes you just want to change it up. Knowing how to remove decals from car will help you kick that old decal to the curb and replace it with something you love.
Or, you can replace it with nothing at all. Removing car decals without damaging the paint can be a tricky process, but it is certainly possible.
As with all things, exhibit plenty of patience when dealing with your car and know that some decals may require a multi-step process. If you want to know the very best way to remove a decal from your car window, follow these incredible tips and tricks to get you started.
Correctly Removing Decals From Your Car
So you may have finally decided to get rid of that old decal on your car, but now you need to know what to do. Maybe you're making way for a new one, or perhaps you hate the look of stickers altogether. Whatever the case, the key to your success is using the proper tools to remove a sticker from a car, whether it's on the window, bumper, or paint.
These supplies are great to have no matter what method you decide to use. When it comes to keeping your car's paint and windows safe, ensure you utilize as many resources as necessary.
Clean Your Vehicle First
The first thing you want to do before even attempting to remove the sticker is to wash the car thoroughly. You especially want to ensure the area surrounding the bumper car decals is clear of all dirt and grime. Doing this will allow whatever adhesive remover you've chosen to soak into the sticker and get the job done correctly.
If you don't want to use a mild soap like dish soap, you can also substitute it using one cup of baby shampoo instead. Once you mix all of the ingredients, clean the area with soapy water until all noticeable traces of dirt have disappeared. Dry the area using a paper towel to get it ready for the decal removal process.
There are some vinegar car wash recipes available, as well. These recipes are generally safe for windows but may cause etches in the car's paint job. Sticking to a mild soap when performing an all-over clean is better.
It's important to wash your car after car window tint removal to ensure that you get rid of any leftover adhesive and tint debris. Leave your car nice and shiny for its next road trip.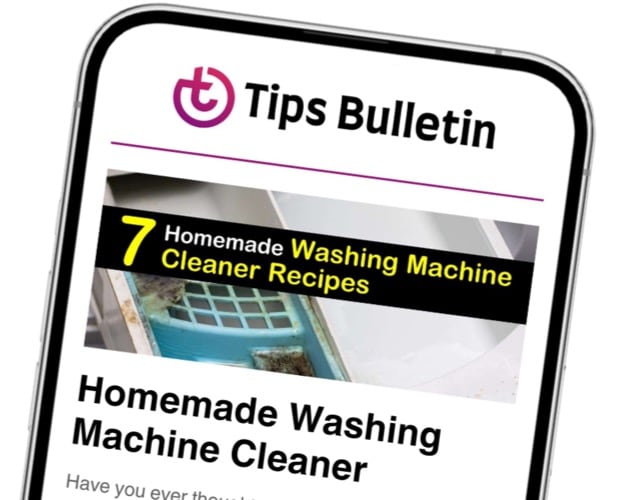 Finally, an email that Transforms Your Home.
Get the latest home and garden tips from our experts, delivered straight to your inbox.
Add Heat to Remove Vinyl-Decals
One of the very best ways to remove a car decal, especially vinyl ones, is to add a little heat to the sticker. This process works using multiple different but helpful tools. The easiest to use, and most accessible one, is a hair dryer.
Some car owners also suggest using a heat gun, but the heat setting is often too high, and a hair dryer is much easier to find in your home. If you have a smaller decal, this method works perfectly. Place your blow dryer on a moderate heat setting and allow the hot air to blow over the surface of the sticker.
Doing this causes the glue residue to gradually melt and loosen from the surface of the car. If you have a bigger vinyl decal, then using a pressure washer with hot water is another way to apply heat over a larger surface.
Place your pressure washer on a low setting to prevent any damage to your car. This sticker removal strategy is one of the best ways to preserve the paint job on your car since it requires minimal chemicals and low amounts of scraping afterward.
Remove Decals from Car with Fishing Line
If you have one of those 3D stickers on your cars, one of the easiest ways to remove them is by using a piece of fishing line. This idea may seem a little far-fetched, but it works! If you don't have fishing line, dental floss will also work.
First, start by sliding the line underneath the 3D sticker, even just a small corner will get you started on removing the label. Next, work the fishing line across the back of the sticker, using it somewhat like a saw to slice it off of the car.
Once you have removed the sticker, there may be some adhesive left behind. Use a glue remover like Goo Gone and wipe the area with a microfiber cloth to get rid of sticky residue. If all else fails, you can even use an eraser to peel away small remnants of the sticker.
You can also try this simple but effective method for getting tree sap off a car, especially if it has hardened into a sticky blob. Proceed carefully so you don't damage the paint if the sap is on the car rather than a window.
Removing Car-Window Decals with Rubbing Alcohol
If you want to know the best way to remove car decals from your windows, then a sticker adhesive remover like rubbing alcohol is all you need. This technique is best used on car-window decals only, since the rubbing alcohol may be harmful to most paint jobs.
Always use a diluted form of rubbing alcohol when adding it to any part of your car. Never use it at full-strength.
When using this method as the best way to remove adhesive from a car, mix the ingredients thoroughly in a large spray bottle, then spray over the surface of the sticker. Allow the mixture to soak into the decal for approximately three minutes before starting the removal process with a plastic card.
If you don't have an old credit card or gift card, a plastic razor blade should also do the trick. Work in small sections at a time and don't rush the job.
The Best Way to Remove a Decal from Your Car Window
Sometimes the answer to your problems is using store-bought glue removal products like Goo Gone or Goof Off. Both are great at loosening up adhesive residue from your car, either from the window or the car itself. The main difference between these two brands is what they consist of in terms of ingredients.
Goof Off is more petroleum-based, similar to products like WD-40, while Goo Gone uses more citrus-based oils. When applying, place a small amount over the surface you are working with. Allow the adhesive remover to soak for approximately two minutes before peeling away the sticker with a scraper.
Goo Gone is also one of the best ways to get glue off car paint without scratching the bumper. This powerful adhesive remover will get any left over glue from bumper stickers or car decals without ruining the paint.
Use Ice on Old Decals
Another common way to remove sticky substances from any surface is by using ice. Think about that time you needed to remove gum from your hair or clothes. Ice works wonders for window decals, as well.
To use this method for removing strong adhesive from metal, add ice cubes to a plastic bag. Place the bag over the sticker to remove a sticker from car paint or another part of the vehicle. Hold the bag over the car decal for several minutes before attempting to remove it. You can use a razor blade to peel away the sticker afterward.
Remember to use a razor blade that is designed for the glass, or try using a plastic one. Even those manufactured for glass can leave marks and scratches if too much pressure is applied or if they are misused.
Removing Car Decals without Damaging Paint Using WD-40
If you want an alternative to store-bought adhesive removers like Goof Off, then WD-40 is your best option. Perhaps, you already have a small canister in your home and don't want to make an extra trip to the store for another glue removal product.
Either way, using WD-40 works perfectly and will have the sticker gone in just a few short minutes.Start by removing as much of the sticker as you can.
Spray the area with WD-40, then let it soak into the remaining glue pieces for around three minutes. Next, wet a microfiber cleaning cloth and rub the area in small circular motions until all of the stray adhesive pieces are gone.
Follow this same procedure to remove tar from your car. WD-40 is an excellent all-purpose cleaning agent perfect for small jobs like this one.
Spray Homemade Window Cleaner on Old Decals
Using your favorite window cleaner has a variety of advantages and disadvantages when it comes to removing stickers from car window. The most crucial part to consider is using the correct type of window cleaner since some formulas can ruin tinted glass and leave behind distracting streaks.
Instead of using a store-bought glass cleaner like Windex, try making and using a homemade glass cleaner with an ammonia substitute. This recipe offers excellent results and it's simple to assemble.
The ammonia found in most window cleaners is what causes the most damage. Using a window cleaner recipe like the one above is a great way to substitute harmful ingredients like ammonia for other helpful products.
When using this option, spray the area first, then slowly chip away as much of the sticker as you can. Repeat this process until the entire sticker is gone.
Wash, Dry, and Reapply Wax
The final step in your sticker removal process is to clean your car all over again. With a thorough cleaning, you'll remove any additional pieces of glue residue you may have missed while removing the sticker.
Dry the area with a clean rag to prevent streaks or leaving behind harmful elements. During this step, you should also apply a layer of car wax to provide your paint with some additional protection.
By now, you should have several new ideas for how to get rid of those unsightly decals. In some cases, you'll need to use more than one method at a time, especially if you run into a stubborn sticker that just doesn't want to give up. No matter what the circumstances, you are fully equipped with all the resources you need to succeed.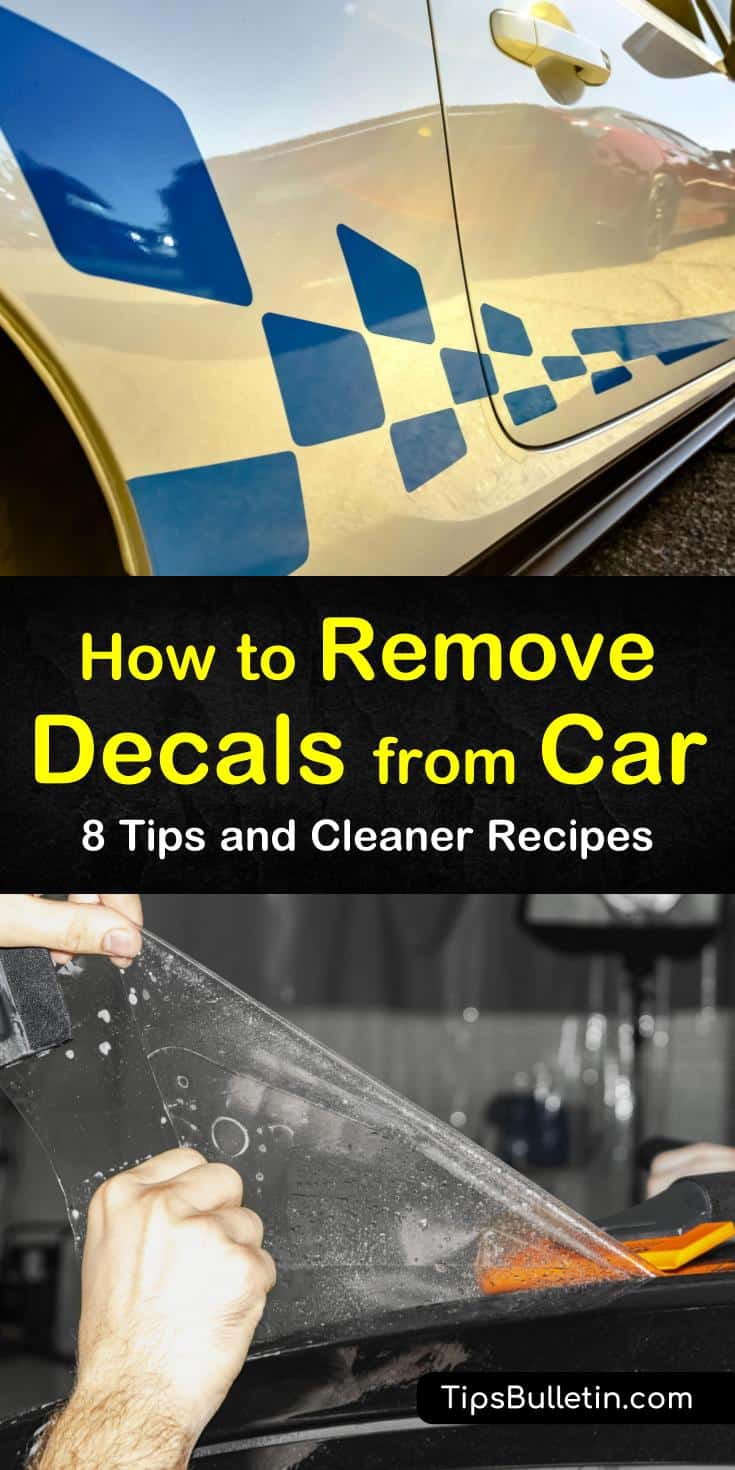 Hopefully, you enjoyed learning about our tips for removing car decals without damaging paint jobs. If you found these car detailing tips useful, then please remember to share how to remove decals from car with everyone you know on Facebook and Pinterest.