Leather, patent leather, and suede shoes are fashionable and provide an outstanding first impression, but they are often scratched or scuffed. Learn how to remove deep scratches from leather shoes with this list of quick and easy techniques for removing scratches from leather shoes.
Scratches and scuff marks detract from the appearance of your beloved shoes, whether you prefer expensive leather dress shoes or stylish leather sneakers. Don't worry too much the next time your shoe scratches. Remove even difficult scratches with simple techniques. Knowing how to get scratches out of leather boots allows you to give your beloved pair a comprehensive makeover.
Scratches and scuff marks on leather shoes may be safely eradicated in several ways. It's straightforward to remove blemishes from leather shoes using household materials. Restore your leather shoes to a scuff-free sheen in no time with white vinegar, dish soap, and more.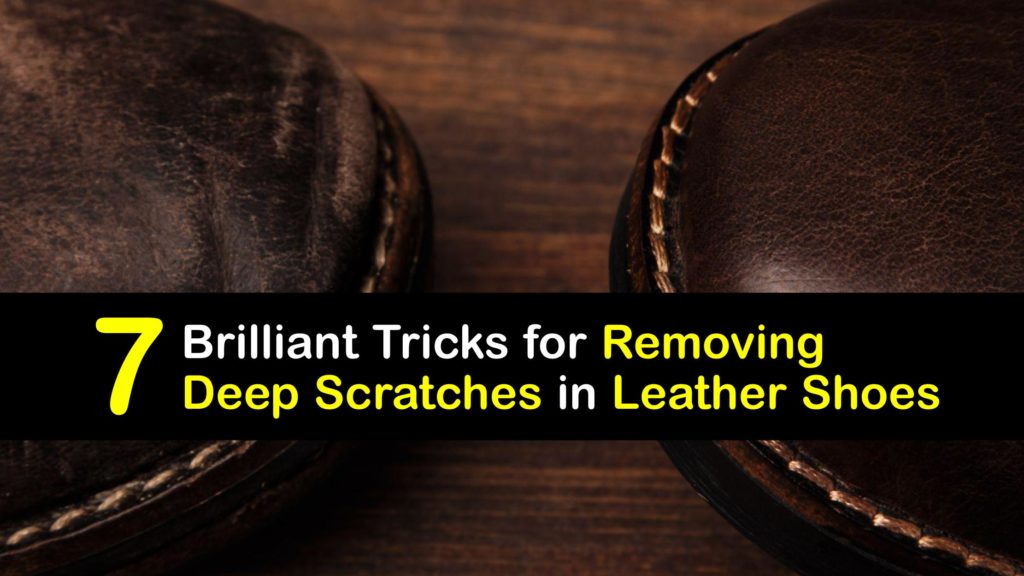 Removing Scratches from Leather Shoes
Almost everyone has wondered how to remove deep scratches from leather shoes at some point. We've all stumbled or collided with a curb, leaving an unsightly mark on our leather or suede leather footwear.
A scratch on your leather shoes is ugly and should be cleaned as soon as possible; however, some solutions are better than others. If you adopt the wrong method, you risk discoloring your footwear.
If you've ever questioned how to get scratches out of leather boots, there are a few simple procedures to follow. Removing scratches from leather shoes is simple with a few ordinary household products and patience.
How to Remove Deep Scratches from Leather Shoes with White Vinegar
White vinegar is an effective cleaning product to remove anything from stains to light scuffs on suede shoes, a smooth leather bag, or any other leather item. It's simple to clean and tighten leather shoes with white vinegar and tap water.
Because white vinegar is acidic, dilute it with water before using it and avoid putting it on the seams and other regions with leather glue to avoid damaging your shoes.
Dip into the mixture with a damp cloth to apply the diluted vinegar solution to the scuff mark or scratch. Allow the white vinegar to soak the scuff marks for half an hour.
With a damp cloth, wipe away the vinegar, and use a dry cloth to wipe up any remaining moisture. Use this solution to make patent leather shine again. Finish by applying a leather conditioner such as leather oil or shoe cream to smooth leather or buff with a shoe brush for suede. Store on shoe trees to maintain shoe shape and for fixing creased shoes. You'll be glad you did.
Dish Soap Restores Scratched Leather Items
Easily remove scratches on leather sneakers, purses, or furniture using dish soap; it's safe to use on canvas shoes too. Because the solution refreshes the leather fibers without changing the color, dish soap is an excellent choice for eliminating scratches on leather shoes.
Dip a clean towel into soapy water. Rub the soapy water over your shoes to remove dirt and refresh the scratched leather, wipe the boots off with a paper towel, and lay them flat to dry. To seal in moisture and maintain the leather, apply a leather treatment.
Eliminate Minor Scuffing from Your Leather Shoe with Petroleum Jelly
Petroleum jelly is a suitable solution to scuffed or cracked suede or leather, as it revitalizes worn suede and leather clothing and shoes, restoring their natural luster and gloss. Put your shoes on a shoe tree to smooth out the leather and enable you to get into every crack while performing leather scratch repair.
Cover the affected region with a thick layer of jelly. When getting a scuff out of a shoe, allow half an hour for the petroleum jelly to set before rinsing and drying. Remove wrinkles from leather the same way. Use a leather conditioner like mink oil to protect the integrity and quality of your footwear once it dries, and finish with colorless shoe polish or cream polish for a glossy shine. Petroleum jelly also works well for restoring leather furniture.
Leave your shoes on the shoe trees to try to expand leather shoes just a little to enjoy a better fit.
How to Get Scratches Out of Leather Boots using Nail Polish Remover
Acetone, often an ingredient in nail polish remover, is another solution for removing scratches off leather shoes.
Test acetone in a hidden location before using it on your shoes. Dip a cotton swab or a soft cloth into the acetone and gently wipe the scratch on your leather shoes back and forward to let the solution work.
Another option is to apply an even application of nail polish on the heavily scratched region, or a stubborn scuff. Nail polish may conceal the damage and restore the appearance of your shoes. Choose a nail polish matching the color of your shoes exactly, and apply it carefully, letting the polish dry between coats until the scratch is no longer visible.
Eliminate Scuff Marks from Your Patent Leather Shoes Using Shoe Wax
Shoe wax is moisturizing and softly removes scratches and scuffs from leather shoes and other leather items. Wax polish rehydrates damaged leather, allowing the fibers to flatten and shine again.
Using a soft cloth, apply a thick layer of wax polish. Work in circular motions over the scratch, rubbing until it fades. Allow the wax polish to absorb into the leather surface before applying another coat if necessary. Repeat as needed until the scratch is no longer visible.
Fix Scuffed Leather Shoes with Toothpaste
The solution to removing scratches from leather shoes is probably right in your bathroom. Non-gel toothpaste is an excellent cleaner for removing minor scratches and scuffs from both canvas and leather shoes.
Use a shoe brush or toothbrush to gently polish the scratch mark with a tiny amount of any non-gel toothpaste. Clean the area in circular strokes to remove paste residue, rinse well, and wipe with a towel.
Use Leather Filler for Deeper Scratches on Your Leather Boots
Before beginning work with a leather filler, choose a leather cleaner such as saddle soap to clean your boots thoroughly. Leather filler is available in different colors to perfectly match your shoes and is ideal for severe scratches and holes.
Choose a product suitable for your project, and use the leather filler according to the manufacturer's guidelines for best results. Once applied to a deep scratch, the leather filler sets, filling in the scratch and leaving behind a smooth, clean surface.
Scratching your leather shoes is a pain, yet it doesn't have to be a catastrophe. Wear your shoes with confidence once you know the best ways to remove scratches. Learning to clean blemishes off leather shoes allows you to add this fashionable material to your closet without fretting about accidental marks.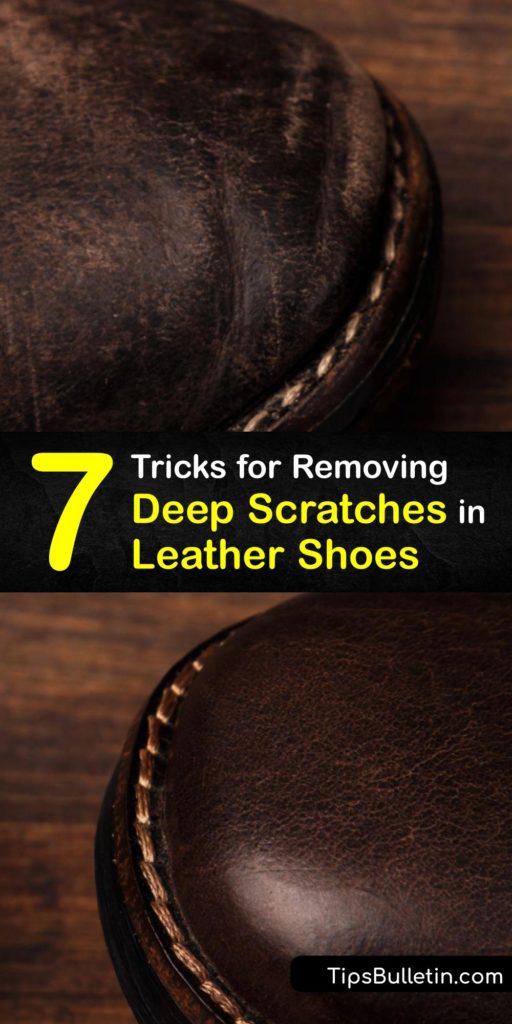 If you loved this article on how to remove deep scratches from leather shoes, please share these brilliant tips for removing scratches from leather shoes with your friends and family on Pinterest and Facebook.