If you have a cat or dog, then you probably avoid wearing black clothing or fleece. Unfortunately, unless you have a leather sofa, your couch is more than likely speckled with the stubborn hairs you avoided on your clothing. We'll show you how to remove dog hair from a couch in a few quick steps.
Unless you shave your pets, which we do not recommend, your furniture is undoubtedly collecting clumps of pet fur, especially during the shedding season. This excessive shedding leaves your furniture covered in a colorful array of clingy pet hairs.
Pet hair is not only a visual annoyance on furniture and clothing, but it is also a nuisance to those who suffer from allergies due to pet dander. Fortunately, there are better ways of removing pet hair from your furniture than diligently following your pet with a garbage bag.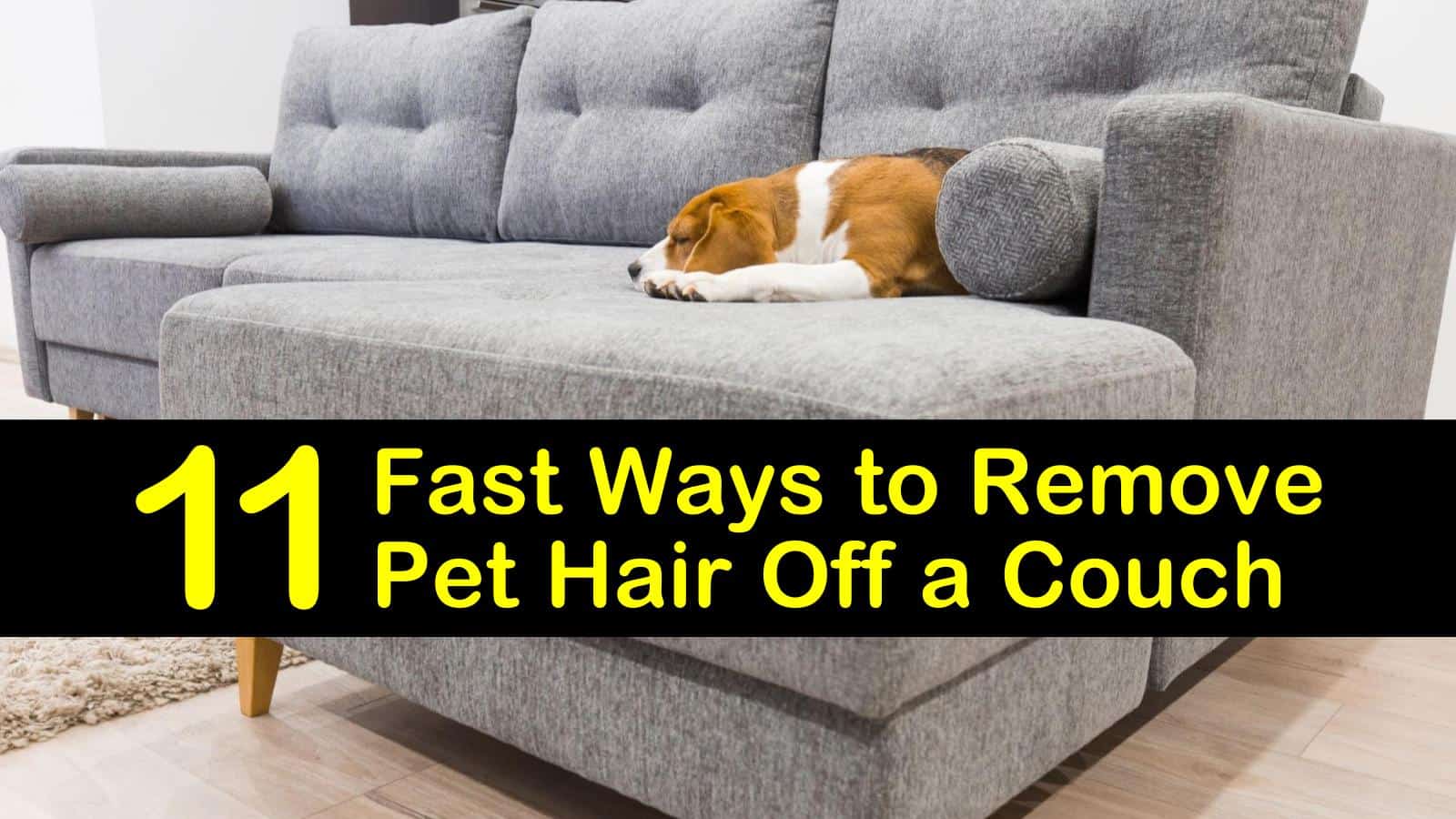 Removing and Preventing Pet Hair on the Couch
There are several ways to remove pet hair from the sofa. We'll show you how to use preventative measures and cleaning solutions, as well as provide you with various quick and easy hair removal tools for removing stray hairs in between regular maintenance.
If you have a problem with fleas, take care of the situation immediately to prevent the spread of this annoying insect. Make a homemade flea spray for your pet and for protection of your furniture and carpeting.
Best Ways to Remove Dog Hair from Your Couch
Many pet owners agree that the first step in ensuring that your living room couch does not look like a pet bed is to groom your dog often or take them to a professional groomer regularly. Regular bathing and brushing both remove loose dog fur and prevent loose hair from sticking to your sofa and car seats.
Brush your dog twice a week using the proper brush for their breed. A slick, metal pin brush is ideal for long-haired dogs, while a shedding blade works well for short-haired dogs.
Always brush your dog before bathing them to remove any dry dirt and debris. Bathe your dog once every other week using a mild shampoo to prevent drying.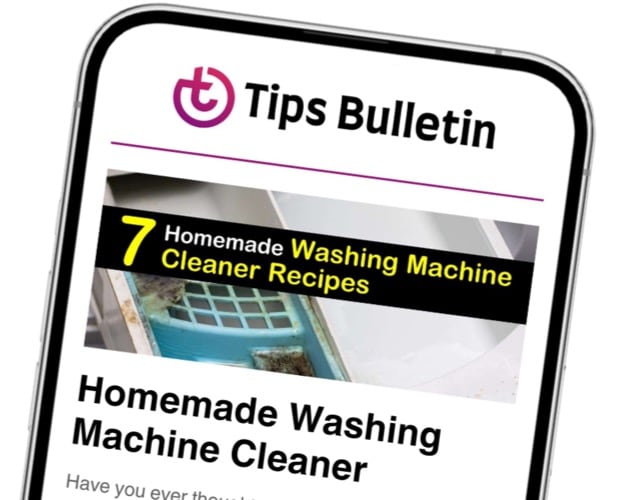 Finally, an email that Transforms Your Home.
Get the latest home and garden tips from our experts, delivered straight to your inbox.
Learn How to Remove Pet Hair from a Couch by Vacuuming
Vacuum the sofa to remove pet hair and follow this with a do it yourself couch cleaning solution to ensure that your sofa stays fresh and clean. Here's how to remove pet hair from a couch using a vacuum cleaner.
Remove Dog Hair by Vacuuming
Use a vacuum cleaner that is powerful enough to remove pet hair such as a Dyson or Bissell, and make sure it has a brush attachment to clean your sofa. The bristles of the attachment loosen and remove stubborn pet hairs.
Go over the sofa surface twice in alternate directions to loosen up and remove pet hair. If the bristles of the brush get clogged with hair, use your fingers to loosen and remove them.
For a sofa that has removable cushion covers, remove them and place them into the washing machine by following the cleaning instructions on your couch. Hang the cushion covers out to air-dry or place the clean cushion covers into the dryer, making sure to clean out the lint trap when completed.
Clean Cat Hair Off a Couch with Rubber Gloves
As odd as it sounds, rubber gloves are a great tool to clean cat hair off a couch. Not only are they inexpensive, but one pair of gloves cleans your entire sofa.
Slip a pair of rubber gloves onto your hands and get them wet under the faucet. Use your hands to rub the surface area of the couch, starting from the top back-sides and working your way down to the cushion seats. Rinse your gloved hands with clean water as they fill with pet hair and continue cleaning the couch.
You can also use this simple solution as the best way to clean outdoor cushions and get rid of pet hair there, too. After eliminating the dog hair, follow the care tag on the cushions to remove stains and for overall cleaning.
Remove Pet Hair from a Sofa with Fabric Softener
Fabric softener is another excellent tool for removing cat hair from a sofa, and you probably have some sitting in your laundry room. Use either liquid fabric softener or dryer sheets to remove cat hair.
Combine equal parts fabric softener and water in a spray bottle and shake to mix. Spray the solution lightly onto the upholstery of your sofa and use a soft cloth to wipe up the loosened pet hairs.
Use a dryer sheet to rub the areas of the couch covered in pet hair. As the sheet fills with fur, discard it and use a fresh sheet until the sofa is hair-free.
How to Get Pet Hair Off Sofa Wood
For a couch that has areas of wood in the armrests, backrest, or legs, use furniture polish to clean away pet hairs.
Furniture polish reduces static electricity, which attracts pet hair to the surface. Spray the wooden areas of your sofa with polish and wipe away the hair and dust with a soft cloth.
Repeat this once a month as needed. To clean pet hair off areas of laminate, use a microfiber cloth and plain water to wipe away the fur.
Using a Lint Roller to Remove Dog Hair from a Couch
Lint rollers are a handy tool and sold in many grocery or convenience stores. They are inexpensive and easy to use between regular vacuuming.
Roll the lint roller across the surface of your couch to pick up loose cat or dog hair. As the roller fills with hair, remove the outer layer of the roller, discard, and continue rolling to remove the rest of the pet hair.
If you do not have a lint roller, use a sticky tape such as masking or duct tape and create a homemade lint roller using your hand. Wrap the tape around your hand with the sticky side outward. Use your hand to pat the hairs away from the sofa.
Remove Dog Hair from a Couch with a Damp Sponge
Here is one of the most straightforward and inexpensive ways of removing pet hair from your sofa in a pinch. If you have pet stains, try using a microfiber fabric cleaner.
Get a soft sponge wet with water and wring out as much of the liquid as possible. Wipe the damp sponge across the surface of your sofa, making sure to go in one direction to remove pet hairs.
If you notice pet stains while you're taking care of hair removal, use the best homemade pet stain remover for your sofa and the carpeting. It helps to know what kind of stain you are dealing with, whether vomit, urine, or some other type of stain. For smelly stains, remove odor from a couch with a vinegar or baking soda solution.
Lift Away Stray Pet Hairs with a Pumice Stone
Pumice stone is similar to a Furminator at removing pet hair from your couch. This volcanic rock has a rough texture that grabs loose hair and pulls it up.
Pumice Stone Pet Hair Remover
Run the pumice stone along the surface area of the couch gently, moving in one direction, to pull up any loose pet hair. Use your hands to remove the loosened and clumped up hairs and discard them in the trash.
Using a Squeegee to Remove Cat Hairs from the Sofa
Squeegees are not just for cleaning windows. Believe it or not, they are quite efficient at pulling pet hair up from your sofa.
Squeegee Dog Hair Remover
Run the squeegee across the backrest and seat areas of your couch the same way you'd clean a window. Continue moving the squeegee over the sofa while pushing the loose hairs into one spot. Use your hands to pull up and remove the clumps of pet hair and discard them in the garbage.
Removing Cat Hairs with a Toothbrush
The toothbrush is just not for cleaning teeth anymore. This versatile little tool is handy for everything, from cleaning grout in the bathroom to removing pet hair from your sofa.
Toothbrush Cat Fur Removal
For small areas of cat hair on your sofa, use a clean and dry toothbrush to gently brush away the hair. For larger areas of loose pet fur, use a fur removal brush, which is larger in size and able to remove more hair than a toothbrush.
Preventing Pet Hairs from Sticking to Sofa Wood
If you have a sofa with large sections of wood, try applying an anti-static dusting spray to the surface to prevent loose pet hair from being attracted to the wood.
Spray the anti-static dusting spray onto the cloth and use it to wipe down all wooden areas of the sofa. The spray and cloth stop static electrical charges, make hair removal more manageable, and prevent hairs from re-sticking to the surface.
Proper pet grooming, regular sofa cleaning, and using pet hair removal tools to catch stray hairs are all critical steps in making your sofa pet hair-free. Say goodbye to dander-causing sniffles and sneezes. Gone are the days of plucking loose hairs off of your sofa and clothing.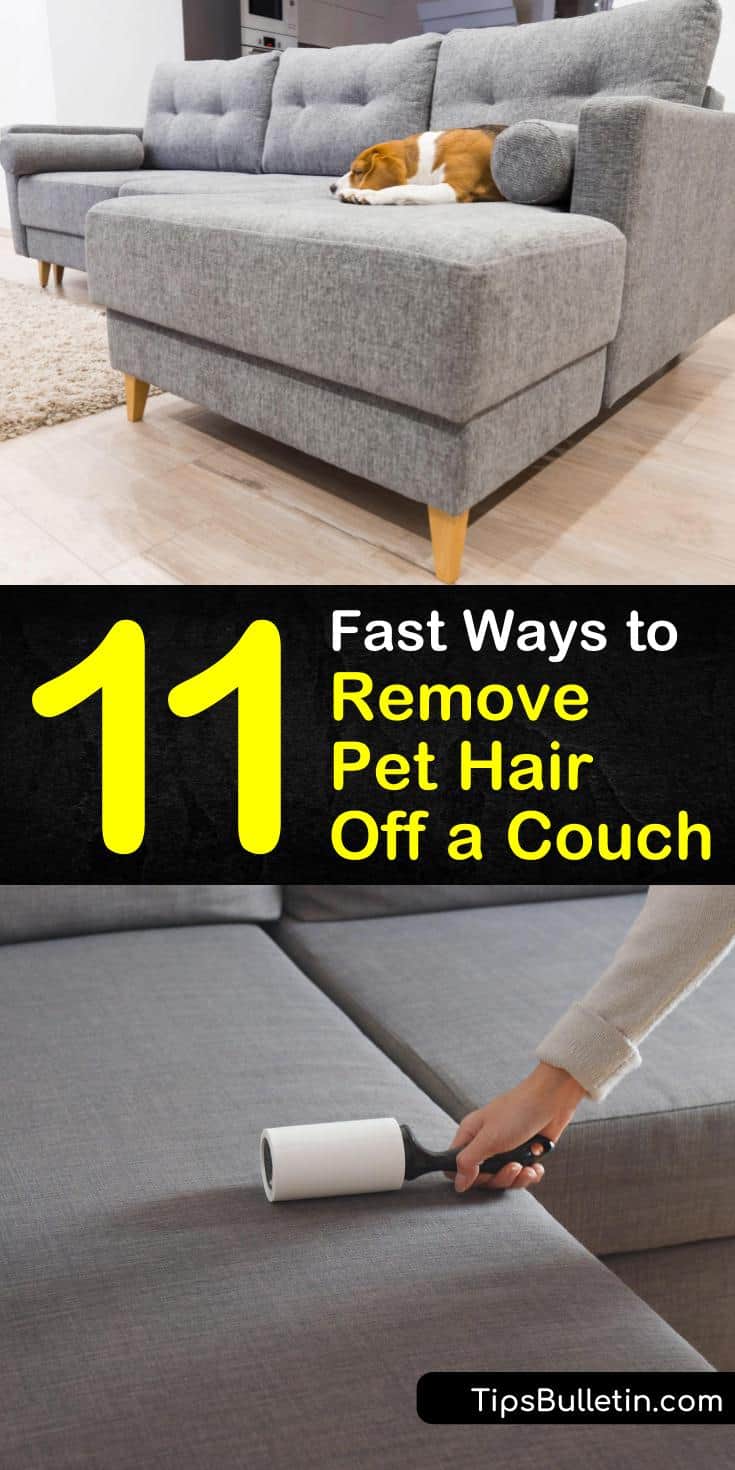 Now that you learned how to remove dog hair from a couch using a few simple tools, why not share our pet hair removal tips with your family and friends on Facebook and Pinterest?