Even if you spend hours upon hours cleaning your home, there will be dust particles present. We find dust in every environment of our lives, including at home, in the office, and even outside. Learning how to remove dust from air is possible if you're willing to put in a little bit of work.
Is it really possible to get dust out of the air? Aside from buying an air purifier for dust removal, there are other steps for you to take to keep dust out of your home.
Dust and dust mites accumulate from a variety of things. Some of the most common dust sources are dead skin cells, pet dander, bedding, and airborne particles from the outdoors.
If getting rid of dust floating in the air has proven to be a challenge for you, try implementing some of these cleaning methods to alleviate your home of contaminants and drastically lessen the number of dust particles in your home.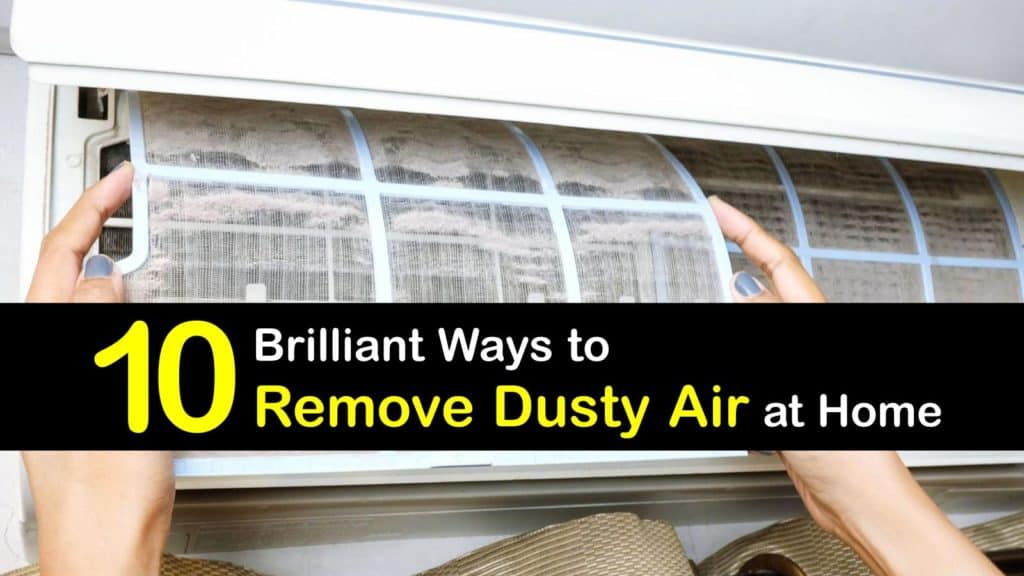 Why do We have Dust?
Dust floats around as airborne particles and is made of dozens of different things. It may come from bacteria, mold spores, smoke, salt crystals, ash, dirt, skin, pollution, hair, and rock.
When it is windy outside, tiny particles float throughout the atmosphere and are carried to different areas. Most household dust particles are less than five microns in size.
That means that the particles are so small that they are hard to see and often remain suspended in the air for drastic amounts of time. For every single dust particle you catch with your eye, there are at least nine more that are too small for you even to see.
Homeowners are desperate for a breath of fresh air but often don't know how to get rid of dust in their homes.
Does air purifier remove dust, allergens, and pollutants? If not, are there any other ways to improve the air quality? Read this article to find out how to remove dust from air.
How to Remove Dust from Air
There is no point in attempting to get dust out of the air if you don't know where to start. Creating a dust-free home is easier than you may think. You already have almost all of the tools on hand to utilize these dust removal techniques.
Cleaning to Get Dust out of the Air
If you are sick of being stuffed up in your own home, then it's time to do a deep cleaning from top to bottom. Grab a damp cloth and duster spray or a couple of feather dusters, and start by wiping down every single hard surface in your house.
We recommend cleaning the highest surfaces first and working your way down so you remove all the dust as it falls. Wipe down ceiling fans and the tall dressers first, and then move on to other hard surfaces.
When finished with the hard surfaces, make sure you clean all the fabrics in your home, including couches and carpeting.
Vacuuming a couple of times during the week will remove dust from your home and keeps the particles from building up and spreading as you move from room to room.
Wipe Surfaces with Fabric Softener
It always amazes homeowners when they find out that fabric softener is safe for use on more than just clothing. Fabric softener and dryer sheets reduce static cling and keep a large amount of dust from sticking on surfaces.
Dampen a clean cloth with a little bit of liquid fabric softener and clean shower doors, wooden tables, and other hard surfaces in your home that collect dust.
Upgrading Furnace Filters
Most houses nowadays have forced-air heating and air conditioning. Even though they have a filtration system built inside, it is necessary to replace the furnace filter at least once every three months.
There are many filters on the market, but purchasing a true HEPA filter, or high-efficiency particulate air filter, is your safest option to clean dust from the air.
These popular filters are made of interlaced glass fibers and are your greatest chance of catching tiny particles in the air. When you put other measures into place on top of using a clean air filter, you'll notice a dramatic difference in the air quality of your home.
Wash Bedding Weekly
When you stop to think about it, beds are one of the dirtiest places in our homes. We sleep in them every night and lie in thousands of dead skin cells, dust mites, and oils. Changing your bedding regularly is more important than you may think.
Nobody wants to sleep in these allergens, and you'll be amazed how washing your bedding once a week in warm water makes you feel better almost instantly.
If you're not up for washing them every week, try taking them outside and roughly shaking them before stretching them back over your bed.
Sealing Your Home
Dust particles don't only come from us. Most of them come from the outdoors and make their way inside. There are several things to do to ensure you're keeping out as much dust as you can.
Place a high-quality doormat in front of every door around your home. Ensure everybody wipes their feet or takes their shoes off before entering.
Another idea to keep dirt out of your home that acts as a homemade dust repellent is to seal cracks that the tiny particles might be slipping through. Walk around your house and caulk the small openings you notice, including around your doors and windows.
Minimize Clutter
If your home is cluttered, that gives the dust a lot more options to land on. Tidying up your house and removing unnecessary items not only speeds up the dusting process but keeps the dust traps under control.
Instead of landing on all the things lying around, they're going to land on the floor or furniture that you regularly clean anyway.
Mopping the Floors Regularly
For those who don't have a lot of carpeting in their homes because they prefer hardwood flooring, mopping is another essential cleaning method to keep dust at bay.
We recommend mopping after vacuuming the hardwoods to ensure that you're picking up as many particles as possible. One of the best nontoxic cleaners to use is a mix of water, vinegar, and dish soap.
The smell of the vinegar doesn't linger long, and it still disinfects, so you know that you're walking on clean surfaces and not tracking pollutants to every room in the house.
Buying an Air Purifier for Dust Removal
Does an air purifier remove dust efficiently? That depends on the air filter within the machine. The best air purifiers designed to get dust out of the air come with a HEPA filter.
A HEPA air purifier eliminates about 99.97 percent of airborne particles, which help you control and reduce dust. These machines clean the air and reduce the amount of time that you spend dusting.
If you choose to buy these types of air purifiers, make sure that you have plenty of backup filters on hand so that they are always working at their top performance.
You can also use a humidifier to help clean the air. Be sure to take care of running vinegar through your air humidifier periodically to clean it of impurities.
Buying a Carbon Air Purifier
Another popular air purifier for dust removal is an activated carbon purifier. These machines have a carbon filter that works similarly to HEPA filters.
The activated carbon is processed along a large surface area but with tiny pores to absorb pollutants in the air. These carbon filters have become increasingly popular air filtration systems and are some of the best products on the market.
The life of carbon filters depends on environmental conditions. As always, make sure you have plenty of replacement filters on hand so that you know you're always breathing in fresh, filtered air.
Making a DIY Air Cleaner
Unfortunately, not all of us have the proper funds to purchase a HEPA or carbon air purifier to keep indoor air clean. There is a way to create a DIY air purifier that is cheaper and works decently well.
Set the filter on the back of the box fan so that the entire backside is covered. On both sides of the filter, mark where you want the corner brackets to hold the filter onto the fan.
Set the filter aside and use the power drill and the three-quarter inch screws to drill the brackets onto the fan base.
Once the brackets are secured, slide the filter into them so that it sits tightly against the back of the box fan. Turn the fan on and enjoy your homemade air purifier.
For a simple way to freshen air inside, purchase a few indoor air cleaning plants like the peace lily or weeping fig.
Trying to remove dust from the air is vital for all homeowners. Although the lungs do a decent job at filtering out large particles from the air we breathe, they don't always catch smaller particles and bacteria that cause diseases, allergies, and other health issues.
Use one or more of these dust removal methods, and you'll be sure to notice a difference in your overall health.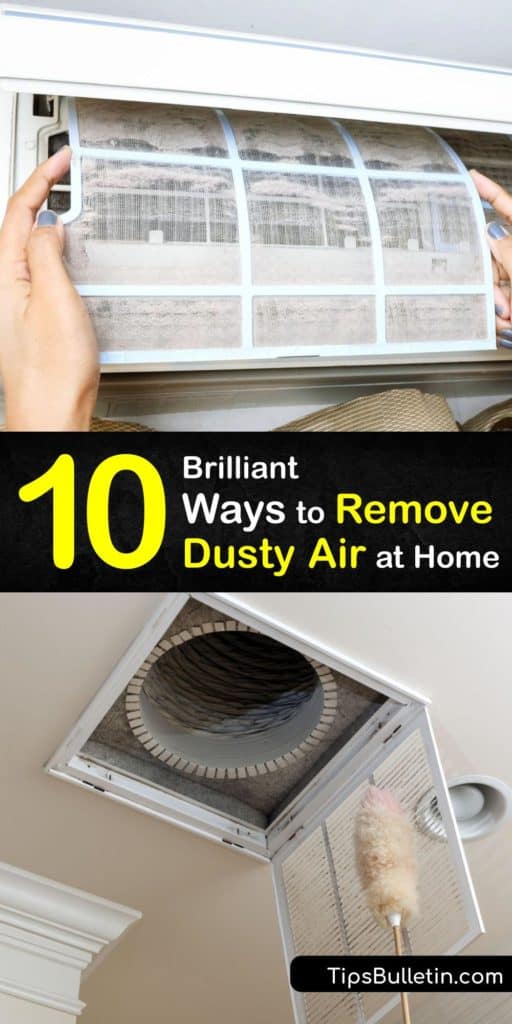 If learning how to remove dust from air has helped you breathe better throughout the day, share these practical tips to get dust out of the air on Facebook and Pinterest.