Epoxy resin is a fantastic tool for decorating your home or crafting. It has many uses, from finishing countertops and floors to making jewelry. Its ability to go from liquid to a durable, long-lasting solid makes it invaluable, but it is also daunting when trying to figure out how to get epoxy off wood. Once you know how to remove epoxy from wood, you can craft or build confidently.
If you work with a liquid like epoxy, spills and splashes are inevitable, and having them on a porous surface like wood complicates the matter a little further. Thankfully, there are numerous home remedies for removing epoxy resin from wood without scratching or scuffing the grain beneath.
Never gouge or scrape at the epoxy with a sharp object, as this may scratch the wood below. Select a simple at-home idea and erase resin from your wood surfaces safely and cost-efficiently using easy-to-follow home hacks.
How to Get Epoxy off Wood – Clever Tips
Learn how to remove epoxy from wood to restore the look of your wood floor, countertops, and furniture. Tastefully placed epoxy on a countertop or floor adds value to your home, yet streaks and spills from accidents with epoxy make it look untidy and unprofessional.
Get rid of unwanted epoxy to keep your space looking its best. Removing epoxy resin from wood doesn't have to be a headache. Whether the epoxy spill is fresh or has already cured and hardened, rely on at-home solutions to safely eliminate it from wood surfaces.
Is Removing Epoxy Resin from Wood Possible?
If you're epoxy coating or working on an epoxy countertop or garage floor, and you spill on your wooden workbench or furniture, your first concern is if the epoxy can be removed. Fortunately, most types of epoxy are removable from wood, even after they cure or dry.
If you notice the spill when it happens, wipe up whatever uncured resin you can with a paper towel while wearing rubber gloves. If the resin starts to set, gently scrape up the excess epoxy while it's still soft. Use a putty knife, grasp the shaft firmly, and use gentle scraping motions, taking care not to scratch the wood beneath.
How to Remove Epoxy from Wood
Isopropyl alcohol or denatured alcohol is excellent for erasing liquid resin before it fully cures and hardens. Alcohol is a mild solvent and dissolves the bonds holding the epoxy onto the wood to make it painless to wipe away, whether you need to remove floor adhesive from a wood subfloor or have an accidental epoxy spill.
Most pharmacies sell isopropyl alcohol in the first aid section. Soak a clean paper towel or an old rag in isopropyl alcohol and lay it over the epoxy for about a minute, then use a damp cloth to wipe away the residue. Repeat until no traces of epoxy are visible.
Nail Polish Remover is Ideal for Getting Epoxy Off Wood
If you have a container of nail polish remover at home, you already have an efficient adhesive remover. Nail polish remover is typically made of a chemical solvent known as acetone, and it's adept at removing your nail color by dissolving the paint. However, it's useful for much more.
Acetone is a brilliant epoxy solvent for removing uncured epoxy resin residue from porous materials like wood or concrete or to dissolve super glue off a wood table, wooden paneling, or floor.
Apply acetone to a clean, soft cloth and gently rub it over the epoxy-affected regions. The epoxy loosens as the wood begins to absorb the acetone. Use a knife or other scraping tool to remove the epoxy glue or glue residue from finished wood slowly and gently without harming the wood.
The Best Way to Remove Epoxy from Wood
Solvents are one of the most labor-free ways of addressing unwanted hardened epoxy on wood. A solvent is a compound that breaks down chemical links, such as the bonds holding epoxy resin to wood, to make products easy to remove or clean.
Choose a solvent intended for use on epoxy resin and one that's safe for wood. Read the directions and safety instructions carefully. Be sure to use protective goggles, wear thick rubber gloves, and work in a well-ventilated area while applying the solvent to the wood to dissolve the epoxy residue.
If you find epoxy on your driveway or garage floor, grinding epoxy off concrete is one way to remove it.
Erase Unwanted Epoxy Adhesive from Wooden Surfaces
Distilled white vinegar appears in many home hacks and cleaning tips, so it's unsurprising it helps to get the epoxy residue off your wooden countertops and furniture. Given its low price and widespread availability in the canning section of grocery stores, white vinegar is a straightforward epoxy removal method, and it uses no harmful chemicals.
The acetic acid in distilled white vinegar breaks the bond holding the resin to the wood. Use pure vinegar without diluting it for maximum strength.
Apply distilled white vinegar to a clean cloth and rub it over the epoxy to saturate the area. Test the epoxy periodically to determine if it's softening enough to scrape or peel away. Continue until all the epoxy residue is gone.
If you work with resin, it's prudent to understand how to get epoxy off wood. Epoxy is a versatile and valuable crafting and construction material, yet it rapidly becomes a chore when it spills.
Epoxy countertops and floors are stylish, but streaks of epoxy on your wooden work surface or furniture detract from the look of your home or workspace. Use clever home tips to clean unwanted epoxy off your wood items without damaging them.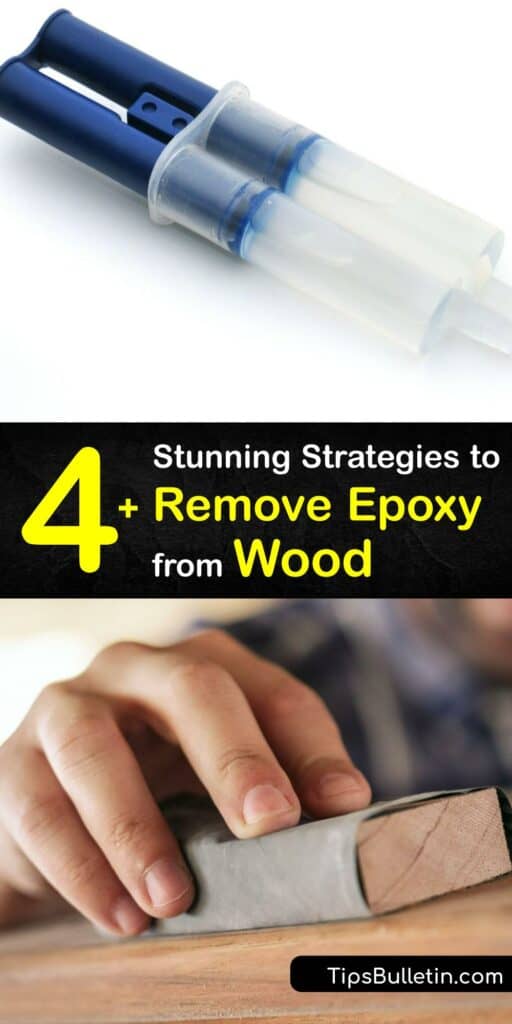 If you loved this article on how to remove epoxy from wood, please share these brilliant ideas for removing epoxy resin from wood with a few friends and family members on Pinterest and Facebook.