Do you need to remove your outdated kitchen floor but feel worried that you won't be able to figure out how to remove floor adhesive? Pulling off the linoleum starts easy until you find all of the chunks of floor glue as hard as bricks.
We found ourselves in the same shoes when we bought a house and needed to install new kitchen flooring, but as soon as we removed the outdated vinyl, the project became more challenging than we could imagine.
Vinyl stuck to the subfloor and was left in place for decades. The glue felt like concrete, and no matter what we tried, it didn't budge. Needless to say, removing adhesive from the subflooring took hours of labor.
Guaranteed Ways to Remove Floor Adhesive on Any Surface
We eventually figure out how to get adhesive off flooring, but it shouldn't be so hard. Here are the real tricks to taking off floor adhesive without tears of frustration.
When you decide to try some home improvement projects, it's tempting to lay flooring over the floor adhesive, but that's not a good idea.
Not only will the adhesive residue cause yellowing on your new floor, but old glue could cause bumps and cracks to form and show in the new linoleum.
Doing the home project correctly the first time is the best route. Let's cover everything you need to know about how to remove floor adhesive.
Scrape off Floor Adhesive from the Subfloor
If you don't want to cut the subfloor away and lay new boards, the next choice is to scrape off the floor adhesive. While it's more laborious, it's cheaper and easier for those with little DIY experience.
Take a utility knife and use it to cut pieces of the linoleum or vinyl floor covering. Take a hammer and tap a putty knife or floor scraper under the linoleum to loosen the strips that you cut.
Pry and pull the pieces off of the subfloor. Once you see the leftover glue, take the putty knife and break off the residue. If the glue is too hard, a heat gun loosens up the glue.
In older homes, construction workers used tar-based adhesive to lay flooring. Mineral spirits or hot water will loosen tar-based glue.
Use Heat to Remove Linoleum Adhesive from Wood Floor
It's hard to believe, but years ago, homeowners covered their gorgeous hardwood with vinyl or linoleum floor.
Nowadays, we adore the detailed wood floors in older homes, but the process of exposing the wood is tedious. When you remove linoleum adhesive from wood flooring, you have to be careful not to damage anything.
Unlike removing glue from the subfloor, be delicate when cleaning linoleum off wood flooring. Too much pressure or scraping scratches the hardwood underneath.
Peel up a small section to determine the direction of the wood grain. It's best to remove the flooring in this direction to reduce the risk of cutting across the grain.
Use the utility knife to cut into the linoleum or vinyl, but don't cut too deeply. Take the heat gun and heat the section you need to remove. Pry it up while the glue is soft and pliable.
Take a putty knife and gently scrape away any adhesive residue. Once finished, sand off the remaining glue with sandpaper. After that, it's up to you to refinish the hardwood to your preference.
Use Hot Water to Remove Linoleum Adhesive from Wood Floor
No one likes seeing original hardwood floors covered in vinyl flooring or ceramic tiles. Using an abrasive floor adhesive remover should be avoided in these cases because chemicals damage the wood. Instead, hot water and laundry detergent are all you need.
Soak the old towels in hot water. Cold or warm water is fine, but hot water is more effective. Lay the towel over the adhesive for 20-30 minutes.
This is one of the first methods you'll find when searching for how to remove floor adhesive, and it does work most of the time.
If it isn't successful, try pouring a bit of laundry detergent over the glue. Some brands soften when exposed to soap. Either way, you need a floor scraper to remove it entirely, but it makes the process faster.
To remove adhesive residue from metal, dab a cloth in the mixture and apply it to the sticky spot. With a little effort, the stickiness should come off.
Vinegar Removes Residual Stickiness
If you spent all of that time taking laminate flooring off of hardwood, you might need to remove sticky residue from hardwood floors next.
Adhesives leave behind a tacky or sticky feeling that doesn't feel good on your feet. Vinegar is a simple answer, and it can be incorporated into a DIY floor mopping solution, too.
To get sticker residue off wood or glue from vinyl or carpet, mix the vinegar and water and spread it over the sticky residue on the hardwood with a mop. Allow the vinegar and water to sit for several minutes, then use a sponge to scrub the residue.
Go back over the hardwood with a dry mop to soak up any excess moisture and allow it to dry naturally.
Try this simple remedy to remove Gorilla Glue from wood that accidentally spilled during a home improvement project or to get a sticker off wood that is more stubborn than it should be. It works just as well for these applications.
Vinegar is helpful to remove epoxy paint from concrete garage floor or as a way to get tar off the bottom of shoes if these are also issues.
How to Remove Floor Adhesive on Concrete with Boiling Water
Without a doubt, adhesive on a concrete floor is the easiest to remove, but it still involves labor. It doesn't include any worries about damaging the subflooring; concrete withstands a bomb, so don't worry about a scraper.
For removing vinyl flooring, take a utility knife and cut strips into the vinyl or linoleum, and pull up the strips, revealing the glue. In some cases, pulling up the glue is easy, but that doesn't always happen.
Pouring boiling water and dish soap over the residual glue and letting it soak overnight is easiest. Doing so softens the glue and makes it easier to remove.
This method also works quite well to remove carpet glue from concrete, too.
Use Warm Water to Remove Tile Adhesive
If you want to lay new flooring but need to handle tile adhesive, removing old linoleum flooring seems daunting. Floor tiles are hard to remove and clean up. One of the simplest options to use is to warm water to loosen the glue and a paint scraper to take off the rest.
This method is similar to the technique used to remove adhesive glue from concrete flooring. There are two ways to do this.
Pour boiling water over the area with the tile adhesive. Let it sit for several hours and use a paint scraper to remove the loose adhesive.
The second technique is to soak strips of cloth in hot water. Lay them over the adhesive and leave them for several hours. Soon, the tile glue will be soft enough to scrape off the floor.
Try Solvents as a Floor Adhesive Remover
If the mastic and vinyl tile adhesive is too old, heat or water may not be sufficient. That's when you need to turn to chemicals to remove adhesive residue from concrete. Keep kids away and ventilate the area as much as possible when using solvents designed to act as a floor adhesive remover.
Solvents are toxic and dangerous, so make sure to wear gloves and a mask when you use this way to remove epoxy from a concrete floor. Follow the directions on the solvent bottle; apply liberally to the glue that refuses to come off the flooring.
Wait one hour or longer as the chemicals break down the glue and then use a scraper to remove the rest of the glue pieces.
Due to solvents' toxic nature, you should only use it if heat and water fail, but it's a great flooring adhesive remover. Another option is a paint stripper or paint thinner. Some adhesives respond to this option, which might be cheaper.
Use Boiling Water to Remove Carpet Adhesive from Concrete
If the carpet is over the top of concrete, carpet adhesive keeps it in place along with some tack strips. The strips are easy to remove, but the carpet glue might not come off. The first option to try is boiling water.
The simplest method is to pour water over the dried glue to loosen it, depending on how old the adhesive is. The hot water needs to sit on the glue for several minutes.
Once loosened, use a concrete floor scrubber, found at most hardware stores or HomeDepot, to scrub off the carpet glue. If you don't have a scrubber, a paint scraper works as well. Apply more boiling water as needed.
To remove small patches of glue, use a heavy-duty glue remover or mastic remover. These removers do include toxins, so have plenty of ventilation and follow the directions closely.
Figuring out ways to remove flooring adhesive depends on the type of flooring underneath and the glue used. Whether you have to use a floor adhesive remover or hot water, these ideas will help you with your upcoming home improvement projects.
After spending hours researching how to remove floor adhesive, we found it hard to find a comprehensive guide. We hope that this article showed you what steps you need to take in an easy to understand manner.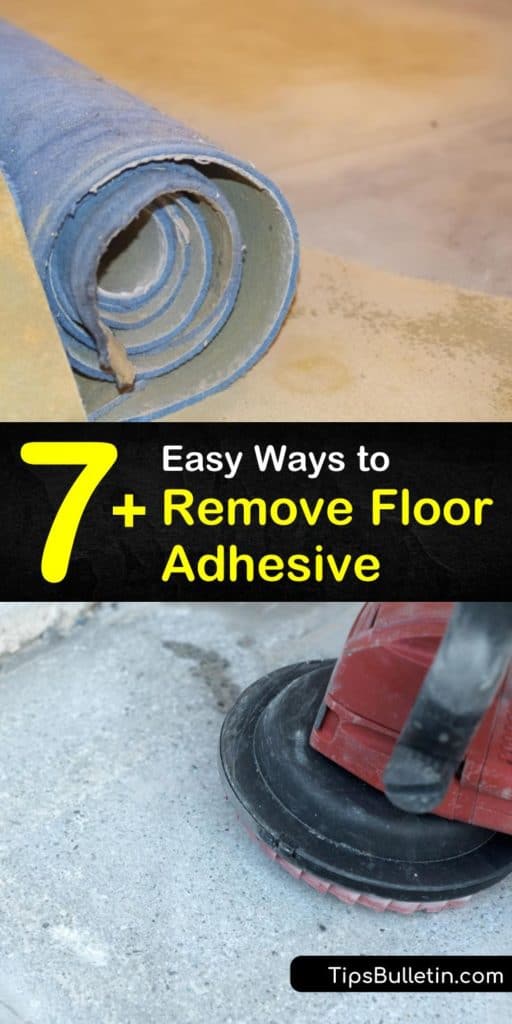 If you found this list of ways to remove floor adhesive helpful, please share these home floor glue removal tips with your friends on Pinterest or Facebook.