Things are inevitably going to break around the house. When this happens, we usually run off to find our glue supply to fix the problem, and Gorilla Glue is an adhesive that gets the job done. Figuring out how to remove Gorilla Glue from glass surfaces is challenging because it has a powerful bond.
Gorilla glue is a type of super glue called cyanoacrylate. It easily sticks to hard surfaces and is what many people rely on to put the small glass pieces back together when something breaks. Unfortunately, this product also leaves glue stains and doesn't always look the best after it's applied.
That's when learning how to get Gorilla Glue off glass and other surfaces comes in handy. Figuring out how to get Gorilla Glue off glasses, jars, and other glass items isn't ideal for someone with little patience. Glue residue seeps its way down into the smallest pores, leaving a big, ugly glue stain behind.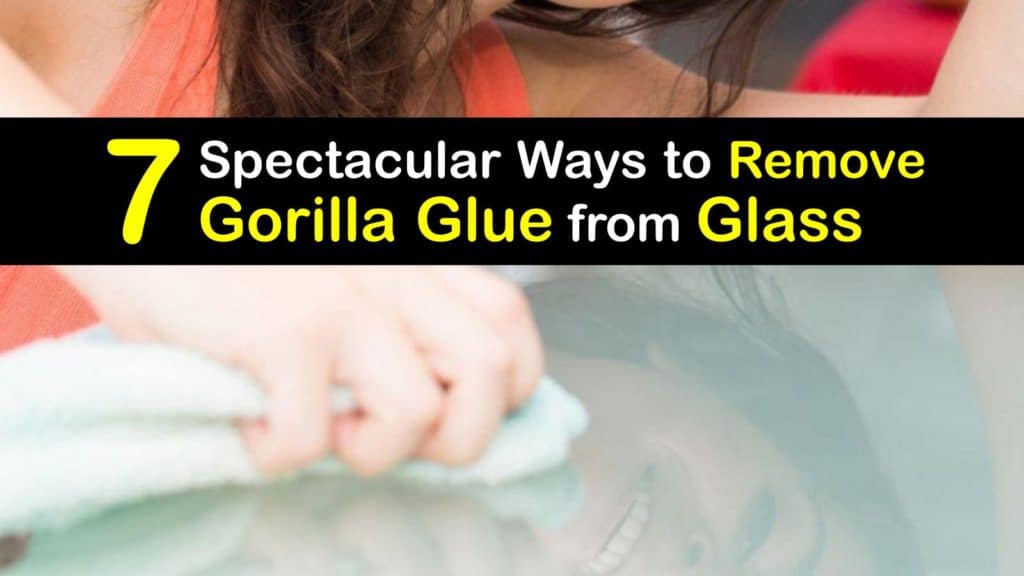 Gorilla Glue Information
We will show you how easy it is to clean Gorilla Glue off glass with a little persistence and a few deep breaths.
Gorilla Glue is a type of glue that people love to have stocked inside their houses. People use it to repair furniture, for building things, and even fixing mistakes.
The bad characteristics of Gorilla Glue come out, though, when you have to try to clean Gorilla Glue from a water bottle, glasses, or other important items.
Gorilla Glue is invisible, waterproof, and stands up to extreme temperatures. The bond in the adhesive is powerful and works on a handful of surfaces like ceramics, glass, metal, wood, and stone.
It is so popular because you can sand it, paint it, and stain it to match the material you're working with.
Gorilla Glue doesn't stick to glass surfaces as well as other surfaces with pores, like wood, so you would think that figuring out how to remove Gorilla Glue from glass surfaces would be easy.
But just because it is a little more manageable doesn't mean it isn't a challenging process overall.
How to Remove Gorilla Glue from Glass Surfaces
Glass may not be so porous that it holds tightly to every inch of the glue, but it still doesn't make it the easiest task to remove a stubborn glue spot.
Work your way down this list of methods showing you how to get Gorilla Glue off glass and we guarantee that at least one of them works. Many of these recipes can also be used to make a homemade eyeglass cleaner without alcohol to keep the glass in your eyewear clear from glue or smudges.
How to Get Gorilla Glue off Glass with Acetone
Acetone is a primary ingredient found in all nail polish remover, and it is available for purchase as pure acetone or in the remover. If you can't find either one, try using rubbing alcohol or isopropyl alcohol instead.
The best time to work with the glue is when it is still wet so try to fix the glue mistake as soon as possible. If dry, it only takes a few extra moments to work.
Dampen a fresh cotton ball or paper towel with acetone and rub it repeatedly over the glue spot. If hardened, let the soaked cotton ball sit on the affected area for a few minutes.
To remove super glue from glass or Gorilla Glue, continue to rub the glue away until no spots remain. If the adhesive has softened, try using a toothpick or plastic scraper to remove the rest.
Acetone can also work to remove Super Glue from car paintwork as nail polish remover is gentle enough to use on sturdy car paint.
How to Get Gorilla Glue off Glasses
You'd be truly amazed at how much of a difference some soapy water makes. Add a little hot water to a bowl with a few drops of dish soap and dip a soft cloth in it.
Wring out the excess water from your rag and let the hot towel sit on the glass surface. After a few minutes, dampen the fabric again and begin rubbing the glued area. This is the best DIY glass cleaner recipe because it is both gentle and effective.
Try soap and water first when getting Gorilla Glue off skin, too. You may not need to try anything else.
Sanding Away Gorilla Glue
Hardened Gorilla Glue is the toughest to work with and usually takes some extra muscle. Abrasive objects like sandpaper or a pumice stone work wonders against hardened glue.
Be extra gentle with these objects because scrubbing the glass too much instead of the glue itself could leave the item permanently damaged.
Lay the item you're working with on a flat surface and gently sand the spots of the dried glue until the excess is removed. Wipe away the remaining debris with warm water and a clean cloth.
DIY Glue Remover
You already have everything at home to create an excellent DIY glue remover. The following recipe is also great for cleaning bugs off your car window without damaging the glass.
To get sticky stuff off glass, stir equal parts baking soda and vinegar in a glass bowl. Spread the paste-like mixture over the glue spot and let it sit for one hour.
Find an old toothbrush you no longer use and rub the bristles gently against the stain until it lifts away. Dampen a few paper towels with clean water to wipe away the paste and repeat this process until all the glue is removed.
Vinegar and baking soda can also be effective to get Gorilla Glue off metal.
Extra Strong Ways to Remove Glue
When you're looking for something a little more substantial and the best way to get rid of glue, paint thinner is usually your best option. Be overly careful when working with paint thinner.
This product is a strong chemical that eats through more than just glue. If you have items covered in polyurethane or other glosses that you don't want to go, you may be better off going with a more gentle approach.
Open a window or work in a well-ventilated area whenever handling paint thinner. Put on some long rubber gloves and safety goggles so that it doesn't get on your skin or in your eyes if it spills and splashes.
Pour a small amount of the paint thinner on a corner of a clean rag. Gently rub the dampened corner over the glue stain. Add more paint thinner if needed until all the glue has been rubbed away.
Chip Away the Gorilla Glue
Just because the bond in Gorilla Glue is strong doesn't mean it is indestructible. Sometimes you have to chip away small pieces of the hardened glue until you reach the desired result.
A sharp razor blade is an excellent tool for doing this. Always be careful when working with sharp objects so you don't cut yourself or damage the item you're handling.
Take the edge of a sharp razor blade and carefully begin lifting the edges of the glue. The glue should start to slowly chip away until there are no traces left behind.
When to Buy Goo Gone
Goo Gone is an excellent product for taking sticker residue off car window or removing glue from glass. Goo Gone was designed to break down difficult bonds and is usually your best bet if none of the previous glue removal methods work for you.
Pour a small amount of Goo Gone over the intended area and let it sit for 30 minutes to loosen the glue. Dampen a cloth under hot water and start scrubbing vigorously at the glue stain.
If the bond refuses to lift away, try soaking the glass in olive oil or vegetable oil and trying the whole process again.
Figuring out how to get Gorilla Glue off glasses, as well as to remove super glue on glasses lens and other hard surfaces is always a challenge. These glues were made to be stuck, and you're defying nature by doing the exact opposite.
Don't let the Gorilla Glue get you down. With a little bit of dedication and arm muscle, you'll have your glass items looking like new again.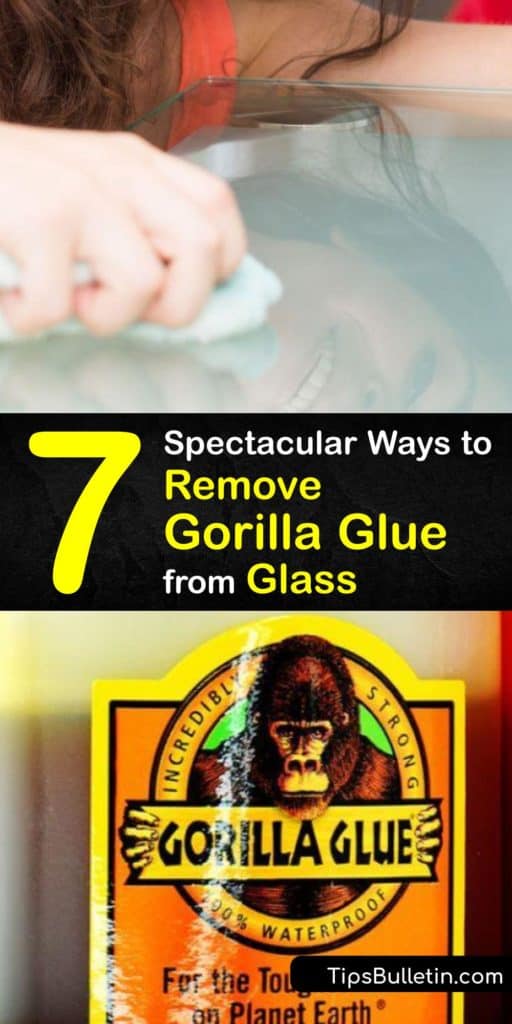 If learning how to remove Gorilla Glue from glass surfaces has saved your most cherished items, share these methods teaching you how to get Gorilla Glue off glass on Facebook and Pinterest.