Gorilla Glue is a fantastic tool that forms stronger adhesive bonds than regular glue. When you have a broken piece of plastic, using Gorilla Glue to mend the crack is an effective solution. Learning how to remove Gorilla Glue from plastic is essential if you happen to spread the adhesive on an unwanted area.
A common misconception is that Gorilla Glue is impossible to remove after it dries. Understanding how to get Gorilla Glue off plastic is easier than most people assume. Gorilla Glue contains cyanoacrylate, an ingredient that forms firm, sticky bonds. Cyanoacrylate is a popular chemical in any superglue at your local home improvement store.
Breaking down the sticky bond on a plastic surface is simple and requires household products commonly found at home. Cleaning products like liquid dish soap, acetone, and rubbing alcohol are inexpensive methods for a DIY Gorilla Glue remover for plastic areas.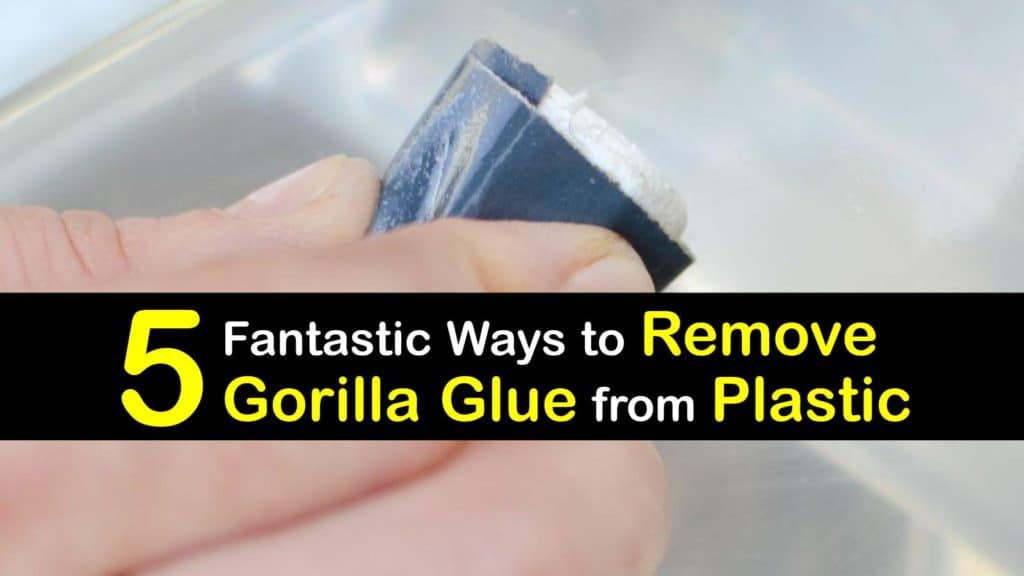 Breaking Down the Adhesive Bonds in Gorilla Glue
Gorilla Glue is designed to repair a variety of objects, including plastic, effortlessly. You must utilize cleaning products that effectively break down adhesive bonds while also refraining from damaging the plastic at the same time. The same applies when you try to get Gorilla Glue off metal or even your fingers.
Discover easy to find cleaning products that double as a way to remove Gorilla Glue. A DIY Gorilla Glue remover from plastic only takes a few minutes to loosen the hold that glue forms.
How to Remove Gorilla Glue from Plastic with Soapy Water
Soapy water is a fantastic, easy to find glue remover. This technique has numerous benefits – it is relatively inexpensive and an adequate solution if you have no other cleaning products.
Warm water and liquid dish soap loosen the adhesive bonds on the affected area. It also works great as a homemade floor cleaner for linoleum surfaces.
Soak the plastic item with Gorilla Glue in a bucket of warm, clean water and liquid dish soap for five minutes to let the adhesive loosen.
Use a clean cloth or sponge to scrub the area until the glue breaks down. A straightforward way to clean Gorilla Glue off plastic is to soak the surface in warm, soapy water. Use this solution for removing Gorilla Glue from your skin if any of the sticky substance winds up on your hands.
How to Get Gorilla Glue off Plastic with Sandpaper
Before using a solvent to get glue off plastic, removing as much of the dried glue beforehand makes the process more efficient.
Many tools can break off dried glue. Sandpaper, a scraper, and a razor blade are great to use before you learn how to remove Gorilla Glue from plastic.
Use sandpaper with a fine grit to flake off excess dried glue. If you have a razor blade or scraper, safely remove as much of the dried glue on the affected area as possible.
We suggest using a razor blade or a scraper on flat surfaces, like countertops. Use sandpaper safely on almost any surface, including as floor glue remover.
Remove Gorilla Glue with Goo Gone
Goo Gone is an excellent option if you are looking to get glue off glasses lenses or other small plastic surfaces.
Goo Gone ingredients are specially formulated to break down even the most challenging adhesive bonds and make it easy to remove dried glue. Goo Gone is safe to use on nearly any surface, even glue stains on polyurethane.
Learning how to get Gorilla Glue off plastic with Goo Gone is easy. Spray Goo Gone on the affected area and let it sit for 15 to 30 minutes, so it breaks down as much of the dried glue as possible.
Wipe the solvent away with a damp paper towel. If there is still some Gorilla Glue on the plastic, repeat the steps.
Acetone is a DIY Gorilla Glue Remover for Plastic
Two standard products that loosen up Gorilla Glue on plastic or remove super glue from plastic are acetone and isopropyl alcohol. When you use acetone or nail polish remover on dried glue, the alcohol loosens the adhesive holds formed on the plastic.
Isopropyl alcohol acts similarly to acetone, and the ingredients break down stickiness on any surface.
Utilizing this DIY Gorilla Glue remover for plastic is quick. Soak a cotton ball or cotton swab thoroughly with acetone or isopropyl alcohol and hold it on the affected area for five minutes to remove dried glue from metal or plastic.
We recommend wearing rubber gloves to protect your hands. Finish getting rid of the glue by rinsing the area with warm water and a soft cloth. These ingredients also work great as a vinyl cleaning solution and removing a paint stain.
Acetone also makes a great DIY bowling ball oil remover.
Mineral Spirits Remove Dried Glue from Plastic
Mineral spirits act as paint thinner and eat away at the adhesive bonds on the plastic surface. Due to the number of chemicals found in mineral spirits, we suggest using the glue remover outdoors if possible.
It is also crucial that you wear rubber gloves while using mineral spirits to protect your hands and fingers.
Understanding how to to get Gorilla Glue off plastic doesn't have to be difficult. Dampen a soft cloth with mineral spirits and soak the affected area for at least 20 seconds.
If there is a significant area of dried glue, wash the area for double the time. Use a sharp end of a razor blade to gently scrape away the glue loosened by the mineral spirits.
Gorilla Glue is an excellent type of super glue that allows you to repair minor breaks and tears on many surfaces.
Removing dried glue from plastic is not impossible. Popular products like nail polish remover, rubbing alcohol, and liquid dish soap are fantastic Gorilla Glue removers because they loosen the strong adhesive bonds.
There is no reason to panic if you accidentally get Gorilla Glue on an unwanted plastic surface. Several products serve as all-natural glue removers.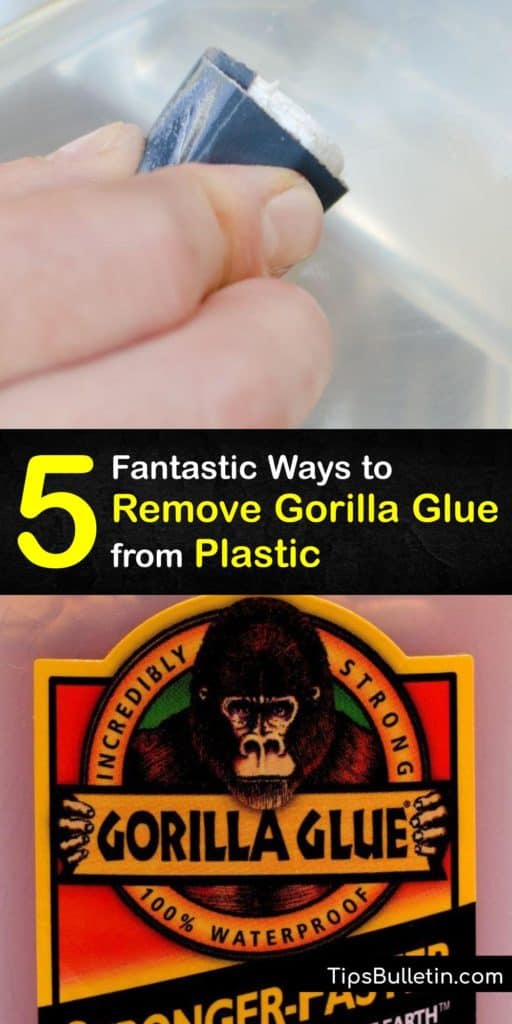 If you discovered how to remove Gorilla Glue from plastic, share this article with tricks for getting Gorilla Glue off plastic with your roommates and family on Pinterest or Facebook.