When something breaks around our homes, we know we aren't the only ones who immediately rush to our junk drawer to find some sort of adhesive to put things back together. Gorilla Glue is a brand that many people use on broken items, furniture, and woodworking. When the glue makes a mess, knowing how to remove Gorilla Glue from wood is the only way to salvage the problem.
If you want to get Gorilla Glue off wood after a significant spill, don't fret. Gorilla Glue may be one of the strongest glues out there, but it isn't impossible to remove.
Getting Gorilla Glue off wood has similar solutions to eliminating other types of glue off surfaces. The challenge is to clean Gorilla Glue off wood without damaging the surface of the wood underneath.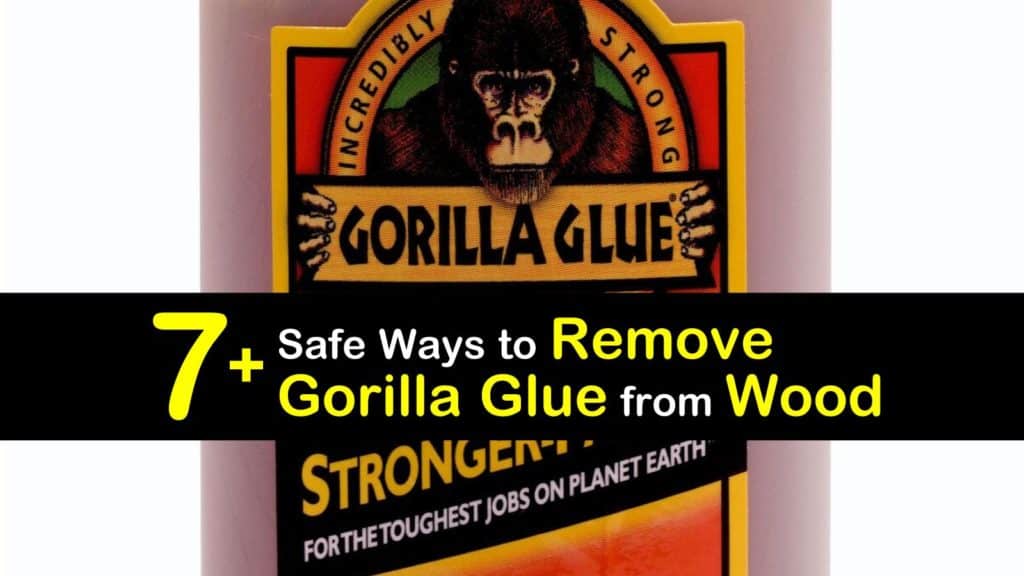 What is Gorilla Glue?
Gorilla is a go-to glue that people often use for building and repair projects. For example, if a chip of wood comes off from your couch leg, Gorilla Glue is what most people use to put it back on.
Why do so many people turn to it? Gorilla Glue is an invisible glue that is both waterproof and resistant to extreme temperatures. The glue bond is so strong that it works on many surfaces like wood, stone, metal, glass, ceramics, and more.
People can sand it, stain it, and paint over it, so it matches the surface of the item seamlessly. Gorilla Glue also has a product specifically for wood.
The Gorilla wood glue is powerful when gluing one wood surface to another and is favorable for indoor and outdoor projects. It is non-toxic and an increasingly popular item.
Although home improvement projects are never easy, Gorilla Glue takes big tasks and makes them more manageable. Find this product at any local home improvement store.
How to Remove Gorilla Glue from Wood
Getting Gorilla Glue off wood is a little tricky and requires some arm muscle. Always be careful when removing glue, or you may damage the surface that it is sitting on, especially with dry glue that is already bonded to the surface.
Skim through this list of ways to get Gorilla Glue off wood and find out what one works best for you.
Getting Gorilla Glue Off Wood When it is Still Wet
The best time to remove glue residue is when it is still wet. When working on a project, there is likely to be a time where excess glue spills over. When this happens, remove the wet adhesive with your hand or an old rag.
Immediately dampen a paper towel in acetone. If you don't have acetone, it is also a prominent nail polish remover ingredient. Once the paper towels are damp with the acetone, use the towel to begin scrubbing the glue spot.
If the towel starts drying, reapply more acetone and rub the site once more until no residue remains. If some debris lingers, use a putty knife or scraper to lift the rest.
Sanding Gorilla Glue off Wood
Removing glue of any kind, including super glue, is easy with rough materials like sandpaper. Be extra cautious so that you don't damage the surface that the adhesive is adhered to, especially if using it on hardwood floors.
When using sandpaper to get rid of a glue stain or for removing paint from wood furniture, lay the item you're working with on a flat surface if possible. Gently start sanding the spots where the dried glue is until all the excess is gone.
Wipe away the debris with a clean cloth or paper towels and inspect the item to make sure you didn't damage it with the sandpaper.
Chipping off Gorilla Glue
Razor blades are fantastic at chipping away at dried glue spots, whether you have Gorilla Glue or need a way to remove epoxy from wood. Pay attention to where the blade hits, though, so you don't scratch or dent the wood. To chip away at the glue, use the sharp edge to begin lifting the glue's borders.
Switch between the blade and your fingernails to start chiseling away at the dried Gorilla Glue. After some time, the glue should break away in small enough pieces until all visible glue is gone.
Use Paint Thinner to get Gorilla Glue off Wood
Paint thinner is an excellent DIY glue remover but be careful not to use it on items covered in polyurethane, or you'll end up taking the finish of the wood off and have to refinish it.
Before starting, open up a window to ensure the area is adequately ventilated and use rubber gloves and safety glasses in case you spill it. Put a small amount of odorless paint thinner on a corner of a clean cloth.
Use the wet part of the fabric to rub the paint thinner over the glue, whether you are trying to get super glue off wood or Gorilla Glue. Add more paint thinner to the cloth as often as necessary until all of the glue residue lifts from the surface. Clean up excess paint thinner with water and a damp cloth.
How to use Mineral Spirits on Wood
Mineral spirits are a petroleum-based solvent without the harmful, added chemical additives of paint strippers. It also works as the best natural wood cleaner for all wooden surfaces around your home.
When handling any product such as mineral spirits, always wear safety goggles and rubber gloves for protection. Add a splash of mineral spirits to a dry cloth and place the wet cloth over the desired glue stain.
Allow the cloth to sit on the spot for five minutes before using it to scrub away at the hardened glue. Add as much mineral spirits to the rag as necessary until all the glue lifts into the fabric.
Try using mineral spirits before sanding carpet glue off wood floors, too.
Homemade Glue Remover
If you're short on time and money, making a homemade glue removal paste is affordable and easy, whether you need to know how to get Gorilla Glue off your fingers or other items.
Use this paste as a DIY wood siding cleaner by increasing each ingredient and mixing it in a bucket. If using this paste for that purpose, follow the same instructions listed below.
To remove Gorilla Glue from hands or wood or to make a carpet glue remover, mix equal amounts of baking soda and the distilled vinegar in a glass bowl. Spread the vinegar paste over the Gorilla Glue and leave it to sit for an hour.
Come back after an hour with an old toothbrush or scrub brush and start scrubbing the glue until it lifts. Dampen a cloth with clean water and remove the paste remnants and remove sticker residue from wood, so the surface is clean.
This simple remedy is also effective if you need to remove Gorilla Glue from glass surfaces, too, as well as to remove Gorilla Glue from plastic.
Goo Gone
Goo Gone is one of our favorite products for fixing all types of sticky situations. Goo Gone is most often used for removing sticker and tape adhesive that is left behind, but it also has properties that fight to lift glue from various surfaces.
Pour some Goo Gone over the glue that you're trying to remove. Let the product sit for 20 minutes to half an hour to loosen the glue from the wood. Dampen a cloth with hot water and use your arm muscles to start vigorously scrubbing the area.
If the bond refuses to lift, try using a super fine-grit steel wool pad to buff away the glue. Repeat this method as often as necessary until you're able to raise all the glue from the object.
How to use Nitromethane
Nitromethane is a component that is designed specifically for removing glue. This debonding agent is sold at hobby shops and craft stores.
Nitromethane is one of the most potent products to use against Gorilla Glue. After all, strong glues often need strong agents to work against them.
Always read the directions and safety labels on products before using them. Use only small amounts at a time and put the nitromethane on the hardened glue.
Let the glue sit for ten minutes before using a wet rag to rub at the spot, whether you are removing Gorilla Glue or are trying to get wood paneling glue off plaster walls. Most of the adhesive should lift. Repeat once more if necessary.
Homemade Remover for Gorilla Glue
When you combine an acid with oil, you are using two powerful agents to work against a hardened bond. The acid from lemon juice or vinegar is potent and helps break down the glue makeup. It's also ideal to remove Sharpie stains from wooden surfaces.
The fat found in oils penetrates the glue and works to loosen it from the inside out. When you combine both these things with hot water, you make your fight to get Gorilla Glue off wood even stronger.
To remove Gorilla Glue from metal or wood, dunk a clean cloth into a bowl of very hot water and wring it out so it's damp. Set the damp cloth over the glue spot and let it sit so the heat starts to loosen the glue.
While the cloth sits, mix a splash of vegetable oil or other oil into a bowl with a squeeze of lemon juice or vinegar.
Remove the cloth, pour some of the acid and oil over the glue stain, and let it sit for ten minutes. Dampen the fabric again in hot water and use it to rub away the glue.
This remedy is also what takes Gorilla Glue off skin if you accidentally get some on your fingers.
Put the oil and vinegar or lemon juice mixture in a spray bottle as a natural wood cleaner spray that eliminates stains and leaves the wood clean and shiny.
Gorilla Glue is a great product when we need to fix something in a hurry. It is strong and durable when we need it to be, but that also makes it a pain to remove when we make a mistake.
Getting Gorilla Glue off wood is a challenging task, but that doesn't make it impossible. Many household items work in our favor and make removing Gorilla Glue from wood surfaces much easier.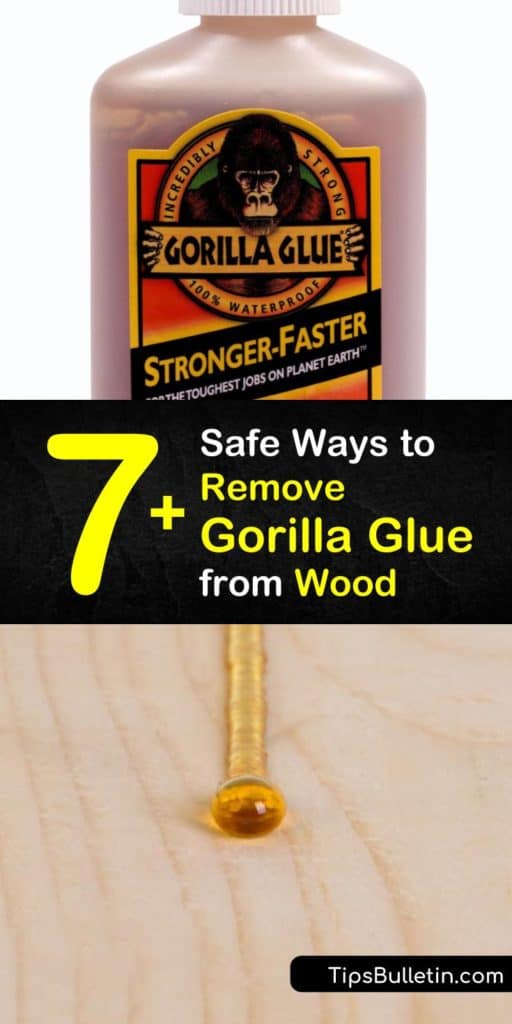 If you fixed your mistakes by learning how to remove Gorilla Glue from wood, share these ideas for getting Gorilla Glue off wood surfaces on Facebook and Pinterest.