Unfortunately, grease and oil stains are a common sight on the garage floor and concrete driveway. Concrete stains can occur from oil spills, leaks, and other mechanical mishaps. If you've ever wondered how to remove grease stains from concrete, you've come to the right place.
There are a few essential tips to remember when you need to remove oil stains and remove grease from concrete. The first step is to use an absorbent to soak up the excess grease. Follow this with a good scrubbing using a degreaser. Finish up with a proper rinsing of the whole area to get oil stains out of concrete.
While these stubborn stains can be unsightly, they are not impossible to remove. With the right cleaning solutions and knowledge, you can remove those oil stains, grease stains, and even rust stains from any concrete surface. Here are five of our favorite grease cleaning methods.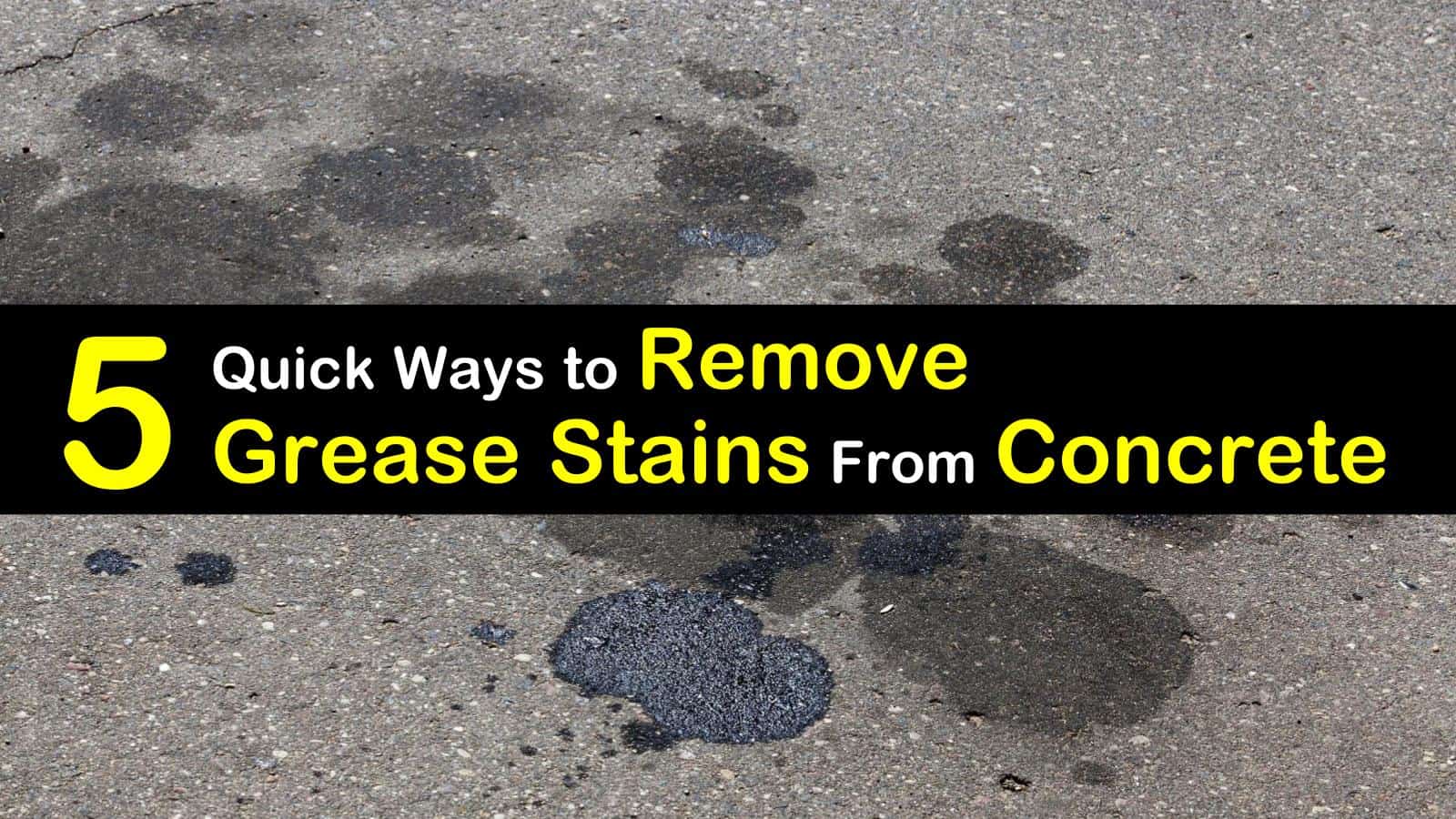 Get Rid of Grease Stains on Concrete
No one wants to have an ugly grease stain on the driveway or in the garage. Remove oil stains from driveway or other areas with some basic supplies you probably already have in stock. It's always a good idea to try the most straightforward method and least time consuming one first. If that doesn't get the job done, go on to the next recipe until you find one that works best for you.
Removing Grease Stains Using Baking Soda
Baking soda has so many uses that it comes as no surprise that it is also how to remove grease stains from concrete. It acts as both an absorbent and cleanser. This process is also useful when you need to know how to get rust off concrete.
To make an easy cement floor cleaner, apply a thick coating of the baking soda to the stained area of the concrete floor and let sit for approximately 30 minutes. Wet the scrub brush with warm water and apply a few squirts of the soap to the bristles.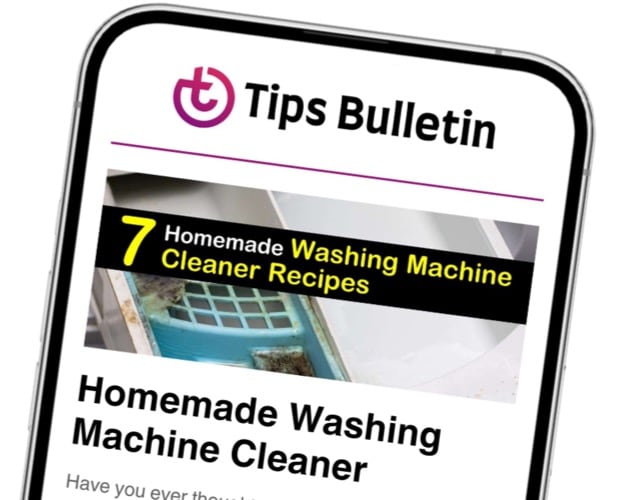 Finally, an email that Transforms Your Home.
Get the latest home and garden tips from our experts, delivered straight to your inbox.
Use the soapy brush to scrub the baking soda into the stain until the stain is gone. Give the area a good rinsing and allow it to dry.
How to Remove Old Oil and Grease Stains
This method uses trisodium phosphate (TSP) to absorb grease stains and clean a concrete basement floor. It's an inorganic compound that produces an alkaline solution when mixed with water.
TSP works well as a degreaser, cleaning agent, and stain remover. The following is an overnight process so you'll want to pick an appropriate time to complete it.
This method works best when there is no rain in the forecast. Dissolve the trisodium phosphate into the water in a bucket. Add enough sawdust to the solution to make a pasty consistency similar to peanut butter.
Spread the poultice over the entire stain and let sit overnight. Use an old broom to sweep away the dried remains. Repeat if necessary.
How to Get Grease Off Concrete
This method shows you how to get grease off concrete using soda pop. No joke. While it may seem a bit odd, this process works quite well and can even get grease off concrete driveway. Be prepared to use some good old fashioned elbow grease during this process.
Pour a thin layer of the kitty litter over the oil & grease stain and use the bottom of your shoes to grind the litter into the stain. You may want to wear old shoes for this. Sweep up the cat litter and dispose of it as you would any other hazardous material.
Pour the soda over the stain and work the area with the stiff brush. Do not allow the area to dry. Allow the soda to sit for about 20 minutes, adding more cola if needed to keep the area wet.
Rinse off the soda with a garden hose. You should see a gray spot where the grease once sat.
Mix the bleach, ammonia-free detergent, and hot water in a large bucket. Use the stiff bristles of the brush to scrub the stained area with the solution until the stain is gone. Rinse the concrete with clean water.
Removing Grease Using Vinegar
You've discovered grease on concrete, and you want an easy way to get rid of it. The following solution is pretty simple and requires only a small amount of elbow grease. This homemade concrete cleaner with vinegar is an excellent alternative to commercial cleaning products.
Absorb as much oil and grease as you can using sawdust. Mix all of the ingredients into a large bucket. Scoop the solution onto the stain and use the brush to scrub the mixture in well.
Rinse the area thoroughly with water. Repeat the process until the stain is gone.
How to Remove Cooking Grease from Concrete
This poultice remedy shows you how to remove cooking grease from concrete using baking soda. By adding another key ingredient, you will be able to remove grease from the concrete with ease.
Combine enough acetone and baking soda until it forms a pasty substance. Spread the mixture onto the stain and cover with a sheet of plastic, taping the sides down firmly. Allow it to sit for 24 hours.
Remove the plastic to allow the poultice to air dry. Once completely dried, sweep the area to clean grease off the concrete garage floor.
Instead of running out and purchasing a pressure washer detergent, why not try a DIY stain removal method? You have many of the ingredients sitting in your home, after all. All you need is an absorbent such as cat litter or sawdust, a few natural cleaning additives such as baking soda, vinegar, and soap, and a good scrub brush.
You no longer need to give that grease stain the ugly eye each time you pass it on the way to your car. Removing grease and oil stains doesn't have to be a chore once you know how to do it.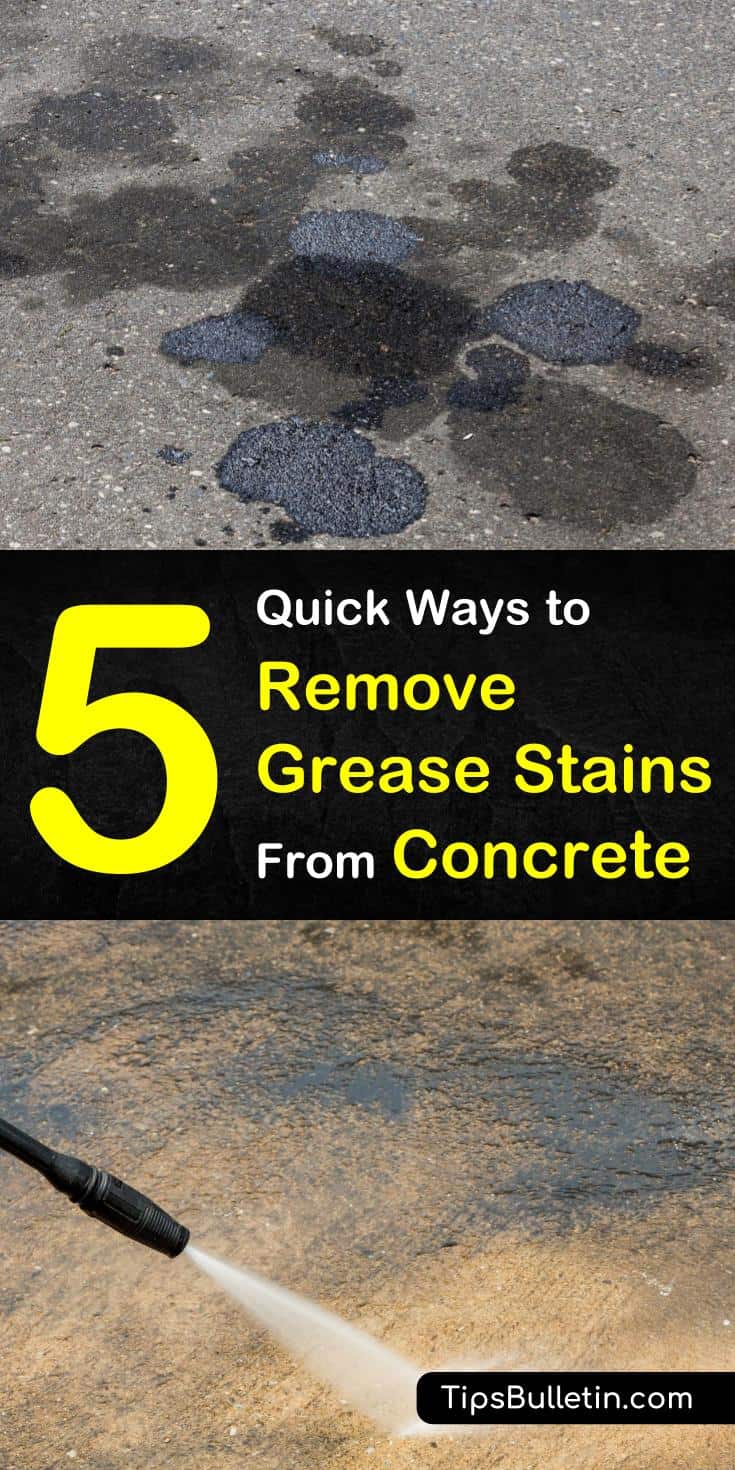 Now that you know the ins and outs of how to remove grease stains from concrete, why not share them on Facebook with your friends and family?