You work so hard keeping your new deck clean of debris and dirt, following all of the recommended deck maintenance procedures, yet you've just discovered that your wood deck has areas of green mold. This can be quite discouraging after all your hard work, but the problem can be easily solved. We'll show you how to remove green mold from a wood deck using a few simple methods.
Green mold is similar to green algae and is a common problem on the deck. It is a type of fungi that forms on wood after exposure to moisture and commonly happens in shade. Green mold can cause health problems in people and animals, so it should be taken care of as soon as possible with the proper cleaning process.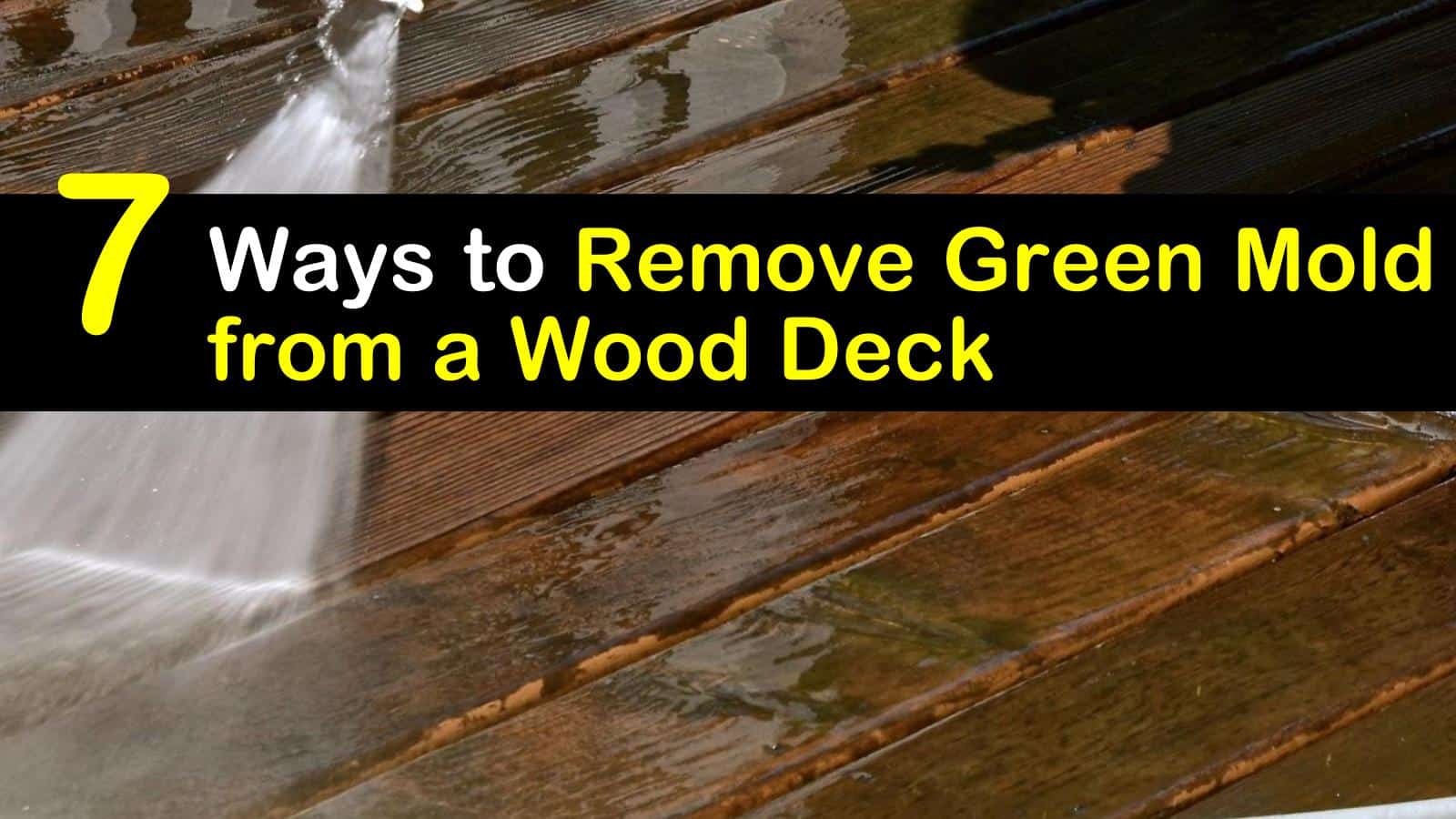 Get Rid of Green Mold from a Wood Deck
Before you consider replacing your hardwood deck with a composite deck that is resistant to mold, try a few of our simple methods for removing green mold off your deck. To remove mold, mildew, and grime from wood decking, you only need a few ingredients, the right tools, and some elbow grease.
If you are sealing a deck for the first time, it's important that it is completely clean. Get rid of any stains and dirt and debris before staining or sealing.
Homemade Deck Mold Remover
You can use a homemade deck mold remover to clean the entire deck or just the areas that are affected by green mold. This basic recipe to clean mold off wood like decks and railings is one of the easiest to make and use and it's very inexpensive.
Begin by sweeping the deck to remove dirt and debris. Move any furniture that is in the areas that will be cleaned. Combine the water and detergent in a bucket and use the scrub brush to scrub the areas of the deck affected by green mold. After the mold has been removed, use a garden hose to rinse the deck surface.
Removing Mildew from Wooden Deck
Oxygen bleach is a compound of hydrogen peroxide and natural soda crystals and is commonly used in many cleaning products. It is a gentle alternative to chlorine bleach and works well for removing mildew from wooden deck.
To make this simple DIY mold and mildew cleaner, mix just enough water and oxygen bleach in a bucket or plastic container to form a paste. Use a scrub brush to apply to the mixture directly onto the green mold stain and allow it to sit for about 20 minutes.
Use the brush to scrub away the loosened mold. Give the area a proper rinsing with a garden hose. If some of the stain remains, repeat treatment or try a different mold removal method.
How to Remove Green Mold from a Wooden Deck with Oxygen Bleach
For years, people have used chlorine bleach to clean their decks and for removing mold. While this is a useful measure for killing fungi, it can cause damage to the wood fibers. A safer alternative to chlorine bleach for mold cleaning is oxygen bleach. This homemade deck cleaner utilizes the strength of oxygen bleach, Borax, and soap to remove mold.
Sweep dirt and debris off the deck before you begin this method. Add the water, oxygen bleach, soap, and Borax into the bucket and mix the solution well until everything has dissolved. Apply the bleach solution by dipping the brush into the bucket and sloshing the mixture onto the wood.
Begin at the farthest side of the deck and work your way to the other as you scrub the deck surface. Re-wet the brush as needed. Allow the solution to sit on the decking for about 15 minutes and rinse the entire surface using a garden hose. You may opt to follow this treatment with a deck brightener solution.
Removing Green Mold from a Deck with Vinegar
White vinegar works well as a deck mold and mildew remover. It is an acidic liquid that breaks down greasy residue and grime and can easily penetrate porous materials to kill mold down at its roots.
Make sure that you have swept the deck surface to remove debris before beginning the cleaning process. Begin by mixing equal parts white vinegar and water into a spray bottle.
You can either spray the entire deck surface or just the areas affected by green mold. Use a scrub brush or stiff-bristled broom to brush away the green mold. Finish up by rinsing the deck with a garden hose.
Use this simple mixture for removing mold from walls with vinegar or for any other area affected by the fungus, both indoors and out. Vinegar is highly effective at destroying mold spores and getting rid of this dangerous invader.
How to Eliminate Green Mold from a Deck with Baking Soda
Baking soda is a natural cleaning alternative to use instead of a cleaning product that contains harsh chemicals. It's a soluble powder that acts as a mild scouring agent to loosen and remove green mold.
Start by sweeping the decking to remove any dirt and debris. Combine the warm water and baking soda in a bucket and use a scrub brush to scrub moldy areas with the mixture. Finish by spraying the deck surface with clean water from a garden hose.
Cleaning Green Mold Off a Deck with Trisodium Phosphate
Trisodium phosphate, or TSP, is an inorganic compound that becomes an alkaline solution when combined with water. It's incredibly useful as a cleaning agent and works well to remove green mold from wood.
Give the deck a thorough sweep to remove all loose dirt. Cover nearby plants with a plastic tarp to protect them from the cleaning solution.
After putting on some protective gloves, mix the water and TSP in a bucket and use a brush with stiff bristles to scrub the mixture onto the decking. Scrub in the direction of the wood grain, and pay special attention to areas with green mold. When done, spray the entire surface area of the deck with a garden hose.
How to Remove Green Mold from a Deck with a Pressure Washer
A power or pressure washer is an ideal tool for cleaning the wood on your deck. However, there are some things you should know to prevent damaging the wood's surface while cleaning. The following method requires a detergent for pressure washer.
If you do not own a power washer, you can easily rent one for the day at many home improvement centers such as Home Depot. Begin by removing all furniture from the deck and sweep away any debris. Add the deck cleaner to the pressure washer per the manufacturer's instructions.
Begin at the farthest corner of the deck and start up the washer. Make sure you are using the soap dispensing nozzle, and use a sweeping motion to distribute the cleaner across the deck boards. Many people find that deck cleaning without a pressure washer is very labor-intensive, unless your deck is a small one.
Use a scrub brush to work the cleaning solution into moldy areas and corners. This method is also highly effective and the best way to clean black mold outdoors. A pressure washer is not usually practical when getting rid of black mold indoors.
Switch to the widest sprayer nozzle on the washer. Hold the nozzle two feet from the surface and move with the wood grain while using a sweeping motion as you move along the deck.
Finish up by giving the deck a thorough rinsing with clean water. After power washing the entire wood deck, you may want to apply a deck sealer if it hasn't already been done.
While green mold growing in the shady areas of your wood deck can be rather unsettling and unsightly, it can be cleaned away with ease if you use the right method. Washing your wood deck regularly with one of our cleaner recipes will also prevent that mold from coming back. Now that you know the tricks to remove mold from your wood deck, you may want to think about cleaning mold off vinyl siding, too.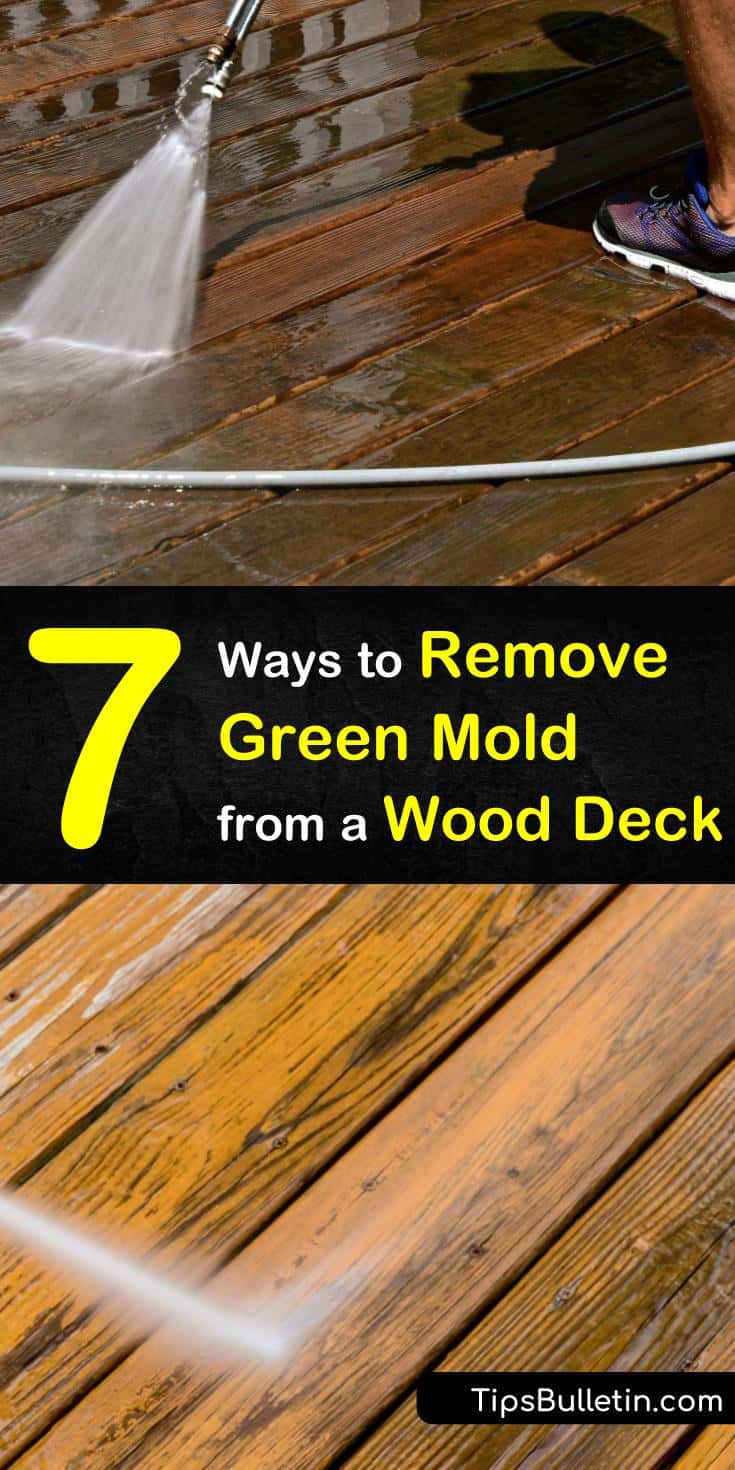 We hope you enjoyed learning how to remove green mold from a wood deck, and we'd love it if you shared these wood decking cleaning tips with your friends and family on Facebook and Pinterest.