If you are one of those DIYers who's not afraid to use some elbow grease, and you want to know how to remove grout from tile, keep reading. There are many reasons you might need to remove grout from tile. It can be old and worn out, you might need to replace one or more broken tiles, or you might have just finished regrouting only to find some excess grout smeared on the tile surface.
Often, the wet cloth you use to wipe away excess grout while you're working can leave a very fine grout residue over the surface of the tile. If you have a shower with wall tile and compromised grout, it can allow water to reach areas behind the wall, causing warping and rotting. In this case, remove all of the deteriorated grout and replace it before damage occurs.
Floor tiles in the kitchen and bathroom floor often develop cracks over time and need to be replaced. Once a single ceramic tile comes loose or breaks, the surrounding tiles usually follow. You also need to know how to remove the old broken ones as well as how to clean thinset off tile around them to prevent more from coming loose.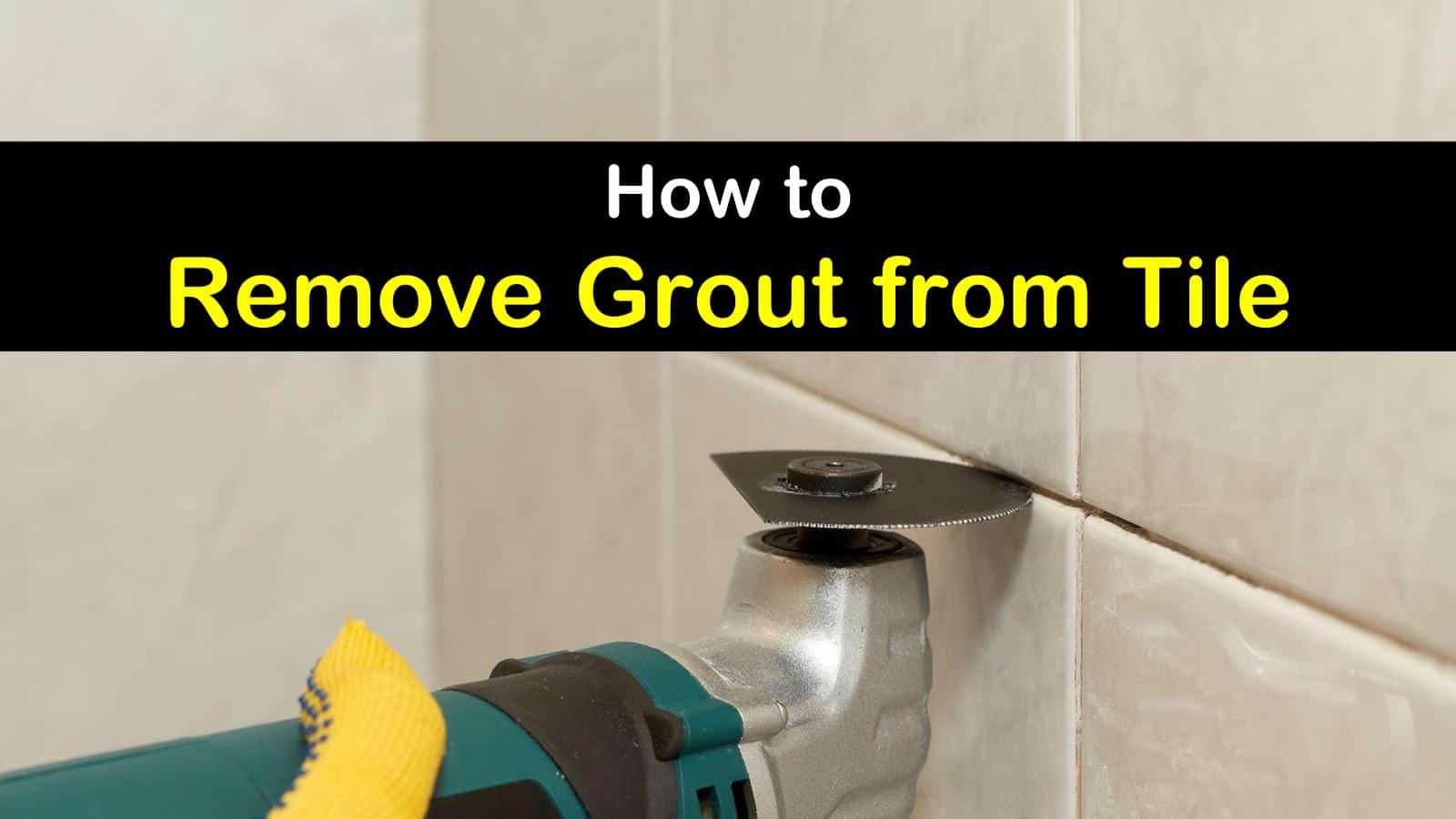 DIY Tips to Remove Grout from Tile
If you are tired of trying to remove hard water stains from tile and grout, you may just want to remove the tile and grout altogether or it may be easier to replace the nasty, stained grout with new.
How do you remove grout from between your tiles? It's not a difficult task but it can take time. We'll work our do it yourself project from easy to hard. It can be extremely time consuming removing grout from tiling.
Some of the work requires a lot of elbow grease, while some require a delicate touch. We're going to show you some tips to speed up the process and minimize the work. Let's get started by looking at the tools and other items we need.
Safety First
Before we learn how to remove grout from tile, we need to consider safety. Safety should always be the top priority when tackling any project. Eye protection is worn because chips can be sharp and lodge in the eye without safety glasses.
Dust and haze created can enter the lungs, especially if using a power tool for grout removal, so you need to wear a dust mask and ensure adequate ventilation when cleaning grout.
Knee pads will be your best friend if you are working with floor grout. Gloves will also come in handy if you are doing a lot of tile raking or using harsh chemicals.
Water and Steel Wool as a Tile Grout Cleaner
To remove a grout haze that has developed over your tiles and for the best way to clean bathroom grout, wipe the tile surface with a sponge and some warm water. Use fine wire steel wool to rub and dissolve the dry grout.
Use soft pressure and continue to keep everything wet with a damp cloth, so you do not inadvertently scuff the tile surface. Polish the tiles with a dry cloth once they are clean. Use this haze remover on floor and wall tiles in the kitchen, bathroom, or other area of your home that has grout and tile.
It's necessary to use a lubricant to prevent damage to the tile while rubbing and scraping with fine wire steel wool or other objects. Water is not the best lubricant, but it is safe for your tile and makes a very good tile grout cleaner.
How to Remove Dry Grout from Tiles with Sugar Water
If water and fine wire steel wool are not enough, we recommend trying sugar water next to help dissolve the old grout, whether it's on the walls of your shower or for cleaning tile floors in the bathroom or laundry room. Although this may seem like an unusual grout removal tool, it really works.
Mix the water and sugar and sponge the sugar water onto the grout you need to remove. Let sit for about one hour. Keep the grout joint and tile surface wet during this time with more sugar water as needed.
Once the grout has had time to soak, rub the old grout with fine wire steel wool like you did in the last step, using more sugar water as a lubricant.
Vinegar as a Way to Get Grout Off Tiles
Vinegar is a light acid that can help with the removal of dried grout, but there is some care needed. First, you need to test it on small areas to be sure the vinegar will not damage them.Use vinegar as a lubricant in place of water but keep plenty of water on hand to quickly rinse away the vinegar as you move along.
You do not want to let the vinegar sit on the tile. A diluted solution of vinegar and water is one way to clean a bathroom tile from excess grout and to get it looking shiny again. Rinse completely when clean.
Cleaning Grout Off Tile with Patio or Brick Cleaner
If that doesn't do the job for you, the next thing to try is a patio or brick cleaner which makes a perfect heavy-duty tile cleaner. These will be much better at dissolving the grout because these cleaners are acid-based, but that also means you cannot forget your safety glasses and rubber gloves.
Take special care to rinse the cleaning product properly once you have completed your work. Test these powerful cleaners in an out of the way piece of tile to make sure the cleaning agent is not too acidic for the tile surface. Some products can stain and even etch certain types of tile.
Once you are sure that the patio or brick cleaner will not damage your tile, continuously apply the product to the tile surface with a damp rag soaked in the product while scrubbing with thin wire steel-wool. Clean up and rinse thoroughly. Let air dry before polishing with a dry cloth.
When renovating a room with tile, this cleaner can also be used for getting tile adhesive off walls after removing old tiles and grout from the wall.
More Tips for Removing Old Dry Grout from Tiles
Acid-based cleaners are a perfect way to clean dried grout from porcelain tile because its hardness will resist staining and damage. You can easily use a DIY porcelain cleaning solution to get the tiles clean if needed. The downside to porcelain tile is that its hardness can cause it to be brittle and crack when used to build a tile floor. Stone tiles are best for flooring, as they can withstand a lot more abuse.
Standard grout can absorb water, which means it can stain over time. Consider using an epoxy grout which will not absorb water or stain when you redo your grouting.
If rubbing the area with fine wire steel wool is not enough, you need to start scraping the excess grout away with a tool and plenty of elbow grease.
There is no perfect tool for removing dried grout, so we recommend trying these next few tips in order.
Nylon Scouring Pad
A scouring pad is more abrasive than a sponge and is a perfect grout remover. It is available in different grades, so use the finest grade first and work your way up to make sure you don't leave any scuffs behind.
Razor Scraper or Blade
A razor blade is an excellent tool for removing old dry grout from tiles. The edge can move across a smooth tile surface removing grout without damaging the tile.
It's easier if the blade is built into a scraper similar to a window scraper because the handle is much more comfortable to control. This method is likely to leave behind scuff marks, but these can be easily buffed out with a soft cloth.
Wood
Wood makes a fantastic grout remover because it's hard enough to remove the grout but soft enough that it does not damage the tile. Use an old flat piece of wood like the end of a two-by-four and slide it across the tile, scraping the grout away.
Metal Scraper
Other than the razor blade, metal tools are generally discouraged for use on the tile as they can quickly leave marks and damage it. If you have no other tools, you might try a sharp chisel at a very acute angle that's almost lying against the tile and tap lightly and carefully with a soft hammer to remove the grout. A grout saw is the exception for metal tools as this one is for the grout lines and is perfect for removing too much grout.
Power Tools
Finally, if all else fails, it is time to break out the power tools. An oscillating tool or rotary sander like the Dremel multi-tool has many different tips designed for sanding small areas that are perfect for removing old dry grout from tiles.
You will need eye protection and a dust mask, but if you have a rotary tool, you can carefully remove dried grout much quicker and much more efficiently than you can with any of the other methods.
Even More Tips
When removing grout, never use a right-angle, instead, always try to "shave" any excess grout off to avoid cracking the tile.
If you are eliminating or replacing tiles, make sure you can tell the difference between mildew and mold so you can spot any potentially dangerous mold behind the tiles. Always remove mold from the shower before getting rid of old grout so that it doesn't get into your eyes, nose, or mouth when using grout removal tools.
If the grout is stained but not very old, use a grout saw to shave off the top layer, exposing the clean grout below.
After taking out the grout, use a shop vac for removing tile dust from walls and floors before adding new grout.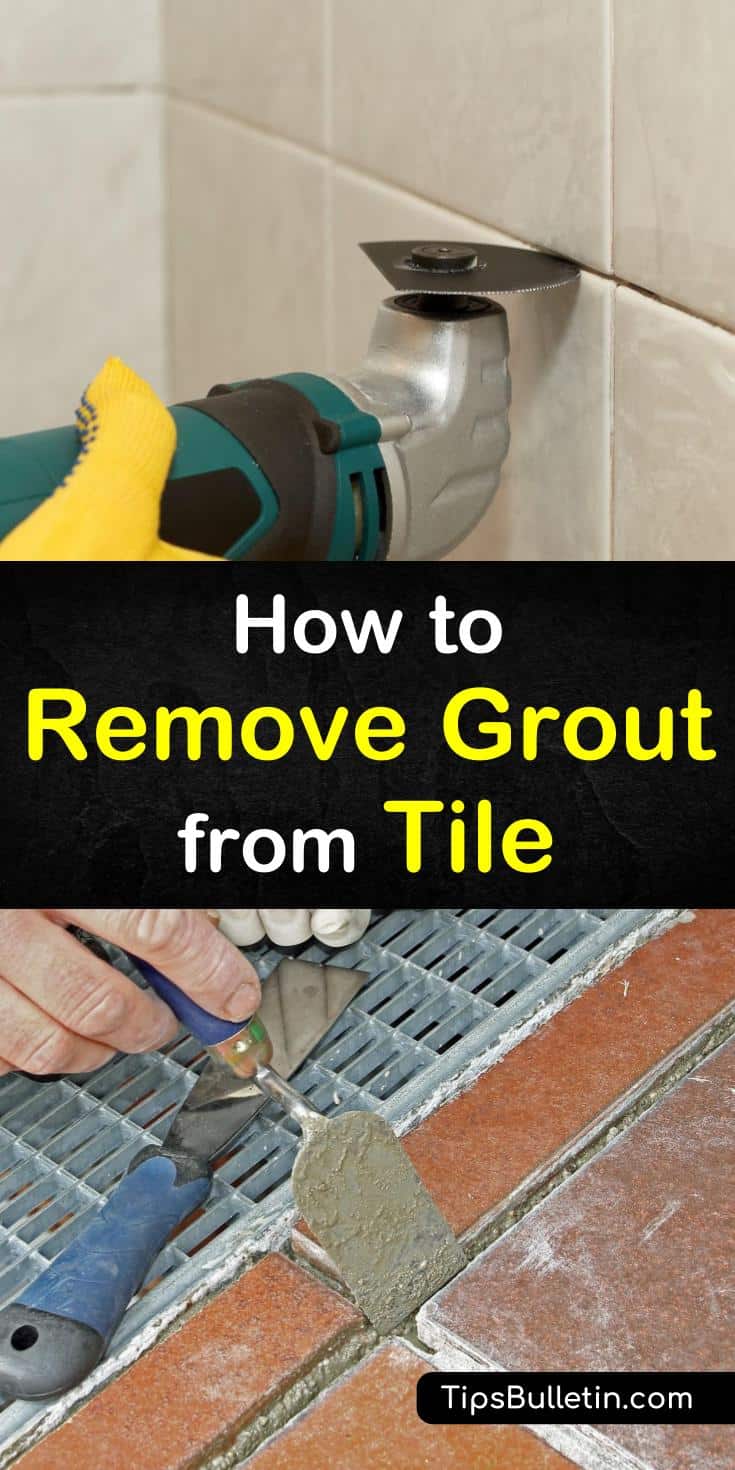 We hope that you enjoyed our article and we hope it saves you money on installers and allows you to do it yourself. There's no easy way to remove old grout, but if you follow these steps, use plenty of elbow grease and patience, you should be able to get your tiles looking nice.
If you learned how to remove grout from tile because of this guide, please share the information about tile grout removal on Pinterest and Facebook.