The dreaded moment when you open the clothes dryer to discover that you forgot to clean out the pockets of your jeans is something none of us wants to experience. Not only is gum stuck to clothing, but now it's smeared on the inside of the dryer. Learn how to remove gum from a dryer using several different applications and techniques.
Old gum is a sticky mess that causes many problems when not discarded properly. It gets stuck in hair, the bottoms of shoes, and even on the inside of the dryer. Leaving the gum attached to the dryer is not an option.
You take the risk of ruining the next load of laundry as the dryer heats the gum residue. Unfortunately, standing with your hands on your hips while scowling at the lint covered gum on the dryer drum doesn't remove its ugly stickiness.
Rest assured, there are many ways to remove chewing gum from inside of the dryer and washing machine. All you need are a few unusual items and a little elbow grease.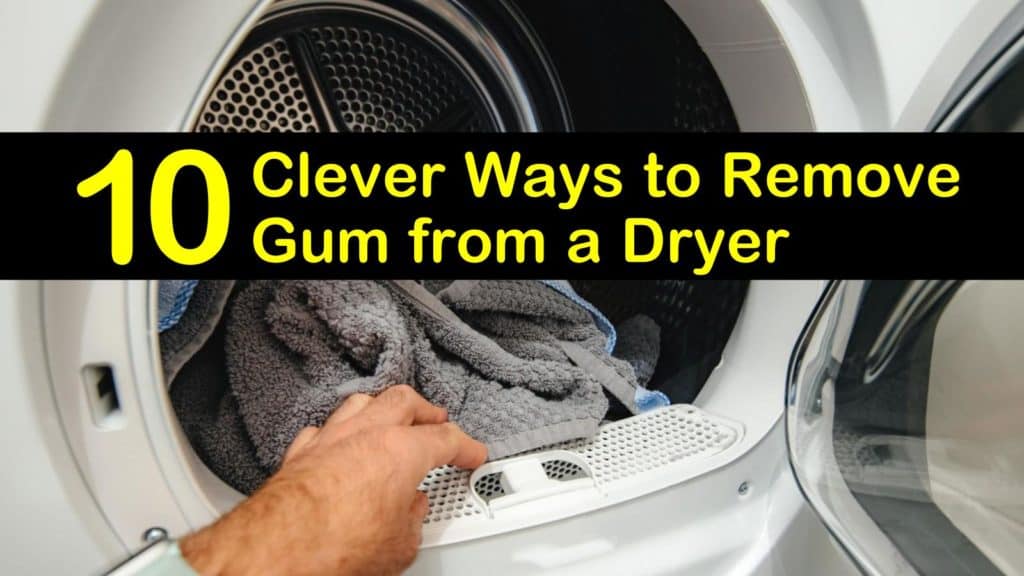 Simple Ways to Get Gum Out of a Dryer
Gum is removed by applying cold or heat and some unique cleaning solutions. Here are several easy ways to remove chewing gum from the inside of your dryer.
How to Remove Gum from a Dryer with an Ice Cube
One of the most effective ways to get gum out of a dryer or to remove glue from metal is to freeze it. When it is cold, it is easier to scrape away from surfaces without leaving behind a sticky mess. Ice is also a great tool to remove gum from clothes.
Place an ice cube into a Ziplock back and seal it. Rub the ice over the gum surface until it hardens. Use a plastic spatula or scraper to lift the gum from the dryer drum surface.
Use only plastic to remove chewing gum and do not apply too much force to prevent damaging the metal surface. Moisten a rag with white vinegar and use it to wipe away any remaining gum residue. If the gum persists, repeat the process.
This simple technique is also great for getting gum off car seat surfaces and almost every other kind of material, as well. Try a bag of ice cubes to remove slime from clothes or carpeting or even the living room sofa. Ice has another beneficial use other than making your drinks cold!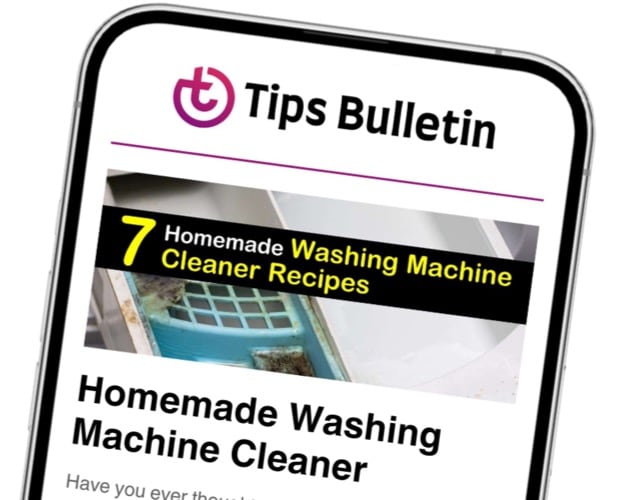 Finally, an email that Transforms Your Home.
Get the latest home and garden tips from our experts, delivered straight to your inbox.
Clean Gum Out of a Dryer with Natural Oil
An easy way to remove chewing gum from hard surfaces is to use a lubricant to loosen its stickiness. For small sticky patches, try using cooking spray to clean gum out of a dryer.
Spray the cooking spray directly onto the gum and allow it to sit for several minutes to loosen the sticky gunk. If you do not have a spraying oil, apply a small amount of bottled canola oil. Peanut butter also works well at removing the gum. Use rags or old towels to clean up the gum.
If it is stubborn, try using a plastic knife to pry the gum up gently. Reapply the oil and give the area another scrubbing to ensure that it is all gone. Get an old rag damp with warm water, wipe the area clean, and dry with a paper towel.
Removing Gum from the Dryer with a Hair Dryer
Since heat was the main culprit that caused the gum to melt and stick to the inside of your dryer in the first place, it is also useful for removing the sticky gunk.
Hold the hairdryer about five inches away from the gum and heat it in 15-second intervals. Check the chewing gum in between heating to see if it is soft and pliable. Position the plastic utensil beneath the outer edge of the melted gum and pry it up gently.
Make sure to use gentle force to prevent scratching the metal surface. After you remove the gum, apply some white vinegar to a rag and use it to wipe the surface of the drum clean.
Remove Gum from the Clothes Dryer with Dryer Sheets
Removing static from your clothing is not the only thing a dryer sheet is capable of doing. It's also a useful tool for eliminating sticky gum from the dryer. The softening agents help to loosen its stickiness, making it easier to remove.
Dampen the dryer sheet with warm water and gently press it onto the surface of the gum to make it stick. If the dryer sheet refuses to adhere, hold it in place with your hand.
Leave the dryer sheets in place for 15 minutes while they loosen the gum from the dryer. Use the fabric softener sheet to rub the gum off the metal. If some gum remains, repeat the process.
Using a dryer sheet can also be helpful if you need to clean crayon out of a dryer drum. Rub the mark in the same way you do with gum.
Clean Gum Residue Out of the Dryer with a Detergent Paste
Unfortunately, some techniques to remove gum doesn't get rid of it all. Use a detergent paste to clean away leftover sticky gum from the inside of your dryer.
Pour the powdered laundry detergent into a small bowl or container and add a minimal amount of warm water. The aim is to get a thick paste substance rather than a liquid one.
Dip a rag into the mixture and use it to rub away gum from the drum surface. Use a clean, wet rag to remove the detergent paste. Place damp cloths into the dryer and run a cycle to remove any leftover gum and soap.
This recipe can also be helpful to get ink stains out of a dryer. If the detergent doesn't work as well as you'd like, you can also try a little rubbing alcohol.
Remove Gum from the Dryer with WD-40
To remove a stubborn chunk of chewing gum from your dryer drum, try using WD-40. This lubricant contains mild chemicals that loosen and eat away materials like gum and crayon for easy removal.
Spray some WD-40 onto a rag and rub the damp cloth over the gum for a few minutes to loosen it. Use the same rag to apply a small amount of pressure as you rub the chewing gum up from the surface of the dryer. Apply more WD-40 if needed, and continue cleaning the area until it is gone.
Get a clean rag wet and apply a few drops of dish detergent to it. Use the soapy rag to clean away gum and oil. Toss some damp cloths or old towels into the dryer and run a cycle to remove any leftover gum from the drum to prevent it from staining clean clothes.
Use Liquid Fabric Softener to Remove Gum from the Dryer
Liquid fabric softener is one of the many household items that are useful for removing gum from hard surfaces. Since it's already sitting in your laundry room, it's also one of the most convenient.
Apply a small amount of liquid fabric softener to a rag and rub it onto the gum for a few minutes. Use a plastic spatula to pry the softened gum away from the metal surface of the drum.
Use the fabric softener rag to wipe away any gum that is left behind. Use a clean cloth to clean the area with white vinegar.
Clean Away Leftover Gum with Baking Soda and Vinegar
Use the combination of white vinegar and baking soda to remove gum from the dryer or to remove adhesive from fabric. The chemical reaction that occurs between the vinegar and sodium bicarbonate breaks up and loosens the hold gum and other sticky substances have on hard surfaces.
Rotate the drum so that the gum is on the bottom and pour a small amount of white vinegar onto the sticky surface. Sprinkle some baking soda on the top and watch as the two begin to bubble and fizz. Scrub the spot with an old toothbrush and use a rag to wipe away the gum and clean the area with damp cloths.
Baking soda and vinegar are also great tools to use to get grease out of clothes after drying them. Sometimes you don't notice a grease stain until you are folding "clean" clothes. Make a paste of baking soda and vinegar and use a toothbrush to gently scrub the oily stain. Re-wash.
Use Goo Gone to Remove Gum from the Dryer
Goo Gone is a chemical degreasing agent that is useful at removing sticky substances from hard surfaces. Try using this product as a last resort to remove gum from your dryer.
Apply some Goo Gone to a rag and rub the rag over the gummed area, so it soaks into the sticky substance. Use a clean area of the cloth to wipe away loosened gum. Continue re-wetting and scrubbing until the gum is gone.
Get a clean rag wet with water and add a drop of laundry soap. Use the cloth to wipe away the leftover gum and chemicals. Toss a bunch of damp rags into the dryer and run a complete cycle to remove any residual cleaning material.
Cleaning Gum Residue in the Dryer with Rubbing Alcohol
Rubbing alcohol is a useful liquid for removing gunk from the dryer drum such as gum and melted crayon. It breaks down the polymers in gum, which is what causes it to be sticky in the first place.
Pour some rubbing alcohol on a cotton ball and hold it on the gum surface for about 30 seconds. Remove the cotton ball and secure a piece of duct tape to the gum. Pull the tape, along with the gum, up and away.
Now that you've tackled gum removal, it's a good time to take care of cleaning dryer vents. Although this isn't a task that needs to be done every week, it's important to remove built-up lint from the vents to prevent a fire. Complete this job every few months or so to ensure a safely operating dryer.
Since you've given so much attention to the dryer, you may as well make your own washing machine cleaner and sanitize that appliance, too. Washing your clothes isn't enough to clean the washing machine. It needs cleaning periodically, as well.
Performing home improvement chores such as cleaning away sticky gum from the inside of your clothes dryer is not how you want to spend your afternoon. Fortunately, using a few simple items around the house, such as an ice cube, spatula, dryer sheet, or white vinegar, make the job of gum removal quick and painless.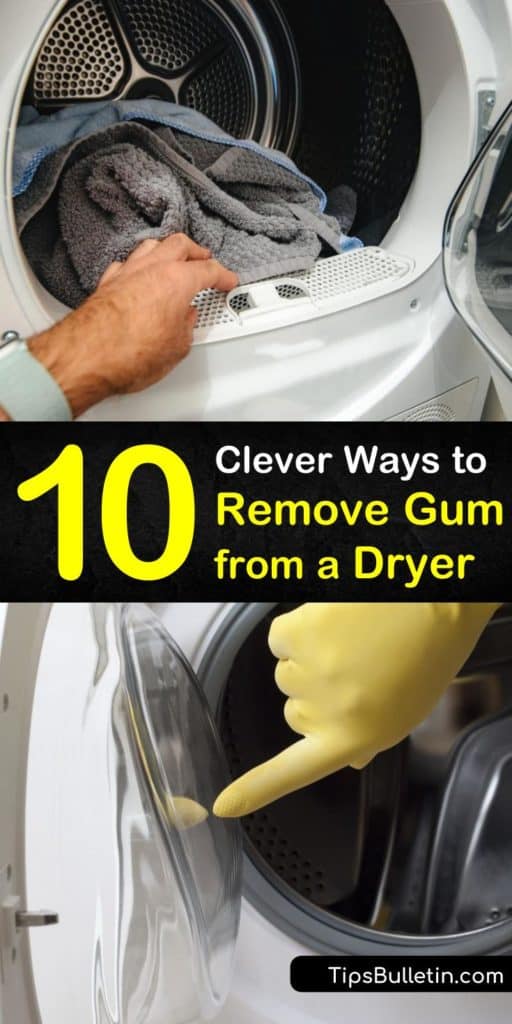 We're glad that we could show you how to remove gum from a dryer using simple techniques, and we'd love it if you'd share our gum removal tips with your family and friends on Facebook and Pinterest.