Applying hair dye is messy work; even with protective gloves and the right tools – it's possible to find stray dye splatters around your house. Between the application, washing, and disposal of dye materials, there are many chances for hair color to stain the wood in your house. Discover cleaning tips on how to remove hair dye from wood with our help.
The chemicals used in hair dyes quickly change the color of hair follicles and may discolor wooden surfaces. Commercial hair dyes come in various colors, making noticeable stains on wood floors if accidentally spilled. Most fresh dye stains are easy to remove with a damp cloth; however, they may leave a stain behind as they dry.
Protecting your home from dye stains begins with prevention. Covering surfaces with plastic wrap is the easiest way to prevent the wood from being stained by spilled dye. It allows you to avoid any struggle in removing dye stains from wood.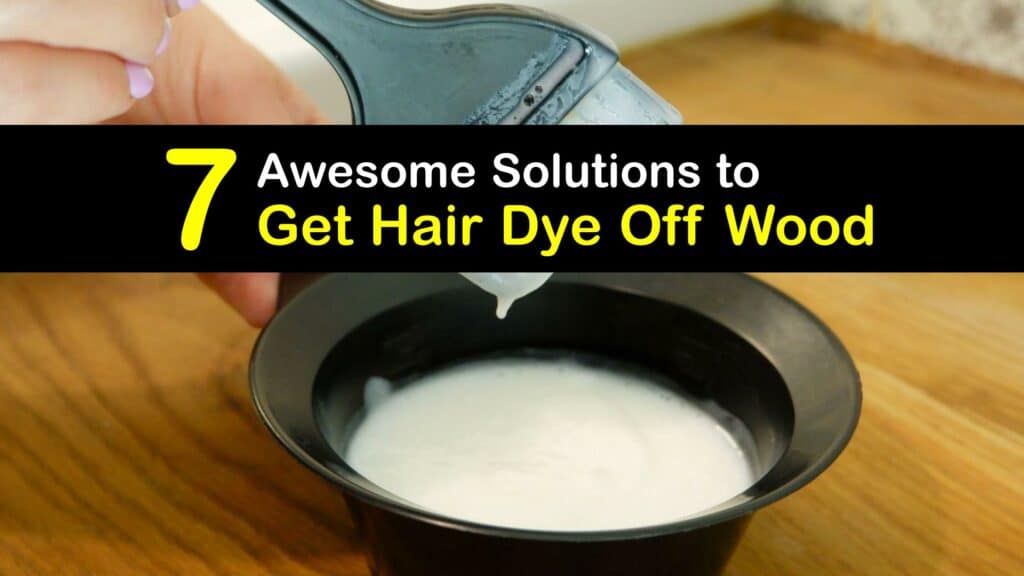 How to Get Hair Dye Off Wood
Cleaning hair dye stains from wood doesn't have to be stressful with the right supplies found around your home. Baking soda is one of the most valuable items in your cabinet for lifting stains from wooden surfaces. Continue reading for tips on removing hair color stains from wood.
After you remove the stain, whether from a table or the floor, you want a fresh surface. Make wood floors shine naturally (or your table) with a light coat of lemon oil.
Use Vinegar for Permanent Hair Dye Stains
When cleaning a stain or build-up, baking soda is a powerful cleaner thanks to its ability to lift colors out of most surfaces. The acidic properties of vinegar also benefit cleaning jobs because vinegar assists with breaking down stains.
Stir the cleaning ingredients together in a container until they form a paste. Smear the paste on the stain with a clean cloth, rubbing until the color lifts from the wood. Once the dye is gone, use a damp cloth with warm water to wipe the area.
Remove Hair Dye Stains From Wood With Dish Soap
Liquid dish soap is a gentle cleaning option when removing hair dye from wood or on your skin. Dish soap is also mild enough not to damage wood or any painted surfaces when cleaning them.
Stir one tablespoon of dish soap into two cups of warm water to use liquid dish soap as a stain remover, whether you are removing black dye from skin or a table. Wet a rag with this soapy solution and gently scrub the stained area to clean away the dye stain when getting hair dye off wood floors. Add baking soda to the water if the color struggles to come away from the wood.
If you are trying to remove old wax stains from painted wood, scrape off the excess and use soap and water for the rest.
Using Detergent to Remove Hair Colour Stains
Baking soda and laundry detergent make a simple cleaner for getting hair dye stains off wood. Store-bought detergent comes formulated with stain-fighting ingredients that make cleaning stains out of fabric easy; these ingredients help with removing hair dye from wood.
Add water and baking soda to a bowl and mix well before adding detergent. Continue to mix until well combined. Use a cloth or sponge to press the mixture to the stained area. Rub at the wood stain with the sponge until the area is clean. Scrub the stain gently to avoid damaging or pressing the dye further into the wood.
Removing Hair Dye From Wood With Acetone
Removing the color is tricky without damaging the finish if you spilled hair dye on painted cabinets, especially when cleaning white wood cabinets because hair color easily stains white paint.
Acetone is a solvent used in industrial projects to thin paints and varnishes. It is also available in nail polish remover, making this product helpful in removing hair dye stains. To clean a dye stain from wooden cabinets or for removing Sharpie from wood surfaces, apply the nail polish remover to cotton and wipe gently at the stain until clean.
Clean Stubborn Stains With Hydrogen Peroxide
Hydrogen peroxide is a strong cleaner that is also helpful in disinfecting wounds. Because of its strength, hydrogen peroxide is not a typical cleaner for removing hair dye stains. Stubborn stains may require mixing hydrogen peroxide with baking soda.
The downside of using hydrogen peroxide when looking for tips on how to get hair dye off wood comes from the risk of damaging the wood. Hydrogen peroxide may also remove the color from painted walls.
Mix your cleaning supplies in equal parts in a bowl to make a paste. Apply the peroxide paste to the wood stain with an old cloth and gently blot the area clean. Use this remedy for getting food coloring off wooden kitchen counters, too. Work carefully and restrict use to the stain rather than the surrounding wood.
Note: Test on a hidden piece of wood first to avoid damaging a large portion of visible wood.
How to Remove Hair Dye From Wood
Like vinegar, lemon juice is easily obtained and valuable around the house for cleaning jobs thanks to its acidic properties. The acid naturally found in lemon juice is excellent for dissolving caked-on stains from spilled hair dye.
To remove hair dye stains from wood, wet a cotton ball with lemon juice and gently scrub at the stain until it comes away from the wood. Continue cleaning with new cotton balls until the color is gone.
Removing Dye Stains With Magic Erasers
Sponges like the Mr Clean Magic Eraser use melamine foam to make cleaning easy, and it's the best way to remove hair dye stains from wood. When wet, the foam works as an abrasive, like sandpaper, to scrub away stains and build-up.
Because of their texture, Magic Erasers are not meant for every surface and shouldn't be used on marble or granite. Follow package instructions by thoroughly wetting the Eraser before using it to clean away dried hair dye stains on wood floors and cabinets.
Can You Use Bleach to Clean Tough Stains From Dye?
Bleaching wood is a popular choice for changing the appearance of wooden furniture; however, DIYers achieve this by using peroxide-based bleach. Chlorine bleach used for laundry and disinfecting does not alter the natural color of wood, and is helpful when cleaning stains off the wood.
The downside to chlorine bleach is that it may damage some wood surfaces. To avoid this, use oxygen-bleach for removing dye stains.
To use bleach to remove dye stains, follow the bleach container recommendations for creating a safe bleach-to-water ratio. Put on gloves, then soak a rag in the diluted bleach before scrubbing wooden surfaces to clean them.
Dyeing your own hair is the perfect way to save money, but the process is messy. Although hair dye stains on wood surfaces are unsightly, cleaning stains off treated wood surfaces is straightforward with the right cleaning supplies. Avoiding all-purpose cleaners like Soft Scrub ensures you don't damage your wood while cleaning dye stains.
If you learned how to remove hair dye from wood with our help, please share our advice about how to get hair dye off wood with your friends on Facebook and Pinterest.