Even though you keep your vehicle clean and pristine, you never can seem to get rid of hard water spots and reclaim car glass to its clear condition. Knowing a few techniques for how to remove hard water stains from car windows is essential for the discerning car owner who aims to improve safety and enjoy a clearer view.
Do you look out of your car window and long for the clarity there once was before the hard water stains started forming?
An unpleasant texture and haziness that's hard to remove is the last thing you want marring the view from within your ride, especially along the tracks caused by windshield wipers. Amazingly, there are multiple simple ways to remedy the limescale situation in your car window.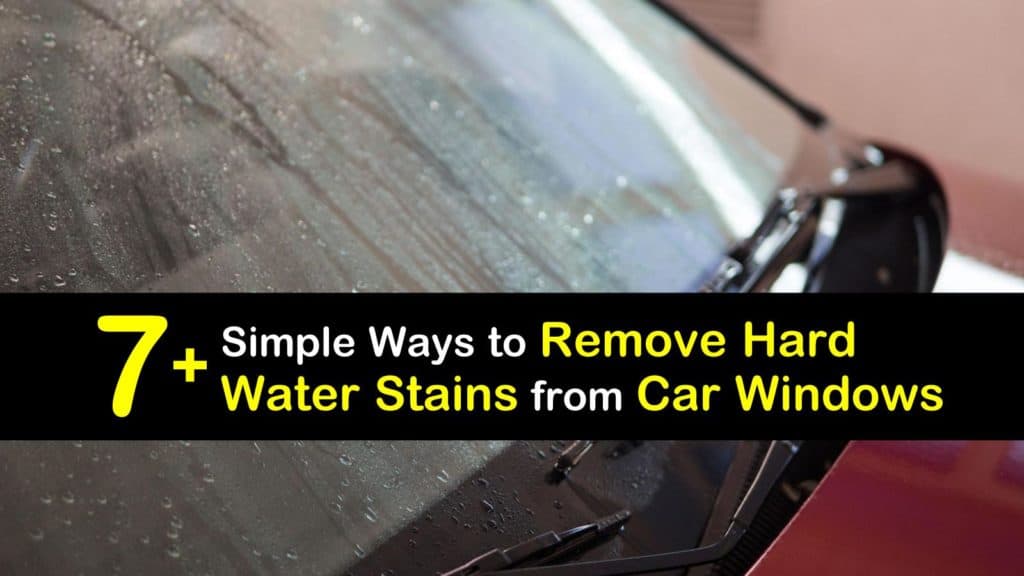 Get Hard Water Spots off Car Windows
Hard water has a high mineral content, such as soluble magnesium or calcium. After this water evaporates from car windows, it leaves hard water spots known as calcium deposits or lime scales – it is also common on glass shower doors.
If nothing is done about these stains, they merge with the glass surface texture, turning your car windows whitish. In essence, hard water marks are alkali and require a DIY car soap with acidic properties to get rid of.
Over time, hard water spots can leave behind a white glaze over windshields, car windows, and side mirrors and cause visibility issues. The tricks we show you will also work for other purposes, such as removing dried sap from car too.
How to Remove Hard Water Stains from Car Windows with Simple DIY Procedures
Removing the cloudy deposits doesn't involve costly chemicals, but auto glass cleaner solutions you can put together from your kitchen, bathroom, or laundry cleaner's cabinet.
Instead of taking your car for glass repair, follow these DIY solutions for removing water spots from glass for pristine looking windows.
Removing Hard Water Stains on Car Windows with Ammonia
One of the most effective cleaners around the household also deserves a spot to remove hard water stains from car windows.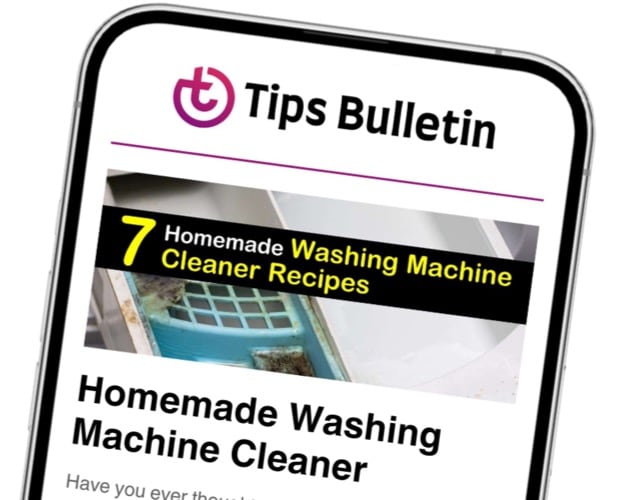 Finally, an email that Transforms Your Home.
Get the latest home and garden tips from our experts, delivered straight to your inbox.
As well as being used to unclog drains or in laundering clothes, ammonia is effective against mineral deposits on car glass surfaces.
Ensure that you are well protected from this powerful chemical's effects by wearing protective gear like gloves. Put on a face mask if you are working in an enclosed space such as inside your garage, or ensure ample ventilation.
To clean a windshield without streaks, put the ammonia and water solution into the spray bottle, spraying until the car window is soaked. Allow the mixture to sit for some time, and scrub gently with the soft-bristled brush.
Rinse the car window with water and use a squeegee to wipe down with a clean microfiber cloth.
Vinegar for Stained Car Windows
Vinegar is an excellent liquid window cleaner that is empowered with excellent stain removing powers. Due to its acetic acid component, vinegar is supercharged to deal with cleaning water stains off a motorhome ceiling or tackling hard water spots on your car window.
Other than its multipurpose home uses, including a food condiment, vinegar is a proven hard water stain remover. Clean the outside windshield with vinegar or tackle your shower doors and windows in your home.
Fill a spray bottle with your vinegar solution for removing hard water stains from car windows. For heavily discolored cases, take the cap sealant or spray head off and microwave the solution for approximately 20 seconds.
The solution strength is increased by the heat, cutting through your hard water stain quickly. After soaking the affected glass properly, leave the vinegar solution to sit for a couple of minutes.
Scrub the window with the soft brush until the hard water spots are gone. Use clean water to rinse and a microfiber towel to dry. If the desired results are not forthcoming, try using less water or none at all in your vinegar solution.
How to Remove Hard Water Stains on Car Windows with Lemon Juice
Citric and acetic acids plus essential oils are hard water stain combatants present in natural lemon juice. Get rid of calcium deposits or limescale from your car window with a homemade car window cleaner that acts as a water repellant and leaves your car smelling fresh.
Citrus lemon juice is an excellent choice for hard water spots on the window glass or cleaning the interior of your car.
Shake the solution in the bottle and spray the car window glass surface until thoroughly wet. Give it a couple of minutes to soak through before scrubbing softly to remove the stain.
Repeat until clarity returns to the affected car windows, and then rinse with clean water. Wipe the surface dry with your soft microfiber cloth.
Removing Hard Water Stains on Car Windows with Baking Soda
Another method involves the use of powdered sodium bicarbonate or baking soda to remove unseemly hard water stains from your car windows.
To make your baking soda hard water stain removing solution, take a bowl with three parts of the powder and add to a single portion of distilled water.
Put in a few drops of white vinegar to increase the solution's acidity for more stain cutting power. Apply a small amount of the baking soda solution to a cloth and spread onto your car window, starting with a small area to gauge effectiveness.
Let the paste sit for approximately 10 to 15 minutes, depending on limescale stubbornness. Rinse with clean water while wiping with a soft sponge, and dry using a clean microfiber cloth.
Get Hard Water Spots off Car Windows using Non-gel Toothpaste
Toothpaste has exceptional cleaning abilities for your teeth and against stubborn hard water stains and any scum that's formed on your car windows. Non-gel toothpaste has cutting power and is gentle enough to keep the auto glass looking clear.
Add a dab of vinegar or baking soda to your toothpaste, and test the solution on a few spots of limescale before proceeding with the entire window. A powerful stain removing toothpaste solution is aggressive against hard water spots.
Add the ingredients to the bottle and spray the mixture to combat even the most stubborn hard water spots. Apply a bit more toothpaste to a cloth to rub into tough stains, after you rinse the entire window before drying with a soft cloth.
You can also use gel toothpaste as a homemade tire cleaner for rims and wheels. The toothpaste works to remove hard water stains but won't scratch the chrome or steel.
Common Household Agents to Remove Hard Water Stains from Windows
Are you wondering how to get hard water spots off car windows with household agents? Here are some of the best home cleaners and simple techniques for how to remove hard water stains from car windows.
Dishwasher Rinsing Agents
Removing hard water stains from car window glass doesn't need to be a nightmare any longer. Standard dishwasher rinse solutions are specially formulated to remove limescale and hard water deposits from glass and work just as well on your vehicle.
As soon as you notice hard water stains starting to form, use Jet Dry or another dishwasher rinsing agent to eat away at the spots.
Add the liquid rinsing agent to a spray bottle and cover the entire glass window, letting it sit for a while to soak through. Rinse with clean water and use a paper towel to wipe dry.
Hydrogen Peroxide
This is yet another readily available cleaning chemical that's active against hard water stains on glass car windows. Hydrogen peroxide or rubbing alcohol confronts scum that may have accumulated on your vehicle's glass.
Use hydrogen peroxide directly by applying it onto a soft cloth and rubbing into the hard water stain build-up.
A solution supercharged with baking soda also goes a long way to clear car window glass of discoloration from hard water mineral deposits. Allow the solution to sit on the car glass for 20 to 30 minutes before rinsing with water and a mild car wash cleaner.
Commercial Hard Water Stain Cleaners for Car Windows
Of course, there are specially formulated glass cleaners on the market that simplify removing hard water stains from car windows.
These cleaning products are designed to loosen the mineral deposits with acidic ingredients, and some have caustic properties against tough limescale stains.
Where hard water spots have caused the glass to etch or have streaks, glass-polishing pastes and spray on polish will restore your window's surface texture.
Any remaining hard water mineral deposits can also be dealt with using a rubber eraser. Yes, you can use the same eraser that deletes pencil marks.
Have you enjoyed reading the article? These homemade solutions have worked for us after coming into contact with car washes or sprinklers that use hard water, and they will work for you, too.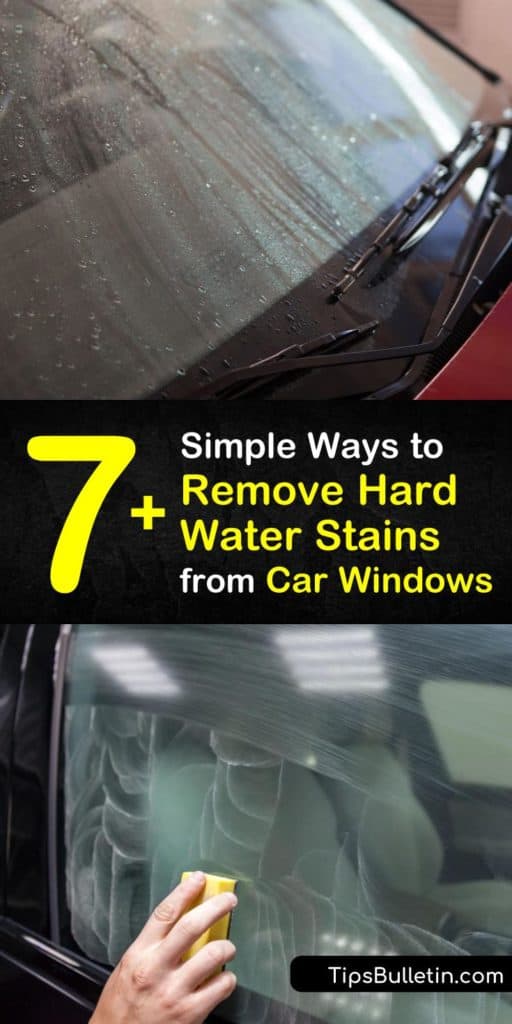 If you found this article on how to remove hard water stains on car windows helpful, please share these tips on removing hard water stains on car windows with your friends on Facebook and Pinterest.