Glass shower doors are stunning with their sparkling glass, shiny surfaces, and unique designs. However, they quickly lose their appeal when covered with soap scum, water spots, and mildew. Discover how to remove hard water stains from glass shower doors using a little elbow grease and the right shower cleaner.
Deciding between a shower door or curtain is often a hot topic among homeowners. Curtains are easy to change according to the latest trends, and cleaning them requires a washing machine.
Glass doors give the space a clean and modern look but require regular maintenance to look top-notch. You get into the shower, take care of business, and leave the bathroom without giving the shower door a second thought. It served its purpose, after all.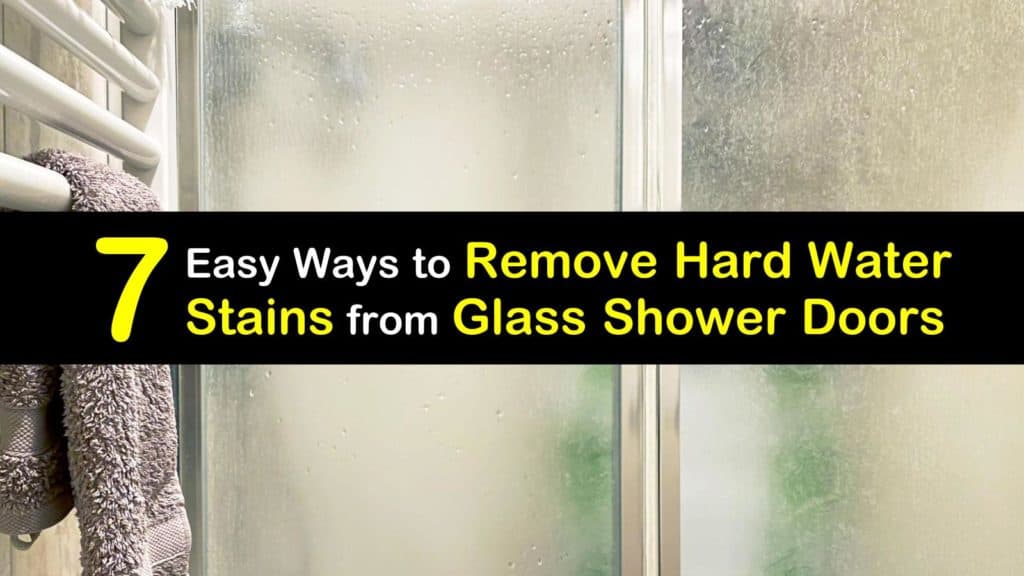 Removing Hard Water Stains from Glass Shower Doors
Over time, a glass surface becomes cloudy with a white residue layer, and what was once a clear and clean door is now unsightly. Read on for more methods for cleaning treated glass shower doors to remove hard water stains and calcium residue.
The bathroom is no one's favorite room to clean. Using a homemade disinfectant bathroom cleaner gets most of the job done but it often does not take care of shower doors.
While it seems as if removing hard water stains from the shower door is hopeless, you may be using the wrong cleaning products. Here is how to clean away stubborn mineral deposits using the right cleanser.
What Causes Hard Water Stains in the Shower?
It almost seems as if hard water stains in the shower appear overnight, but these stains accumulate deposits that build up over time. But, what are these stains, and why are they so hard to remove?
Hard Water Stains
Hard water is a bit more alkaline than soft water and is high in magnesium and calcium.
The stains this water leaves behind go by many names, including limescale, mineral deposits or buildup, and water spots, and their chalky, white appearance is a result of excessive minerals in your water.
While soap residue and grime are relatively easy to clean, these stains require extra effort to remove. Try using our household descaler to keep your shower doors clear from hard water stains.
Get Hard Water Stains off Shower Doors with Salty Water
If you are looking for a natural hard water remover, we have a great remedy. Believe it or not, but salt is a useful tool for cleaning many surfaces.
It counteracts the mineral deposits and has a mildly abrasive action to scrub them away. We'll show you how to get hard water stains off shower doors using salty water.
To make this DIY shower door cleaner, fill a bowl with hot water and pour in the salt. Mix the two and then dunk a sponge into the solution. Rub the sponge on the water stains using a circular motion to clean away the deposits.
Continue to dip the sponge into the cleaner and scrub the surface until the stain is gone. Rinse the glass thoroughly with warm water and dry it with a paper towel.
Here is How to Remove Hard Water Stains from Glass Shower Doors with Vinegar
White vinegar is an efficient acidic cleaner for removing calcium buildup and hard water stains on glass. Using this liquid in combination with persistent scrubbing cleans away unsightly water stains with ease.
To clean glass shower doors with vinegar, fill a bottle sprayer with equal parts vinegar and hot water, and shake it well to mix. Spread a towel beneath the shower door to capture any drips and spray the vinegar solution over the entire glass surface.
Allow the cleaner to sit for about 30-minutes to give the vinegar time to break down the minerals. Use a scrubbing sponge to wipe down the glass using a circular motion.
Do not use a Brillo pad or steel wool to prevent scratching the glass. Rinse the door using a spray bottle of water or the showerhead and dry it thoroughly with a towel.
Another place in the bathroom that builds up a lot of hard water stains is the faucet. Luckily, vinegar will also work to remove hard water deposits from a faucet aerator. So keep a vinegar spray on hand in case you need to descale a faucet.
Clean Glass Shower Doors with Baking Soda
Instead of using chemicals, such as bleach, consider using baking soda as a homemade soap scum shower cleaner. This mildly abrasive and non-toxic powder also works well to remove hard water stains in the shower.
While this method does require some elbow grease and patience, it is a cheap alternative to harsh cleaners.
Make a cleaning paste by combining baking soda and hot water in a bowl or container. Dab a sponge into the paste and rub it on the top section of your shower door. Allow it to sit for about five minutes, and then use the sponge to scrub it clean.
Continue doing this in sections until you reach the bottom of the door, and then rinse the glass with clean water. For stubborn spots, try using a Magic Eraser to scrub them away.
Cleaning your shower floor with vinegar and baking soda is also ideal and it eliminates all types of stains, as well as sanitizing the surface.
Remove Hard Water Spots from a Shower Door with Lemon Juice
If you do not have any white vinegar, consider using lemon juice to get hard water stains off shower doors. Lemons contain citric acid, and their juice helps break up tough stains resulting from hard water.
Fill a bottle with a cup of lemon juice and a cup of hot water and mix it well. Open the shower door and spread a towel beneath it to catch spills. Spray the cleaner over the entire surface of the glass and let it sit for about half an hour.
Spray the lemon liquid over the glass once more, and then use a squeegee to clean the glass by pressing it on the surface at the top and pulling it downward.
Continue this motion from one side to the other until the glass is clean. Rinse the door well with clean water and dry it completely with a towel.
Water spots can also appear on your glass patio doors. You can use this method to wash inside double-pane patio doors when pesky water spots have stained the glass.
Scrubbing Away Tough Spots of Hard Water Deposits from Glass
If it has been a while since you've cleaned the shower and the mineral deposits are thick and crusty, extra scrubbing, scraping, and stronger cleansers are necessary to get the job done.
Get a scrubbing sponge wet with hot water and add a few squirts of dishwasher soap. Scrub the surface of the glass from top to bottom with the soapy sponge to remove the grime and soap scum, and rinse it with cold water.
Now that the glass is clean of everyday dirt, inspect it for areas of mineral deposits. Apply a coating of Bar Keepers Friend or toothpaste to the stains and let them sit for a few minutes.
Bar Keepers Friend is also useful for cleaning a fiberglass shower. Use a razor blade to gently scrape thick areas of mineral deposits and a toothbrush to scrub them away. Give the door a final rinse and dry it with a towel.
Preventing Hard Water Stains on Glass
Cleaning glass shower doors of dirt is bad enough, let alone removing crusty mineral deposits and cloudy films. Therefore, preventing stains, such as limescale and water spots, is the way to go.
If possible, install a water softening unit in your home to minimize hard water stains. Otherwise, try to keep the shower door dry whenever possible. Hard water stains occur after the water evaporates, leaving cloudy mineral deposits on the glass.
The best way to prevent them is to dry the door after every shower. Keep a towel handy and wipe down the entire surface area each time it gets wet.
While you're at it, dry the faucets and other areas as well. Turning on the venting fan and opening the bathroom window and door are good practices to prevent water from concentrating on surfaces.
Hard water deposits are often a pain to remove, but harsh chemicals are unnecessary. There are many simple ingredients that clean glass to remove water spots and restore the shower door surface.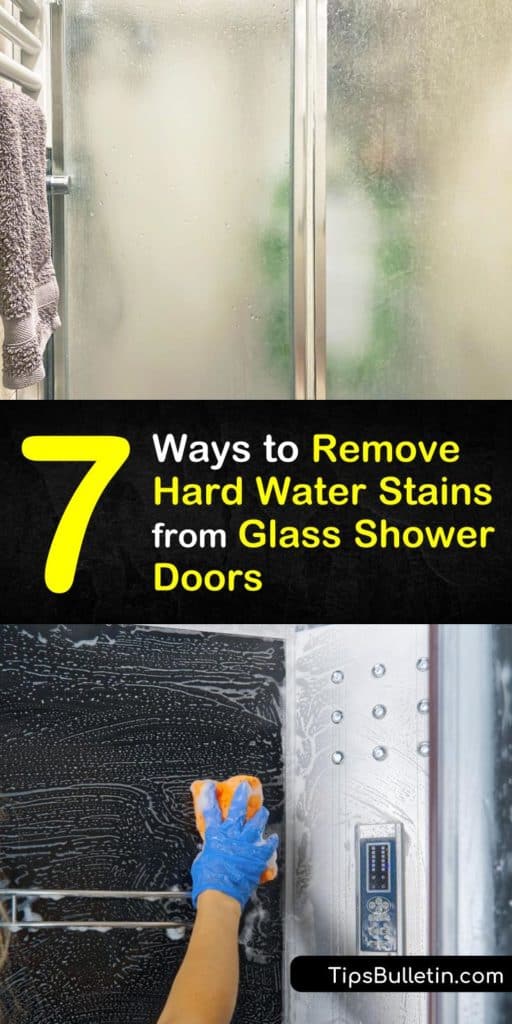 We hope that knowing how to remove hard water stains from glass shower doors makes your job of cleaning the bathroom easier, and we'd love it if you share our shower door stain removers and cleaning tips with your family and friends on Facebook and Pinterest.