We'll all been there. We pull out a water glass or gaze out a window, and there it is – a hard water stain. Deciding how to remove hard water stains from glass can be a frustrating experience, and if we don't know which cleaning products make the best DIY glass cleaners for hard water, we can find ourselves cleaning and cleaning without removing the unsightly hard water stains.
To keep our glass beautiful, we need to know the best ways for cleaning water spots on glass. In this guide, we dive into household cleaners to find the top methods to remove water stains.
We show you which liquid cleaners will get the job done, and we also explore the best non-liquid cleaners for when you need a little extra cleaning power.
Finally, we take a look at some preventative measures that you can choose to keep future hard water stains from forming. With our help and some elbow grease, you'll soon have your household glass sparkling.
Removing Hard Water Stains from Glass Surfaces
There are glass surfaces almost everywhere we look. From our homes to garages to our vehicles, it's important to keep glass clear and shining so that we can see through it.
Learn how to clean a car windshield with the same ingredients you use to bring back the sparkle to your kitchen windows and even the mirrors in the bathroom.
Liquid Cleaners to Clean Water Stains
You can accomplish most glass-cleaning tasks with the right liquid cleaner. Liquid cleaners should be your first go-to when dealing with how to clean hard water stains from glass because of how easily you can scratch glass.
Liquid cleaners usually only contain mild abrasives that won't harm your glass, so you can use them for cleaning hard water stains without worrying about damage from harsh chemicals.
This section examines the different liquid cleaners and highlights each cleaning solution's advantages. We look at a wide range of DIY cleaners, including vinegar, ammonia, and even water and salt.
Most hard water stains won't be able to stand up to your liquid cleaning products, which make them a safe choice when cleaning water spots on glass.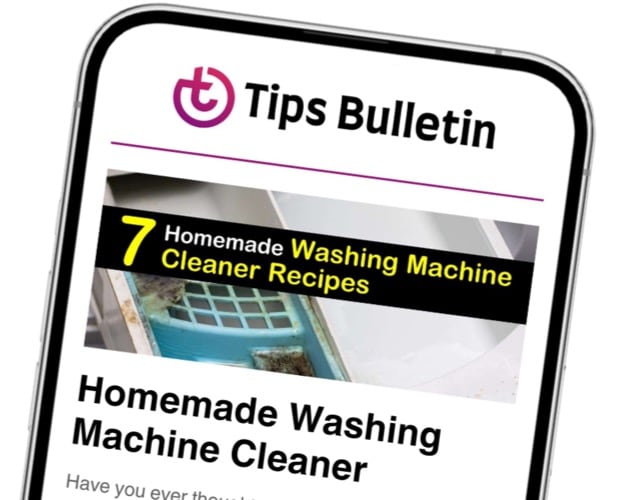 Finally, an email that Transforms Your Home.
Get the latest home and garden tips from our experts, delivered straight to your inbox.
Use Ammonia
Ammonia is one of the most effective household cleaners around and deserves a spot on your checklist for your bathroom cleaning routine.
You can use ammonia to clean clothes and unclog drains, and it's one of the best ways to get rid of hard water stains on glass. With a little water and a scrub brush, you can turn ammonia into your most reliable glass cleaner.
Pour the liquid ingredients into the bottle, and spray the stain until soaked. Allow the mix to sit on the stain for a minute, and scrub the area with the brush. Rinse the spot with clean water and dry it with the cloth. You can also use ammonia to make a dynamite homemade shower spray.
Because ammonia is a strong cleaner, you should always wear proper gear, including gloves and safety glasses, when handling it. Open all doors, and turn on the bathroom fan. If you are still concerned about ventilation, be sure to wear a respirator.
Clean the Spot with Water and Salt
Good old salt and water is a remarkably versatile and powerful cleaning option. You can use these two kitchen staples to remove water rings from wood, and they clean stains off countertops and iron railings better than rubbing alcohol or steel wool in many circumstances.
They'll do a number on your hard water stains, too. Because salt has abrasive properties, test this option on an inconspicuous spot before applying it to the stain. Make your own cleaner with these simple ingredients.
To clean wine glasses, tea glasses, or a brandy snifter, pour the water into a container, add the salt and stir until it dissolves. Wet the sponge in the mixture, and scrub the stain. Repeat until the stain is gone. Rinse the glass with clean water and wipe it down with the cloth.
Try White Vinegar for Hard Water Stains
If you've spent any time on home and garden sites, you already know about vinegar's remarkable cleaning power. Vinegar contains acetic acid, which supercharges vinegar's effectiveness and makes it the best way to clean glass shower doors with hard water stains. It is also ideal for removing hard water stains from a bathtub.
Invest in a gallon jug of vinegar and use it for all sorts of home purposes. Use vinegar to clean your coffee pot, dishwasher, and microwave, as well as all the surfaces in your bathroom, too. You can even use it in the laundry.
Vinegar window cleaner is a proven winner, and you can use that same power on all of your household glass, as well as cleaning car windows with vinegar and a variety of other hard surfaces. You can even use vinegar in the laundry as a softener and stain remover!
For cleaning a shower, whether the doors, tub or walls, fill the spray bottle with the water and vinegar. Take the top off the spray bottle, and heat the bottle in the microwave for about 20 seconds. The added heat will increase the solution strength and let it cut through the stain with ease.
Replace the spray bottle top, and clean stains from shower doors or windows with the vinegar solution until the area is soaked. Let it sit for a minute or so, and scrub the stain with the brush to clean shower grime. Repeat until the stain is gone, rinse the area with water, and dry the glass with the cloth.
If you don't get the results you want, try straight vinegar and repeat until hard water stains are gone. Vinegar is also an excellent solution for how to remove hard water stains from a toilet or tub.
Clean Your Hard Water Stains with Lemon Juice
Like vinegar, lemon juice contains acetic acid and makes a fantastic glass cleaner when you need to find ways to get rid of hard water stains on glass.
And, lemon juice has a beautiful fresh scent to accompany its cleaning action, which makes it an excellent choice for cleaning everything from the toilet bowl to countertops, and it will do a number on mineral buildup.
Use this recipe as a homemade glass cooktop cleaner to get rid of grease spatters and burnt-on food, as well as removing hard water stains. Clean a glass coffee pot, mirrors, and more with this citrusy wonder. Lemon juice is an excellent choice for cleaning all kinds of surfaces.
For cleaning coffee carafes or other glass surfaces with hard water stains, combine the lemon juice and water in the spray bottle, and shake to mix the solution. Spray the stain until thoroughly wet, and allow to sit for at least a minute. Then, scrub the stain away with the brush.
Repeat until the stain is gone, and rinse the area with clean water. Dry the glass with the cloth to avoid further stains. You can also prevent stains from occurring by spraying lemon juice on your glass shower door after each use, leaving a protective barrier against mold and mildew while smelling nice and lemony-fresh.
Rinsing Agent for Dishes
Unfortunately, hard water stains are common in many areas. Removing hard water stains from drinking glasses can be a nightmare and cost you hours of labor if you don't know how to clean them quickly and effectively.
Hard water spots make your clean glasses seem dingy and unattractive, so it's essential to understand how to clean hard water spots from glasses and dishes as soon as you notice them.
Fortunately, dishwasher rinsing agents don't just prevent hard water stains but can remove water spots, too. Jet-Dry and other rinsing agents eat away at hard water deposits and leave your dishes sparkling and beautiful.
Add a rinsing agent to your dishwasher's rinse compartment, and let the washer and rinsing agent do all the work. Your glassware will look as good as new!
Non-Liquid Glass Cleaners for Stains
Sometimes liquid cleaners won't do the trick. If you've scrubbed and scrubbed and still have water spots, you might need to break out the big guns. While liquid cleaners are marvelous and get your glass surfaces clean most of the time, you'll occasionally run across a stain that needs a non-liquid cleaning solution.
This section takes a look at the most effective non-liquid solutions for cleaning water stains from glass. We go over DIY options, commercial products, and we close with the best way to scrape your stain away when all else fails. If your liquids fail you, one of these options will get you where you need to be.
Clean with Toothpaste
Believe it or not, non-gel toothpaste is a fantastic cleaning choice for any number of situations, including hard water stains on glass. Toothpaste cuts through watermarks and soap scum with the same force it uses on tooth stains, and it is gentle enough to keep your glass looking its best.
You can also use baking soda and a little water in place of toothpaste. Be sure to test the toothpaste cleaning option on a hard-to-see spot first to avoid any damage. Try this solution for coffee stains on your mugs or coffee maker, too. It works wonders!
Apply the toothpaste to a cloth and spread it on the stain. Allow the toothpaste to sit for at least five minutes. Combine the vinegar and water in the spray bottle, and spray the area to rinse it. Repeat as needed, and then, rinse the area with water and dry the glass with a cloth.
Hit the Stains with a Commercial Cleaning Paste
If toothpaste didn't do the trick, you might need to select a commercial paste cleaner. Paste cleaners such as Bar Keepers Friend don't leave streaks like liquid cleaners do, which makes them perfect for cleaning glass. You can find commercial glass cleaners at any home improvement store.
While the company's guarantee backs commercial cleaning pastes, you can leave foggy spots on your glass if you don't properly clean off the paste after you use it. Make sure to check the manufacturer's instructions and follow them to the letter to prevent damage to your glass.
Use a Razor to Clean Your Glass
If you've exhausted your cleaning products, you might have better luck with brute force and sharp steel. A razor blade, when used correctly, will scrape away any mineral deposits on your glass doors or mirror and won't damage the glass.
Because razor blades are very sharp, you should exercise extreme care when handling them. Never use a razor blade on tempered glass, as you can damage it.
Wearing the gloves, carefully hold the razor blade, and gently scrape the stain. Don't exert too much pressure; slow and steady is the key. Continue until the stain lifts, rinse the area with water, and wipe it dry.
We hope that you enjoyed this guide on how to remove hard water stains from glass. The cleanest home still looks shabby when your glass has spots, so it's crucial to know the best ways to clean your glassware, glass windows, shower door, and mirrors. Our guide gives you all of the tools you need to make your home shine and keep it that way.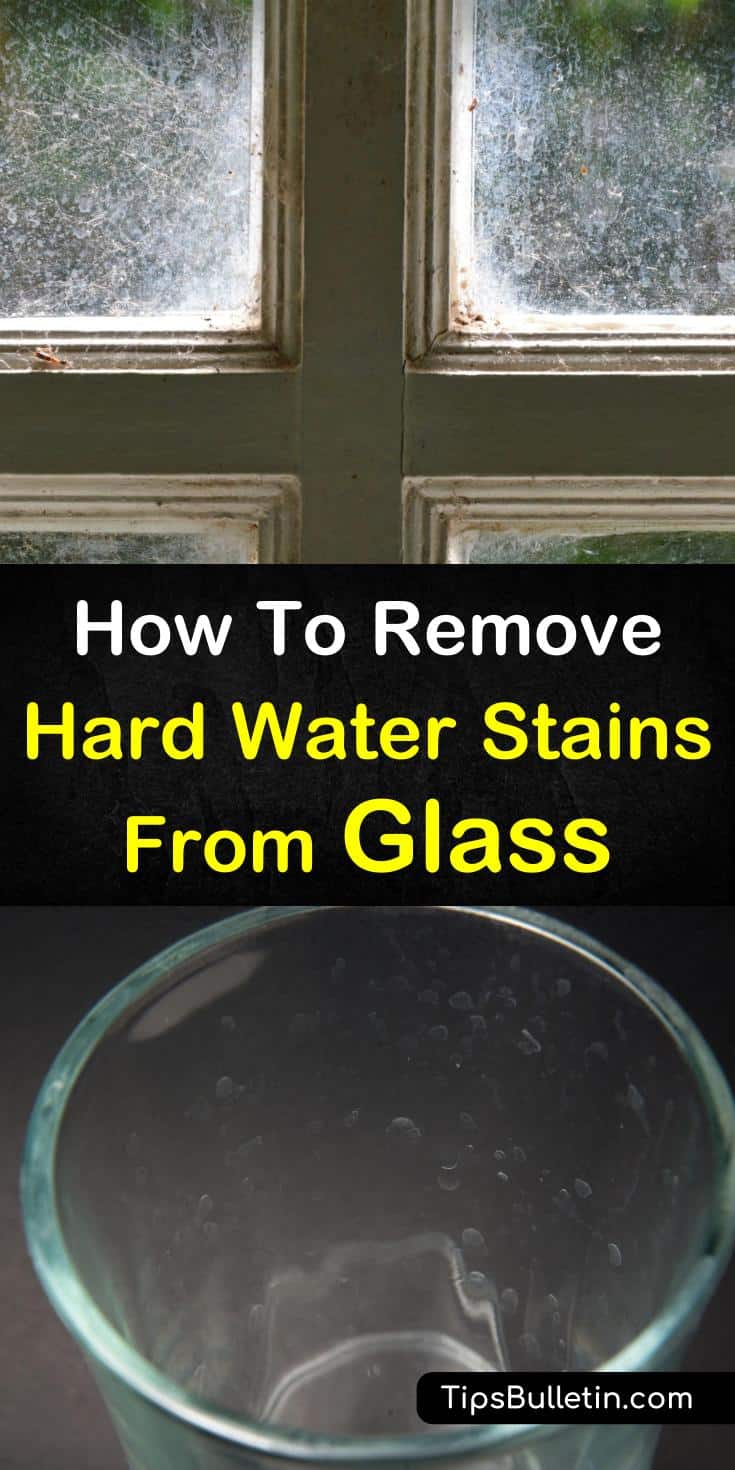 Thanks very much for reading our hard water stain removal guide. If you found our tips on how to remove hard water stains from glass to be helpful, we'd love it if you'd share this guide to glass cleaning with your family and friends on Pinterest and Facebook.