Granite surfaces are stunning with their glossy shine and unique spectrum of patterns and colors. However, the luxurious and lustrous appearance diminishes when splattered with rough patches of stains. Discover how to remove hard water stains from granite to maintain its natural beauty.
There is a wide range of uses for granite in the home, from granite countertops to tile floors, and the strength and resiliency of this material make it a popular choice for homeowners.
While granite is one of the easier surfaces to keep clean, it is still susceptible to staining, especially hard water stains. The best way to clean granite is with mild soap and water, but this doesn't always work for removing tough mineral deposits.
And, some cleaning products and techniques that are useful for cleaning often cause damage to granite. Therefore, it's important to use the right household cleaners to remove water rings and deposits from stone countertops.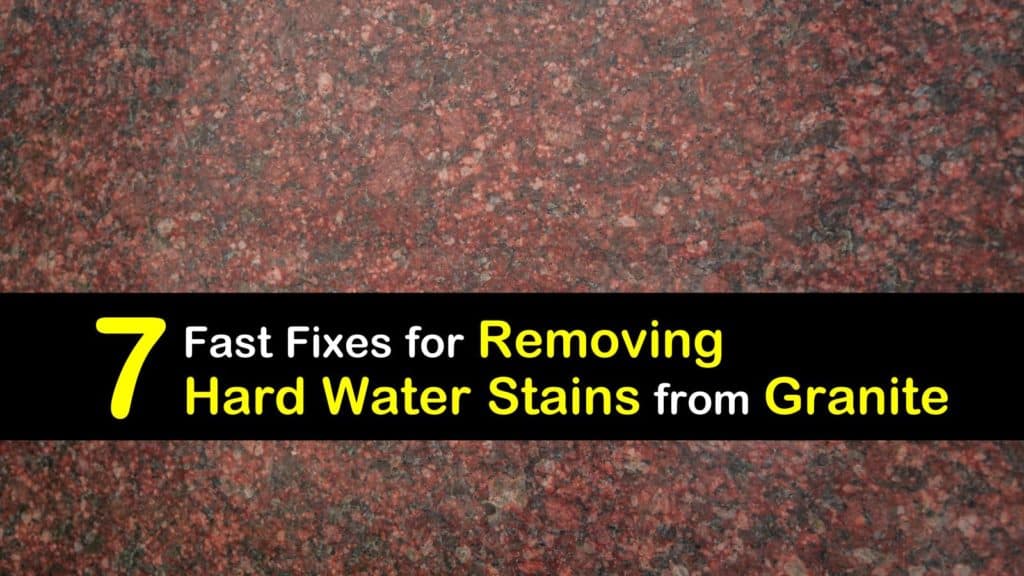 Removing Hard Water Deposits and Stains from Granite Surfaces
Installing granite or marble countertops during a home improvement project is a lot of work, and seeing your hard work covered with crusty white stains is disappointing.
Different measures are required for granite than when you remove hard water stains from unfinished wood or other materials. We'll show you how to clean granite countertops and other granite surfaces to remove unsightly stains left behind by mineral deposits.
Learn How to Get Hard Water Stains off a Granite Sink
The first place to start when deciding how to get hard water stains off a granite sink is the simplest. Consider using a basic soapy cleaner to remove stains before getting out the big guns to save yourself some time and effort.
For this homemade granite sink cleaner, put warm water into a bowl or container and add just enough dish soap to make a soapy solution. Agitate the water with the brush's bristles to create suds, and then scrub the water stain in a circular motion.
Apply just enough pressure and scrubbing to get the job done, but not too much that the surface gets damaged. Clean the area with fresh water and dry it with a towel.
Try this easy remedy for hard water spots on windows before resorting to another method. You may be surprised at the excellent results.
Cleaning Water Stains from a Granite Countertop with Baking Soda
If soapy water doesn't do the trick to remove hard water deposits on granite or does not remove water spots from glass, try using baking soda. This mildly abrasive powder is non-toxic and useful for cleaning water stains from a granite countertop.
Pour hot water into a bottle and set it aside. To get stains out of granite, sprinkle a decent layer of baking soda over the hard water stain and spray warm water over the area to wet it. Use a soft brush to scrub the spot in a circular motion and then rinse the area with clean water.
If the water spot is still there, repeat the steps. Give the counter a final rinse and use a soft towel to dry the surface and make granite countertops shine.
Discover How to Remove Hard Water Stains from Granite using a Poultice
A poultice is a common solution for removing water deposits from a granite worktop, counter, and tile. This technique is very effective, but it does take some time before you notice results.
Combine just enough flour and hydrogen peroxide in a bowl or container to form a thick paste. Use your fingers to apply the poultice directly to the water stains.
Rip off a piece of plastic wrap, lay it over the stained area, and tape it in place with painters tape. Let the paste do its job for about 24 hours and remove the tape and plastic.
Get a cloth or towel wet with warm water and wipe the area clean of all residue. Clean the spot with fresh water and dry it with a soft towel.
Removing Water Spots on Granite with Talc
Talc is a mineral powder that works well to remove hard water stains from many granite surfaces, including a granite headstone. This process requires a little elbow grease and patience but works well for slightly stubborn stains.
Pour enough hydrogen peroxide into a spray bottle to get the job done and set it aside. Sprinkle a good amount of talc over the stain to cover it and spray the surface with hydrogen peroxide.
Use a soft sponge to work the mixture into the spot and scrub it with circular motions. After you remove the stain, clean the area with warm water and dry it thoroughly with a soft towel.
Getting Rid of Granite Hard Water Stains with Rubbing Alcohol
Regularly cleaning your granite with vinegar is not a good idea. This liquid is acidic and may damage the sealers on the surface. Rubbing alcohol is a good substitute for removing hard water deposits and useful for spot cleaning. You may also find that it works well on cloudy drinking glasses and stemware.
Pour equal portions of water and rubbing alcohol into a spray bottle and shake it well to combine the liquids. Spray the cleaner directly on the water stain.
If the stain is a water ring or located in the crevices around the faucet, turn the spray nozzle to stream for accurate spray.
Use an old toothbrush to scrub away the stain gently, using small, circular motions. After the mineral deposits are gone, rinse the spot with clean water and dry it with a soft cloth.
Use this simple remedy as a homemade headstone cleaner, as well. It is ideal for all kinds of stains.
Removing Water Rings on Granite with a Brillo Pad
Sometimes, using a gentle scrubbing action is often the only way of removing water stains from marble, granite, and other stone surfaces. We recommend using this technique as a last resort to prevent damaging the granite.
If the water deposit is thick and crusty, try using the edge of a razor blade or scraper to scrape some of the crusty residue away from the granite surface, being careful not to scratch the counter.
Soak a Brillo pad under warm water and use it to clean away any remaining stains. Use a gentle, circular motion to prevent damaging the granite. Rinse the soap away with clean water and a sponge and dry the spot thoroughly with a towel.
How to Prevent Granite from Getting Hard Water Stains
Cleaning granite and eliminating tough water stains on a granite counter or tile is not something we want to do every week. Luckily, there are a few ways to prevent these stains from occurring again and keep your granite looking clean and shiny.
Granite Maintenance and Water Stain Prevention
Always clean spills immediately, whether water, lemon juice, or coffee. Some of these liquids not only leave behind water marks but damage the sealant on your granite.
Keep coasters on granite counters and use them whenever you have a glass of water to prevent condensation from dripping onto the counter surface.
Avoid using chemicals such as bleach to clean granite counters since this liquid tends to deteriorate the sealant. Refrain from cleaning the counter with vinegar or lemon juice.
These liquids are acidic and dissolve the minerals in the granite and etch the surface. Use a mild cleanser for routine cleaning and stay away from abrasives such as steel wool.
It's easy to understand why granite is a favorite choice for countertops, tiles, and other surfaces. Its strength and durability are top-notch, and there are so many styles to choose from.
Discovering surface stains is disappointing, to say the least. However, using the right stain remover keeps your granite surfaces looking just as beautiful as the day you had them installed.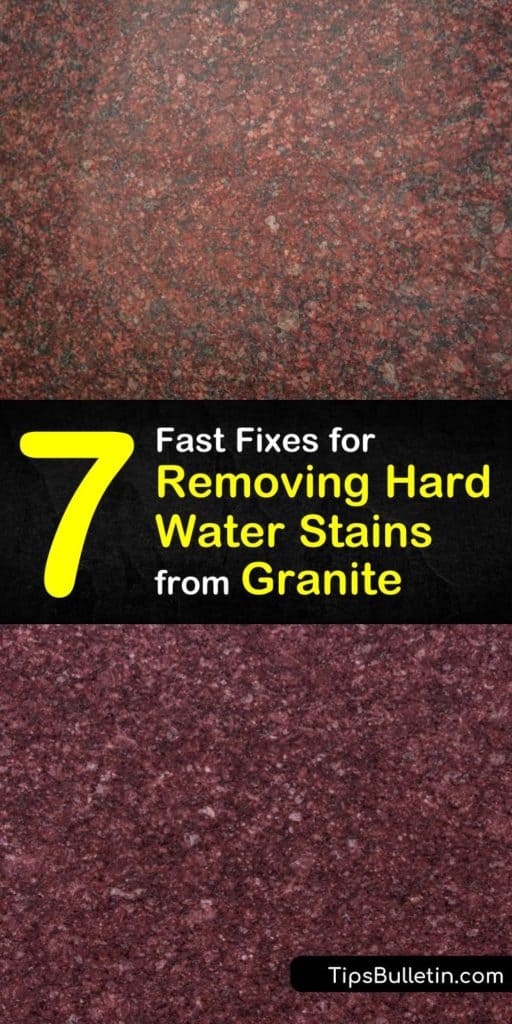 We hope you enjoyed discovering how to remove hard water stains from granite, and we'd love it if you share our granite cleaning methods and tips with your friends and family on Pinterest and Facebook.