Removing hard water stains from the toilet is surprisingly straightforward and affordable. Here's how to do it:
Dry the toilet bowl and apply white vinegar to the stains.
For stubborn stains, create a fizzy mixture of vinegar and baking soda.
Use a heavy-duty cleaner made of Borax, vinegar, and essential oils for tough stains.
Scrub the bowl with a nylon brush or pumice stone to remove residue.
Maintain a stain-free toilet with regular cleaning and preventive measures.
To effectively remove hard water stains, you first need to empty and dry your toilet bowl, allowing the vinegar to work directly on the stains without dilution. Stubborn stains may require a combination of vinegar and baking soda, which produces a fizzing action that helps break down the residue. For particularly tough stains, a potent mix of Borax, vinegar, and essential oils can be sprayed and left to sit overnight, enhancing the cleaning power.
While scrubbing, using a stiff nylon brush or a pumice stone can help dislodge any remaining buildup. Lastly, to minimize future staining, keep the toilet clean with routine brushing and use vinegar as a regular disinfectant. These steps will leave your toilet sparkling clean without the need for expensive or harsh chemicals.
If you dread cleaning your bathroom, we don't blame you! Not only do you have to deal with regular dirt and grime, but you also have to tackle stubborn stains. However, the task becomes a lot easier as soon as you learn how to remove hard water stains from toilet surfaces.
Hard water buildup can have a very negative effect on your bathroom. It can cause rust stains on your shower doors, faucets, and toilets. Without the proper cleaning products, your property will not only look dirty, but your surfaces might be at risk for damage.
You don't have to spend a lot to buy a toilet bowl cleaner that contains harmful chemicals. Hydrochloric acid is a common ingredient in many store-bought toilet cleaning products, such as The Works Toilet Bowl Cleaner.
However, hydrochloric acid can damage other surfaces in your bathroom and can be harmful. Instead of using harsh chemicals, you can effectively remove toilet stains with a few inexpensive household ingredients.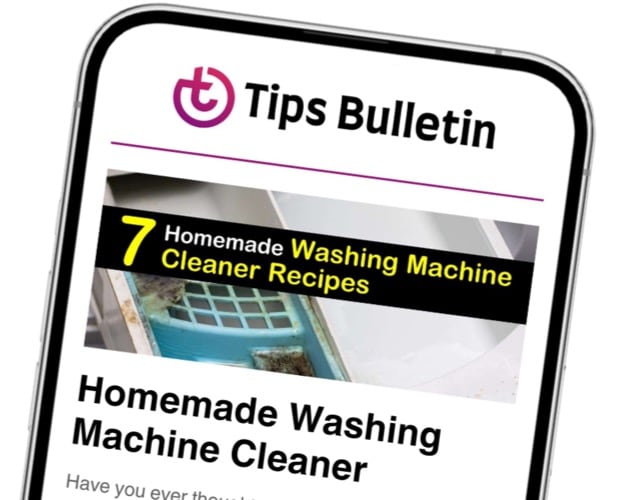 Finally, an email that Transforms Your Home.
Get the latest home and garden tips from our experts, delivered straight to your inbox.
How to Remove Hard Water Stains from Toilet
It is not likely that "clean the toilet" is on your list of favorite things to do around the house. However, it is a necessary part of household maintenance. While toilet stains may not bother you, your guests will probably be reluctant to come over again if they have to use a toilet that smells and has stains.
As part of regular cleaning tasks and to sanitize the lavatory, be sure to take care of the toilet inside and out, whether there are stains or not.
Hard water contains mineral deposits such as magnesium and limescale. Water picks up these dissolved minerals as it travels through the ground and into our water supply. While there are advantages to having hard water in your home, it can be very harsh on your appliances.
Hard water is particularly bad for toilets because of how much daily use they receive and because they are always holding standing water. To make the best DIY toilet bowl cleaner for hard water, you'll need the following tools and ingredients.
How to Clean Toilet Bowl Stains
When learning how to remove hard water stains from toilet bowls, it's essential to pay as much attention to the washing technique you use as to the ingredients. Here are three of our favorite toilet cleaner recipes that will help you get rid of hard water deposits and stains.
Vinegar Based Toilet Stains Cleaner
White cleaning vinegar is perfect for breaking down and removing hard water stains. With this stain remover technique, you need to dry out the toilet bowl. Using a plunger, plunge out the water and then grab a towel or paper towel to dry up the excess liquid.
Having too much water will dilute the cleaning agent and make it harder to remove stains. Fill the bowl up to the rings around the water line. Make sure you cover all the water spots.
If you don't have any cleaning vinegar on hand, distilled water will also work for this step. Put on gloves and grab a rag to spread the vinegar all around the toilet. This includes hard-to-reach spots like under the rim and the outside the toilet tank.
Leave the toilet overnight, closing the bathroom door so no pets or children can get in the room. The next day, scrub the hard water stains with a stiff nylon brush. Tough stains might require extra scrubbing.
If the toilet brush doesn't work, you may need to use a pumice stone. Gently scrub the stain while slowly pouring vinegar over the stain to loosen the mineral buildup. Vinegar is a great household ingredient to use for cleaning, and this vinegar water cleaner recipe is perfect for regular bathroom cleaning needs.
While vinegar is ideal for taking care of stains in the toilet bowl, it also works well for toilet tank cleaning. Hard water stains often lurk in this hidden area, leading to mineral deposits that can cause a clog. It helps if the toilet tank is empty to ensure that you can really scrub at stains.
Powerful Baking Soda Toilet Cleaner
By adding some baking soda to vinegar, you can create a toilet cleaner that works on even the most stubborn stains. Vinegar and baking soda also create a powerful toilet drain cleaning combination if you have a slow-draining toilet.
Pour a cup of vinegar into your toilet bowl. Using a toilet brush, swirl the vinegar around and then let it sit for one minute. Add the cup of baking soda to the bowl along with the leftover two cups of vinegar.
The solution will begin to fizz. Let it sit for approximately ten minutes. Grab your toilet brush and swirl the solution, ensuring that the mixture reaches all stains above the water line.
Don't flush the toilet during any of these stages. Allow the solution to sit for another 30 minutes, returning to the bathroom to swirl it around one or two more times. If the stain persists, grab a nylon-bristled brush.
After you have scrubbed away the stain, flush the toilet. Not only can you remove toilet bowl stains from your bathroom, but you can also use these same two ingredients to make an effective baking soda drain cleaner.
Vinegar and baking soda make a wonderful combination to take care of all sorts of household problems. You can also use this mixture for cleaning stains from bathtub, sinks, the floor, and even cabinets. Explore your cleaning options with a baking soda and vinegar solution. You may find even more uses than you thought possible!
Heavy Duty Water Stains Cleaner for Toilets
Sometimes you'll need a heavy duty toilet cleaner to remove hard water stains from toilets. This recipe still uses natural ingredients but can cut straight through grime and stains.
Mix ingredients in a spray bottle. Wet the bowl by flushing the toilet and pour in all the cleaner. Let the solution sit overnight, not allowing anyone to use it, and then scrub the surface with a toilet brush.
Remove Toilet Bowl Stains for Good
Though it isn't difficult to clean hard water stains, it is time-consuming, so you probably don't want to have to do it often. To prevent tough stains from appearing, clean toilets regularly.
Brush the toilet for a few seconds every day to help move the water around and pick up excess water. However, do not use a brush with metal bristles, as they can damage toilet bowl surfaces.
Regularly use a disinfectant like vinegar for smaller stains. You can also help maintain a clean toilet by closing the bowl before flushing to prevent water spray. When hard water marks appear that don't go away with a quick scrubbing, follow our steps on how to clean toilet bowl stains.
Now that you can remove hard water stains from toilet surfaces, we hope you can put this knowledge to good use! The process might take some time, but getting a clean toilet bowl isn't as intimidating as it sounds. Just grab the right ingredients and use a little bit of elbow grease to get your toilets sparkling in no time.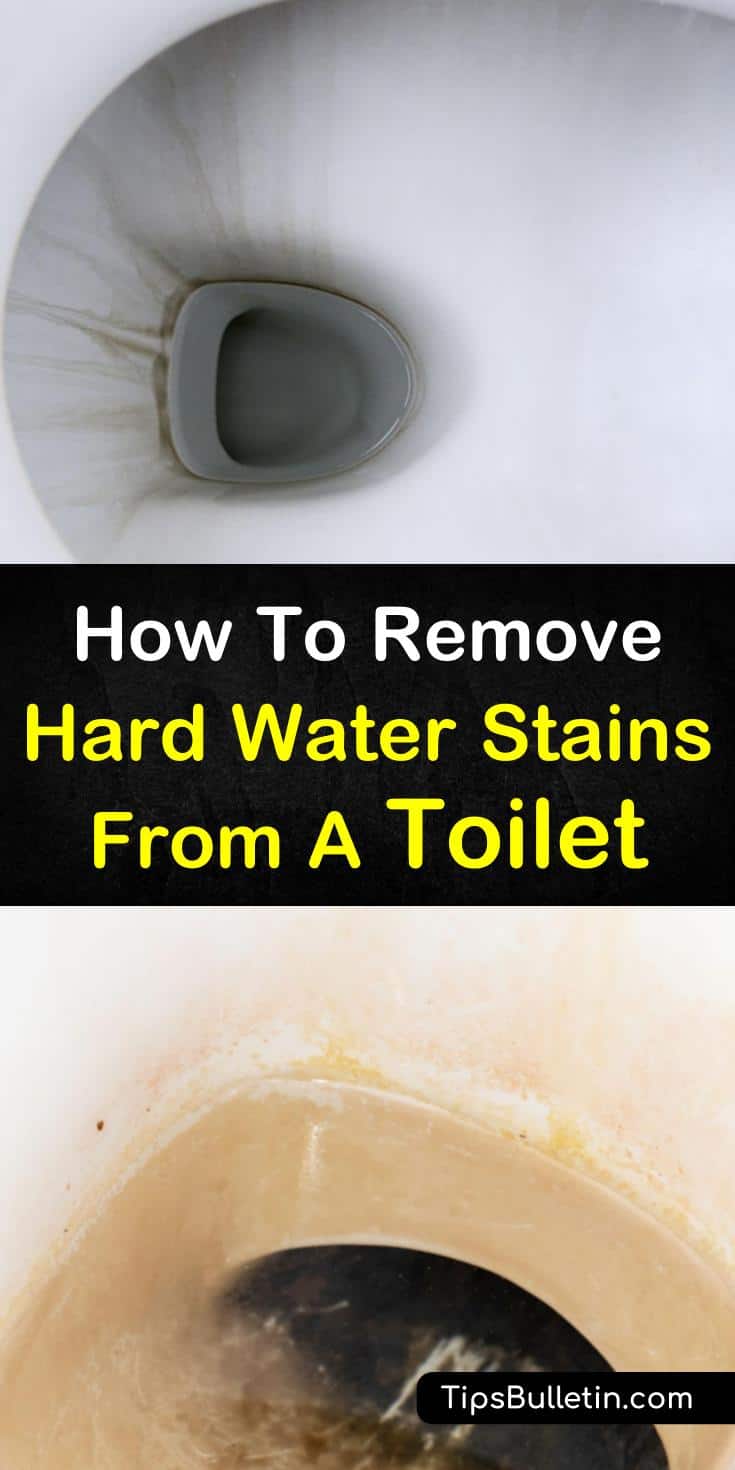 If these tips on how to clean toilet bowl stains were helpful, then share our simple and easy bathroom cleaning tricks with friends and family!