Hard water stains are no fun and make your windows and your house look dingy. If scrubbing is getting nowhere, you might find yourself wondering how to remove hard water stains from windows.
Although there are plenty of commercial cleaners, it's possible to clean hard water spots off glass windows with everyday cleaning products. Common ingredients like vinegar and lemon juice shine for hard water stain removal.
If you want to learn how to remove hard water stains from windows, it's essential to understand why they form. Hard water has a high mineral content for elements like calcium and magnesium. When the water evaporates, it leaves behind nasty mineral deposits, also known as limescale.
Hard water deposits are common in areas of the house with high humidity, like the bathroom and kitchen. For outdoor windows, they form from raindrops or even droplets from a sprinkler or dripping gutter.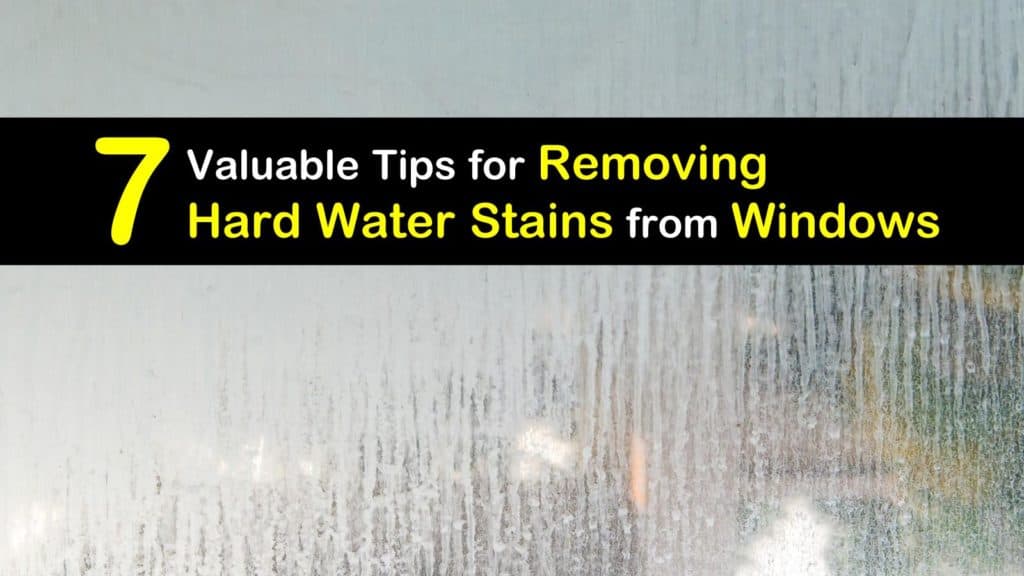 How to Clean Hard Water Spots off Glass Windows
Removing hard water stains is one of those tasks that is best to do regularly. The longer you wait, the more challenging it becomes since the mineral deposits begin penetrating the glass.
How to Remove Hard Water Stains from Windows using Vinegar
This liquid makes a great glass cleaner alternative. Combine equal parts white vinegar and water, increasing the proportion of vinegar if necessary. Distilled water is ideal since it does not leave behind mineral deposits.
Spray the window, particularly on heavy sediment. Let the vinegar and water solution work for one to two minutes. You don't want the liquid to dry since that causes streaks.
Soak a rough cloth in the vinegar solution. Press it onto the hard water spots, leaving it in place for one to two minutes.
Repeat the process if necessary, then wipe the window with a rag or squeegee. Use this remedy for cleaning car windows inside and out, as well.
Vinegar is also an ideal way to clean oxidized aluminum window frames. For stubborn areas, add a little baking soda to the mixture.
Get Rid of Hard Water Stains on Outside Windows with Lemon Juice
Freshly squeezed juice is the most powerful for removing stains and makes a great homemade glass shower door cleaner, too.
To make this natural hard water stain remover, shake the ingredients in a spray bottle, then squirt the cleaner onto the glass. Let the acid do its work for at least one minute before scrubbing with a soft-bristled brush. Rinse the window with water and dry it.
Alternatively, rub a half lemon on the stains. Wipe away the juice with a soft cloth or paper towel, then spray the glass with water or a window cleaner. Dry with crumpled-up newspaper for a streak-free finish.
Make a Cleaner for Hard Water Marks
It's easy and inexpensive to mix a glass cleaning solution from ingredients you have around the house. This recipe also works well for cleaning shower doors.
Cornstarch breaks down water bonds. Besides masking the vinegar's scent, essential oils repel water.
To eliminate hard water stains, shake the ingredients in a sprayer bottle. After spraying the window, let the mixture sit for approximately 15 minutes, then scrub. Wipe away the cleaner with a squeegee.
This remedy has myriad uses. Remove paint from windows or use this solution to get hard water stains off shower doors, as well.
How to Clean Hard Water Spots off Glass Windows with Toothpaste
If there's one thing you learn when doing DIY cleaning, it's that products often have more uses than advertised. Toothpaste works wonders for removing hard water stains from glass surfaces – even removing hard water stains on car windows.
Water down non-gel toothpaste so that it spreads easily. Apply it to the window with a cloth, leaving it in place for at least five minutes.
Scrub the stains with a brush, towel, or sponge, plus some elbow grease. Remove the paste with water or a cleaner, then dry the window well.
Get Rid of Hard Water Stains on Outside Windows with Ammonia
If you're dealing with stubborn stains, you may need to pull out the ammonia. Be careful with this substance since it irritates the eyes and mucous membranes and may cause skin irritation.
Wear rubber gloves and goggles, and ensure that ventilation is adequate. Dilute ammonia in the ratio of one cup of water for two cups of ammonia.
To get rid of water stains on glass, spray your window, let the liquid sit for one minute, then scrub with a brush. Rinse the glass well, and dry it.
Commercial Products for Removing Hard Water Stains from Windows
Various chemical products fight hard water stains, including CLR, Lime-A-Way, and Bio-Clean. They're more expensive but worth a try if nothing else works.
Follow the manufacturer's instructions carefully, especially when it comes to safety practices. Wash your hands thoroughly if you come into contact with the chemical. It's also a good idea to test the cleaner in a small area first.
Most commercial stain removers involve either spraying or applying with a sponge or cloth. After the product soaks, consider cleaning the glass with water or vinegar before drying it off. If you're using a paste, make sure to remove all paste to prevent streaks.
Eliminating Hard Water Spots with Abrasives
Liquid cleaners are safest for glass to prevent scratching. However, careful use of an abrasive is another option if you're struggling to remove a stain. Choose a powder like Comet, Bar Keepers friend, or baking soda.
Wet the glass with water or vinegar to help the powder stick before shaking it onto the window. Scrub at the hard water spots, rinse the glass, apply your chosen window cleaner, and dry well.
Alternatively, use a fine-grade scrubber on the stains. Steel wool or scrubbing pads are best.
How to Get Rid of Hard Water Stains on Outside Windows – and Indoor Ones
Before tackling the stains themselves, remove any dust or dirt. Spray vinegar and let it soak into the grime for at least five minutes before wiping the window clean with a sponge.
Use an extension pole if you need to get rid of hard water stains on high outside windows. A plastic paint scraper works on any gunk like bird droppings. For indoor windows, remove any curtains or blinds, and spread a drop cloth or old sheet.
Once you've used your cleaning solution of choice, squeegeeing is an easy way to clean windows without streaks.
Swipe with the squeegee in one long motion from top to bottom. After each stroke, wipe the squeegee blade with a lint-free paper towel or microfiber cloth.
How to Prevent Hard Water Stains
Underlying every search for how to clean hard water spots off glass windows is the desire to stop the spots from forming in the first place. To keep windows stain-free, you must prevent water from evaporating on them.
Wipe windows with a towel or squeegee whenever you notice water gathering. You can help keep the glass dry by applying carnauba wax, glass sealant, an oil-based cleaner, or a water repellent like Rain-X.
For car windows, only use a product specifically for cars. You can also put up a barrier between the window and water, whether that's storing your car in the garage or installing curtains on a window above a sink.
Another approach, which targets the problem at its root, is to use a water softening device.
Window cleaning is hardly one of the most pleasant cleaning tasks. It can involve lifting your arms above your head and actual scrubbing. However, the longer you procrastinate, the worse it gets.
The first step for how to remove hard water stains from windows is to dry them regularly and spray vinegar if you notice deposits forming.
The next step depends on the window setup and your preferences, but you could make a cleaner or find a commercial product.
If you found these window cleaning tips helpful, please share these hard water stain remover recipes with your friends on Pinterest and Facebook.