Hosting great gatherings for friends and family is a lot of fun but has its drawbacks – heat marks and water stains on precious wooden furniture. White heat marks wreck your best wood pieces, and they don't disappear over time, either. Discover how to remove heat stains from wood with these fantastic tips and tricks.
The road to heat stains is paved with good intentions. Hot plates full of food are often passed down the table and left to sit unprotected against the wooden table surface. Guests forget to put the hot dish back on your well-intended trivet, and before you know it, there's a lingering reminder of your dinner party.
The heat from piping hot ceramic dishes, coffee mugs, and condensation are all responsible for leaving unsightly marks on your wooden table. The heat exposure forces the wood's natural pores open, even if the wood is sealed correctly. Condensation leaks into the pores; as the wood cools and the pores shrink, the moisture becomes trapped, creating a white heat mark.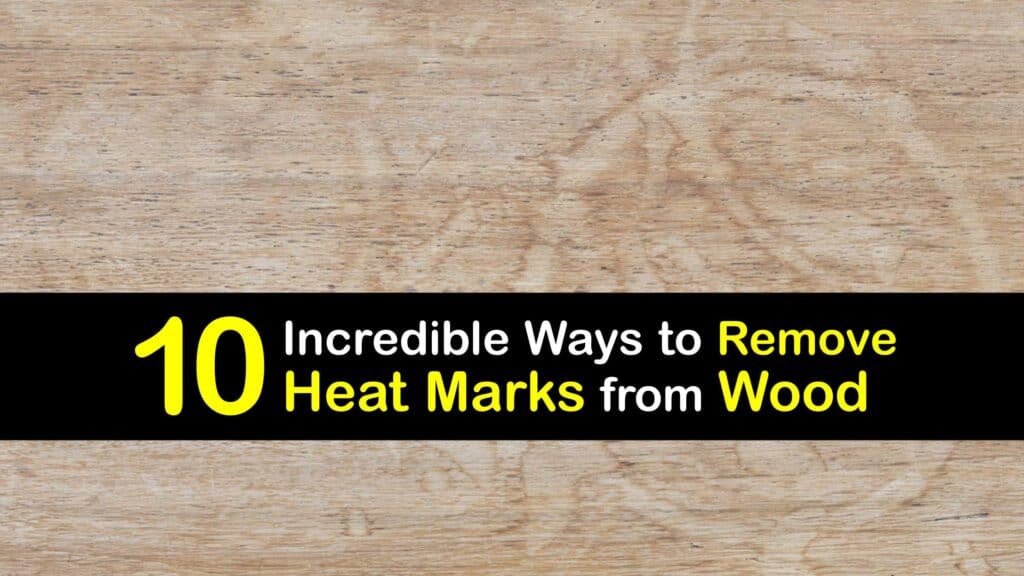 How I Get Heat Marks Off Wood
Wood restoration seems intimidating and maybe even a little unattainable for the average DIYer. Nothing is more distracting than a big white heat mark on a beautiful oak table or if your wood turned black from water damage. However, we have some fantastic tutorials to start you on the road to quick and easy heat stain solutions.
I
Treat the Heat Mark with My Hairdryer
Although it seems counterintuitive, the best ways to remove steam marks from kitchen cabinets and wood is usually with more heat. You want to help the pores in your wood or oak furniture open back up and allow the trapped moisture to escape, reversing the heat spot.
Get your handy hair dryer and set it to the lowest heat setting. Be sure to hold it a few inches away from the surface of the wood, and use small circles to trace around the ring of the stain until the pores open and the water evaporates. Buff the wood with a soft cloth, and apply a fresh layer of furniture polish for that freshly finished shine.
How I Remove Heat Stains from Wood with Toothpaste
Getting heat marks off wood doesn't require anything fancy; if you've got a tube of white toothpaste in the bathroom cabinet, you're ready to get started. Toothpaste has beneficial alkaline properties to help remove water stains and heat marks. This toothpaste treatment works wonders on wood when paired with baking soda.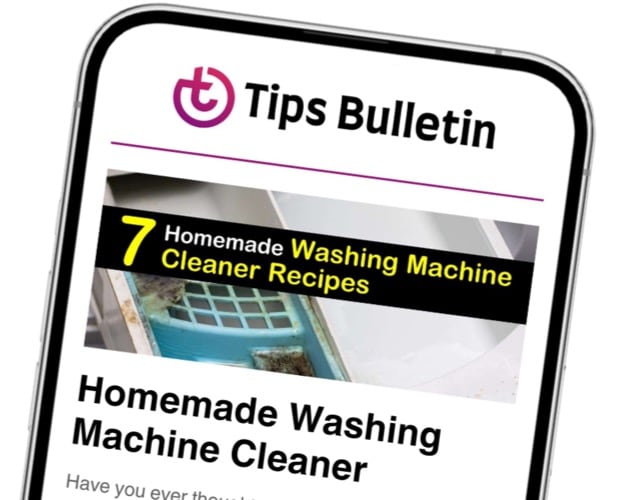 Finally, an email that Transforms Your Home.
Get the latest home and garden tips from our experts, delivered straight to your inbox.
Always use plain white toothpaste for wood treatments, not gel. Mix the white toothpaste and baking soda to make a little paste. Apply a thin paste layer to the heat mark and let it sit for about a minute. Gently wipe the paste from the wood's surface with a soft cloth and repeat until the wood grain looks clean and fresh.
Baking soda is mildly abrasive; you must be gentle and keep the paste localized on the heat mark only. Try an inconspicuous spot test on the underside of the table to ensure the wood finish remains undamaged.
I Can
Try Mayonnaise for Heat Stains on Wood
Mayonnaise is that creamy sandwich dressing in the door of your fridge; it's delicious and surprisingly effective against that white spot or water stain clinging to your wooden furniture. The emulsion of oil, egg yolk, and an additional acid like lemon juice makes a great defense against accidental heat marks.
The oil in mayo effectively penetrates the wood and helps force out the moisture, removing the water mark or heat spot quickly. Dab a bit of mayo onto a cloth and rub it into the stain. Let the mayonnaise sit for at least a few hours; overnight is better. Wipe the mayo off with a soft cloth and buff it with furniture polish for the best results.
Removing White Heat Stains from Wood with My Iron
Discover how to remove heat stains from wood with a simple household item. That's right; your clothes iron is a fantastic remedy for dark stains on your wood table or furniture. Who would have thought the old iron in the cupboard would be suitable for more than just pleating pants?
Place a clean cloth over the burn mark, forming a barrier between the iron and your table to prevent unintentional heat damage. Set your iron on the lowest heat, and turn off the steam. Once the iron is warm, run it back and forth over the stain slowly and carefully.
Check under the cloth every 30 seconds to survey your progress. It should take several minutes to lift the heat mark; once it's gone, it's gone for good. Finally, give your wood furniture a quick wipe down with restoration polish and buff with a clean cloth to finish the process.
I
Use White Vinegar and Olive Oil for Burn Marks on Wood
A simple mixture of white vinegar and olive oil is a clever and thrifty way to treat heat stains on wood furniture and floors. Mix equal portions of olive oil and white vinegar to make a stain-removing liquid for every white spot you see lingering on tables, bookshelves, and floors.
Use a soft cloth to buff a bit of the vinegar mixture into the stains, and let it sit for an hour. Blot the vinegar away with a clean cloth and check for any white heat stain that may still be hiding in the wood grain.
Give the wood a lemon oil treatment if you're not a fan of the distinct smell of white vinegar; your favorite wood pieces will thank you for the conditioning.
Using Petroleum Jelly for My Heat Stains
Removing white heat stains from wood is quick and easy when you have petroleum jelly. Before that white spot can set, run to the bathroom cabinet for the Vaseline. This dense oil penetrates the wood's pores and expels the trapped moisture.
Apply a thin smear of petroleum jelly over the heat mark and let it sit for a few hours. Come back with a clean cloth, wipe away the excess, and check for residual heat marks. The stain should disappear after the first treatment. However, applying a second treatment may be necessary.
Using Steel Wool for My Stubborn Heat Stains
You probably know steel wool, or iron wool, as an abrasive scrubbing pad for dishes and household chores. However, extra-fine-grade steel wool with a bit of lemon oil is a quick and efficient way to dispatch unwanted heat stains and deep-set watermarks.
Put a small amount of lemon oil on the steel wool and gently rub the heat stain in the same direction as the wood grain. Steel wool is excellent at removing white heat stains from wood, but it also removes the finish. It's essential to treat the area with a color-matched polish to help restore an even tone across the wood's surface.
Using Olive Oil and Salt for My Heat Marks
Olive oil and salt aren't just a delicious way to spice up your dinners; they're two simple pantry items that help remove stains from your wood floors or furniture. Olive oil opens the wood's pores, and salt is an effective drying agent. Together, these two powerhouse ingredients remove white heat stains from wood quickly and easily.
Mix your olive oil with a bit of salt in a shallow bowl until it becomes a paste-like texture. Spread a thin layer of the paste over the white mark. Gently work it in with a soft cloth and allow the paste to sit on the stain for an hour.
Give the stain a good wipe down with a damp cloth, soaking up the oil and salt. Treat the wood with a good furniture polish or wood conditioner to restore the glossy shine.
Sanding the Heat Stain Away
If you're confident in your knowledge of how to get heat marks off wood, why not try a little handy work? In severe cases, it's sometimes necessary to sand the area entirely and refresh the wood with a new finish or paint job.
When restoring wood furniture, avoid sanding too much and creating an uneven texture on the wood surface. Always start with fine-grain sandpaper, like 120 grit. If you need something more heavy-duty, build up to it.
Sand gently and in the direction of the wood grain to remove the white heat mark and the remaining finish. Use some mineral spirits on a rag to help with any residue. Once you sand the wood, give a thin coating of a quality wood conditioner, and follow up with the lacquer or paint color of your choice.
Taking My Wood Furniture to a Professional
We have tons of great tips teaching how to get heat marks off wood. However, if wood restoration isn't your area of expertise, consider using a local carpenter. They'll get your favorite furniture piece looking as good as new, and you know the work is backed by a professional's expertise.
You'd be surprised how many skilled artisans there are in your local area, and the prices are often much more reasonable than one might expect for quality woodwork and restoration. If you have a favorite piece that seems past its prime, check with the professionals before sending it to the thrift store or the garbage dump.
We hope you enjoyed these hot tips for how to remove heat stains from wood. Sometimes stains are unavoidable. However, you might do a few things to minimize the risk of heat and water transfer to your expensive wood furniture.
Invest in a festive set of coasters or use a tea towel to stop heat from reaching the wood's surface. Or, get yourself a thick, thermal tablecloth to prevent heat marks. Think about prevention when it comes to wood protection; your precious pieces will last a lifetime.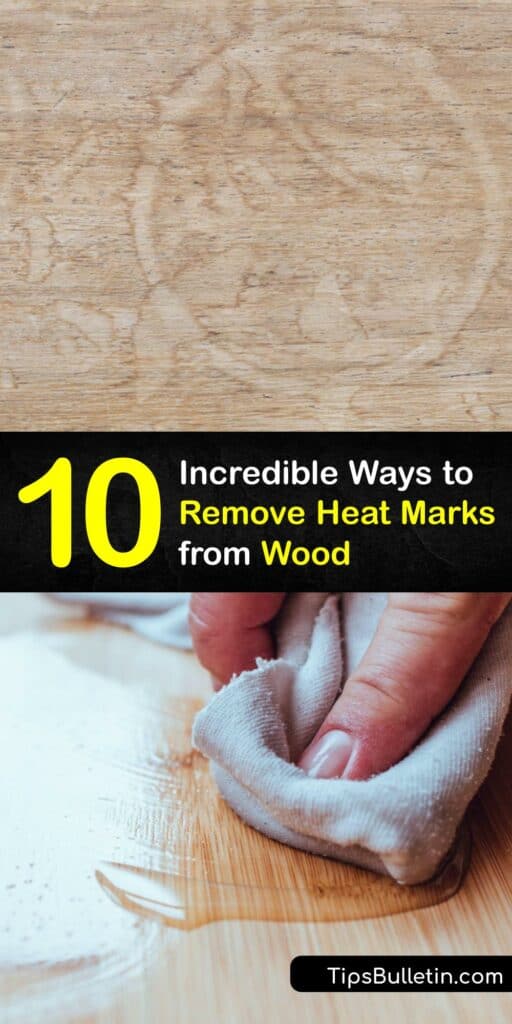 If you loved learning how to remove heat stains from wood, share this article with your friends on Pinterest or Facebook who like restoration tips for heat marks on wood furniture.